Mary Poppins Returns: Cunning Homage or Shameless Rip-Off?
Opinions will vary, but for those in the proper mood, the new sequel starring Emily Blunt is a very pleasant diversion.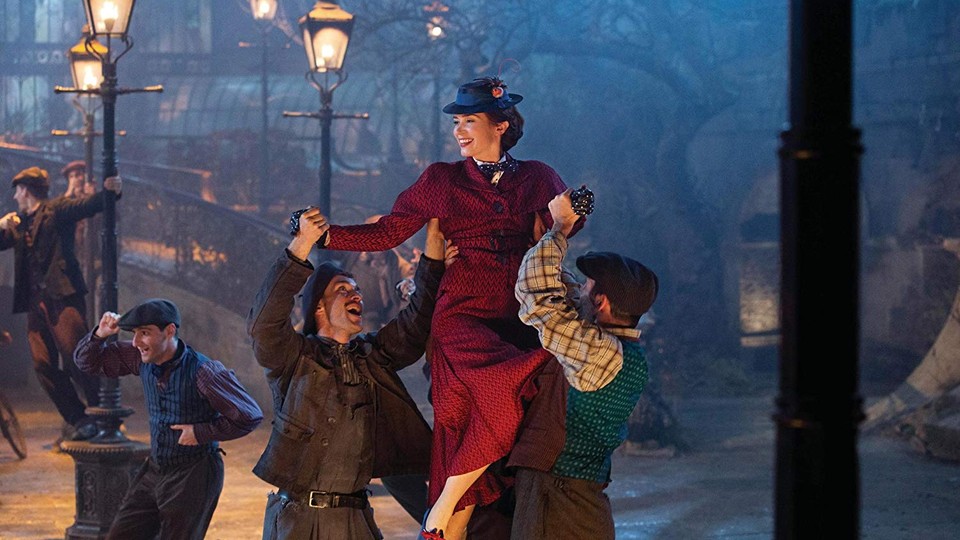 If there were two big upcoming movies I spent most of 2018 semi-dreading, they were A Star Is Born and Mary Poppins Returns. The former had already been dramatized four (!) times—at least if you include a Bollywood adaptation titled Aashiqui 2—and I wasn't a particular fan of either the Judy Garland or the Barbra Streisand version. But to my surprise, Bradley Cooper's remake was superb on almost every level.
As for Mary Poppins Returns, it pains me to watch how ceaselessly Disney is cannibalizing its back catalog. The past few years have featured live-action reimaginings of Cinderella, The Jungle Book, and Beauty and the Beast—with Dumbo, Aladdin, The Lion King, The Little Mermaid, and Pinocchio all coursing down the pipeline behind them. An updated Mary Poppins may have been an inevitability, but is it something that anyone actually wanted?
Still, any commercial intentions behind it notwithstanding, Mary Poppins Returns turns out to be a highly likable diversion, at least for fans of the 1964 film, starring Julie Andrews. Begin with the fact that this is a sequel rather than a remake, and that it does a solid job of balancing the familiar and the new. The premise of the movie is that it is now the 1930s, 20 years after the events of the original film, and Jane and Michael Banks—the London imps whom nanny-sorceress Mary Poppins shepherded in the first movie—have grown into adulthood. Jane (Emily Mortimer) is still single, but Michael (Ben Whishaw) has a family of his own, ensconced comfortably in the hereditary manse at 17 Cherry Tree Lane.
Though comfortably is perhaps an exaggeration: Michael's wife and the mother of his three young kids passed away in the previous year, and the family is still reeling emotionally and financially. (Yes, this is yet another Disney addition to the cinema of dead mothers.) Like his father before him, Michael is a Mr. Banks very much in need of saving. Also like his father, he is a Mr. Banks who works at the bank—specifically, Fidelity Fiduciary Bank. Unlike his father, however, Michael merely has a low-level job as a teller. Worse, he has taken out a loan with the house as collateral. The bank intends to repossess 17 Cherry Tree Lane, at least unless Jane and Michael can locate some valuable bank shares that had accrued to their father. But where could the shares be hidden? Clearly this is a job for—well, you know perfectly well who. It's right up there in the title.
Now played by Emily Blunt, Mary Poppins arrives, as always, from the sky. But this time she doesn't come via your typical flying-umbrella transit. Rather, on an afternoon of heavy wind—one presumes it is blowing from the east—Michael's youngest, Georgie, takes the battered family kite from the attic for a spin in the park. And what should happen but, as Georgie explains, "I was flying a kite, and it got caught on a nanny!" Mary Poppins is reeled down to the ground like a fish on a line, and she is reacquainted with Jane and Michael. (Michael: "It is wonderful to see you." Mary Poppins: "Yes it is, isn't it?")
To quote Dick Van Dyke's Bert from the original film: Can't put me finger on what lies in store / But I fear what's to happen all happened before.
And indeed, though the particular notes are altered, Mary Poppins Returns follows the melodies of its predecessor with conspicuous precision. Bert's role as cockney co-conspirator is taken up by Lin-Manuel Miranda as Jack, Bert's former apprentice, who has decided against a career in chimney sweeping in favor of one igniting the gaslights of London. In return for these efforts, Jack is given a big song-and-dance number with his fellow lamplighters, "Trip a Little Light Fantastic," that apes Bert's own "Steppin' Time" so closely that it could easily provoke a lawsuit. Like the other songs in the film, all written by Marc Shaiman and Scott Wittman of Hairspray fame, it is an appealing effort, even if it lacks the ineffable magic of the numbers that longtime Disney songsmiths Robert and Richard Sherman sprinkled throughout the original. (The best of the new bunch is probably a big stage number on the difference between appearance and reality, titled "A Cover Is Not the Book.")
The Banks children's adventures with Mary Poppins also echo their father and aunt's in ways that will seem either cunning homage or shameless rip-off, according to taste. After a notably pelagic bath time, the kids and their nanny leap into the illustration on a piece of china, much as their forebears leaped into a sidewalk chalk drawing. In place of a visit to the free-floating Uncle Albert, the children meet a cousin, Topsy (played by Meryl Streep), whose house has a tendency to turn itself upside down. Mary Poppins continues to glide effortlessly up the banister, and the other special effects are deliberately retro in keeping with the mood of the original. And, of course, it all ends once again in the park, though this time with balloons rather than kites.
Rob Marshall directs with vigor and fondness for his source material—a fondness clearly shared by his screenwriter David Magee. The cast is strong, in particular the charming Miranda and Mortimer, who ultimately develop a touch of romantic chemistry. The always welcome Colin Firth even makes an appearance as the nefarious new manager of Fidelity Fiduciary.
In the central role of Mary Poppins, Blunt is excellent, offering a somewhat different take than Andrews did, a little chillier and more austere. But though the performance is perhaps truer to the spirit of the heroine of P. L. Travers's eight Mary Poppins books, I'm hard-pressed to say it is an improvement—this is a character who probably benefited from a little warming up onscreen. And while Blunt accords herself well vocally, she is unsurprisingly not the singer Andrews was.
But these are largely quibbles—the cover and not the book, to borrow a phrase. Mary Poppins Returns is surely not a movie for everyone. But for those with a deep fondness for the original film, it is a worthy remix. There are even cameos by 93-year-old Van Dyke—who, having played, in addition to his Bert duties, the elder Mr. Dawes in the prior film, plays Dawes Jr. in this one—and fellow nonagenarian (and Disney Legend) Angela Lansbury, who, as the "balloon lady," sings the movie's final song. The two appearances serve as a reminder that, for all its global scope and hegemonic ambition, Disney still has a little magic left up its sleeve.