If Beale Street Could Talk and the Urgency of Black Love
Barry Jenkins's adaptation of the 1974 James Baldwin novel homes in on the familial tenderness that buoys the youthful protagonists amid devastatingly common injustices.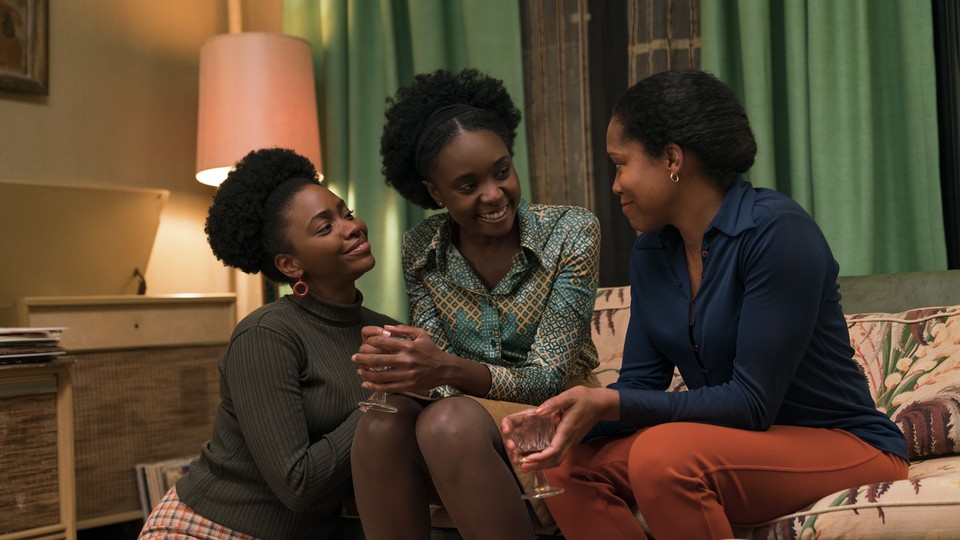 If Beale Street Could Talk, the 1974 James Baldwin novel, begins with a bittersweet announcement of new life. "Alonzo, we're going to have a baby," Clementine "Tish" Rivers tells her fiancé from across the cold glass of a New York City jail's visitation room. Tish narrates the story, so the reflection that follows is in her voice. "I looked at him. I know I smiled," she says. "His face looked as though it were plunging into water. I couldn't touch him. I wanted so to touch him." For much of the novel, their hands can't cross the glacial barrier. But Tish and her beloved nonetheless find a way to remain entwined.

The new Barry Jenkins–directed film adaptation gently renders Baldwin's expansive, embattled vision of black love. As in the novel, the story follows the 19-year-old Tish (KiKi Layne) as she navigates life following the 22-year-old Alonzo "Fonny" Hunt's (Stephan James) incarceration on false rape charges. Even as they face entrenched discrimination and mounting legal hurdles, the love between the two never wavers. It is singular in its expression, but it doesn't stand alone. A constellation of love surrounds them.
Jenkins's If Beale Street Could Talk is a gorgeous, enveloping film—and one of its most poignant triumphs is how vividly it captures the depth and complication of intimacy among its black characters. Tish and Fonny are its nucleus, but the film pays rare, urgent attention to the contours of familial love, too. Tish's struggle to free Fonny from the clutches of the racist criminal-justice system is not one the young woman endures on her own. Her mother, Sharon (Regina King), reassures her in their shared domestic space, and fights for Tish outside the bounds of their home. Her father, Joseph (Colman Domingo), takes on the duty of securing alternative revenue streams to fund Fonny's legal assistance and support the pair's unborn child. Her sister, Ernestine (Teyonah Parris), offers Tish solace and—when necessary—riposte.
Depictions of black love are not impossible to find, but the Jenkins adaptation translates Baldwin's text with a tenderness often shunned by major studio films. The movie doesn't revel in the spectacle of its characters' pain, and indeed scrubs some of Baldwin's grit from its visuals. Where other stories might have pitted the fantasy of Tish and Fonny's love, Beale Street paints a luminous portrait of a delicate balance: Their love undergoes duress, but this is a story, above all, of joy.
The film foregrounds the people who grant Tish and Fonny's youthful romance the buttressing it needs to weather the kinds of difficulties that black people must endure. They do so with grace, humor, and style. They do so the only way they know how. In its attention to the galvanized chorus around its central characters, Beale Street offers a sweeping affirmation of the love Baldwin felt for his own people—even and especially in times of hardship.
Capturing the intricacy and intimacy of black families, biological or chosen, is not a new pursuit for Jenkins. Moonlight, the film that was clumsily awarded Best Picture at the 2017 Oscars, traced the experiences of a gay black boy in desperate need of kinship. Based on the story by the playwright Tarell Alvin McCraney, Moonlight follows the protagonist Chiron across three stages of his life. Played with remarkable grace by Alex Hibbert, Ashton Sanders, and Trevante Rhodes, Chiron spends much of his early years searching for belonging. After his mother (Naomie Harris) mocks her son for his feminine expressions and effectively abandons him amid her struggles with addiction, Chiron is wholeheartedly embraced by Juan (Mahershala Ali), a local drug dealer, and his girlfriend, Teresa (Janelle Monáe). Juan and Teresa's love for Chiron doesn't just nourish him; it also keeps him alive.
As in Moonlight, the love that Beale Street's characters have for one another is impossible to extricate from the larger societal forces acting on them. Their love is heavy. Because of how violently the criminal-justice system has interfered in the course of their lives, Fonny and Tish do not have the luxury of relying on their families for quotidian forms of support: They cannot enjoy newlywed bliss or ponder whose parents will provide the furnishings in their shared home. Tish and Fonny's fears about their impending parenthood do not end with the question of what foods to feed their child. The child, whom Tish eventually names for his father, is the product of the couple's deep bond, as well as a primary source of familial anxiety.
Fittingly, Beale Street explores the power—and limits—of parental love in situations of structural injustice. One of the film's most gutting sequences is that in which Tish's mother travels to Puerto Rico. Intent on finding the woman who's cooperated with a racist police officer's identification of Fonny as her rapist, Sharon knows her journey could be the catalyst for her future son-in-law's freedom. Beyond the financial cost of the trip, she bears a staggering emotional burden. To confront a woman who's levied so grievous a charge is no small psychological hurdle. In her layered (and Golden Globe–nominated) performance, King imbues Sharon with fear, righteous responsibility, and desperation. At the root of all these emotions is the love she feels for Fonny—and more important, for her daughter.
This same thread connects stellar performances from Domingo and Parris as Tish's father and sister, respectively. Even as Joseph and Ernestine banter with warmth and humor, the stakes of Tish and Fonny's jeopardized future are never far away. Ernestine is overprotective of Tish, not just because Tish is her baby sister, but also because she knows the dangers a pregnant young black woman faces. In an early scene that finds Tish nervously announcing her pregnancy to Fonny's relatives, Ernestine springs into action when Fonny's mother (Aunjanue Ellis) curses the unborn child. Jenkins's visual hallmarks—soft-lit tension, tightly framed shots of actors' faces—lend a revelatory sense of immediacy to the connections and conflicts between the two families.

The fissures between—and within—the families are as instructive as the necessary cohesion. In Baldwin's novel, Fonny's family resented Tish partly because she is darker than he is. The Hunt family's colorism, like the criminal-justice system's punitive bias, is a dangerous wedge. (Asked about the decision to cast James as Fonny, whom Baldwin wrote as a light-skinned man, Jenkins told the Los Angeles Times, "Stephan came in and his work was so strong and I thought, 'If you're going to flip this one way, it's kind of OK to flip it this way, because we so rarely flip it this way.'") Beale Street's families are neither paragons of blissful coexistence nor pathology-driven unions. They struggle with vices both human and spiritual. Still, they need each other.
Baldwin didn't champion a quixotic vision of love so much as he insisted that white supremacy's far-reaching harm heightened its stakes. Racism seeps into the most intimate corners of his black characters' lives. Amid its dire effects, the care these individuals show one another must be more than powerful enough to serve as a kind of sustenance. It becomes an exhortation and a privilege. Or, as the author's niece, Aisha Karefa-Smart, said at the film's New York City premiere in Harlem's historic Apollo Theater,"The act of loving while black is a revolutionary act. It's an act of resistance to love under the conditions with which we live, to raise children, to maintain family, and just continue the resistance and stay strong."

If Beale Street Could Talk is unequivocal in its celebration of this pragmatic, buoyant phenomenon. The film, like the novel, doesn't slip into hokey affirmations. But in the face of injustice, tenderness can be an essential lifeline. "If you trusted love this far, don't panic now," Sharon tells Tish at one point. "Trust it all the way."