The Grammy Nominations: A New Generation Arrives
The hip-hop boom and the talent of women are finally being recognized with more nods. But will the trophies follow?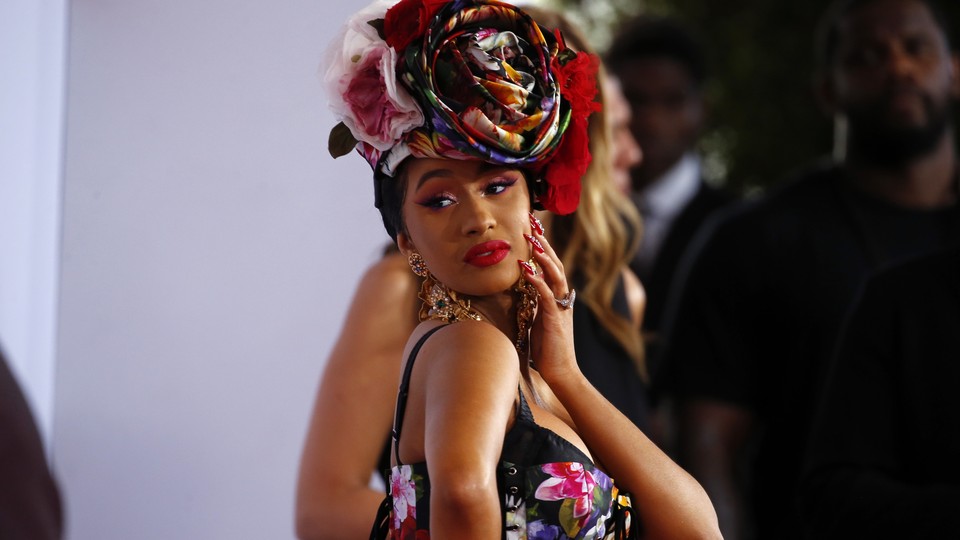 There's never been more new music. Spotify, to take one recently unveiled example, sees 20,000 songs added to its libraries every day. Feeding the feeling of deluge, the Grammy Awards has expanded the number of nominations in its Big Four general categories from five to eight so as to "better reflect the large number of entries." When the Oscars grew its field of Best Picture nominees in 2009, the goal was to help blockbusters, such as The Dark Knight, that had been shut out. But the decision has actually boosted acclaimed yet little-seen movies. What's the result going to be for similar changes in music?
Friday morning's Grammy nominations provide a tentatively promising answer: The Recording Academy has delivered a relatively decent take on what America actually listens to. Long-standing blind spots around rap and women appear to be getting addressed. A few exciting mid-range artists—well-liked but not extremely popular—have edged out faltering superstars. The drama of the February 10 ceremony may be about whether Cardi B or Post Malone, breakout entertainers for a new generation, get more stage time than the other.
Nominations in the all-important Album of the Year category include hip-hop's Cardi B, Drake, Post Malone, and Kendrick Lamar (for the collaborative Black Panther soundtrack); the R&B experimenters Janelle Monáe and H.E.R.; and the country-music critical darlings Kacey Musgraves and Brandi Carlile. It's a good showing for black artists in a category that hasn't rewarded rap since OutKast in 2004, and it includes a notable number of women, given last year's ceremony's high-profile sexism controversies. The biggest curveballs may be Musgraves and Carlile, who each have challenged mainstream Nashville's well-documented apathy toward female voices. Ironically, though, they could draw votes from more traditionalist—read: white—Grammy voters unenthused by the R&B and hip-hop boom.
In the major singles categories—Record of the Year and Song of the Year—the story is much the same: largely pitting rap and R&B against female-led roots(ish) music. Kendrick Lamar and SZA's "All the Stars," Drake's "God's Plan," and Carlile's "The Joke" have nominations in both fields, as do A Star Is Born's Lady Gaga–led "Shallow" and Childish Gambino's "This Is America." (Of the two pure-pop confections nominated for Song of the Year, Shawn Mendes's "In My Blood" and Zedd, Maren Morris, and Grey's "The Middle," even the latter is led by a female country singer.) A rap song has never won in either category before.
As far as rock and roll goes, the only guitar band nominated in the Big Four fields is the Led Zeppelin descendant Greta Van Fleet, who will compete for Best New Artist against Dua Lipa, Bebe Rexha, Chloe x Halle, H.E.R., Jorja Smith, Luke Combs, and Margo Price. Greta Van Fleet, who in the past year has amassed an impressive amount of both buzz and backlash online, also stands out as the only young group in the Best Rock Album category, which otherwise includes the veterans Weezer, Alice in Chains, Ghost, and Fall Out Boy.
Scan through the nominations in the genre-specific categories, and you're reminded of all the huge stars snubbed in the general awards. Ariana Grande's Sweetener and Taylor Swift's Reputation—solid sellers and conversation starters, but largely lacking in the ubiquitous smashes expected of them—are relegated to Best Pop Vocal Album. The theoretically seismic but actually somewhat dud-like Everything Is Love, by Beyoncé and Jay-Z, will contend in Best Urban Contemporary. Kanye West's frenzy of activity might grab him Producer of the Year, but his solo album Ye and his hit with Lil Pump, "I Love It," aren't nominated. Neither is Maroon 5's Red Pill Blues, outside of a nod to the hit Cardi B team-up "Girls Like You" for Best Pop Duo/Group Performance. Nicki Minaj's Queen and J. Cole's KOD: ignored. Justin Timberlake's Man of the Woods: barely acknowledged.
Most of these snubs aren't that scandalous, though. The charts landscape of the past year or so has been defined by a feeling of flux as the A-tier of pop superstars has seen diminishing returns to its event releases. Meanwhile, insurgent voices drawing from outside the narrowly defined parameters of "the mainstream" have grabbed huge audiences. The rare lasting mega-celebs to keep reliably scoring hits, Drake and Kendrick Lamar, still have done well with these Grammy nominations.
The relative diversity and freshness of this year's field might seem to placate the Grammys' loudest critics, but the truth is that the biggest knock on the institution has long been about what happens at the ceremony. Again and again, important artists who aren't white men have been invited to the show but denied its top prizes. That possibility looms still. For example: An Album of the Year trophy for the enormously successful Post Malone wouldn't be unimaginable, but it would be a bitter turn for the first rapper to champion in that category in 15 years to be a Caucasian with a weirdly disrespectful attitude toward the genre's history.
Perhaps the efforts that have been undertaken to diversify the Grammys' voting body will prevent such an outrage-baiting outcome from materializing. There's something to be said for the power of public pressure: Criticism of the awards on social media, in the press, and from famous musicians themselves has become a cacophony over the past few years, and the Recording Academy's president, Neil Portnow—who, unfathomably, has been in his post since 2002—will step down next year. At some point, gatekeepers trying to salvage the Recording Academy's credibility must recognize that in the overwhelmingly wide world of streaming, it's good business to reward what's interesting and relevant, not just familiar.