Listening in Between Earl Sweatshirt's Words
Revealing its meaning in fragments, the album Some Rap Songs asks when to speak and when to be silent.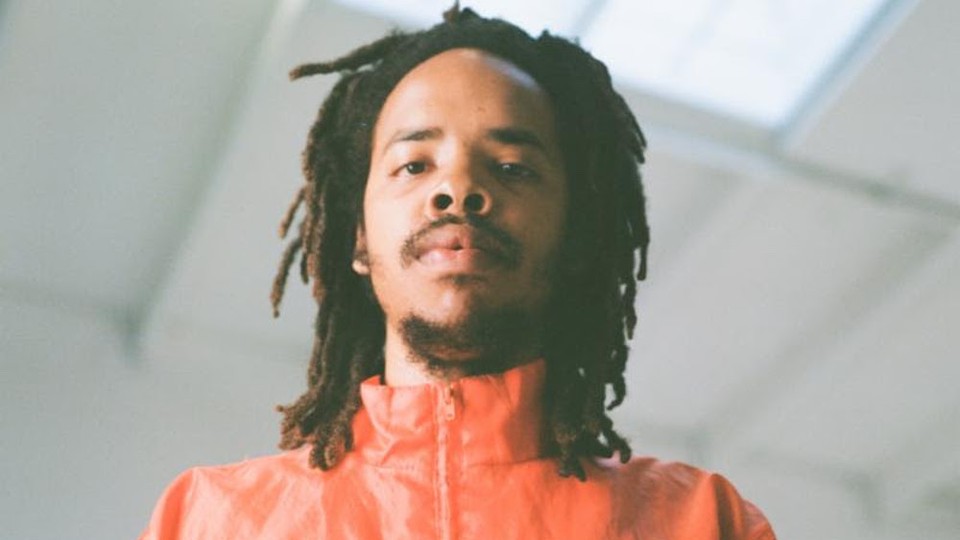 "Closed lips make the mouth breathers frown," goes one of the rare lines that are immediately understandable on Earl Sweatshirt's strange new album Some Rap Songs. It's a quintessential lyric for the 24-year-old Thebe Neruda Kgositsile, partly because its wordplay is less about punch lines than about associative thinking, and partly because it's explaining his entire approach of late. In a culture of talk, Earl's trying to say less, better.
The notion that our society is too cluttered with stuff has been one of the great drivers of aesthetic innovation—see Brian Eno, Coco Chanel, or Frank Ocean—and the need for creators to fight against surplus would seem to be getting only more urgent. As streaming triggered a Cambrian explosion of content in recent years, pop music, especially in hip-hop, has fed the mess with deluges of deluxe-edition albums, mixtapes, remixes, and one-off singles. A feature of this bloat is shorter songs that revel in how little they say. Take for example Kanye West and Lil Pump's two-minute smash "I Love It," a comic-book speech bubble containing a single sentiment: I'm horny.
Earl, who arrived on the public stage at age 16 already with an air of the legendary, is playing a different game. The 15 songs of his tersely titled Some Rap Songs amount to just 25 minutes, and only two tracks break the two-minute mark. But within them is a deceptive sort of density. Not only are the songs thick with noise: warbled vocal samples, scuzzy guitar, furnace-room thrum, all arranged in disorienting, irregular loops. They're also filled with lyrics that seem instinctual, fragmentary, underwritten, but that with repeat listens add up to a dark, complex picture. He doesn't spell everything out, but this doesn't mean he's not saying much.
Earl has had a weird career. The son of the renowned South African poet Keorapetse Kgositsile and the UCLA law professor Cheryl Harris, he found national fame in 2009 as part of the Los Angeles rap collective Odd Future Wolf Gang Kill Them All. Posse members Frank Ocean; Tyler, the Creator; and Syd all went on to make works of brainy nuance, but back then, Odd Future were enfants terribles, cartoonishly glorifying rape, murder, and gay-bashing. Earl's was the purest genius of the group, a verbal and comedic virtuoso even—or especially—on the most disgusting songs. But amid the group's rise, his mother sent him to Samoa for boarding school, cutting off his communication with the mainland. Since his return, he's capitalized on his early fame—but with music that's insular and emotionally realistic, rather than the confrontational fantasies of before.
Still, even works such as 2015's I Don't Like Shit, I Don't Go Outside, whose title well explained its mood, now seem inviting compared with Some Rap Songs. Earl's drums and vocals used to be mixed roughly in the manner of most pop: The former backs the latter. Now the songs are more akin to a brackish marsh, the elements all stewed together. Sometimes Earl seems as if he's speaking from inside a closed coffin, though not with urgency in his voice. In fact, he often adopts a strident monotone, which fits with his radical disinterest in manipulating the listener. "You can get away with it when the beat is changing and showing you when the emotion changes," he told Vulture, with it referring to vapid raps. "But that loop, that's just a background."
It's not exactly fun stuff, though there's deep satisfaction to be had in piecing the puzzle together. The first few listens had me irritatingly running back to Odd Future's early cuts, just to see whether the kid who seemed so lively then had any sonic resemblance to the bummer adult today. But then I woke up with the opening track, "Shattered Dreams," lodged in my head, even though its "hook" amounts to just a few seconds of trundling doo-wop on repeat. "Peace to my dirty-water drinkers," goes Earl's refrain, which could be a reference to the Flint crisis, or just to alcohol. His images throughout the song—of drowning, courts, and the aftermath of violence—seem to be about entrapment, which again could be political or could be personal. Either way, he's talking to frogs in a pot: "Is you gon' ribbit or will you jump?"
Variants of that same question—to speak or to shut up— recur throughout the album. It's a dilemma that matters to him on a few levels. One is as a refusal of the "mouth breathers" making so much noise: "Stuck in Trump Land, watching subtlety decayin'" he raps on "Veins," a moving recounting of his struggles with the public spotlight. Depression, a long-running topic of Earl's, also has kept him tongue-tied. "Say goodbye to my openness, total eclipse of my shine that I've grown to miss when holding shit in," he repeats on "Eclipse." There's also personal context. The album arrives a few months after the death of Earl's father, and in the press notes, the rapper laments that he never got to have the heart-to-heart he'd been expecting to have with him.
This sense of lost possibility, of the downsides to staying mum, also lends a sad spark to Earl's koans. On the second-to-last track, "Peanut," he sounds swallowed by a void as he fumbles with the fact of his father's death. "Family saw you on that stage, left it not amazed," he says as if to himself, and though he doesn't elaborate on what he's talking about, the short story implied is gutting. It's the "baby shoes, never worn" of rap lines, summoning shame, regret, and defiance as listeners fill in their own details about a young man facing down the expectations put upon him. The song cuts out at one minute and 13 seconds to make way for an instrumental closer, a sample of the jazz musician Hugh Masekela—a close friend of Earl's father. Whatever spell is being cast, to have said more would have ruined it.