Dana Carvey's George H. W. Bush Was an All-Time Great SNL Impression
The comedian's take on the late president might seem tame by today's standards, but it seized on the little details to deliver incisive satire.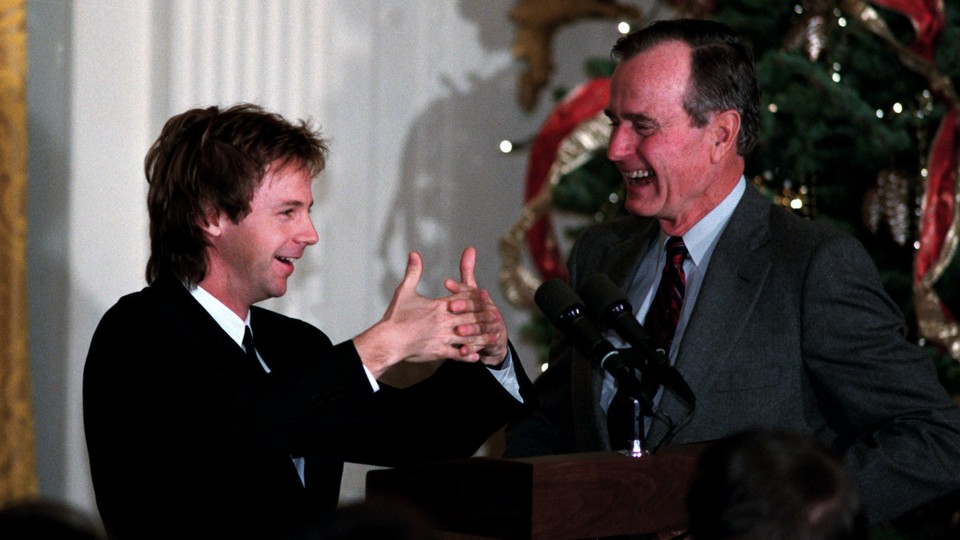 "The way to do the president is to start out with Mister Rogers," Dana Carvey told White House staffers in 1992, making a surprise appearance at their Christmas party as George H. W. Bush prepared to leave office. "Then you add a little John Wayne … you put 'em together, you've got George Herbert Walker Bush." It was the beginning of a friendship between the comedian and Bush, whom Carvey impersonated on Saturday Night Live for his entire tenure on the show (1986 to 1993). Bush, who died last Friday and was honored on SNL the next night, was hardly the most dynamic president, or the most gaffe-prone. Yet Carvey's impression was arguably the show's most acclaimed, finding cutting satire in Bush's patrician manner.
When Carvey joined SNL, the show was emerging from a creative period that had been light on politics in the absence of producer Lorne Michaels, who left the program from 1980 to 1985. After Michaels's return, the show's topical commentary grew more pointed, first with Phil Hartman's brilliant work as Ronald Reagan, and then, as the country geared up for the 1988 election, with Carvey as Bush. Carvey had made an immediate impression on viewers with his Church Lady character, a stern and pious woman who sat behind a desk and lectured her audience and guests on morality. It was an apt audition for the presidency.
At the time, Bush was well known to the public, but he lacked the things SNL actors might seize on for an impression, such as a twangy accent, a propensity for malapropisms, or a reputation for scandal. Bush wasn't a strong personality. In SNL's early days, Chevy Chase handled a similar issue with Gerald Ford by exaggerating that president's reputation as a klutz (largely based on an incident in which Ford fell down the stairs of Air Force One) and by turning every sketch into a slapstick routine. Carvey's approach with Bush was more focused, and ultimately more devastating. The impression remains my favorite of SNL's presidents because of how Carvey's work relied not just on easy catchphrases, but also on the darkly funny scripts he was reading, which epitomized the bland malevolence of American politics in the 1980s and early '90s.
"As commander in chief, I am ever cognizant of my authority to launch a full-scale orgy of death there in the desert sands," Carvey-as-Bush said in a 1990 SNL sketch that aired during the Gulf War. "Probably won't, but then again, I might." His Bush was a reedy actuary imbued with the almighty power of American government, someone who might quibble over a minor detail in a speech about a global war coalition. "Seventy-eight countries are contributing to Operation Desert Shield … From New Zealand, socks. Socks ranging in size 6 over here all the way through 12. Now, 6 is small. Twelve, that's kind of big. Me, I'm a 10 and a half, right in there. Could wear a 10 down here. Wouldn't be prudent."
In a 1991 sketch, Carvey's Bush gave a holiday-season address and tried to assure the American people, through his signature emphatic hand gestures, not to worry about the sluggish economy. "I'm not afraid to say 'recession.' Recession! Recession! Heck, I'll say it all day," he said. "We're not in a recession. We're not even in a downturn here; we're more in sort of a hovering action, there," he added, swirling his hands around the desk. Compared with the high-concept, star-laden political sketches of SNL today, it seems tame.
Yet Carvey skewered Bush with the little details, making him an eye-roll-worthy '80s dad who claimed to have all the answers to the country's problems but largely obsessed over what was or wasn't "prudent," tossing in a few vague hand gestures. In a 1989 sketch about the war on drugs (mocking Bush's own controversial address on the matter), Carvey blended the president's calm, expert attitude with dialogue that suggested he was totally at sea. "We're gonna whip it with a three-pronged attack. First prong: education. Tell our kids that it's bad! Second prong: interdiction. Self-explanatory. Third prong: a secret. Secret prong. Not gonna reveal it now, wouldn't be prudent at this juncture."
Bush himself appreciated the satire while understanding the extent to which it defined him in the public eye—"I don't dare move my hands," he joked in 1992 when appearing with Carvey at the White House. The elder Bush was certainly the last president to form a personal connection with his SNL impersonator (Ford and Chase previously also forged a friendship). "The fact that we can laugh at each other is a very fundamental thing," Bush told his staff at that Christmas party. His good-sport attitude epitomized the gentler image of Bush post-presidency as a leader who was praised for his civility and friendliness, downplaying the less savory aspects of his leadership (such as the drug-trafficking photo op that Carvey so perfectly mocked).
Carvey stayed in touch with Bush for the rest of the president's life; just this year, on Conan, the comedian talked about their ongoing correspondence. "It was a different time. It wasn't scorched-earth, angry politics," Carvey said in April of his years playing Bush. Carvey's impression was deft and surgical, rather than broad and menacing, making his performances all the more memorable for both actor and subject. "It was an honor and a privilege to know and spend time with George H. W. Bush for over 25 years," said Carvey in a recent statement. "When I think of those times, what I remember most is how hard we would laugh. I will miss my friend."