The Necessary Chaos of Harvey Weinstein's Ongoing Court Case
The longing for tidiness in #MeToo cases is understandable. It is also misguided.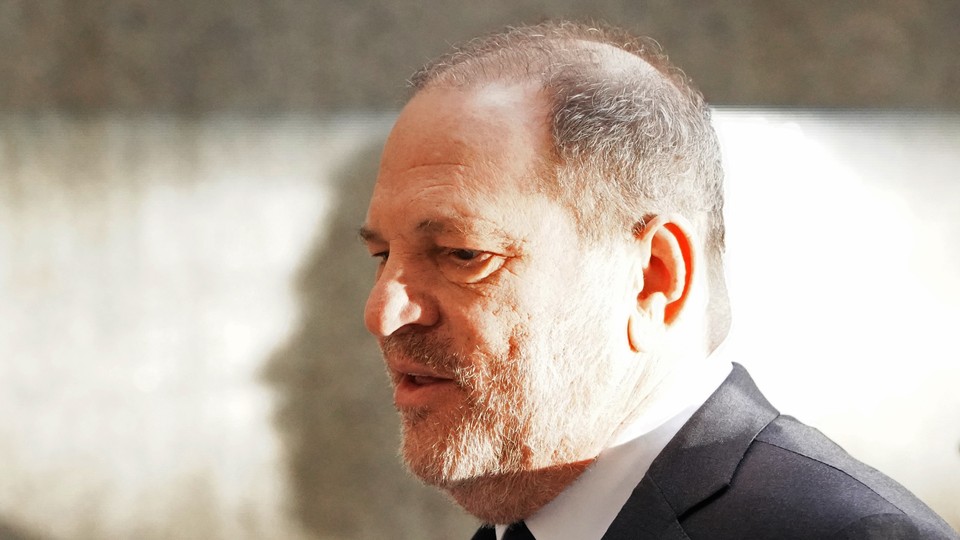 "The only reasonably prudent decision would be to stop this chaos now."
That was Benjamin Brafman, a lawyer for Harvey Weinstein, in a document filed to the New York Supreme Court, making the argument that the criminal case against his client should be dismissed.
Weinstein is currently facing five criminal charges stemming from the allegations that he forcibly performed oral sex on a woman in 2006 and raped a woman in a hotel room in 2013. The judge presiding over the case, James Burke, has apparently decided that "chaos" is an insufficient reason to have those claims dismissed out of hand. At a hearing on Thursday, Burke ruled instead that the Manhattan district attorney's case will continue: Weinstein will face trial in 2019.
The decision—the case not closed, the women's fight allowed to fight on—came, in some ways, as a surprise. In October, Burke had dismissed one of the initial charges against Weinstein (brought by Lucia Evans, whose allegation that Weinstein had forced oral sex on her was first reported in The New Yorker) on the grounds that a police investigator had concealed evidence from the court that contradicted Evans's testimony. Media outlets had been reporting, in the run-up to Thursday's hearing, that the claims against Weinstein were unraveling. "I believe the case is going nowhere," one former New York Police Department detective told NPR. He was not alone in that assumption: Several outlets, assessing the slings and arrows of the situation, predicted that Burke would throw it all out in Thursday's hearing, leaving Weinstein to public shame but legal impunity.
Thursday's ruling instead makes for a more nebulous kind of news: The development here is that there will be more developments in the future. The news is that there is, currently, no neat or tidy news to report, but rather the continuation of what has already been happening. The "chaos"—chaos—will continue.
It's worth spending a moment, though, in this moment of abiding uncertainty, on Brafman's court-filed insistence: The only reasonably prudent decision would be to stop this chaos now. The claim here isn't merely about Weinstein; it is also about the way justice, as a means and an end, itself should work. It assumes—insists on—a certain tidiness. It feels sure that justice should be straightforward, and easy, and convenient. It is a profound misreading of things, and not only because the overall course of the Weinstein saga—open secrets; journalistic reports, and then more of them, and then more; public testimonies of women who describe the harm they claim Weinstein brought to their career and reputation and life—is inherently chaotic.
Weinstein's story is extremely typical in that sense: Most allegations of #MeToo-related abuses, whether prosecuted in court or in public, are chaotic. The chaos, indeed, is part of the point. The testimonies that alleged victims offer very rarely concern single incidents, neatly isolated. Instead, they tend to involve abuses that radiate and insinuate over time, embedding themselves into the mind and the spirit so thoroughly that they can become impossible to excise.
And the claims, as well, typically address systems of abuse, complicated and uncontainable, rather than individual people. Weinstein was enabled for years by a network of people who were invested, financially and otherwise, in his impunity. So were so many other people who have been implicated in #MeToo: Men, almost always men, who have moved through the world wielding their own kind of gravity, and who have assumed that it is simply the lot of others to spin in their orbit. Complexity, because of that, is inherent to these cases. Chaos, because of that, is inevitable. Tidiness, because of that, is an illusion.
The same week of Burke's latest ruling, CBS made official what had been reported two weeks before: Les Moonves, the storied former head of the network, has been fired for cause after allegations of decades' worth of sexual impropriety came to light. The upshot of this particular legal finding: Moonves won't receive any of the $120 million severance that his contract might have afforded him had CBS's lawyers come to a different conclusion about his departure from the network. The broader story, though, is that an investigation into CBS's behavior found that the network had effectively been an accomplice to Moonves. As its board acknowledged in a statement sharing the investigation's findings, "The Company's historical policies, practices and structures have not reflected a high institutional priority on preventing harassment and retaliation."
It was an admission borne out by another piece of reporting that came out this week: CBS, it turns out, bending to terms stipulated in the former chief executive's contract, is paying Moonves's legal bills—bills that could easily amount to as much as $50 million. Which is to say that as the disgraced executive attempts to defend himself against the claims made against him by the company he once ran, the company is footing the bill. The person and the network, chaotically tangled.
This news came, as it would happen, in the wake of another report about CBS, concerning the actress Eliza Dushku's experience on the set of the long-running show Bull. The network had come to a financial settlement of $9.5 million with Dushku, The New York Times found, after she accused Bull's star, Michael Weatherly, of accosting her on set with jokes about rape, threesomes, and the actress's looks. A crucial element of Dushku's claim was that the bad behavior, originating with Weatherly but expanding out to others who worked on the show, was insidious: It included, she said, HR representatives and network executives and Bull's cast and crew—people who, in their own way, were invested in keeping Weatherly satisfied on set. Weatherly set the tone, Dushku suggested; others followed it. The alleged abuse spread. Unavoidable. Uncontainable. As she put it, writing for The Boston Globe:
What is hardest to share is the way he made me feel for 10 to 12 hours per day for weeks. This was classic workplace harassment that became workplace bullying. I was made to feel dread nearly all the time I was in his presence. And this dread continues to come up whenever I think of him and that experience.
Network effects, literally. What Dushku described in her complaints (and what is suggested as well in CBS's settlement with her) is behavior that could not be neatly quarantined, because the behavior is so much bigger than one person. Her allegations are, in that way, very similar to what the women—more than 80 of them—who have made claims against Weinstein have said: The harms involved are not containable, because the harms involved expand and entangle and abide. Weinstein, the powerful mogul, is at once the cause and the symptom of an epidemic that exists in Hollywood and so profoundly far beyond it. He is an agent of chaos; the only reasonably prudent decision, for the courts and for the public, is to treat him that way.