A Book That Honors an Underrated Sport
The Circuit, Rowan Ricardo Phillips's latest book, deftly chronicles tennis's 2017 season with a joyful reverence.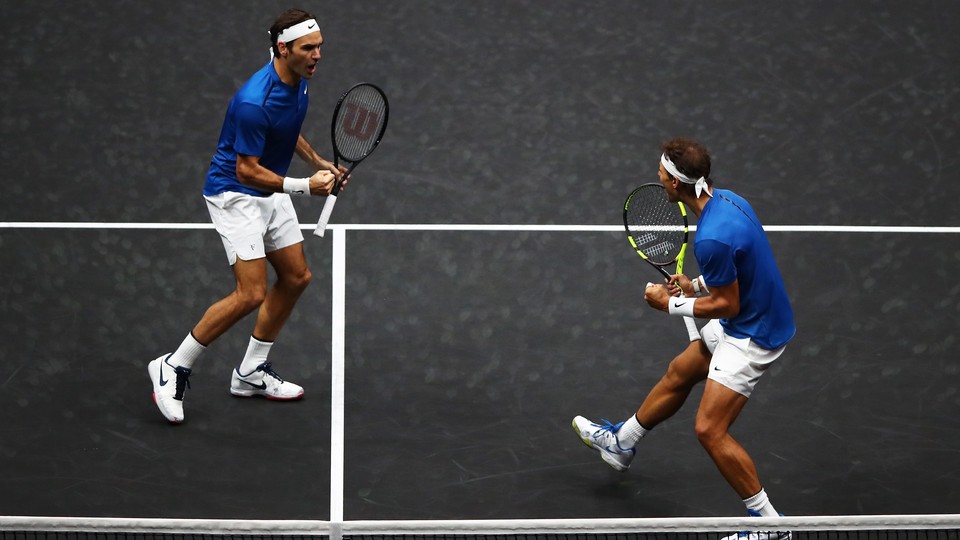 Full disclosure: I have a tennis bias. I played as a young boy, keep close tabs on the professional circuit, and have had the good fortune of covering the sport for The Atlantic and other outlets. Right above the home-office desk from where I'm writing now hangs a picture of a grimacing Jimmy Connors lunging for a ball at the net, keeping me honest. It hadn't really occurred to me that I could snooker a book publisher into paying me to binge-watch tennis for a year, something that I basically do already. When The Circuit landed on my doorstep a few weeks ago, I could only kick myself and curse Rowan Ricardo Phillips—the estimable poet and Paris Review sports contributor who, alas, has beaten me to the punch.
The Circuit, the first of Phillips's books dedicated solely to sports, is a diary of the 2017 tennis season in the main and the men's pro tour. At a glance, 2017 doesn't look all that different from the years that came before—which is to say it was thoroughly dominated by Rafael Nadal and Roger Federer, the undisputed G.O.A.T.s of the men's game. But Phillips goes further. He accounts for the faintest ripples in the butterfly effect.
The author starts with last January's Qatar Open final between Novak Djokovic and Andy Murray, a clash that seemed to portend the coming of a new Big 2. But after a long, hard-fought three-setter that Djokovic won in the end, the Serb fell into the worst slump of his gilded career. Murray, who began the year as the world's top-ranked player, was hobbled by a hip injury that would require surgery and sideline him for much of the season. Meanwhile, the handful of upstarts who might have stepped into the breach were still too weak for tennis's reigning kings. "And just like that," Phillips writes, "what Doha was vanished. No one ever spoke of it again."
Time and again, from that first event in Doha through the ATP Finals in London, Phillips calls back to this idea of unfulfilled expectations. By carefully reexamining the small moments that were lost or forgotten after the tournament's final result—David Goffin's star-crossed clay-court season, Marin Čilić's fateful foot blister in the Wimbledon final, Murray's abrupt injury withdrawal from the U.S. Open—he is able to more accurately reframe yet another season defined by the Federer-Nadal rivalry through the health setbacks of their strongest challengers.
Phillips keeps the pages turning with an easy yet exacting style and keen observations. Tennis nerds in particular will enjoy his parsing of Federer's retooled backhand. "The high curlicue finish of the racket with a twist of the wrist was gone," he writes. "He swung the backhand now more like someone opening a stuck door." Furthermore, Phillips's wit suffuses this text. I laughed out loud when he likened Murray's on-court demeanor to that of "a beekeeper about to enter a hive," and when he brought up Cédric Mourier, the retiring chair umpire whom everyone loved to hate until Carlos Ramos came along and tripped up Serena Williams at this year's U.S. Open. (Williams, of course, is a character in The Circuit too, but she doesn't have much of an arc, given that she spent just about all of the 2017 season on maternity leave.)
For those who worry about getting these inside jokes or understanding the relentless action that sets them up, fear not: Phillips opens The Circuit with a lengthy glossary on scoring and jargon. Once you've established the difference between a bagel and a breadstick, you'll have the necessary context for Phillips's precise elucidations of tennis's greatest attributes: how it prizes artistry and effort almost as much as wins and losses (it's boxing without the direct body blows), how it's at once earthbound and ethereal, how past achievements dictate future results—a concept that determines player rankings.
But the thing that Phillips really nails is the specific dedication it takes to follow the sport, which spends the year chasing the sun like a dog tracking, well, a tennis ball. It's the rare event that's best enjoyed with a translation app on your web browser (to more closely follow the international players who aren't as intensely covered by the English-speaking press), that will have you setting your alarm for a wee-hour match happening on the other side of the globe, and that will have you on Twitter snarking on that same match with scores of other bleary-eyed fans. Not even a surgically repaired Achilles tendon whose healing would require "a bottomless prescription of oxycodone" left Phillips too woozy to follow the 2016 Wimbledon championships.
He knows, from years of experience, how disorienting and lonely it can feel to watch a midsummer sport in the dead of winter. "Here I am," he writes while babysitting the Australian Open, "groggy as hell, keeping up with news about tennis from 16 hours in the future." Even worse: He's trained his young daughters to do the same. "We start early in the morning, before school," he writes. "They learn about time zones, geography, and the changing surfaces of the tennis year, those seasons unto themselves."
On the continuum of essential tennis nonfiction, The Circuit is not as reportorially serious as John McPhee's Levels of the Game, a cellular chronicle of the 1968 U.S. Open semifinal match between Clark Graebner and Arthur Ashe. Nor is it as reverent as David Foster Wallace's "Roger Federer as Religious Experience," the seminal New York Times Play magazine profile that spawned a thousand Federer think pieces. What The Circuit offers instead is an insider-y view from the spectator's seat, which is not an easy trick to pull. But Phillips manages the job with alacrity.
He's at his peak when unpacking tennis's quirks and features—in one instance, cleverly excavating what could be a tedious history of clay courts through the story of Georges Henri Gougoltz, the insolvent Swiss hustler who brought red terre battue to the luxe Hôtel Beau-Site in Cannes in the late 19th century. That tale, which is excerpted in The Paris Review, brought me back to the sense of wonder I felt when I first strolled the grounds of Roland-Garros, in confusion over the abundant aviation iconography, oblivious to the pioneering World War I fighter pilot from whom the French Open takes its (other) name. "Sports strain to stress to us that we are watching history," Phillips writes.
Likewise, he strains to romanticize a sport that's not without its off-court faults. Tennis's balkanized culture—which pits players' self-interests in a four-way cage match against tournament organizers, tennis federation leaders, and financial stakeholders as a matter of routine—makes it hard to agree on rules and amendments that could make the game easier to watch or otherwise maintain its integrity. The past month alone has seen a corporate-driven reformatting of the 118-year-old Davis Cup tournament (an intermittently contested showcase that will play out over a fortnight next year); allegations of event organizers jacking up ticket prices and modifying court surfaces in deference to Federer; a player permanently banned for match-fixing; a coach arrested on suspicion of felony battery; and Djokovic and Nadal getting shamed out of going through with an exhibition match in Jeddah after news of the Saudi Arabian government's likely involvement in the killing of the journalist Jamal Khashoggi in October. Whodathunk a game that Phillips lovingly describes as "a private joy" could also be so joyless?
Still, The Circuit is a welcome palate cleanser, a license to enjoy an underrated sport at its best. It's a love letter that looks to inspire a new generation of fans to watch through the darkness, and to motivate the older zealots among us to keep spreading the gospel to all corners. And while it's certainly possible that our interpretation of the 2017 season could be drastically different in the fullness of time—"I have a friend," Phillips muses, "a distinguished historian, who … thinks it takes fifteen to twenty years before we really know what any happening actually was"—likely, a more profound appreciation for this great game will linger on. But then again, I'm biased.