Offset Has Trapped Cardi B
In a plea for his estranged wife's forgiveness at her own concert, the Migos rapper is taking advantage of the cultural weight that's on his side.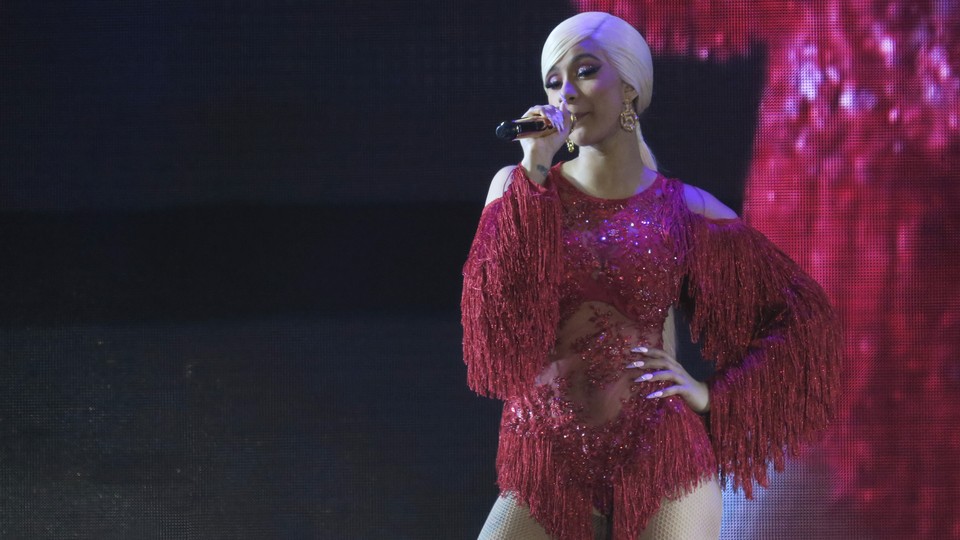 A man rejected by a woman pops up unannounced at her workplace with roses, asking her to reconsider. Adorable or creepy? The case for creepy would seem easy to make, what with the guy's violation of space, forcing of a private matter into a communal spectacle, and implication that love can be bought with gifts. In some cases, such a stunt can even be a tell for something more dangerous: "Showing up unannounced" is one of four things listed in an article titled "It's Not Cute, It's Stalking: The Warning Signs" on the website of One Love, a nonprofit "working to ensure everyone understands the difference between a healthy and unhealthy relationship."
Popular culture has other ideas about such gestures, though. Romantic comedies regularly broadcast the desperate-love gambit—Love Actually's sign at the door, Say Anything...'s boom box over the head—as a rite of passage on the way to a happy ending. Usually, it is men who make the supposedly noble overture; the idea that the story might be flipped led to the subversive TV show Crazy Ex-Girlfriend.
A 2015 study at the University of Michigan found that such works really do influence viewer attitudes on how men should act. Its author, Julia Lippman, explained her findings to The Atlantic's Julie Beck: "Maybe you'd be slightly more likely to think, 'Oh, he showed up at my workplace with flowers, when I told him I wasn't interested already. I'm probably just overreacting; I'm sure he was just trying to be nice.'"
This weekend at the Rolling Loud Festival in L.A., Cardi B's headlining set was interrupted by Migos's Offset, her estranged husband, flanked by roses spelling out TAKE ME BACK CARDI. The two rappers had separated weeks earlier, months after the birth of a daughter, and early Saturday morning he'd posted an Instagram apology for cheating on her and a plea to reconcile. He reiterated that message at Rolling Loud, saying into a mic, "I'm sorry, bruh." Her response was inaudible, but her body language read as go away.
The public reactions to these incidents have sorted into two kinds. Some male rappers, including 50 Cent and T.I., have cheered Offset and urged Cardi to make amends with him. "Now I don't know all the dynamics between you two nor does anyone else on the internet," said The Game on Instagram in a since-deleted post, "but what I do know is you guys look great together & with the marriage & addition of your beautiful baby girl … it's only right you guys re-unite immediately for the good of you guys family unit."
Other commentators, many of them women, find Offset's wooing unsettling—and reminiscent of nightmares from their own lives. "The thing that stands out the most is how many women have been there," tweeted Tarana Burke, the founder of the #MeToo movement. "So many of us have 'crazy ex' stories that were a 'little scary' but ended up ok - kinda." She then listed some of those stories, which included instances of men threatening and committing violence. "Few things are more scary than a rejected man with a bruised ego," she wrote. "We are literally watching this slow moving train and regardless of how Cardi responds moving forward we can't let this kind of behavior go unchecked."
Cardi has said she just wants the situation to "die down" and has asked that the public not attack Offset. "Unfortunately, we going through some things, it's not private," she said in an Instagram video emphasizing that he was still family. "I'm not saying that I'm gonna get back together with him. I just don't like that bashing online thing." She also invoked the comedian Pete Davidson, who this weekend responded to controversy about him, Ariana Grande, and Kanye West with statements that appeared suicidal (police found him safe). Said Cardi, "I wouldn't want my baby father to have that feeling because millions of people be bashing him every day."
That's a graceful reaction on her part, given that Offset taking his case to the court of public opinion could be considered an act of aggression: Cardi, presumably, did not have a choice in whether to negotiate her potential divorce on the world's stage. Yet it's her, not him, who's trying to mitigate the blowback to Offset. This is not necessarily only out of the goodness of her heart. She's trapped: He's the father of their child, and he's going to be in her life one way or another. He has leverage, and he's using it.
On a few levels, it's a story familiar in relationships famous and civilian. Women are so often tasked with making decisions for the good of the children and at the expense of their own autonomy. Men, statistically, are more likely to cheat. There will be comparisons to the saga of Beyoncé and Jay-Z, whose music has chronicled his betrayals and her forgiveness. But however Bey and Jay reconciled, it was in private before it was in public. The better comparison for Offset is with Robin Thicke, whose officious 2014 album pleaded for the love of his ex, Paula Patton. (Not long after the album's debut, she filed for divorce and accused him of domestic abuse.)
In going the public route, Offset is extending the logic of the spectacular marriage proposal—which puts a woman on the spot before the jury of society, intensifying a personal decision with the weight of cultural pressures to form families—to a new place, placing an even greater burden on the woman. She's expected to save not only her own marriage, but also the entire institution of marriage. This is explicit: In his appeal to Cardi, The Game wrote that she needs to help set "super dope examples for this new generation of growing couples to remain solid and really stay true to those wedding vows."
If anyone can navigate this sort of scrutiny, it's Cardi B, an auteur of living in culture's eye, who seems to have no trouble asserting herself. Then again, being a celebrity brings special perils. The organizers of the Rolling Loud Festival say that Offset could not have gotten onstage without the artist's approval, so it is possible that someone in Cardi's camp was in on his stunt. Some have even speculated that she herself conspired with him as part of a long ploy to build profitable buzz through scandal.(Cardi has denied that the Rolling Loud incident was staged.) It's quite the accusation, one that would—among other things—make her complicit in broadcasting dangerous ideas about men and women. For now, though, she simply appears to be the target of those ideas.