The 50 Best Podcasts of 2018
The shows that kept listeners refreshing their apps this year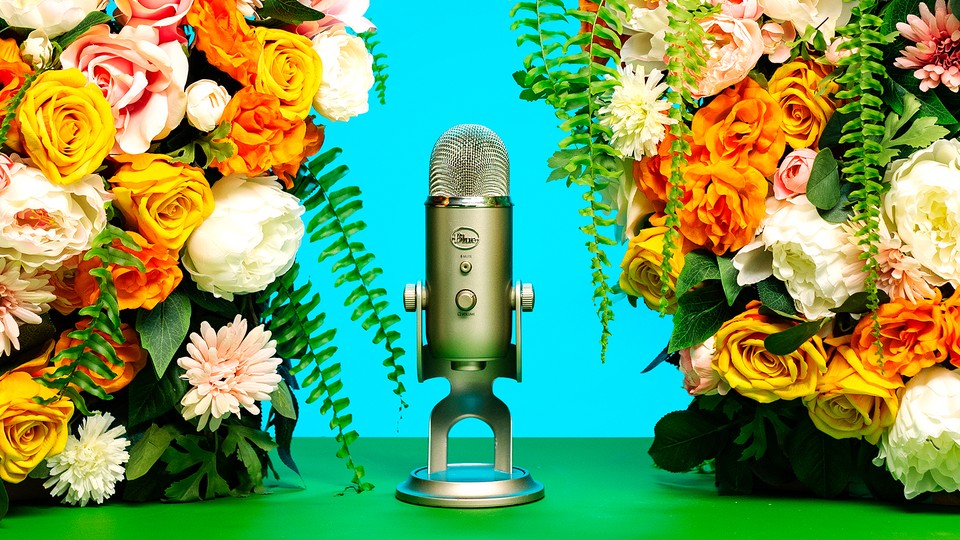 Editor's Note: Find all of The Atlantic's "Best of 2018" coverage here.
---
The word podcast has by now become completely untethered from its namesake—the iPod. Analytics that were once uncapturable have become fairly comprehensive (downloads from Apple Podcasts surpassed 50 billion this year) and specific (Chicago streams more podcasts on Spotify than any other U.S. city does), which has brought new money and possibility to the form. Recipes for how to create a decent series were invented through trial and error, and thousands of producers now understand what makes our ears stand up: cults, cold cases, politics, feminism, and relationships, but most of all: stories.
Last year, S-Town blew our minds by taking a novelistic approach to its fascinating characters, plot, and setting. This year, playwrights and journalists came out from behind the page in droves. Podcasts are now regularly adapted for television (Homecoming, 2 Dope Queens, Pod Save America, and Dirty John, to name a few). They became more niche and even self-referential: The Onion's A Very Fatal Murder satirizes true-crime podcasts. There's even a podcast (Before It Had a Theme) about a radio show that is now also a podcast (This American Life). Podcasts, it seems, are the new black hole (a concept that's explained very well on HumaNature), because they feed and feed on whatever is around them.
The shows on this year's top-50 list highlight innovation where it collides with craft and entertainment. They are the ones that answer the call "Make it new!" They made space for new voices, ideas, and methods of connecting with and harnessing audiences, the internet, and the material world. They are the ones that don't require advanced preparation, the ones you'd recommend to your friends. Here's to the best podcasts of 2018, and to what they've made resoundingly clear about digital audio: So much more is yet to come. (As usual, we've recused The Atlantic's shows from the list.)
---
The Truth's Jonathan Mitchell has been doing experimental, fictional art audio since what feels like the beginning of time (for more than 20 years, actually). The Off Season begins with Bruce Alvarez, a fictional TV host, interviewing a prominent female journalist. They start taking callers, and the first one accuses Alvarez of sexual harassment. As his network investigates the allegations, Alvarez heads to Montauk, New York, where he has an unlikely encounter with an aspiring journalist named Erica Hernandez. The plot becomes implausible—but the conversations that take place between the two allow listeners to process some of the major news events of 2018 without reliving the falls of Matt Lauer and Harvey Weinstein, both of which seem to have inspired the show. The Off Season is, in part, an exploration of the mind of a man who feels helplessly, inexcusably trapped by ingrained sexism. The show's writers, Marina Tempelsman and Niccolo Aeed, manage to offer poignant social criticism without reducing Alvarez to a caricature of evil. The Off Season may hold up a mirror to life, but it also reflects back some light—some optimism—at listeners, too.
Gateway Episode: "Banished to the Hamptons"
---
Demystifying romantic relationships, especially complicated topics such as consent and online dating, is a wellspring with seemingly endless mass appeal. The Death, Sex & Money host Anna Sale kicked off a summer series by introducing listeners to a group of people at different stages in their lives, with wildly different goals and dispositions, as they attempted to find love. Most of the episodes are short, serving listeners with a quick shot of dating gossip without veering into anything too indulgent. The vignettes are meaningful, but they likely won't trigger a sensation of emotional vertigo. Listeners take in the hope and hesitation that one man describes as he attempts to turn a close friendship into something more. One woman discusses the reasons why, even as a virgin, nonmonogamy made the most sense for her. Another man wonders aloud, in light of the #MeToo movement, "Am I losing my masculinity by asking too many questions?" as he tries to suss out when, if ever, it's okay for him to make a move. Sale puts participants at ease and dignifies them without shying away from asking pointed questions. Hot Dates is intellectually stimulating but not taxing, and in the podcast space, this level of sophisticated simplicity hits a refreshing sweet spot.
Gateway Episode: "Hot Dates: Romance Right Now"
---
Phoebe Judge has been making audio narrative in her popular podcast Criminal since 2014. Here, she turns her gaze to love, which her show argues isn't just a feeling—it's also something you do. Even if the stories in this series don't frame love as one-dimensional or predictable, they sometimes still evoke movie magic. "The Run," for instance, starts off as a meet-cute at a park, but when a man's wife dies, his affections morph into a goofy, even sloppier, form when redirected at his children. "Nothing Compares to You" highlights the passion for one's profession and for those who make that work possible (this one features Prince and resurrects him through stories from his sound engineer). The episode is about what we project onto other people and their expressions of care, and about how we need love in all its forms. Even if we don't feel it or when we forget about it, Judge's series is there to help us remember that love is as much an action as a frame of mind.
Gateway Episode: "Something Large and Wild"
---
Stretch and Bobbito have the cachet to interview guests such as Dave Chappelle, Eddie Huang, Regina King, and Jonah Hill. After all, in the '90s, the duo introduced a New York audience (and so, the world) to Eminem, Jay-Z, Biggie, and Nas, among other hip-hop veterans, on their radio show. Netflix even made a documentary about the duo. Despite all this, Stretch and Bobbito maintain a regular-man vibe on their show. The two-on-one technique they have creates an advanced conversational style—not chaotic or rambling—that makes you feel invited to a party you have no business being at. Listeners experience nostalgia through mood and ambience rather than via the reminiscences of back-in-the-day stories. Radio shows have a different calling from podcasts—they tend to be more rooted in a specific time and place—but What's Good With Stretch and Bobbito proves that the democratization of audio can make room for those projects, too.
Gateway Episode: "Erykah Badu"
---
You might remember Allison Behringer from her new–in–New York podcast series The Intern. Now she's exploring women's bodies in a show that addresses topics often discouraged in art or dismissed as "oversharing": sexual encounters, menstruation, breastfeeding. Each episode starts out by examining a particular bodily issue, then zooms out to examine the greater context. The podcast kicks off with "Sex Hurts," in which Behringer asks herself why she's always put her own body's pleasure second and why women so often think "pain is just part of the deal." "Bleeding" examines the fact that uterine fibroids are especially prevalent among black women, a phenomenon that could be linked to structural racism. These are the extended conversations women often have in private—with friends, in ladies' rooms, online, and especially when doctors can't or don't help. Behringer sheds light on the underground network of information-sharing that many women depend on, forcing attention onto subjects her listeners may be socialized to ignore.
Gateway Episode: "Sex Hurts"
---
Al Letson and his longtime friend Willie Evans Jr. teamed up to create Errthang, a podcast that is simultaneously a comedic memoir, an action-packed comic book, and a meditation on race in America. Leston's creative outlet doesn't follow a traditional structure. Take "What the Hell Is Wrong With Al?," in which the co-host describes how he came to protect a right-wing protester from a violent beatdown. The episode includes interviews with Richard Spencer, a white nationalist, and Letson's recollections of growing up in Jacksonville, Florida (including fending off an angry group of white boys who came after him and his brother). While this sounds weighty—and it is—Letson never lets us stray far from his arms-wide-open approach. In "No Ordinary Love," he shares the experience of taking his white son—Letson is black, and his wife had a child before they were married—to a grocery story and suffering the judgment of other families. What makes the podcast special is no secret: It's Letson. He's a poet, a singer, and a committed romantic who knows what he's doing in this medium.
Gateway Episode: "No Ordinary Love"
---
Not long ago, fiction in the audio landscape seemed mostly to follow stodgy noir tropes first popularized by Orson Welles in the '30s. Bubble pays homage to those strictures but updates the package with modern characters in a closer-to-reality sci-fi world. The rules of the show are this: You either live a protected life somewhere like Fairhaven—a so-called deliberate community reminiscent of Portland, Oregon, that is encased in a literal bubble—or in the monster-infested brush beyond. The story follows mismatched roommates living in a dodgy part of town. Morgan kills monsters; Annie then sells the creatures' blood on the black market to get people high. The authorities give the pair a choice: go on a secret mission, or go to jail for their drug trade. Along the way, the series winks at listeners by poking fun at lovable stereotypes of Millennial culture. The sound engineering is appropriately cartoonish, and the action is not at all lost without a visual. Tavi Gevinson of Rookie fame voices the show's exposition, which invites listeners to coexist in the safe space that is Bubble, where we can all escape from what real life has become by laughing at it.
Gateway Episode: "Episode 1: Huntrs"
---
A partnership between The Washington Post and WBUR, Edge of Fame is not your ordinary interview-style podcast, if it can be called that at all. The show subverts the notion of the big interview by inserting its host, Geoff Edgers, into the real world—this isn't a traditional sit-down in which the studio serves as his home base. Front and center is the discussion of fame, in all its complexity (what it affords, the cost it exacts), with guests such as Issa Rae, Weird Al Yankovic, and Billy Joe Shaver. In one episode, Edgers is in a hotel with the comedian Norm Macdonald, who's vying for a comeback, while another episode finds the host hanging out on set with the filmmaker Ava DuVernay, talking about the pressures that black female directors face. The process isn't perfect—celebrities can be cagey—but at its best, Edge of Fame is a welcome step away from the podcast studio system.
Gateway Episode: "Hanson Beat the System"
---
Last Seen will captivate you with its promises of clearing up the world's largest unsolved art heist. It will also take you down some paths to frustrating dead ends. Created by the WBUR producer Kelly Horan and the reporter Jack Rodolico, as well as the former Boston Globe journalist Stephen Kurkjian, the show puts a Murder on the Orient Express spin on the affair at hand. Listeners learn that in 1990, thieves dressed as police officers walked into the Isabella Stewart Gardner Museum in Boston, duped the security guards, locked them up in the basement, and walked out with the motherlode: 13 artworks now valued at $500 million. You'll get hooked immediately, and perhaps feel relieved that you can obsess over every suspect without the guilt that comes with poring over violent crimes. The hosts here are so dogged in their pursuit of the missing works, in the possibility of finding these paintings, that they're willing to follow any lead, right down to the bottom of a hole.
Gateway Episode: "81 Minutes"
---
Melissa Moore grew up with a father unlike any other. A truck driver and a serial killer, Keith Jesperson confessed to the murders of multiple women in the 1990s, tagging his written confessions with cartoonish smiley faces. People called him the Happy Face Killer. In this nine-part series, Moore takes on the hybrid role of host and subject as she reckons with the lasting trauma of her father's brutality. (A letter Jesperson wrote to his teenage daughter from prison says: "You're a killer just like me.") A conversation Moore has with a once-combative ex-boyfriend demonstrates the near-inevitability of the cycle of violence. While the show errs on the wrong side of overproduction—the music is flat-out distracting—it pulls you back with the raw testimony of victims and abusers. The bravest interview of the many interviews in this series has Moore talking to the son of one of her father's victims. The power of that exchange is in hearing Moore, who carries the legacy of her father in her blood, seek forgiveness from a man she never wronged.
Gateway Episode: "Childhood"
---
Benjamen Walker uses Theory of Everything to explore his resistance to a society controlled by Facebook, gig economies, blind consumerism, and misinformation. This year's exceptional 15-part series about fake news launches with a bit of soul-searching: Because TOE mixes nonfiction with fiction, and especially because it has a meta slant, Walker decided it was time to carefully reflect on whether he himself may have spread any lies through his show. He then sets his sights on the subject of "deepfakes" in "Fake Nudes," and on the manipulation of Civil War history in "Heavenly Truths." Ten years from now, people will likely still be grappling with the internet hoaxes, cryptocurrency, and post-truth realities that Walker is warning about today. When he's not crafting stories about where creativity intersects with the evil machinery that foils it (such as in the episode "This Is Not a Drill" ), he's the most charming guy you've ever heard announcing the end times while wearing a (metaphorical) sandwich board.
Gateway Episode: "This Is Not a Drill (False Alarm! Part I)"
---
In 2006, the host and producer Laura Krantz read a Washington Post article about the late Grover Krantz, a tenured anthropology professor who spent his spare time searching for Bigfoot in the Pacific Northwest. After Krantz figured out that she's Grover's distant cousin, she began researching both him and his beloved Bigfoot. In Wild Thing, she walks listeners through how she inherited the hunt and how sharing Grover Krantz's last name gives her and her audience access to different communities of Bigfoot believers and researchers (alien theories get a nod, but biologists get the mic). She's open-minded but skeptical: There have been new large-mammal discoveries in our lifetime, but she acknowledges it's pretty suspicious that only blurry pictures of Bigfoot ever surface. Krantz interviews a variety of scientists, all of whom speak with such authority on both sides of the Sasquatch question that they help create the wonderful and rare experience of being able to believe in two contradictory ideas at once. Wild Thing gives listeners a break from reality while staying in the realm of possibility.
Gateway Episode: "Grover"
---
A partnership between Longreads and Oregon Public Broadcasting, Bundyville looks at the bizarre circumstances of two armed standoffs against the federal government led by the Bundy family: a rebellion in Bunkerville, Nevada, in 2014, and the takeover and occupation of the Malheur National Wildlife Refuge, near Burns, Oregon, in 2016. The host and writer Leah Sottile interrogates the motives behind the insurrections, even interviewing the Bundy patriarch, Cliven. Much has been made of the disconnect between coastal and heartland Americans, and that tension drives Bundyville. Sottile tells listeners, "The story of the Bundys is about belief and truth and figuring out which one of those things has more power." This division rings true. Sottile is the truth: fact-checking the Bundys' claims of constitutional rights to graze on government lands. The ranchers are the belief: in their old-fashioned living, in God, and in the Constitution. Listeners are almost forced to pick sides. While the podcast succeeds as an indispensable document on the clashes between ranchers and the feds, the conversation crackles when Sottile stares directly into the abyss between conviction and fact.
Gateway Episode: "The Battle"
---
Sometime in the past 30 years, many Americans went from nearly ignoring soccer to waking up early on Saturdays to watch the English Premier League. The sport is rising in popularity—it could become America's third-favorite game in the near future—and that means there are newcomers, and even diehards, who don't know about decades of past champions and iconic matches. We Came to Win's host, Nando Vila, catches these listeners up on soccer's gargantuan global importance and history. "How the 1990 World Cup Saved English Soccer" tackles the sport's cultural dimensions by unpacking stereotypes of hooligan English fans and what it means when a player and a song embody the ethos of a country. "Zaire '74: The Most Misunderstood Team in History" delves into the colonialist history of Zaire, today's Democratic Republic of the Congo, and how one set piece that was thought to be folly may have been a jab at a cruel dictator. Many audio documentaries fail to live up to their filmed counterpart, but We Came to Win—with its polished sound design, narratives, and production values—is completely immersive. This is a series of tremendous sports movies without the moving pictures.
Gateway Episode: "The Rise and Fall of Diego Maradona"
---
For 15 years, Radiolab has succeeded by allowing its producers to simply follow their own interests, and this year, it seems, they had gender studies on their mind. In the No followed the Radiolab co-host Jad Abumrad into the gray area of consent. After listening to a series on sexual consent titled "No," within Kaitlin Prest's show, The Heart, Abumrad invited Prest to further explore the subject. Abumrad also brings in an educational consultant named Hanna Stotland, who at first blush seems dismissive of victims. Stotland and Prest discuss situations where consent is given but then retracted; they also debate exactly how many seconds are allowed to pass or how many nonverbal cues have to be ignored before something qualifies as assault. The conversation is impressive because most people find it hard to talk about rape with someone who disagrees with them—and yet here are two women who can. The show pivots to discuss the BDSM world, where practitioners have a teachable working language to ensure that no one gets hurt. But the series acknowledges that even this community hasn't figured out how to make it safe to say that you don't feel safe, at least not in public. In the No doesn't have all the answers, but it does suggest that finding common ground on consent is achievable, if only people can manage to stay in the conversation.
Gateway Episode: "In the No Part 1"
---
Audible's shining jewel of a podcast is back again with the therapist and author Esther Perel talking with various couples at unstable moments in their relationships. Perel has made it her life's mission to study couples, instead of individuals, and despite none of the series's participants' being her actual clients, she immediately picks up on their respective patterns. The host's third season, a collection of sessions called The Arc of Love, outlines the maturation of coupledom. Perel considers not only how a duo's problems might grow more complex but also how the solutions can become more exciting. Even though the show isn't about ogling other people's problems, Perel has picked compelling subjects. With one on-again-off-again couple, she figures out, by asking only two questions, how the man became a compulsive liar. At one point, Perel says that "we've never invested more in our intimate relationships than we do today, and we've never crumbled more under the expectations." With Perel dropping nuggets of wisdom like that so often, even though we aren't seated in her office, Where Should We Begin will make many listeners feel fully seen at last.
Gateway Episode: "The Arc of Love"
---
In 2016, Donald Trump promised to reinvigorate the coal industry and won the central-Appalachian coal counties overwhelmingly. For more than a year, Embedded and its host, Kelly McEvers, tracked the stories of various people reliant on the fossil fuel, shining a light on what happens when the jobs run out, as they will for more than just the coal industry. This reported series is a reminder that while shifting toward a new trade may seem like a clear long-term solution to many, holding tight to a sunset industry can also make sense, if it's the only way you have of feeding yourself.
Gateway Episode: "Coal Stories Episode 1"
---
In Rough Translation, the host, Gregory Warner, treats culture like a language—as something that must be learned over years and practiced with people who've grown up with it. In the case of Pakistan, for example, the show discusses the intricacies of courtship—with a little help from English literature—and the hard decisions many women in the country have to make about marriage. "Intruders" finds a galvanizing feminist movement sprouting in Buenos Aires, Argentina, in a surprising place: on a sleazy daytime talk show. The most vital episode expands listeners' vocabulary in the lost art of forgiveness, as seen through a vast hierarchy of apologies in Japan. Consider Rough Translation your first-class ticket out of whatever bubble you might be calling home these days.
Gateway Episode: "The Apology Broker"
---
Bikram Choudhury emigrated to the United States from India and launched a hot-yoga empire—named after himself—with little more than poses from the old country and sheer ambition. The 30 for 30 producer Julia Lowrie Henderson used to practice Bikram yoga, and in this podcast she guides listeners through the practice's rocky history. Once a groundbreaking space for weight loss and self-reflection, Choudhury's studio—and the franchises the teacher launched—fell under a dark cloud when he self-appointed guru was accused of rape and harassment (he denies the allegations). 30 for 30 had been a series of stand-alone episodes on sports for years, but it ventures into a serialized format here. Henderson's and others' experiences make it clear that many students and instructors loved Choudhury—they felt their lives had changed under his tutelage and in his 105-degree studios. The ambivalence that the yogis interviewed for the podcast share with Henderson about the years they devoted to him makes for a riveting listen. Whether because of quasi-Stockholm syndrome or straightforward commitment to the practice, the people who inhabit this series have a lot to say about how to cope when something you love turns rotten.
Gateway Episode: "Part 1: Arrival"
---
Thunder Bay, named for the Canadian city in which it takes place, depicts the harshness that is specific to the area's history and geography. The host, Ryan McMahon, is an Anishinaabe writer and comedian who grew up close to Thunder Bay, and his proximity to the story assures listeners that they're being piloted by the right voice. Over the past two decades, several young indigenous people have been found dead in the nearby Kaministiquia and McIntyre Rivers. Most of the deaths have been deemed accidental, or the causes could not be determined. Thunder Bay is not just a dangerous and racist place; the area has also been seemingly minting corrupt government officials, including one who was disbarred and arrested for soliciting sex from underage girls. Many podcasts exploring a particular community feature a well-meaning host who is usually white and/or from the outside. This dynamic can create an uncomfortable parachuting-in-for-the-story effect. No such dissonance exists here. Thunder Bay also says up front that it isn't out to solve the cases. In lesser hands, the show would have gone the true-crime route and dragged the rivers for clues. Instead, McMahon sets his sight on the whole city, its institutions, and its apologists, arguing for revolutionary change in a town that needs to answer for when its children die alone in the elements.
Gateway Episode: "There Is a Town in North Ontario"
---
Given how many podcasts exist, it's surprising that there aren't more like Slow Radio. Isolating sounds—of cities, of nature, of machines—is a concept that programs dance around and occasionally dip into but rarely do right. Often, they interrupt the serenity when all you want is to listen to the sounds of the hibernating tadpoles (as you can properly do in Slow Radio's "A Visit to a Snowy Forest Near Oslo"). The work here is not of the causal press-record-whenever variety. One man collected the sounds in an episode about Japan over the course of 20 years. Another plays his bamboo flute on a farm, prompting the nightingales to sing, and they're responsive to him in the most darling way. Other episodes are less meditative: "Forgotten Sounds" includes typewriters and steam engines, among other no-longer-modern noises. "Walking Through Time" features clocks ticking, chiming, and winding. There are sounds of war and even of dementia. These audio spaces remain usefully, poignantly nebulous. Everything Slow Radio creates allows listeners to inhabit other worlds without leaving their own.
Gateway Episode: "Nightingales"
---
In 1973, Vice President Spiro Agnew was under investigation for accepting bribes; he pushed to get the charges dropped, claiming that the Justice Department was trying to frame him. Bag Man, a fantastic new series hosted by MSNBC's Rachel Maddow, confronts the obvious parallels between Agnew's plight and President Donald Trump's attempts to scuttle the Russia investigation. The series should be a touchstone for how to pace a narrative that's dense with history. Maddow is an excellent host: In addition to being a pro behind the mic, she doesn't editorialize, and she keeps the story accessible. Most listeners probably already knew that Agnew resigned once he fell out of favor with Nixon, but because the vice president's criminal legacy was quickly and thoroughly overshadowed by the Watergate scandal, some of the information presented here might be a revelation. Maddow's producer even digs up audio of Nixon's chief of staff H. R. Haldeman—who was later arrested for lying under oath, conspiracy, and obstruction of justice for his role in Watergate—pushing the administration to bail Agnew out of trouble. The lead prosecutor on the Agnew case, Barney Skolnik, after hearing the tape, tells Maddow: "I mean, that's, you know, that's the swamp, you know, in operation." Bag Man reminds listeners that investigations of high-level political corruption stick to a familiar script: Prosecutors follow the dirty money, and the accused leaders start casting aspersions when the Justice Department comes knocking on their door.
Gateway Episode: "An Unsettling Secret"
---
USA's host, Kai Wright, and his team read history like meteorologists read the weather: The layperson knows the patterns are bound to repeat themselves, but the USA team has a superior sense of when and where. Their third season focuses on gender and power in light of the midterm elections—and even though the results are in, the series contextualizes American culture and shows listeners how to approach politics beyond opinions. USA was already drawing connections between 2018 and 1992 (a.k.a. the Year of the Woman a lá Anita Hill) when, as if by fate, America found itself grappling with the testimonies of Christine Blasey Ford and Brett Kavanaugh. The show analyzes women in power, dissecting their names and voices, their cleavage and haircuts. It profiles Ida B. Wells (from the birth of "respectability" politics to what she called her "besetting sin": anger) and Jeannette Rankin (the first and only female member of Congress from Montana). One of USA's greatest strengths is going where the action is—Texas, for example, for the tight Ted Cruz–Beto O'Rourke race, during which secret women's groups formed to talk about liberal issues in conservative counties. The show has always been able to swiftly explain current events through the lens of the past, but this season, it began to apply that lens to the future.
Gateway Episode: "Episode 1: The Dream Was Not Mine"
---
Jad Abumrad of Radiolab hosts a four-part series as a supplement to the film Boy Erased, itself an adaptation of a memoir by Garrard Conley. Like the film and the book, the podcast focuses on the practice of trying to "convert" gay people into heterosexuals—a practice sometimes forced on minors that's still legal in most states. UnErased kicks off with a truncated account of Conley's experience of escaping a conversion camp, before pivoting to other subjects: the stories of conservative women who've taken in children who were disowned for coming out, and an exploration of how Playboy magazine played a crucial role in dismantling the notion of the "gay cure." The series concludes with a profile of the former leader of a so-called ex-gay organization who is now out of the closet and married to a man. UnErased provides context that stretches beyond the world of Boy Erased, diving deeper into the issues at hand and justifying itself as a stand-alone work.
Gateway Episode: "Garrard and the Story of Job"
---
Set some time aside and prepare yourself for The Teacher's Pet, an immersive, comprehensive, true-crime run of 16 episodes about the disappearance and suspected murder of Lyn Dawson in a suburb of Sydney, Australia, in 1982. The alleged villain in the story is Dawson's ex-husband, Chris, who told police that Lyn may have run off with a cult. Around the same time she went missing, a teenage student of Chris's with whom he was having an affair moved into his house; they ended up getting married. Treating the missing-person case as if all the evidence is fresh, and all rumors are worth reporting on, the host, Hedley Thomas, has created something gargantuan in scope, even if the whole affair is salacious at times. (The Teacher's Pet is set in the suburbs and definitely captures the flavor of how gossip spreads there.) The podcast has garnered considerable attention, and not just from fans, who've downloaded it 28 million times. The police in New South Wales have been sniffing around Chris Dawson for a while; they even dug up his backyard back in the 1980s looking for his wife's body, but didn't find anything. This month, Dawson was arrested and charged with the murder of his ex-wife, with the help of corroborating evidence from The Teacher's Pet.
Gateway Episode: "Bayview"
---
Curtis Flowers, the subject of In the Dark's superb second season, is in prison and has been tried six times for the same crime—the shooting of four people at Tardy Furniture in 1996. The host, Madeleine Baran, and her team spent almost a year in Winona, Mississippi, re-interviewing witnesses, finding new ones, and reexamining evidence. Some of the facts are inescapable and familiar: how the initial arrest brings into question the tenets of policing; the blackness of Flowers's skin; the inequities of the criminal-justice system. With each conversation and confounding piece of evidence—police matched a bullet from the crime scene to a gun that was never found and never belonged to Flowers in the first place—In the Dark aims to complicate listeners' understanding of the case. This is a podcast you should listen to for the sheer depth of its investigation, which just might teach law enforcement how to set a man free, step by step.
Gateway Episode: "July 16, 1996"
---
For the uninitiated to this now old-school podcast, the host, Hrishikesh Hirway, asks musicians to dissect the isolated vocal or instrumental tracks of one of their songs. Beyond the intro and credits, you rarely hear Hirway's voice; the show is all about the artist and the music, giving diehard fans precious insight into their favorite songs and making fans out of skeptics. Listeners won't be able to unhear the craps tables in Arcade Fire's "Put Your Money on Me" after learning that Win Butler's mom was into gambling. Janelle Monáe's striking cadence in "So Afraid" transforms from a catchy repetition into a feminist mantra. And Lindsey Buckingham's lonely vocals and vulnerable storytelling of Fleetwood Mac's "Go Your Own Way," inspired by his breakup with Stevie Nicks, makes the classic suddenly new again. Song Exploder started in 2014 and has never changed its tune, but the series manages to stay both evergreen and current by relying on the real core of its inquisition: showing exactly where creativity comes from. It's a mission that, like Song Exploder, cannot possibly get old.
Gateway Episode: "Arcade Fire—'Put Your Money On Me'"
---
Longform Podcast launched in 2012 as a series of hour-long interviews with nonfiction writers the hosts admired. Though the show quickly established itself as a promising project, it was made by writers for writers, meaning it was too niche for a general audience. But the co-hosts, Aaron Lammer, Max Linsky, and Evan Ratliff, have expanded their remit over time, deemphasizing craft and making the machinations of journalism the focal point of an exciting conversation (even spotlighting podcasters—Chana Joffe-Walt of This American Life—and the occasional fiction writer, such as Sheila Heti). The series leans into the drama that creates great stories and functions as a foil to the distrust of the press that's reached fever pitch as of late: Take the New Yorker writer Paige Williams talking about the dedication necessary to be a reporter (it's a 365-day-a-year job), or the New York Times White House reporter Maggie Haberman typing notes on a breaking-news story during the interview. If, at its heart, the show is about the doctrine of reporting—pitching ideas, collaborating with sources, hunting for the right narrative—it's also about the long tail of such work: appreciating a really good story, even when everyone else has moved on.
Gateway Episode: "Tom Bissell"
---
TTFA, as friends of this pod call it, has created a community through listener support—and not just the financial kind. If you donate, you're automatically invited into the Terrible Club, a forum in which people can connect both online and in real life. Non-joiner types may turn up their noses at this kind of togetherness, but it appears to have helped the show do what it aims to do: examine the tension between the terrible parts of life and the fact that people don't know how to talk about them. Truly impressive was a two-part episode about suicide. Instead of speaking from a place of authority or telling one person's story, the host, Nora McInerny, gave the reins over to her audience; more than 100 people spoke up, about both their personal experiences and what it's like to lose a loved one this way. It's a method that, when applied to this subject, accentuates the superpower of the podcast form: Listeners get to step into someone else's life and return to their own with words that might actually help another person. The show continuously, unapologetically, ferociously plows into subjects most people are too uncomfortable to touch.
Gateway Episode: "What Do You Say About Suicide Parts One and Two"
---
The media landscape this year has seen plenty of stories—including podcasts—focused on the ills of the U.S. criminal-justice system, such as racial bias and unfair sentencing. But Ear Hustle adds another dimension to that conversation: It takes place inside San Quentin State Prison. The co-hosts, Earlonne Woods (himself an inmate) and Nigel Poor (an artist who's worked at San Quentin for seven years), examine the realities of serving time. When the show premiered last year, the pair covered many of the obvious bases—solitary confinement, cell mates, conjugal visits—to orient its audience, but this year it went everywhere else. "The Big No No" is a forbidden-love story that will leave you wanting more. "Birdbaths and a Lockbox" details what happens when access to outside food stops and your stash runs out. The big news of Season 3 is that Woods's sentence was commuted after he spent 21 years behind bars. When he calls to tell his mother, we get to listen in. Ear Hustle encourages its audience to stop thinking of inmates as either an abstraction or a problem to solve, and places outsiders on the inside.
Gateway Episode: "Firsts"
---
The Realness lures listeners in with a trip down hip-hop's memory lane. It tells the genesis story of the duo Mobb Deep, but the show is much more than a nostalgia piece; it also weaves in Prodigy's battle with sickle-cell anemia, including an exploration of discrimination in health care. The show comes through a present-day lens, because Mobb Deep's sound continues to influence artists, and because biases still shape the kind of service patients receive in a hospital. The Realness is irresistible for listeners looking to recall—or deepen their understanding of—hip-hop history, and the show features deep cuts, like when A Tribe Called Quest's Ali Shaheed Muhammad discusses the day a gun accidentally went off and wounded someone at Def Jam Records. Most compelling is when the show addresses Prodigy's unusual death in 2017—he choked on an egg, at age 42—through interviews that explore how the nature of the rapper's passing doesn't reflect the power people attribute to him. The entire series is a love letter to hip-hop and an elegy that draws a crystal-clear connection between race and health.
Gateway Episode: "Episode 1: This Sunny Day Right Here"
---
The host and journalist Steve Fishman throws open the decades-old case file on the onetime Bronx crack dealer Calvin Buari—a smooth, mink-coat-wearing, first-generation American who was convicted of a double homicide in 1992. Fishman is white and privileged; Buari is a black inmate and self-made businessman, and maybe the cops who arrested him aren't telling the whole truth. After befriending Buari, Fishman talks on the phone with him regularly. They strategize about legal work, discuss the murders, and settle into what could be called a mutually beneficial relationship, all while Fishman's recorder runs. If you think the journalist-as-detective formula has played itself out, look to Panoply's Empire on Blood for a reminder of how a popular genre stays fresh. This isn't just a reporter inserting himself into the narrative; Fishman is a co-lead in the Calvin Buari story, which itself poses a credibility issue. The tension of the show lies in all the contradictions and conflicts of interest, many of which are explored by Fishman. Everyone's working an angle.
Gateway Episode: "Calvin's Last Shot"
---
The insistent rain and ethereal singing that punctuate every episode of Death in Ice Valley help establish the eerie setting for the international sensation created by the Norwegian journalist Marit Higraff and the BBC documentary filmmaker Neil McCarthy. In 1970, an unidentified woman was found dead in Norway's Isdalen Valley. After a thorough police investigation, almost nothing made sense about the Isdal Woman, as she came to be called. "When people go missing, they are usually missed," Higraff says in the first episode. Yet for the past nearly 50 years, no one has come forward with details about who the woman might be. Listeners travel to each hotel room and store where witnesses say they saw her all those years ago. The audience even finds out how she smelled. The show wants to uncover the truth, but the hosts also entertain speculation; even theories from Facebook are addressed. Death in Ice Valley is an accidental history lesson about World War II, the Cold War, and even the symbology of an engraved spoon. Once the final episode's closing music begins to play, it practically begs you to start the series all over again, searching for clues that you—and everyone else—might have missed.
Gateway Episode: "The Isdal Woman"
---
Throughout Sold in America, the host, Noor Tagouri, hovers over the unsolvable puzzle of human trafficking as if it were a Rubik's Cube. She asks listeners to leave their preconceived notions behind and stick with her as she explains how, despite her reporting on the sex trade for many years, what she thought she would understand by making this podcast changed again and again along the way. Tagouri hands over the mic to people who believe that sex work in America can never be consensual, to people pushed to the edges of society when they started transitioning genders, to sex workers who love their jobs. There's an interview with Dennis Hof, the now-deceased owner of a brothel called Moonlite Bunny Ranch, and tense sound bites of one of his female employees sexually harassing Tagouri. The host travels to Kentucky to explore how and why people use sex work to pay for expensive opioid addictions. And she tags along with activists who are fighting pending legislation on Capitol Hill. Sold in America doesn't conclude with answers. But sometimes, the best way to get people talking about something as stigmatized as the sex trade is to simply get it all on the table. Sold in America does just that.
Gateway Episode: "Sold in America"
---
The co-hosts of Still Processing, Wesley Morris and Jenna Wortham, are the kids who come to class in the fall having completed the summer reading and, yes, they have some things to say about it. This pop-culture talk show, which blends discussions of art, race, sex, gender, and queerness, pulls off something incredibly difficult, given its format: making a conversation between two people spontaneous and tightly structured. A rigorous defense of Janet Jackson's involvement in Nipplegate is deeply sourced and never veers off topic. The writer Wells Tower's reading of "heinous, misogynistic" dialogue from a piece of his nonfiction gets a thoughtful critique. One episode devotes an hour to analyzing Black Panther, exploring how it isn't just one of the year's best films—it's also an exorcism of more than 100 years of white filmmakers' casting malpractice. Come to Still Processing to be moved and challenged and loved; to listen to a movie review and feel like you're attending a big-ticket event.
Gateway Episode: "We Heard Lauryn Hill, but Did We Listen?"
---
In Dr. Death, the host and award-winning medical journalist Laura Beil leads listeners through the rise and fall of Christopher Duntsch, a neurosurgeon who left 33 patients in Dallas dead, paralyzed, or injured. He's now serving a life sentence. The show teases out a number of angles—that Duntsch was fueled by hubris, hate, hope, or drugs and alcohol—and in doing so, it illuminates major blind spots in how hospitals report infractions, allowing a physician with an unclear training record and several botched surgeries to keep practicing. The facts of Dr. Death are so sensational that, as you listen, you may have difficulty accepting them as true (the show reaches peak gross-out with detailed descriptions of, say, hardware free-floating in a body). Beil eases some of the helplessness her reporting might provoke by giving patients cum listeners tips (talk to the nurses!) and context (this case really is unprecedented). Unsurprisingly, Dr. Death is one of the many podcasts now set for a television adaptation.
Gateway Episode: "Three Days in Dallas"
---
Making Obama isn't about public policy; it's a gripping narrative about the incredible sacrifices and dogged commitment that comprise a run for the presidency. The WBEZ host Jenn White takes listeners back to the salad days when Obama was a mixed-race man from Hawaii living in Chicago trying to make a run for the state Senate. The show explores how even though many people respected him, they were also used to the system—the one that told them Obama was too young, not local enough, not black enough to succeed in politics. Making Obama is a remarkable look at what goes on behind the scenes in politics: The third episode is a jaw-dropping look inside party primaries and broken promises, which makes you begin to realize that Obama wasn't destined for the presidency, as so many people remember; he was opportunistic, he had a streak of good luck, and he was married to the right person. After you finish Making Obama, you might revisit footage of Obama's big speech at the Democratic Convention Convention in 2004 and realize that it wasn't the beginning of a president—it was the middle act.
Gateway Episode: "The Man in the Background"
---
StartUp continued to venture into unexpected places this year with its series on church planting, led by the reporter and host Eric Mennel. Founding a church isn't dissimilar to the trials of starting any new company, except that church planters are trying to sell the word of God. Whether and how a church accepts gay members, for instance, can determine whether a parish ever gets off the ground. And while most businesses don't require its CEOs to directly reveal their deep-seated personal beliefs, that openness matters here. Mennel, a Christian who hasn't been to church in decades, asks planters uncomfortable questions about gender roles, homosexuality, and whether they practice what they preach when the lights go off and everyone goes home. Church Planting is beautifully written, and with Mennel examining his own relationship to churchgoing throughout the series, its vulnerability and tenderness make it worthy of high praise.
Gateway Episode: "Church Planting 1: The Movement"
---
Unlike so many shows that have been churning out episodes with the same methodology, This American Life and its three-acts-based-on-one-theme construct have moved steadily toward the boldly political. The host, Ira Glass, has steered the show away from the hyper-personal, hyper-local flavor of the past, when segments covered summer camp, used-car lots, and abandoned houses (and wonderfully so). Glass threw the door open to the political game in 2016, when he called his Fox News–loving uncle to talk about Barack Obama. This year, on an episode about Senator Jeff Flake, TAL's commitment to political reporting and on-the-ground tape-gathering paid off when the show's producer Zoe Chace found herself standing behind the protester who famously shouted Flake down in an elevator. Some installments are set before 2018. There are episodes like "Random Acts of History," which recalls a complicated history of oppressors (slave owners, Nazis, European colonizers), and the perfectly constructed caper "The Feather Heist," about a man who steals exotic birds from a museum. Perhaps no one in narrative audio has the stable of talent that This American Life has, and whether the show is setting its sights on politics or plumage, it is creating awe-inspiring work.
Gateway Episode: "Random Acts of History"
---
During a year when show hosts entered their stories in ways that used to be considered off-limits, Heavyweight's Jonathan Goldstein went a step further. He's telling other people's stories, mostly, but he's also made himself into a character, or perhaps a caricature of himself, and that persona is what much of the show's success hinges upon. Goldstein is funny and self-conscious, but also self-aware. For instance, every episode kicks off with a call to his best friend, Jackie Cohen, (whom Goldstein's been talking about on-air since at least 2003), that listeners know will likely lead to her hanging up on him. He paints obvious exaggerations of his relationship with his boss and frames himself as the hero in almost every installment. Even the commercials keep listeners in Goldstein's specific brand of humor. These devices delightfully pop up in the stories he tells, which focus on the things people hide from or don't want to admit—like telling the father of your 10-year-old that he has a kid, or asking your roommates why they kicked you out, or finishing that massive amount of work you neglected when you went into a depressive hole. The show claims to be about "going back to the moment that everything changed," but that's not entirely true—Goldstein actually pushes people to create that moment of change for themselves in real time, and listeners get to hear it unfold.
Gateway Episode: "Rob"
---
When the seasoned producer Josh Bloch happened to run into an old acquaintance, Sarah Edmondson, whom he hadn't seen in years, she quickly informed him that she'd just left a cult. And so, a podcast was born. In Uncover, Bloch follows Edmondson as she untangles herself from a world she'd been part of for more than a decade. Depending on whom you ask, NXIVM is a lifestyle company, a self-improvement pyramid scheme, a "sex cult," or itnone of these; an ongoing federal investigation might help work that out. The group's high-profile members include the actress Allison Mack, the Seagrams heiress Clare Bronfman, and its founder, Keith Raniere, all of whom are facing criminal charges. Bloch argues that, unlike what so many cults or gangs do to attract members—exploit a person's isolation and lack of self-esteem—NXIVM grew primarily by tapping into people's egos and their desire for betterment and access to a vast network. Listeners get to hear Edmondson reflect on becoming a national news story, too, because Bloch's reporting started before Edmondson spoke to The New York Times for a piece about NXIVM. During a year that saw a flood of stories about cults, Uncover does a great deal to help audiences understand what it means to be part of such a world.
Gateway Episode: "The Branding"
---
For its third year, Serial heads to multiple courtrooms in Cleveland, Ohio, far from the suburbs of Baltimore and the battlefields of Afghanistan—the settings, respectively, of its first two seasons. The change isn't just geographic; the interrogation is different, too. While the first two seasons focused on specific crimes—the murder of Hae Min Lee; the desertion of U.S. Army soldier Bowe Bergdahl—Season 3 follows producers Sarah Koenig and Emmanuel Dzotsi as they tackle multiple cases in Cleveland and  "the whole criminal-justice system." Serial recorded everywhere inside Cleveland's Justice Center, including courtrooms, hallways, and judges' chambers. The first installment, "A Bar Fight Walks Into the Justice Center," is an apt prelude for the backroom brokering and paralysis of an overburdened government that color every story Koenig tells. But the young woman's bar fight featured in that first episode is chump change compared with what comes later. Serial's dour thesis statement about the system devouring the individual sticks with you. By the time the series gets to "You in the Red Shirt," with its horrific depiction of an undercover cop beating an innocent man and wrongfully arresting him, a glass-half-full listener might believe recompense is finally coming. Serial, through its incredible reporting, admonishes anyone who has such optimism.
Gateway Episode: "A Bar Fight Walks Into the Justice Center"
---
During the first scenes of The Horror of Dolores Roach, a few things become clear: More playwrights like Aaron Mark should write podcasts; Daphne Rubin-Vega, who portrays Dolores, kills in the audiosphere; and this show is like nothing you've ever heard before. Dolores has just finished serving a 16-year prison sentence, and when she returns to her Washington Heights neighborhood in New York City, she finds that everything has changed. The only thing that hasn't is Empanada Loca, the restaurant that her buddy Luis, played by Bobby Cannavale, still runs. In fact, the show revolves around this restaurant and a specialty empanada and the gentrifiers who can't stop eating it. It's unclear whether this podcast fits into the horror genre until the third episode—but it does. And the horror (oh, the horror) has a lasting, personal effect, because your specific imagination will dictate how you cope with the gory notion of say, two people having sex in a freezer next to a dismembered body. If you listen at the wrong time, you might just lose your lunch. And yet, the show shouldn't be missed. It's created a new type of immersive theater: Because Dolores is also the show's narrator, the listener, in part, becomes her—and that is by far the most horrifying part of all.
Gateway Episode: "All the Gory Details"
---
The Daily reshaped how major media outlets think about daily-news podcasts when it debuted in January 2017. Nearly two years later, the host, Michael Barbaro, is still using the long reporting arm of The New York Times to enlighten his listeners. Some episodes are built around urgent field notes from a reporter, such as Kirk Johnson's dispatches from the front line of the California wildfires. Others explore politics or technology, like when the Times writer Kevin Roose joins Barbaro to explain why Facebook CEO Mark Zuckerberg can't stop tripping over his own feet. The show's general structure remained untouched this year, though it tapped into something extraordinary as storms bore down on the East Coast in September. In a two-part series, The Daily flashed back to August 2017 to recall the devastation that Hurricane Harvey wrought on Houston, pulling liberally from the work done by the writer Sheri Fink. "Lost in the Storm" proved exactly why history matters, and why one couple's struggle to survive remains potent even after the flood waters have subsided. Above all else, it's arguably The Daily's focus on humanity that keeps racking up the downloads.
Gateway Episode: The Latest Release
---
While multilevel marketing, or MLM, is a murky business, The Dream makes it a joy to learn about. An exhaustive look into the opaque marketplace of direct selling, this 11-part series uncovers the fascinating origin story of the business practiced by numerous companies with household names, such as Herbalife and Amway. When The Dream looks further into the past, it discovers that the model sprang up at a time when gender roles blocked many women from entering the workforce. For some of these women, selling cosmetics wasn't just about beauty; it was also about autonomy. The host, Jane Marie, pulls out all the stops investigating MLM: She goes home to Michigan to talk with women in her family who sold Tupperware; enlists her colleague MacKenzie Kassab, a writer and producer, to sell makeup; and investigates what kind of a living commission-only employees are making selling products for MLM firms. Enough can't be said about how entertaining Marie is—she wisely puts her NPR voice in a drawer and instead frames the show around funny, lively conversations she has with people. The Dream might transform your idea of what a Tupperware party is—from a necessary evil to a time-honored example of a century-old business practice. Whether or not you believe direct selling is ethical, there's no denying it's rich with history.
Gateway Episode: "Wanna Swim in Cash?"
---
Season 2 of Slow Burn might as well be the first time listeners have heard the full truth about the Starr Report and the headline-stealing relationship between Bill Clinton and Monica Lewinsky. Using interviews and footage of Starr, Linda Tripp, Lewinsky, and others, the host, Leon Neyfakh, unravels the events that led to Clinton's impeachment in 1998. In this excellent follow-up to 2017's Watergate postmortem, the story of the Clinton-Lewinsky scandal plays out differently, almost as though the American public wasn't ready to grasp the plot the first time around. The eight-part series is about history being recast in real time as the culture's vocabulary improves: about the shift from talking about false statements and infidelity to talking about abuses of power. If most reporting at the time wrote out Lewinsky's agency (the former White House intern was portrayed as naive at best), Slow Burn makes ample room for Lewinsky, who is undeniably its most compelling character.
Gateway Episode: "Deal or No Deal"
---
The creator Kaitlin Prest—best known for her acclaimed series The Heart—has returned from a brief podcast hiatus with a remarkable artistic achievement: The Shadows, a story about a girl, Kaitlin, who meets a boy, Charlie. It's a work of fiction, set in the made-up town of MontYuron, that includes actual events from Prest's life. "I always cry when I fall in love," Kaitlin's character says after the two admit their feelings for each other. "I cry because it's the moment I realize I won't be getting out of this unscarred." The Heart, which ended in 2017, was a dissonant, high-culture, sex-positive reckoning with the jaggedness of intimacy. The Shadows is precise and devastating without losing any of the subversiveness of its predecessor. The way that relationships ebb and flow should be familiar to anyone who's ever risked heartbreak. From a craft perspective, the writing, multiple points of view, and sound design make the romance tactile. The Shadows is a love letter to anyone who falls too hard for beautiful strangers, or can't seem to stay faithful, or find anyone who can.
Gateway Episode: "Romantic"
---
Honor Eastly, an Australian podcaster, has achieved something extraordinary in her six-part memoir, No Feeling Is Final. She documents her struggles with suicidal thoughts and behaviors, while listeners follow along as she tries to improve her quality of life and her thinking—or even just how she thinks about her own thinking. Eastly uses various sound-engineering techniques as well as recordings she's made of herself over the years to render the feelings of anxiety and fear. Sometimes she even enlists friends to reenact conversations. She says she hopes to foster a more human way of viewing mental-health struggles, and here Eastly triumphs—thanks in part to her sense of humor and her musical stylings (her sweet scores help with the emotional comedown at the end of most episodes). As Eastly says, "Getting to the other side of things is as much common sense as it is complete mystery." Such is the case for the success of No Feeling Is Final, which is both straightforward, excellent work and total magic.
Gateway Episode: "Hi, My Name Is Honor"
---
You may think Headlong is an entirely new show given its title—and it is—but it's also the successor to last year's Missing Richard Simmons, whose host, Dan Taberski, is back at the helm. For those who tagged along on his journey to find the fitness legend, it was hard not to be impressed with Taberski's numerous charms, even if Simmons didn't want to be found. Headlong: Surviving Y2K is the perfect vehicle for Taberski's emotional intelligence and humor. Set in the late '90s, the show centers on the drama of the Y2K bug that people feared would be catastrophic enough to shut down power grids and fry computer processors. Taberski interviews programmers, early internet philosophers, and doomsday preppers, but then the narrative grows into something transcendent as the clock ticks toward midnight on January 1, 2000. The podcast delves into a series of life-altering dramas set just before the stroke of the new millennium, and with these stories, Y2K blossoms into a full-fledged classic.
Gateway Episode: "Millennium Approaches"
---
Rukmini Callimachi, the New York Times journalist known for her authoritative reporting on the Islamic State, leaves listeners weak in the knees at times with Caliphate. The 10-part series follows her as she travels to Canada to meet a young man known as Abu Huzaifa, who claims to be an ISIS defector. Each installment not only illuminates the tactics ISIS uses to lure in and train mujahideen, but also reveals Callimachi's tedious methodology for vetting everything Huzaifa says. Whether or not he's a reliable source is a key part of the plot: Huzaifa unquestionably has insider knowledge about ISIS, and yet his timelines don't quite check out. Callimachi struggles to reconcile the apparent veracity of his story with his possible motivations for lying; she labors over why he would confess to murder or describe the way blood splatters against the ground when you whip someone, and yet not be honest about when he was in Syria. Caliphate forces listeners to wrap their minds around the notion of evil and also somehow amplifies reasons listeners can and should have faith in the world.
Gateway Episode: "Chapter One: The Reporter"