Why Fans of Elena Ferrante Should Watch The Best of Youth
While the six-hour run time might scare off some, this striking 2003 epic doesn't waste a moment of its story about two brothers living in postwar Italy.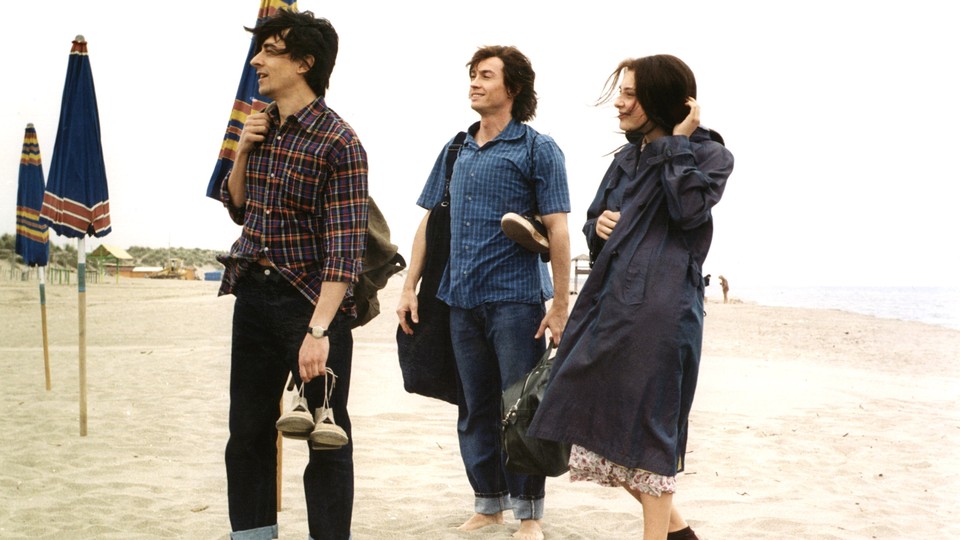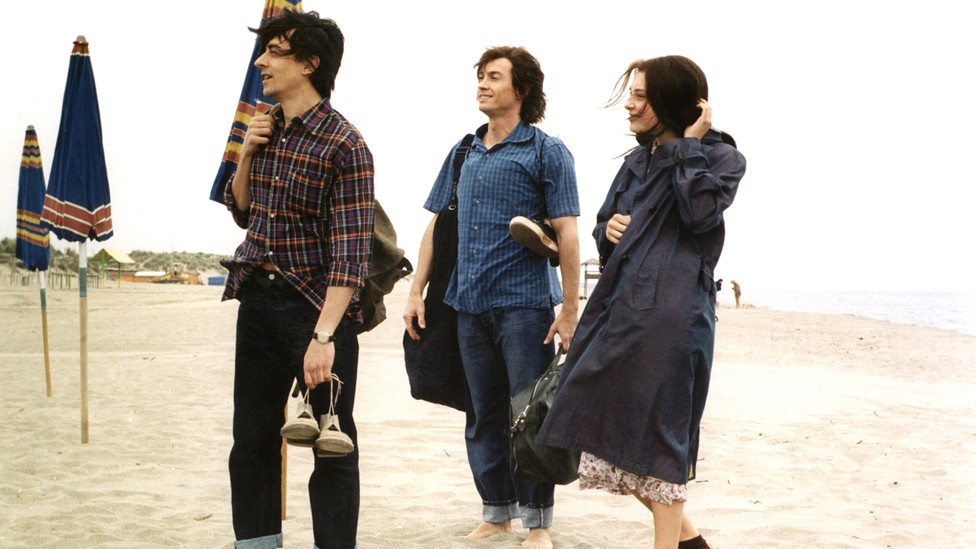 When fans of My Brilliant Friend have finished the first season of HBO's acclaimed television adaptation, they may find themselves looking to fill a void. The eight-episode series, which aired its finale earlier this month, followed the lives of Lenù and Lila, two girls growing up in a poor neighborhood in Naples in the mid-20th century. Their thorny, intense friendship—which Elena Ferrante's wildly popular Neapolitan novels chronicle in intricate detail over the duo's lifetime—has been fascinating to witness on the small screen. But until Season 2 arrives, viewers might consider passing the time with another acclaimed epic offering a simultaneously intimate and sweeping view of postwar Italy: the 2003 film The Best of Youth (or, La Meglio Gioventù).
When a recent Guardian article about HBO's My Brilliant Friend noted that "this is a prestige Italian production, assembling the great and the good of the country's cinema and TV," the author could have easily been talking about The Best of Youth. Originally envisioned as a TV miniseries, the two-part, six-hour film directed by Marco Tullio Giordana follows two Italian brothers over the course of decades as they find their place within their country's charged political landscape after World War II. Written by Sandro Petraglia and Stefano Rulli, the movie won the Un Certain Regard prize at the 2003 Cannes Film Festival and was even given a limited U.S. theater run. While some American viewers may have been put off by its length and subtitles, critics were nearly unanimous in their praise for The Best of Youth. A review in Slate said that the film, despite its length, "doesn't have a boring millisecond." Roger Ebert described the movie glowingly as a "novel" that made him feel as though he had "dropped outside of time."
Both My Brilliant Friend and The Best of Youth succeed partly because they give viewers ample time to get to know and care for the characters, especially the central duos. My Brilliant Friend, with its stark, stage-set–like backdrops, drab colors, and characters who speak in dialect, feels like a window into an entirely different era and world. Meanwhile, the brightness of The Best of Youth, and the ease with which the actors—some already well known in Italy—inhabit their roles, holds the audience especially close over the considerable run time, making viewers feel as though they could be watching a home movie of their own family. Though the two works touch on similar political tensions and take expansive views of their protagonists' lives during a certain period in Italian history, they diverge in tone and examine different slices of society. In many ways, The Best of Youth can be seen as both a cinematic complement and an antidote to the grimness and claustrophobia of My Brilliant Friend.
That's not to say the film shies away from tragedy: The Best of Youth introduces Nicola (Luigi Lo Cascio) and Matteo (Alessio Boni), two college-age brothers with very different personalities. The sociable Nicola boasts a lighthearted demeanor that masks a profound empathy, while the sullen, withdrawn Matteo struggles with anger issues—today, he might be diagnosed with clinical depression. In the mid-1960s, the movie makes clear, Italians with any kind of mental illness were often relegated to asylums or treated with electroshock therapy. Within the first 15 minutes of The Best of Youth, the brothers meet one such patient: a young woman named Giorgia (Jasmine Trinca), whom they decide to help. Their plan to smuggle her out of an institution and back to her family fails because, in their naïveté, they don't stop to think that her family may have put her there in the first place.
This incident, which inspires Nicola to become a psychiatrist, is but one allusion to the larger societal changes that took place in postwar Italy. In addition to a reform of the psychiatric system, the film also tracks a rise in left-wing terrorism, and the Mafia killings and subsequent trials that would shake the southern part of the country in the 1980s. Both brothers become tangled up in these historical events, but their participation seems optional in a way that Lenù and Lila's involvement in the ugliness of the era does not. In HBO's My Brilliant Friend, which is also set in the latter half of the 20th century, the heroines are regularly threatened with violence, starting when they're children, in their own neighborhood in southern Italy. Later, a teenage Lila realizes with horror just how much of their life is controlled by the Camorra, the Neapolitan Mafia.
Lenù and Lila can hardly be faulted for responding with a passive rage when faced with the limitations of their era, a time when women like them were expected to do little more than bear children to often abusive husbands. In its own way, this rage informs the girls' fascinating, volatile relationship with each other. Their friendship is one that seems to fuel every manner of emotion—jealousy, fear, desperation, desire, and affection—as the girls work to envision a better future for themselves. The onscreen version of Lenù and Lila's Naples feels closed off and Fellini-esque, with surreal backdrops and grotesque characters such as the lovelorn Melina and the predatory Donato. Just like the tunnel that separates the girls from the rest of the city, their poverty cuts them off from the outside world, also keeping their parents from imagining a different life for themselves or their children.
In contrast, Matteo and Nicola are both well educated and championed by their family from the start; the young men are aware of their relative privilege and of how society will define them by it. Their disappointment over the failed kidnapping of Giorgia sends them careening in different directions after they abandon plans to take a post-graduation trip together through Europe. Nicola gets as far as Norway's Arctic Circle, while Matteo, praised as a brilliant literature student, leaves academics to enlist in the army. A few months later, the brothers reunite in Florence in November of 1966, during the flooding of the Arno River. They join the legions of volunteers who had come to rescue Florence's priceless works of art, and who would come to be known as angeli del fango or "angels of the mud." For many young people, this event would be their first taste of a lifetime of activism, and The Best of Youth is at its most relevant when it traces the brothers' path toward that future.
As Matteo and Nicola grow older, the film depicts how the hopes of their generation—literally "the best of youth," as in the title, taken from a Pier Paolo Pasolini poem—played out on both political and personal levels. The movie's explicit examination of class privilege and responsibility will be familiar to many Italians who came of age in the postwar decades. Marco Cupolo, an associate professor at the University of Hartford, discusses this debate in his essay on The Best of Youth: "Would authenticity and unselfishness of emerging, well-educated classes lead the reforms of Italian institutions and society? What kind of moral values were young Italians looking for during the 1960s and 1970s?"
These questions call to mind a discussion that Lenù and Lila have with their peers in My Brilliant Friend's fourth episode ("Dissolving Margins") about whether to abandon their parents' old rivalries in favor of neighborhood unity. "Our fathers did bad things," says Lenù, as they discuss whether to accept a party invitation from the son of Don Achille, the feared neighborhood loan shark, "but we, their children, should be different." Though the teenagers couldn't have known it, their debate mirrored the social pressures that young people were confronting all across Italy.
Some young Italians concluded that their best chance at success was to leave the country altogether, an approach addressed in The Best of Youth as well as by Ferrante, who titled the third book in her Neapolitan series Those Who Leave and Those Who Stay, as if to underscore how much geography defines her characters' identities. But The Best of Youth shows how saving a generation can mean pointing it toward an exit: Early in the movie, a professor advises Nicola, "Do you have any ambition? Then leave Italy while you can. Italy is a country destroyed, a beautiful but useless place … with dinosaurs in charge." Giancarlo Lombardi, a professor at the College of Staten Island CUNY Graduate Center, spoke about this powerful conflict—whether to leave or stay—among the youth of that period. "Some parties and leaders see us as not having had the guts to fight for our country," Lombardi told me of his generation. "But this whole idea of the best of youth—what does it mean? At the heart of the show is the question of courage and the importance of rolling up your sleeves and making things better."
In the end, this is really what draws the two brothers together, and what sustains their story— and viewers—over The Best of Youth's six hours. As a soldier who will become a police detective and a left-wing student who will become a doctor, respectively, Matteo and Nicola continue to find themselves on different sides of an ideological divide. The two meet up again during a 1968 student riot in Turin, for example, where Nicola attends medical school. In a heated exchange about the violence taking place on their streets, Nicola's radical girlfriend, Giulia, claims that they fight for the poor, while Matteo says, of a police colleague who was attacked by protesters and left disabled, "he is poor in a way you will never understand." Yet somehow, in spite of arguments like this one, the brothers' deep affection for each other and sincere desire to make their country better—even if they disagree about how—are the keys to their appeal. The audience comes to see each brother through the other's eyes, to understand how great political disagreements can be reduced to mere squabbles in the face of filial love.
This kind of deep bond—one that manifests either as antagonism or affection—also anchors the Neapolitan novels, keeping readers engaged over four books and continuing to stoke "Ferrante fever" for long after the first installment was published in 2012. The girls' connection is what made HBO's My Brilliant Friend such a critical success, and it's what will draw fans back when the show returns for its second season. Over decades of their life and amid the turmoil of their country, Lenù and Lila—much like Matteo and Nicola—are alternately family, friends, strangers, and enemies, each of their paths painfully incomplete without the other.