The 7 Best Cookbooks of 2018
Pan-seared steak with za'atar chimichurri, curried lamb ribs, and a host of other inventive dishes from this year's top food bibles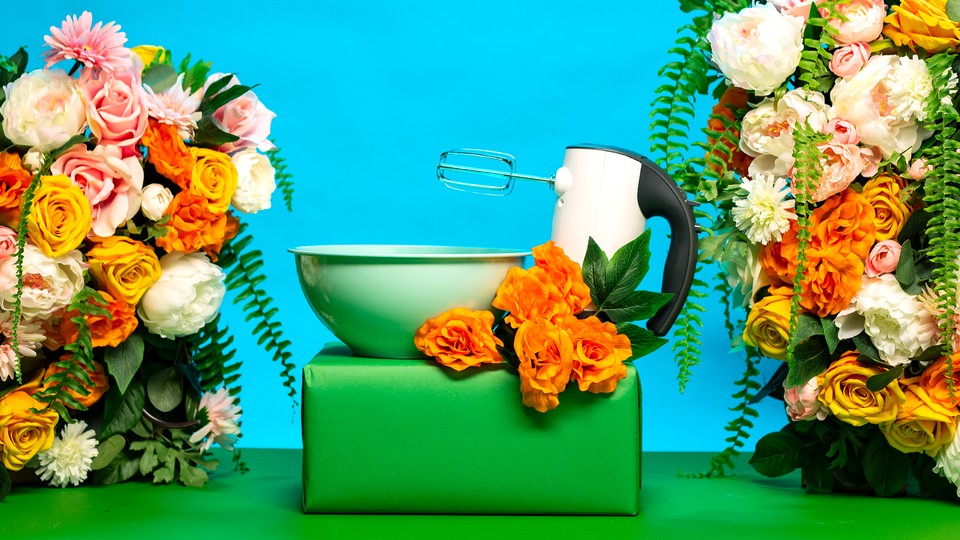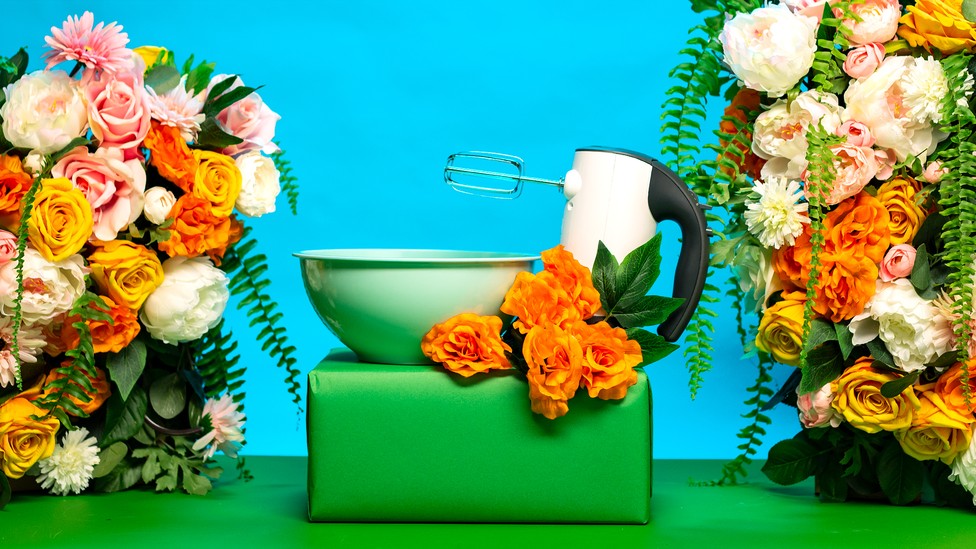 Editor's Note: Find all of The Atlantic's "Best of 2018" coverage here.
---
I first encountered the food of Alon Shaya at an ostensibly Italian restaurant in a restored 1890s hotel in New Orleans's central business district, in the form of a whole roasted cauliflower, served like a steamship round, with a demilune-shaped steak knife. I went back the next night for that dish and others that showed mastery of not just the pizza Shaya had practiced during several months in Italy, but also the Israeli food of which that whole roasted cauliflower is a well-known showpiece.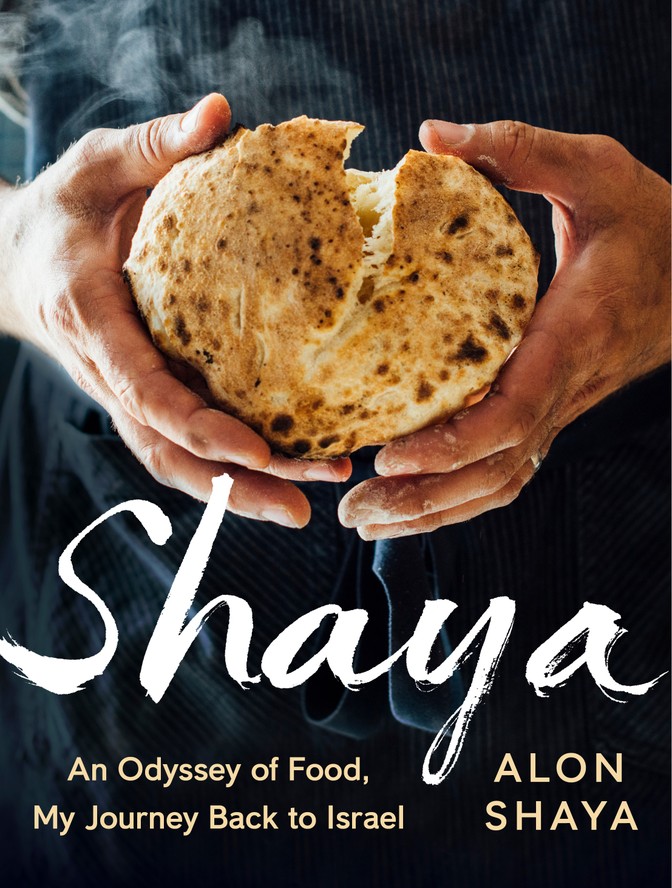 Shaya: An Odyssey of Food, My Journey Back to Israel, written with Tina Antolini, traces Shaya's emotional and culinary journey from Philadelphia, where he was a child of divorced Israeli immigrants, poor and out of place on the edge of a ritzy neighborhood (school friends would pick him up in Rolls-Royces for beachside weekends). He mostly encountered trouble, often with the law. But Shaya also found solace and vocation in cooking—an activity he had begun when his Bulgarian and Romanian grandparents would visit for a month at a time and provide the sense of family structure he lacked.
Because the book follows the contours of his development as a cook and a man, readers looking for a straightforward excursion into the Israeli food that took hold in the hands of Yotam Ottolenghi and Michael Solomonov, another Israeli-by-way-of-Philadelphia chef, will have to go along for the ride, stopping for the recipes on the way. You'll find the salads and homey dishes Shaya made sure to record on what he knew would be his last visit to his Romanian grandmother; read about him starting a Jewish culture club at the Culinary Institute of America, not realizing how his fellow students would react when he suggested a festive whole roast pig (what Jewish identity he had, he'd learned mostly from Seinfeld reruns); and learn his version of red beans and rice as part of his bonding with his adopted city of New Orleans before and after Katrina. (Fans of Solomonov's Zahav, with its redefining recipe for tahini, will be glad to know he's back with Israeli Soul, which focuses on street food, with a five-minute hummus and many kinds of bread, including pita and Jerusalem bagels.)
Shaya's recipes may be eclectic, but his sense of flavors is in tune with today's tastes. You'll likely want to try the pan-seared steak with za'atar chimichurri, and brussels sprouts with caraway and tahini, that Shaya says was inspired by the last meal he cooked for his grandfather. One particularly appealing recipe confirms a trend I find of special importance: Stuffed cabbage is back.
---
It's very easy to fall in love with Persian food—and if you live in Los Angeles, with its sizable expat community, or Boston, with a surprisingly generous number of Iranian-themed restaurants, you can see why by simply consulting a menu. Za'atar, sweet spices, fresh herbs, yogurt, sour flavors all in the same dish—this is familiar in a post-Ottolenghi world. Persian cuisine adds pomegranates, olives, walnuts, garlic, and mint among the seductive flavors—and, in a bowl of pomegranate-marinated olives, adds them all at once.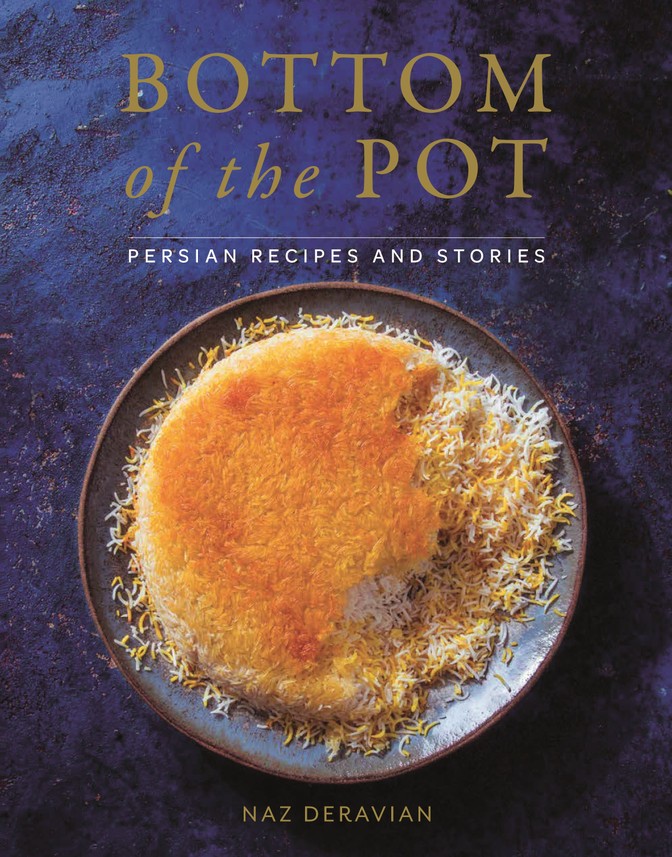 For Naz Deravian, the author of Bottom of the Pot: Persian Recipes and Stories, Persian food awakens her childhood in Tehran, Tabriz, and Rome. She's the daughter of parents who summered in Italy, which—via the "lucky tiny apartment" that was passed along from one aspiring emigrant family to another because its occupants always seemed to procure entry papers to other countries—became the family's launching pad for Canada after the 1978–79 revolution made life in Iran untenable. In their Vancouver kitchen, Deravian (whose essay on writing an Iranian cookbook in today's political climate is featured on this website) would watch her mother make the then-hard-to-find unflavored yogurt, the essential medium for most dishes and afternoon snacks, and test the temperature of the milk with a trained pinky. "If she was able to keep her finger in there comfortably for five seconds without scalding it," Deravian writes, "it meant the milk's fever had broken, and who better to culture it than a university-professor-turned-resourceful-immigrant-mama?" The food Deravian has evolved as an adult and a mother of two is in line with her childhood: roast salmon with dill, and an easy butternut-squash soup I plan to make a winter staple, with sweet potato, cinnamon, cumin, sumac, and maple syrup.
Of course, there is rice. I myself have become lost in the enchantment of tahdig, the crunchy layer that gives Deravian's book its name, hunting up bags of aged basmati rice and experimenting with all manner of clarified-butter-oil combinations to achieve the exact separation of every fluffy, properly moistened grain of rice above the crust and fragrant, caramelized grain in it. (I wrote an Atlantic piece on tahdig and the advantages of aged rice, and a column on Seductions of Rice, an excellent book by Jeffrey Alford and Naomi Duguid.) The author gives patient and complete instruction on achieving that crust, starting with the right-size nonstick pot (don't even think of trying to make it in stainless steel), and reveals a life-changing invention: a Persian rice cooker designed specifically to make no-fail, unmolds-in-one-piece tahdig. It vaults to the top of my wish list.
---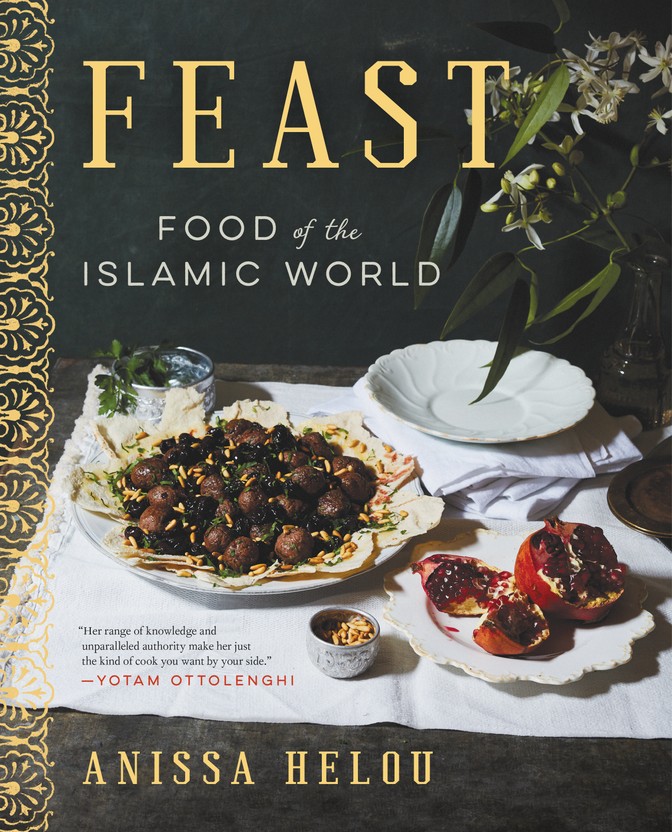 Recipes from Lebanon, the native country of Anissa Helou, author of Feast: Food of the Islamic World, appear in plenty of books. Recipes from Morocco, Tunisia, India, even Indonesia? Those, too. But from Kuwait, Zanzibar, Jordan, Egypt, the United Arab Emirates, Qatar? They're a lot rarer. Now Helou, an intrepid London-based scholar, cooking teacher, and traveler who leads sought-after food tours, has drawn them together in a big picture book that will serve as an inspiration to chefs and cooks looking to do cook's tours to countries beyond their usual beats.
Some of Helou's culinary descriptions might give you pause—for instance, when she devotes two pages to roasting a camel hump ("The market was too far … but I did want to see the slaughter." So a baby camel is brought to her, "sitting quite placidly"). And the recipes have long lists of ingredients, many of them difficult to find ("Be sure to get the right date syrup"; both coconut milk and coconut cream for Zanzibari rice steeped in milk). You might try one of the many regional variations of the meatballs called kibbe. Or a Turkish bulgur salad with the out-of-fashion green bell pepper and in-fashion Aleppo pepper. Or harissa, which can be a new sort of weeknight stew, with chicken and wheat berries flavored with cinnamon sticks and seven Lebanese spices.
However much you do or don't cook from the book, the unexpected groupings of similar dishes across borders and the many variations of, say, Afghani rice with vermicelli make it worth owning. You'll also never say "Israeli couscous" again without hearing the author's stern admonition: It's actually moghrabieh, the Lebanese version of large-grain North African couscous.
---
My first assignment as incoming restaurant critic at Atlanta magazine was to review a sushi-and-barbecue restaurant—an odd combination, it struck me then and strikes me now. But sushi was beginning to appear as a kind of side attraction at non-Japanese restaurants, so I thought, Well, that's how it is here. The chef, Todd Richards, is African American, and I certainly hoped that more often than not the chefs of the restaurants I'd be reviewing would reflect Atlanta's diversity. But in my years reviewing Atlanta restaurants, I was dismayed to find more examples of African American heritage on menus than I found African American chefs in charge of the kitchens.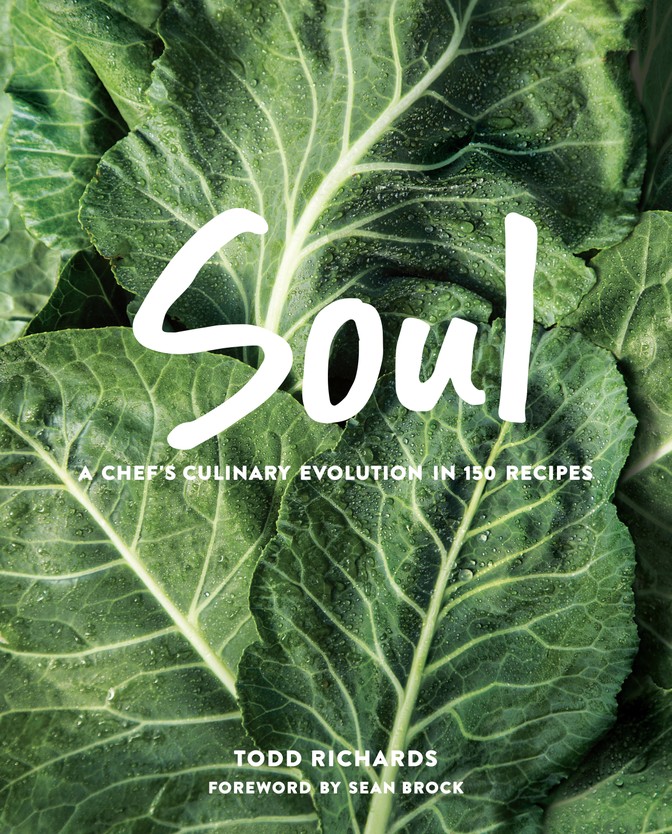 After reading Soul: A Chef's Culinary Evolution in 150 Recipes, I better understand sushi as part of Richards's education: "Sure I could cook French, Chinese, and Japanese food," he writes. "I could make the best matzo balls you have ever tasted, but what was my French food? After all, the foods of my people were not being highlighted on the menus of fine dining restaurants."
So Richards set out on his own journey of discovery, going to his family—his grandparents and parents were accomplished cooks—and revisiting the dishes of his Chicago childhood, adapting the ingredients that were integral to his heritage to the style he evolved as a chef. That style is eclectic: curried lamb ribs with crawfish-butter boiled potatoes, smoked catfish dip with Parmesan tuiles, chicken thighs marinated in blueberry sweet tea with golden beet hash. But his takes on soul-food staples, such as collard greens with their own pickled stems and smoked ham hocks, or shrimp and grits with the grits as a crisped batter and shrimp butter for a sauce, will sate your eagerness for the food of the title. And Richards includes a recipe for the skillet-baked cornbread that made me his fan at that first dinner.
---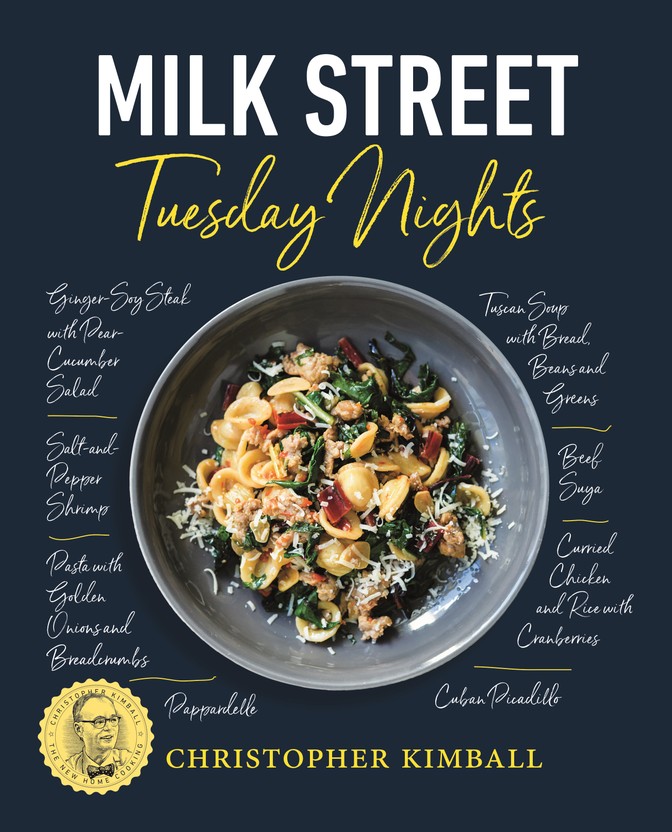 Then there are books you just cook from, weeknight after weeknight. This year's prime exemplar is Milk Street: Tuesday Nights by Christopher Kimball. Kimball is nothing if not an obsessive tester, so every recipe has an implicit guarantee. And at Milk Street, the new
media company he built after founding, and leaving, Cook's Illustrated, he's opened his world to Asian flavors and lightened his food and palate. As always, the book is practical (recipe notes flag the possible use of leftovers and call for frozen vegetables). But in this one it's hard not to want to try what's on any page you turn to: kimchi and bacon fried rice with frozen peas; frittata with leftover pasta, fresh herbs, and lots of garlic; milk-poached chicken breast with tarragon, garlic, and anchovy-parsley sauce; chile-rubbed pork with cucumber-melon salad; black-eyed-pea stew with chiles, ginger, and the season's rediscovered secret, tomato paste; Korean chicken salad with green beans, pine nuts, and gochujang. Scanning the streamlined but explicit instructions, you think: easy, quick, works, boom.
---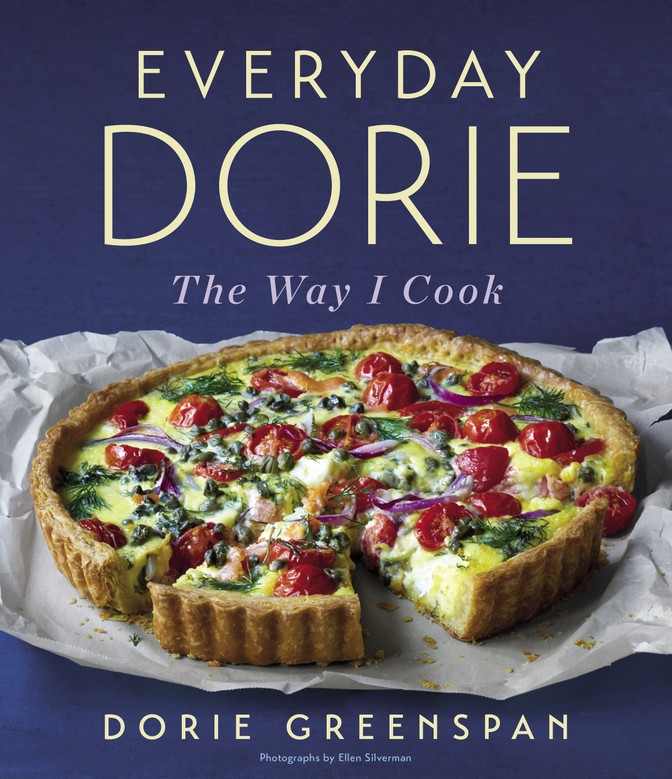 Dorie Greenspan knows how to make everything work. In her many baking books, she gives cooks the confidence they need to, as she says, "play around" with recipes usually considered black boxes. In Everyday Dorie, the chef's savory new book, everything can be made out of the Stop & Shop near her Connecticut home, but bears the stamp of her longtime residences in New York City and Paris. So you'll find a tart with lox, cream cheese, red onions, and dill (Greenspan likes it so much it's on the cover), named for the Lower East Side; the easy French mini–cream puffs called gougères with cheese, mustard, and walnuts—a fail-safe, crowd-pleasing appetizer; stick-to-your-ribs beef stews such as her version of the Flemish carbonnade with beer, and another with cranberries, ginger, and star anise, among other sweet and peppery spices; plus this season's must, stuffed cabbage. Of course, there are desserts, including Greenspan's latest favorite chocolate-chip cookie, this one with oats she swears you won't taste (but you'll like the chew).
---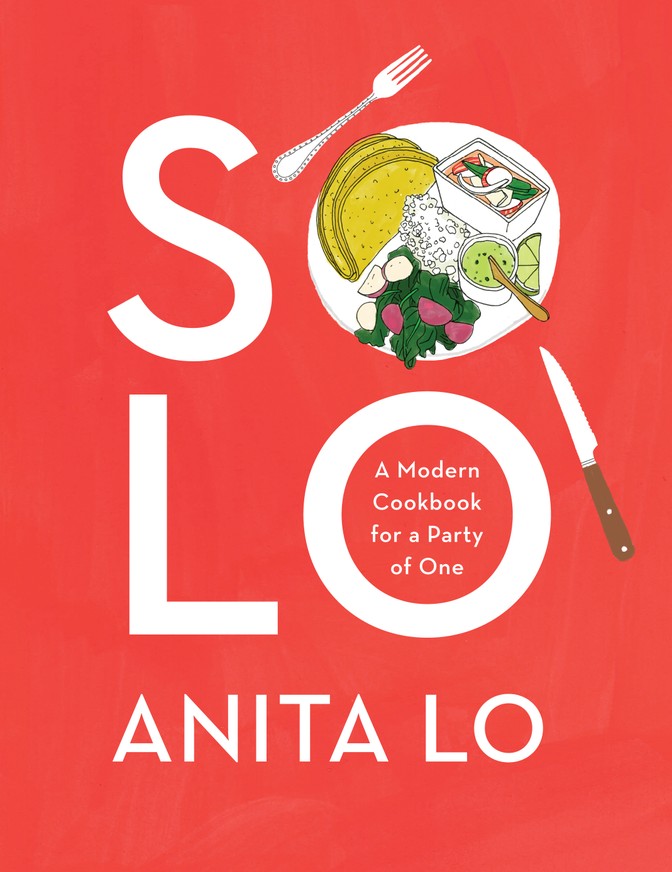 "I have a soft spot for the depressed, jilted single," the very talented chef Anita Lo announces at the beginning of Solo: A Modern Cookbook for a Party of One, bragging in the first sentence about how many times she's been "dumped" ("almost as many times as I've been in relationships"). Well, the hours and life of a professional chef who goes from restaurant to restaurant winning critical acclaim, and who competes on Iron Chef, are punishing. But they sure result in good and original food, all of it scaled for one. I've never understood why cooking for one isn't a larger category: The late Judith Jones wrote a good and thoughtful book after she was widowed, and about the only real utility I saw for meal kits when I did a piece comparing several of them was giving single people access to ingredients they'd otherwise need to buy in bulk. Lo is a thrifty and thoughtful cook, and attempts dishes as ambitious as whole roasted porgy with grape leaves, bulgur, and lemon; Thai white curry with chicken, fish sauce, and mixed vegetables; and red-cooked duck leg over rice—but also as simple as kale salad with dates and tahini dressing, and penne with broccoli rabe and walnuts (with butter, but she studied in Paris, so forgive her). Nothing seems lonely or compromised about Solo. It seems bold and joyous.