Saturday Night Live's Confusing Celebration of Jeff Bezos
Steve Carell played the Amazon CEO as an anti-Trump crusader in one of the show's more baffling sketches.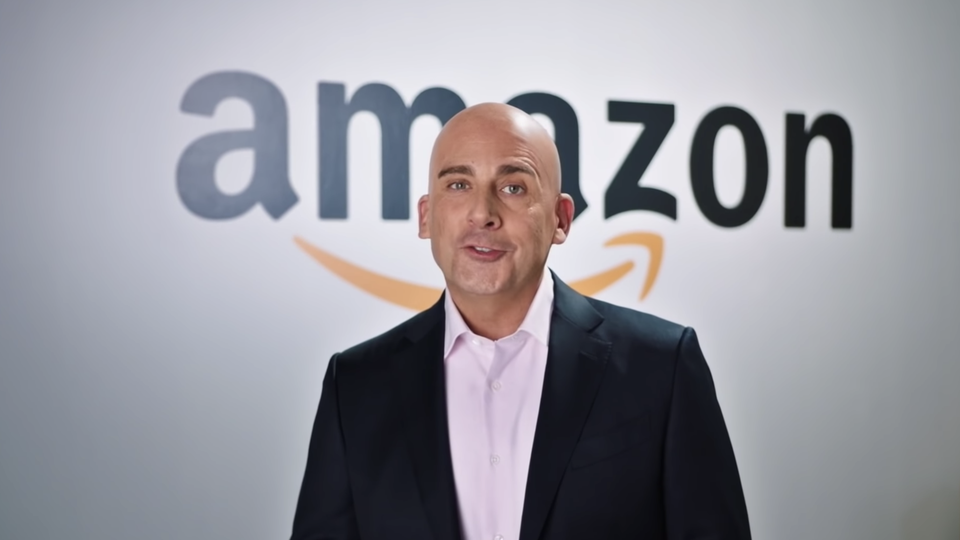 Satire is difficult in the Trump era. The president himself can be a tough target to exaggerate, given his outsize personality and the total media obsession with all of his mannerisms, which is why it's unsurprising that Alec Baldwin's Donald Trump has barely appeared on Saturday Night Live this season. In his absence (which might also be due to Baldwin's current trouble with the law), the show has cast around for other topical targets, some more obvious than others. Last night's episode led with SNL's most frequent villain of late: Fox News. But a slightly more dispiriting follow-up identified a curious hero for the show's anti-Trump bent: the Amazon CEO Jeff Bezos.
The Fox News sketch was a repeat of a favorite from two weeks prior, a parody of The Ingraham Angle with Kate McKinnon as Laura Ingraham and Cecily Strong as Jeanine Pirro, the sonorous host of Justice With Judge Jeanine. The pair ran through some of the week's news—hysteria about midterm-election voter fraud, the California wildfires, and an interview with Congresswoman Marcia Fudge (Leslie Jones) about her potential challenge to Nancy Pelosi.
"Our heroic president is under constant attack from rain," Ingraham deadpanned, defending Trump's no-show appearances at various public events in the past week, before digging into a list of what she called Feel Facts, "which aren't technically facts but just feel true." Among the offerings there: "Blackface is a compliment," or, "Doesn't it feel more true that all Hispanics voted twice?" The "Pulitzer Prize–eligible" commentator Pirro then arrived to contribute panic about over-voting in Georgia.
SNL's pointed portrayal of Fox News' slavish devotion to the Trump White House has been its most forceful political humor of late, a consistently funny new angle on a presidency that can be hard to parody. Otherwise, its takes on the news have been fairly toothless. Outside of the Fox News jokes, the "political cold opens" that lead off the show have been painfully ordinary, relying on special guests like Matt Damon to gin up some attention. The show's non-topical sketch writing has been solid, however, and a real testament to the strengths of its newer cast's skill with character work.
But last night's host, Steve Carell, a skilled comedian in his own right who did exceptional work for years on The Daily Show before becoming a movie star, was largely wasted. He played a collection of dumb dads and dinner-party guests, and suffered through a monologue in which various former co-stars from The Office (Jenna Fischer, Ellie Kemper) begged him to revive the show and grab some network reboot money. (SNL's least appealing move is the celebrity drop-in; unless it's someone truly unusual, it's just a way to make the audience applaud a two-minute on-camera appearance.)
Perhaps the most baffling entry of the night, though, was a fake commercial in which Carell (wearing a bald cap) played Bezos, celebrating his company's recent decision to open new headquarters in New York City and northern Virginia. Rather than poke fun at the immediate community blowback that has faced the decision, or complaints from losing cities that Amazon chose two affluent, coastal areas after a long selection process, the sketch emphasized Bezos's fractured relationship with Donald Trump.
Yes, Trump has targeted Bezos in tweets in the past, but that's not a particularly fresh news story, nor has Bezos been anything but diplomatic when asked about it. But Carell played Bezos as a swaggering Lex Luthor type, hinting that he only chose New York and the Washington, D.C., area for his headquarters because those are the two locations Trump lives in, all the better to troll him, super-villain–style. He threw in various references to recent Trump bugbears, including a picture of the Super Mario World character Toad and a re-branding of Amazon's delivery service as "Amazon Caravan."
It's topical humor at its worst, where a joke lives and dies merely as a reference to something else in the news, despite the lack of an obvious connection. There's plenty for SNL to make fun of in the Amazon fracas, but the head writer and "Weekend Update" co-host Colin Jost seemed uninterested in the story, saying in his monologue, "New York basically won the lottery and we're like, 'Eh, but the subways might be slightly more crowded.'"
Clearly, to SNL Bezos is the hero of the week, because he's a rich guy who can stand up to Trump. The show has no qualms about mocking tech CEOs: In the Fox News sketch, Ingraham interviewed a nervous Mark Zuckerberg (played by Alex Moffat) about Facebook's recent crises, and Moffat played him as a sort of malfunctioning robot vainly pretending to be a regular guy. But in an effort to further mock Trump, the show made a baffling decision to present Bezos as the suave antithesis of the president. It's a perfect example of how tough it can be to thread political humor properly these days. Not everything has to be about the president, and not everyone Trump criticizes has to be a hero.