Vince Staples's Sunny, Somber Love Letter to the West Coast
The rapper's third studio album features a host of California stars, bouncy production, and lyrics that flow effortlessly from celebration to mourning.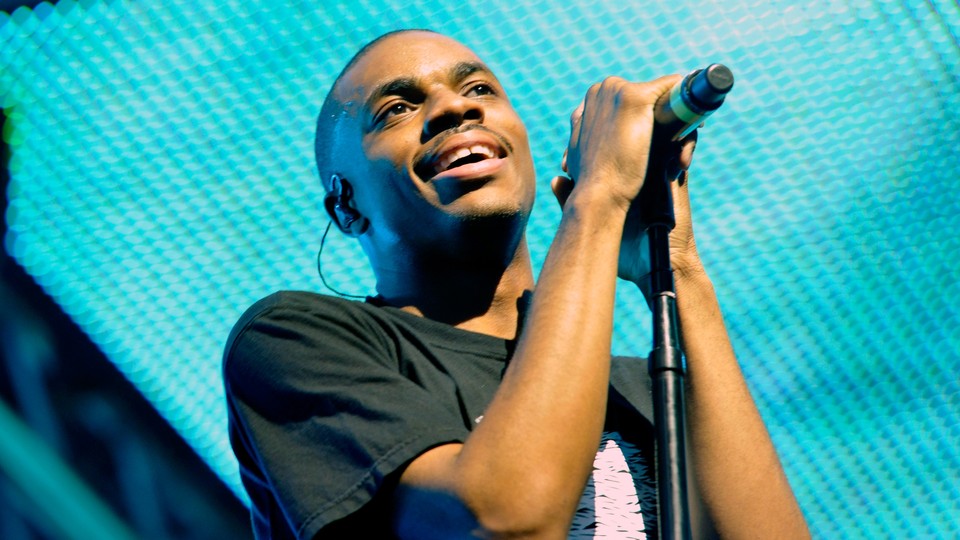 Vince Staples is always on the move, but his heart stays in the LBC. The North Long Beach–bred 25-year-old has spent much of his dizzying rap career joining the ranks of musicians who put on for their city before he was even born. Before Staples, there were Snoop Dogg, Warren G, and Daz Dillinger. There were Nate Dogg, Knoc-Turn'al, and RBX. Staples is a remarkable talent, and the booms and bounces of West Coast rap are nothing new to him. His waviness is inherited.
The newly released FM! is Staples's third studio album and his latest entry into the bombastic canon of Southern California rap. The 22-minute project is presented as a mock airing of Big Boy's Neighborhood, the long-running, nationally syndicated hip-hop radio show taped in Los Angeles. The show's host, née Kurt Alexander, ties each of FM!'s 11 tracks together with his trademark enthusiasm. Staples revels in the structural elasticity that the radio-show format grants his album. Big Boy introduces new music from Staples's friends and collaborators, each of them West Coast natives. FM! packs in features from Ty Dolla $ign, Jay Rock, Earl Sweatshirt, Kamaiyah, and Kehlani, among others. Staples, giddy and loyal to his set, shares the mic.
The tightly constructed record opens with "Feels Like Summer," a buoyant dedication to the season's sunny delights and quiet dangers. "Let's go ahead and make you feel like summer," Big Boy says on the song's intro. Immediately afterward, Staples comes in with a stunningly astute couplet: "Summertime in the LB wild / We gon' party 'til the sun or the guns come out."

Staples is at his best when deftly painting this juxtaposition: how casually, how mundanely the threat of violence can exist in the same atmosphere as even the most joyful experiences. "Feels Like Summer" has all the hallmarks of a pool-party banger, but its movement belies the lyrical depth. The South L.A.–born Ty Dolla $ign glides seductively over the opening track's chorus. He rides around in his "drop top with the top down now," flirting with women and showing off as he is wont to do. But in the song, as in a Long Beach summer, death waits just around the corner. "Still struggle with the past, I'm strapped," Staples raps after Ty Dolla $ign's chorus. "Somebody gotta watch my back."
Where prior records such as Summertime '06 and Big Fish Theory have found Staples addressing his anxieties about mortality and co-option on tracks shaped by jarring, cerebral production, FM! weaves the rapper's fears into an eclectic soundscape. His pain has not disappeared, but it's been sublimated. The prolific producers Kenny Beats and Hagler lend a more radio-friendly sound to the album, conjuring a musical world that is at once bright and ominous. FM! offers these tonal contrasts as balance, not contradiction. Against the eerily knocking backbeat of "Run the Bands," Staples compares his career pursuits to those of the Olympic medalist Jesse Owens. The song's production builds with a sinister scramble, as if to echo both Owens's speed and the ever-present dangers that followed the runner in his life. Staples isn't immune to these either.

On the standout "Don't Get Chipped," Staples qualifies a famed rallying cry from the late soul singer Sam Cooke. "Sammy told me that a change gone come (Gone come)," Staples raps before questioning the inclusivity of Cooke's civil-rights era hit: "I'm not going if my gang won't come (Won't come)." Here, as in his earlier work, the rapper is preoccupied with the well-being of the collective. After a homegrown chorus from the Watts-born rapper Jay Rock, Staples both laments the isolating effects of fame and ponders correctives that bridge the gap:
Everybody say it's lonely at the top
I want my homies at the top, my little homie he got shot
And now I'm moving my lonely with the .40 in the mop
Finna pull up early morning and somebody getting dropped
I throw a party on your block, like I'm Tommy the clown
Hundred thousand dollar car, bet you proud of me now
Took my mama out the set, house as big as my mouth
The rapper's reference to the house he purchased for his mother is one of several moments in which Staples negotiates his concern for the community that raised him. Staples has spoken at length about his frustrations with the media's tendency to dismiss his music by discussing it solely through the lens of his past gang involvement. Outspoken on Twitter and in interviews, he has attracted ire in recent years for his strident commentary on American social issues—most notably, the trenchant effects of racism. The gap-toothed young'un is cheeky and irreverent, his opining often taking a satirical bent: He's made comments like "The national anthem don't even slap," a reference to the absurdity of the backlash against professional football players who decided to kneel while the song was played.
Like the GoFundMe the rapper established earlier this year to mock those who suggested he ought to keep his mouth shut, his indictment of the national anthem's musical worth rankled. But Staples has never been one to separate the thematic core of his music from the manner in which it is delivered. His critique of the national anthem struck a chord partly because it called the song's long-assumed relevance into question. It shifted the parameters of the anthem-protest conversations to include an evaluation of artistry.
Staples takes this same whimsical approach to issues of tremendous gravity throughout FM!. Like his longtime collaborator Earl Sweatshirt, whose interlude on the album is a bright and buzzy teaser of long-awaited new music, Staples resists boundaries in form. He can rap about death in stratospheric pitches; he can contort his voice around heavy electronic production or let it float above tinkling synths. The Oakland rapper Kamaiyah joins Staples on "No Bleedin," a boastful track rooted in melancholy. "Head on a swivel, no bleedin' me," they repeat in its chorus. "Ain't with that talkin' bullshit, I want that action," Kamaiyah insists. It's at once a dismissal and a threat. Her voice is agile and self-assured, its huskiness adding a pleasant gravity. In typical Staples fashion, "No Bleedin" is nihilistic but pulsing. It begs to be played on long, traffic-heavy drives up the I-5. It's secure in its own aggression.

On FM!'s final track, the mournful "Tweakin,'" Staples and Kehlani reflect on the expanding reach of death around them. The song is reminiscent of fellow California legend Kendrick Lamar's "Swimming Pools (Drank)," an addiction chronicle from his narrative-driven 2012 album Good Kid, M.A.A.D City. Both songs are hypnotic, their production leaving listeners rapt. The percussive through line on "Tweakin'" is consistent, its sunniness disarming but not discordant. Staples dips his voice low, into a rare register that sounds almost like a growl. "Tryna get rich, get everybody fed," he raps. "But everybody dead." Kehlani's voice curls gently around his, their vocal dance a kind of home-going. "Tweakin'" is as much an elegy as it is a placid summertime bop.
FM! wrestles with this duality without ever sounding belabored. Staples is confident, winking even. The record is infectious and celebratory even as it considers the specter of trauma that haunts black life. Those who suggest the rapper is more pundit than musician fail to grasp the extent to which black music—and especially rap—has always grappled with these kinds of existential threats. Here, too, Staples is drawing from a long tradition. To love Long Beach is to honor its ghosts.