The Problem With HBO's The Deuce
Up until the second-season finale, it was a show on which almost nothing ever happened.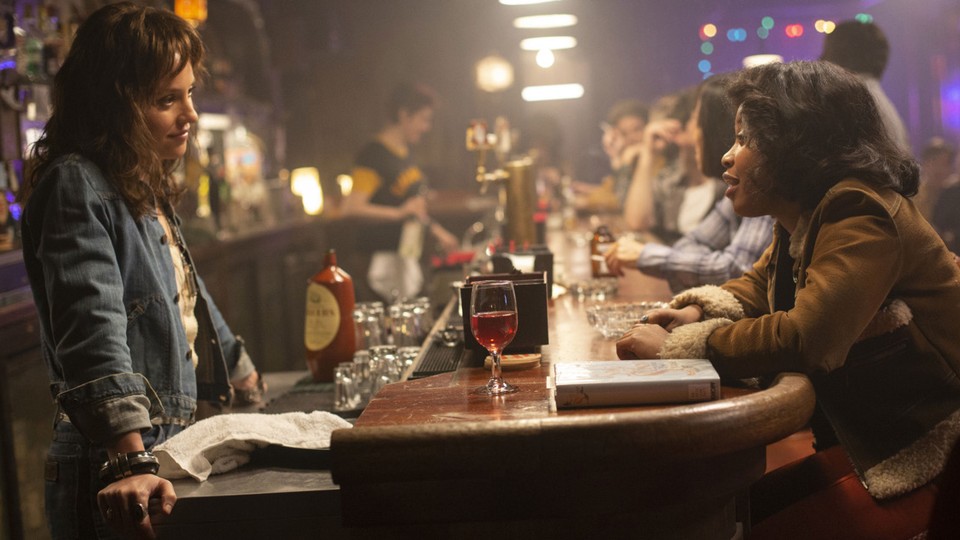 This article contains spoilers through the Season 2 finale of The Deuce.
"Heaven," the Talking Heads informed us on their seminal 1979 album, Fear of Music, is "a place where nothing, nothing ever happens." Not even the most dedicated fan of HBO's The Deuce would likely describe the show as heaven. But up until Sunday night's finale, the second season of the prestige drama—about sex work and the rise of the porn industry on 42nd Street (a.k.a. "the Deuce") in the 1970s—was pretty much a place where nothing ever happened.
That's not quite right. Things "happened" on The Deuce. They just rarely seemed to have any meaningful impact on the circumstances of the show's principal characters. Whatever weekly misunderstanding Vincent (James Franco) might have with mob boss Rudy Pipilo (Michael Rispoli), he'd still wind up back behind the bar at his disco, Club 366, precisely the same as before. Likewise, Abby (Margarita Levieva) would reassume her spot behind the bar at the Hi-Hat. And despite their occasional extracurricular indulgences, Vincent and Abby would return to the bed they somewhat halfheartedly share.
Sex-worker-turned-porn-director Eileen/"Candy" (Maggie Gyllenhaal) spent essentially the entire season making her arty sex flick, Red Hot; Vincent's pal and former bartender Paul (Chris Coy) spent it building his own posh, gay nightclub. Vincent's brother-in-law, Bobby (Chris Bauer), would grouse about tending to the "massage parlor," but he'd always find his way back to a stool at, yes, its bar. (The Talking Heads song I cited earlier actually begins, almost too aptly, "Everyone is trying to get to the bar.") Vincent's ne'er-do-well twin, Frankie (also played by Franco), would persist in making Frankie-like errors in judgment that somehow never seemed to carry any meaningful consequences. And Chris (Lawrence Gilliard Jr.), the incorruptible patrolman from Season 1, would keep us on tenterhooks over whether he'd eventually accept an assignment in the Deuce and return to the show as a meaningful character. (Final answer: maybe next season?)
Plenty of narrative land mines were planted along the way. If Lori (Emily Meade) decided to leave her pimp, C.C. (Gary Carr), what would he do to her? If Darlene (Dominique Fishback) decided to leave her pimp, Larry (Gbenga Akinnagbe), what would he do? Can Paul really break free of his mob attachments? Will the advocacy of sex-worker-turned-activist Dorothy (Jamie Neumann) benefit her former colleagues? Or will it bring down the wrath of the pimps?
Yet for almost eight full episodes (out of nine), the show runners, David Simon and George Pelecanos, seemed determined to leave all these land mines undetonated. The girls stayed with their pimps. The many barkeeps continued keeping their bars. And Frankie's various scams, larcenies, and other poor life choices never seemed to leave a mark. He married impulsively, and then his wife left, and then she evidently came back—and nothing seemed to remotely change as a result.
The show always has plenty to enjoy. The performances are excellent, in particular Gyllenhaal's: She may be doing the best work of her career here. (As for Franco, his presence—in two roles!—on a show about the sexual exploitation of women is, as my colleague Sophie Gilbert has noted, problematic at best.) The writing, with occasional exceptions, is excellent, and the production value is top-notch.
But the episodes had an odd sameness to them this season, a sense that characters and viewers alike were somehow trapped in time, and that the show's many plot arcs would remain essentially flat. My wife and I were pulled away from one episode 20 minutes in by dual child-homework emergencies and wound up bailing on the show for the evening. But when we returned to it a night or two later, we didn't remember that we'd watched only half the episode and so moved on to the next one, which we enjoyed without any sense that we had missed anything at all. It was only days later that we recognized our mistake and went back to watch the half episode we'd inadvertently skipped over.
All this changed, of course, at the end. C.C. was killed at the close of episode 8, and he was quickly followed in the finale by Dorothy and the pimp Rodney (Method Man). Lori and Darlene both broke free of their pimps, albeit in very different ways. Eileen found immense—and immensely public—success with Red Hot and, as a consequence, utter disaster with her teenage son and her parents. We even had the pleasure of briefly seeing Zoe Kazan as Vincent's ex-wife and the mother of his children—a familial tie that for long stretches the show seems to forget even exists.
More "happened," in short, in the finale of The Deuce than in almost the entire season that preceded it. It was a great episode of television, easily the best of the season and perhaps of the show so far. But it achieved its success by finally plucking the fruit that The Deuce had left on the vine all season, almost past ripeness. It was a cornucopia of delayed feasting.
And even now, where does the show leave us? A few characters have departed for good, and a few others—Eileen, Lori, Larry—seem prepared for another life stage. But everyone else? Vincent is still at Club 366 and Abby at the Hi-Hat. Vincent is taking the parlor money again, and Paul is back in business with the mob. Frankie has been brought down from his brief ascent to porn producer and is now back to precisely where he was at the beginning of the season: running a peep show for which customers pay with quarters. This almost gives new meaning to the phrase plus ça change.