The Question Facing Celebrities After the Midterms
Taylor Swift cheered on first-time voters. Will she also help them stay engaged after defeat?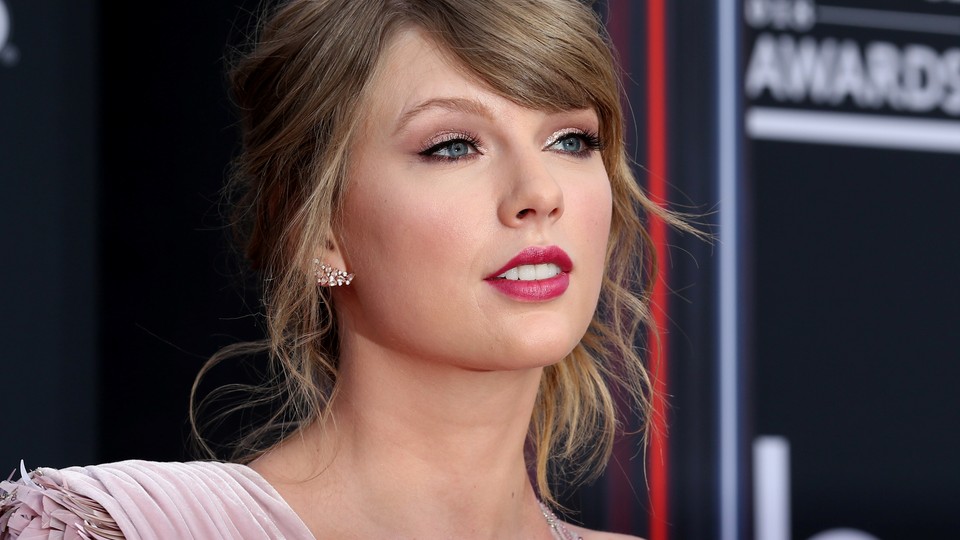 "TAYLOR SWIFT FAILS TO ELECT DEMOCRAT," blares a Drudge Report headline, voicing one common reaction to Marsha Blackburn's win for Tennessee's Senate seat over Phil Bredesen, whom Swift endorsed. Another viral—if gross—line, tweeted by The Federalist's Sean Davis: "Taylor Swift's streak of terrible choices in men continues."
There it is, the tangible evidence of the risks that come for celebrities speaking out on politics. Swift famously kept quiet about who she supported in the 2016 election, and one plausible reason would be that she wanted to avoid the sorts of jeers she's receiving today. But when she broke her partisan silence a month ago with a call on Instagram to elect Democrats in Tennessee, she did so knowing that neutrality had its drawbacks too: The left had been blasting her as out of touch and cynical for staying mum on issues of huge consequence.
Often the power of celebrities in politics gets over- or understated. Those who say that stars might as well shut up and smile ignore findings such as that of researchers who calculated that Oprah, by endorsing Barack Obama, might have earned him a million votes in the 2008 Democratic presidential primary. Other research has shown that some star activists end up energizing voters on the side they're opposed to. In every case, insisting that an entertainer failed or succeeded in getting someone elected is silly. No outcome has a single cause, and if there was any celeb who measurably swung races this time, it was Donald Trump.
Swift and a bevy of other stars did take the Democratic side for the midterms, with an emphasis on candidates who themselves achieved a level of political celebrity by strongly contesting seats that have been historically Republican. Beyoncé weighed in with a late-on-Election-Day shoutout to Texas's Beto O'Rourke, the punk-rock progressive who nearly booted Ted Cruz from the Senate. Rihanna spoke out for Florida's Andrew Gillum and Georgia's Stacey Abrams, charismatic black politicians who fought uphill battles and ended up with national fame, if not statewide office. Potential voters in such hotly watched races had Oprah and Will Ferrell knocking on their doors.
But the partisan plugs were often secondary to that theoretically bipartisan effort for democracy's sake: getting disengaged people to pick up ballots. Swift spent the bulk of her social-media energy by simply cheering her teen and 20-something fans on to the polls, with her Instagram story turning into a colorful scrapbook of voters-slash-Swift-listeners across the U.S. "I'm seeing a lot of underestimation of young voters in this new generation who now have the right to vote just in the last couple of years," she said in an Election Day video. "But these are people who grew up post-9/11. They grew up with school-shooting drills at their schools. These are people who want to vote."
A modest youth wave did materialize: In a year of generally elevated turnout, people younger than 29 composed 13 percent of the electorate, up from 11 percent in 2014. Though a significant increase, it wasn't enough to propel the youngest demographic out of its historical spot as the least likely to vote. Still, the bump in Millennial and Gen Y ballots—which tend to go Democrat—surely helped with flipping the House. (Swift's favored candidate in Tennessee's Fifth Congressional District, Jim Cooper, won by a large margin.)
Swift hasn't yet commented on Tuesday night's results, but the question now facing her—and other celebrities looking to make a lasting difference—is whether her push for youth engagement will continue. The first-time voters she spurred on are also first-timers to the emotional experience of waking up after a mixed-results election, one in which victories are partial and the most optimistic projections on both sides have been dashed. Keep moving toward what you believe in, tune out the naysaying—isn't that what "Shake It Off" is about?