SNL's New Rap Parodies Tell the Same Old Joke
The show's been linking trending topics in the news with trending songs in hip-hop. Why do the results feel staler than Weird Al?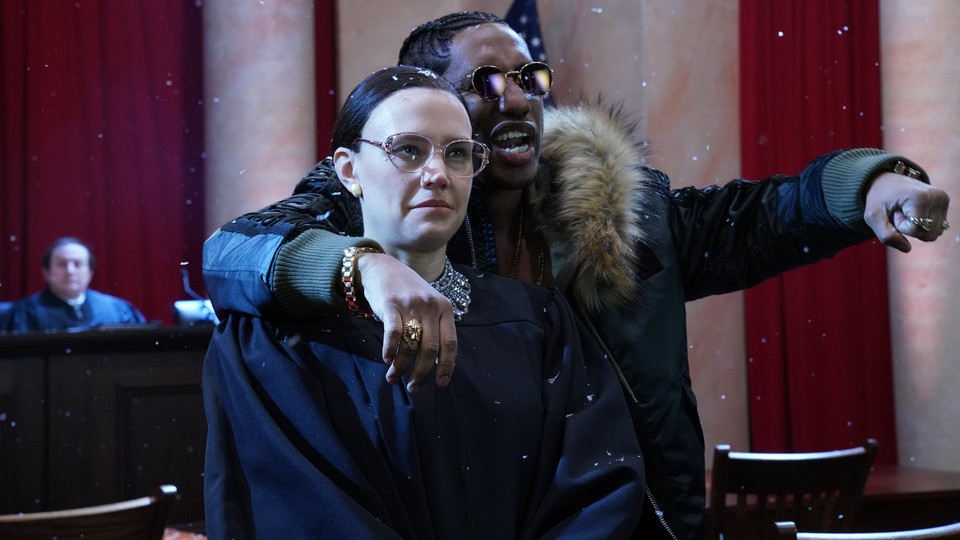 Ruth Bader Ginsburg has been a fake hip-hop icon since at least 2013, when the nickname Notorious RBG went viral, thereby finally informing the venerated justice of the existence of Biggie Smalls. But she didn't get her big-budget debut single until this past weekend. "Supreme Court's a boys' club, she holds it down, no cares given," rapped a shirtless, chain-wearing Chris Redd on Saturday Night Live, while Kate McKinnon's imitation Ginsburg shook up a beer from the bench. "Who else got six movies about 'em who's still livin'?"
The song's the latest in a resurgent SNL genre: hip-hop parody. The past two seasons have brought "Permission," a rap about consent; "Trees,"a rap about trees; "Friendos," a rap about therapy; "Tucci Gang," a rap about Stanley Tucci; and "Rap Song," a rap about there being too many rappers. There've also been musical skits involving Nicki Minaj (joining Tina Fey in a tribute to the soft rockers Haim) and Cardi B (meeting the superfan Aidy Bryant). Some of these songs aired on TV and some went straight to YouTube; many feature Redd, a writer/actor, and the actor Pete Davidson, who in real life record as the Gooney Tunes. Almost every one of the parodies, on some level, told the same joke.
Again and again: A person (often white) or subject matter (usually nerdy) goes unexpectedly hard, meeting with the aggression, swagger, and raunch of rap. Sometimes it's rowdy emcees who reveal a sensitive side, as when the "Friendos"—three guys in dreadlock wigs who closely resemble Migos—spill their feelings to a shrink. Sometimes there's a workaday dweeb powering up, as when the timid Bryant starts okurring like Cardi B. The subtext is that rap as it's typically known isn't a place for wonkiness, vulnerability, or acclaimed character actors, except in jokes.
This is, of course, the go-to punch line about hip-hop. Weird Al spelled it out when he swapped the guns and racist cops of Chamillionaire's "Ridin'" for fanny packs and Star Trek shout-outs in the helpfully titled "White & Nerdy." The same routine underlies the career of the nebbish Lil Dicky, whose biggest hit imagines him switching bodies with Chris Brown. SNL and the Lonely Island mined similar territory to huge success in the early 2000s, starting with Andy Samberg and Chris Parnell's trip to see the Chronic(what!)cles of Narnia. The show's recent dive back in to hip-hop parody comes as rap continues to emerge as the center of pop culture—but it still presents the music as hilariously outside the (heavy on the air quotes) "normal world."
Still, there's a specificity, a nowness, to the recent parodies. That might be thanks to the stars: Redd wanted to be a rapper before he was a comedian, and Davidson always comes off like a sentient meme. The "RBG" song riffs on "Live SheckWes Die SheckWes," a trending dirge-slash-banger by a 20-year-old rapper who himself seems pretty funny. The "Tucci Gang" skit is a shot-by-shot remake of the video for Lil Pump's "Gucci Gang," another viral delight that is almost post-language in its appeal. You might expect a show as middlebrow as SNL to reach for artists who are more recognizable across generations, but instead it's going for what kids today actually listen to.
The thirst for relevance goes beyond the song choices. The Lonely Island had fun with the absurd, but SNL's recent works scan the headlines for serious meaning. "Music is always a way to sneak some good information into people's ears, even if they don't want to hear it," Redd told Vulture. "RBG" thus tries to be a crash course in RBG's importance ("For those who care to know, Ruth Bader Ginsburg is a noted figure in the Supreme Court Justice system," explains HotNewHipHop). "Trees" has info about ways to help the environment (Al Gore tweeted it out). "Permission" can be taken as, per Refinery29's write-up, "the woke rap we want to see." This is all, obviously, very corny: Schoolhouse Rock! with Davidson as the stoned student, unable to name an RBG decision and taking trees to mean marijuana.
Currency, comedy, and conscience can often be at odds in these sketches. Take one of the stronger bits, "Friendos," which drew on something that's in the air in the culture: mental health. Jay-Z, Kanye West, and Vince Staples have rapped about going to therapy, striking against the stigma of discussing topics like depression. And so that fact undermines the point of the sketch, which is to ask how ridiculous it would be if party-obsessed rappers opened up. Still, Redd (with Kenan Thompson, the guest host Donald Glover, and the show's other writers) came up with a pretty good subplot—group dynamics. One rapper vents his Lambo-related resentment. The guy who does the ad-lib owns up to feeling underappreciated. It's charming because you can imagine similar antics amid the actual Migos, and the music itself is a dead-on imitation.
The sketches are, indeed, funniest when they go beyond the basic conceptual shtick and start commenting on hip-hop itself. Take "Rap Song," in which Thompson's character Big Chris introduces a featured rapper, and another, another, another, another … The gag allowed the writers to have fun with different hip-hop archetypes while also sending up the larger tendency to overload songs with guest features (though even this observation is stale in the era of "platinum, no features"). Another example of successfully extending observations about the sound of rap to an illogical extreme: when Davidson's character "Uncle Butt" is unintelligible on "Permission." His muffling resembles vocal manipulation; it's actually from a lack of teeth.
The most jarring skit—the one that's not funny, but telling—was "Permission": a song about ass, but for the #MeToo era. Thompson and Redd's duo, the Booty Kings, obey women who turn them down, disavow the word ho, and wear jewel-encrusted "Time's Up" brooches. Eventually, Future and Lil Wayne—the actual superstars Future and Lil Wayne—join in. (Check out Future's nice and slurry pronunciation of on the hunt for consent.) These two artists have, of course, built towering careers with lyrics that regularly treat women as meat. But rather than being the targets of the sketch's satire, they get to be in on the fun. The implication is that they're not about to change, and that to do so would make them as incongruous in hip-hop as RBG is. What a sad punch line, and not just because it's played out.