Smino's Funky Raps Soothe the Soul
On his masterly sophomore album, NØIR, the St. Louis–born rapper incorporates gospel, R&B, and jazz influences with an inventive flourish.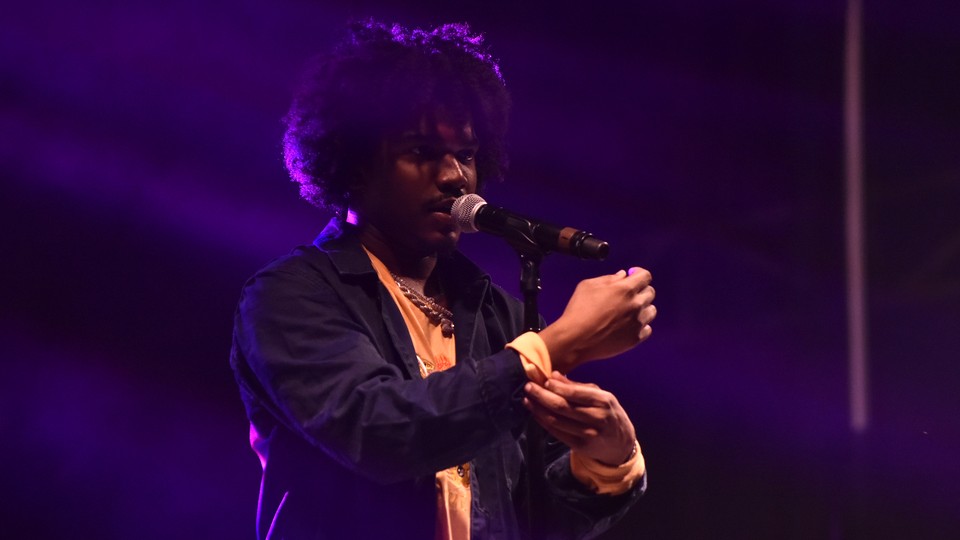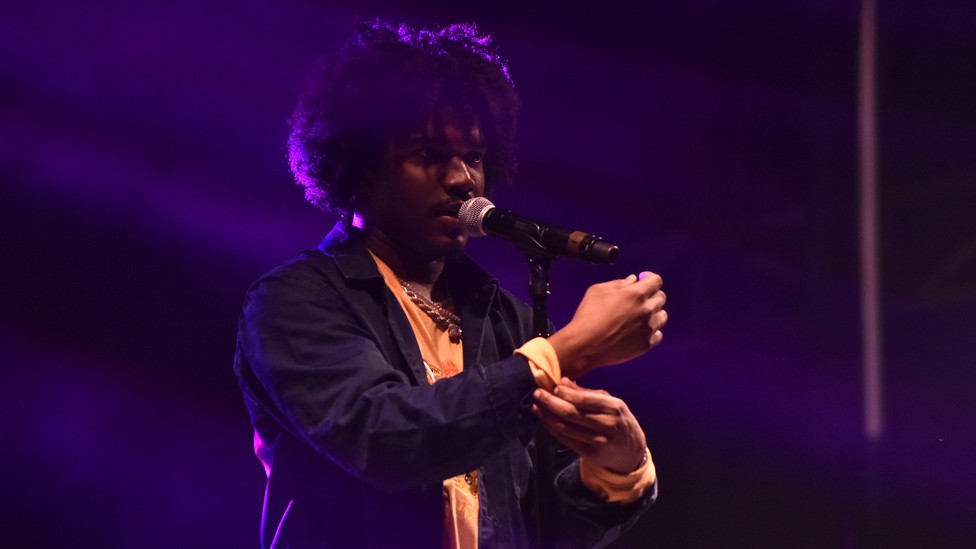 Smino isn't afraid to get a little weird. The North St. Louis–bred rapper twists his voice into dizzyingly distinct harmonies. He delights in the indulgent poetics of slant rhyme. He weaves multiregional R&B into the tapestry of his rap.

The 27-year-old's newly released sophomore album, NØIR, builds on his years of making funky, soulful music. It's soothing, inventive, and fun. The video for "L.M.F.," the album's first single, begins with a phone conversation between two women. One of them relays the sight of Smino "riding around with a whole monkey on his lap," then quickly gets to the reason for her call: "That nigga done went and got real Hollywood or whatever, but I did hear he was having a kickback tonight though."

And so begins the charming conceit of the video: a giant dinner-turned-party, hosted at the rapper's family home. Smino and his "monkey" (really a lemur) entertain guests with the help of a crew of aunties—and a version of Smino meant to look like his father, complete with gray hair, thick-rimmed glasses, and business-casual attire. The video's bright yellows, reds, and greens leap off the screen. The scent of doughy dinner rolls and freshly snapped green beans and weed smoke practically wafts through the frame. It's a delightful vignette, but the appeal of "L.M.F." extends beyond this bite-size Soul Food. The song's chorus is impossibly catchy—and captures Smino's range of influences with remarkable precision:
Said she Rafiki, you a lion, Mufasa
Baby ain't nothing 'bout me PG, rated X for extraordinary
The Mary got me merry, now I'm singing like Mary Mary
The coupe going stupid, call it Cupid it's February
That Smino would reference both marijuana and the celebrated gospel duo Mary Mary in the same bar is just one example of the saucy, winking lyricism that characterizes his music. He excels in these moments, capturing the small rebellions of black youth without overstating any incongruence. The line also functions as a nod to his musical roots. Born Christopher Smith Jr., the young Smino began listening to rap largely at a cousin's house because he wasn't allowed to do it at home, where his parents insisted on "a bunch of jazz music, a bunch of soul music, so much gospel music," as he recently told Rolling Stone.
On "Anita," the second single from his debut album, BLKSWN, the artist offered a groovy dedication to the legendary singer-songwriter Anita Baker (and to all black women). Frequently name-checking his musical forerunners, Smino is both deferential and imaginative. On the track, which the musical juggernaut T-Pain later remixed, Smino's affections send his voice into ecstatic wails somewhere between R&B and gospel. "Turn up the vala-yume," he sings, stretching the word into three smooth syllables. "This feel like hallelu-jah."

Eighteen months later, NØIR brings black love full circle. The album opens with "KOVERT," which begins with a seductive whisper from Smino's longtime girlfriend and frequent collaborator, the musician and filmmaker Jean Deaux. "Noir, what a beautiful name. Black, statuesque, you know?" she breathes. "Strong, sweet, that's what I think when I think of Noir. That's what I think when I think about you." It's a fitting start to an album that spends much of its 58-minute run time exploring the burdens and beauty of black life.
After "KOVERT," Smino's vocal zigzags and lyrical twists set the course for the album. The bounces of the Sango-produced "L.M.F." are immediately followed by "KLINK," the album's second single. The song is named for the sound Smino's many chains make as they clang against one another, and silvery production from the Chicago producer Monte Booker matches this metallic quality. The Windy City has become a second creative home for Smino, and several Chicago artists lend their talents to NØIR. On the booming "KRUSHED ICE," the G.O.O.D. music signee Valee amps up the St. Louis rapper's braggadocio. Smino reunites with the singer Ravyn Lenae for "MF GROOVE," an aptly titled track that contrasts their ethereal voices with funky electronic production from the rapper himself. Like their prior collaboration, BLKSWN's gorgeous "Glass Flows," the song is absorbing and confident.
On "Z4L," a bouncy and infectious track featuring the Chicago rappers Bari and Jay2, Smino employs a cartoonish trick of the tongue. "Neck on vegan, freezing, check my color palette, white like a bunny wabbit," he raps before adopting a Looney Tunes–ian tone that recalls the antics of Elmer Fudd and Bugs Bunny. "You know I keep some carrots, eat a bitch like a sandwich." The slip into vocal caricature is self-aware and comedic without tipping into blunt parody. Elsewhere, Smino stretches and contorts and relaxes his voice into more colloquial patterns. "PIZANO"  finds him rhyming at a frantic pace on its verses, then vibing out on soulful choruses, describing a blunt so big, "it look like Green Goblin."
The brand (this time its lingerie subsidiary) gets referenced again on the next track, "MERLOT": "My boo don't like designer shit / All she want is that Rihanna shit." Later, Smino names an entire song "FENTY SEX." The Dreezy-assisted song isn't a salacious send-up of the famous Bajan singer and beauty mogul (as
many men
have done
). Instead, it's a sultry ode to an unnamed woman, a hypnotic offering laced with references to tropical fruit and flowery marijuana. It builds on the musical world of the final single from
BLKSWN
, "Wild Irish Roses," a languid chronicle of drinking fortified wine and searching for Backwoods tobacco leaves with a lover.
Smino's unabashed catering to the Fenty Beauty–wearing, natural-hair-having, coconut-oil-drenched demographic is a hallmark of all his creative endeavors. Zero Fatigue, the label he shares with Booker, Lenae, Bari, and Jay2, sells hoodies lined with satin—perfect for those whose textured hair requires protection from the breakage that harsh fabrics like cotton can cause. His visuals are similarly plaited. The NØIR cover depicts Smino sitting on the floor while a woman braids his hair. It's all very D'Angelo, very Mario, very Maxwell. And it works—because the music does, too. Smino sounds the way Backwoods smell: warm, earthy, full-bodied. NØIR creates its own hazy world.
Where another artist's catering to black listeners—and black women in particular—might come off as a cynical marketing ploy, Smino's love of his people has always seemed homegrown. Some of that can be heard in the drawl of his voice, but it's also in the substance of his words. The artist has long been concerned with the well-being and artistic pursuits of black people. Smino's hometown pride swelled in the months and years following the police killing of Michael Brown in neighboring Ferguson, a devastating injustice that galvanized the local community and then black people around the country. "Black people only make up 13 percent of the U.S., but I'd rather satisfy that than any other percentile," he told The Fader in 2017. "If something happens to me, I know who goin' rally behind me. I've seen it."

Smino's music avoids sensationalizing the spectacle of hardship, but he doesn't shy away from naming what haunts him. "It was gruesome / what we grew from," he sings on NØIR's "SPINZ," before repurposing the words. "But we grew some in the end." It's a deft rhyme, a poetic reinterpretation. On NØIR, Smino keeps singing us love songs.