A Veterans Day Apology From Saturday Night Live and Pete Davidson
The comedian walked back an insulting joke about incoming Republican Congressman Dan Crenshaw, who lost an eye fighting in Afghanistan.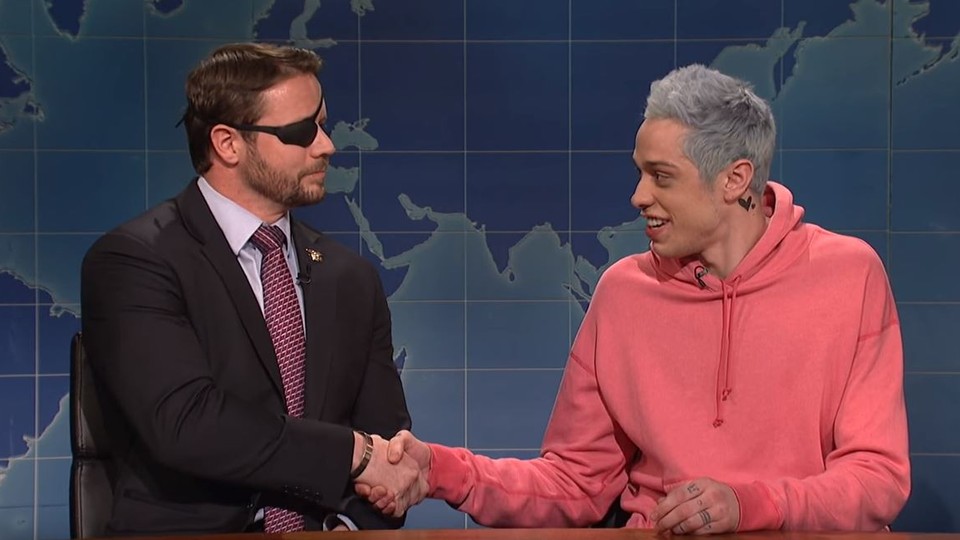 Last week on Saturday Night Live's "Weekend Update" segment, Pete Davidson made a flip, inopportune joke—hardly the first of his young career. In the midst of a series of quick-hit punch lines mocking the appearance of various congressional candidates, he turned to a picture of Lieutenant Commander Dan Crenshaw, who wears an eye patch after losing an eye in combat in Afghanistan. "This guy is kinda cool. … You may be surprised to hear he's a congressional candidate from Texas and not a hitman in a porno movie," Davidson said, adding, "I'm sorry, I know he lost his eye in war, or whatever."
In an interview after the episode aired, Crenshaw took the high road, saying, "I want to get away from this culture where we demand apologies every time someone misspeaks," but added, "It wasn't even funny. It was not original … It was just mean-spirited." Indeed, the joke seemed to exist mostly as a nasty little jolt for the audience, particularly Davidson's tacked-on faux-apology about "war, or whatever." Insult comedy is hardly the noblest subgenre of humor, and it can really only succeed if the audience thinks the target is worth taking down a peg. In Crenshaw's case, outcry quickly spread, and even Davidson's co-star Kenan Thompson (whose father is a military veteran) said the joke had missed the mark.
On last night's episode, the entire affair was handled in classic Saturday Night Live fashion. Crenshaw, who in the intervening week won election to Congress, was invited on the show to share the "Weekend Update" desk with Davidson. "In what I'm sure was a huge shock for people who know me, I made a poor choice last week," Davidson said, apologizing on behalf of the show and himself. "If any good came of this, maybe it was that for one day, the left and the right finally came together to agree on something: that I'm a dick!"
Crenshaw thanked him for "making a Republican look good" and got in a few of his own jabs, saying Davidson "looks like if the meth from Breaking Bad was a person" and playing an Ariana Grande track from his phone. The congressman-elect then added more seriously, "Americans can forgive one another—we can remember what brings us together as a country and still see the good in each other." He referenced Davidson's father, a firefighter who died on 9/11 when Davidson was only 7 years old, as being among the heroes honored on Veterans Day.
It was an interesting and somber capper to the whole saga, and a reminder of the sensibility that's always defined Davidson's comedy. The cast member was hired on SNL in 2014 at the age of 20, having only been performing stand-up for about four years, and he quickly made an impression as someone who mixed close-to-the-bone joke telling with a youthful sort of guilelessness. "I lost my dad on 9/11, and I always regretted growing up without a dad … until I met your dad, Justin. Now I'm glad mine's dead," he said at the Comedy Central Roast of Justin Bieber, a line that drew gasps from the audience.
A 2015 New York Times profile of Davidson gets at his particular approach—shock-jock lines mixed with a childish, aw-shucks smile. Regarding one particularly lewd segment that Davidson performed on "Weekend Update" in 2014, the SNL creator and showrunner, Lorne Michaels, noted, "People would have judged the same material from someone else much more harshly." It's worth noting that Michaels still oversees the show, and would've watched Davidson's Crenshaw joke in dress rehearsal before it was made live on the air. This was not some spontaneous jab, but something written on a cue card and approved by the bosses.
Obviously, the blowback to the joke was meaningful enough that Michaels deemed an apology necessary. It's a sign that even Davidson's puppy-dog attitude only provides him so much cover, especially since the hysterical tabloid coverage of his personal life makes him more of a well-known figure. Most of all, though, the apology indicated that whatever partisan divides exist in mainstream comedy only extend so far. It made sense, then, that last night's carefully scripted "Weekend Update" not only gave Crenshaw a chance to balance the scales for himself, but also delivered a pro-veteran message that would appeal to—or at least not stir controversy among—viewers on both sides of the aisle.