The Inimitable Creativity of Stephen Hillenburg
The animator behind SpongeBob SquarePants, who died this week at the age of 57, invented a cult oddity that also managed to become a global brand.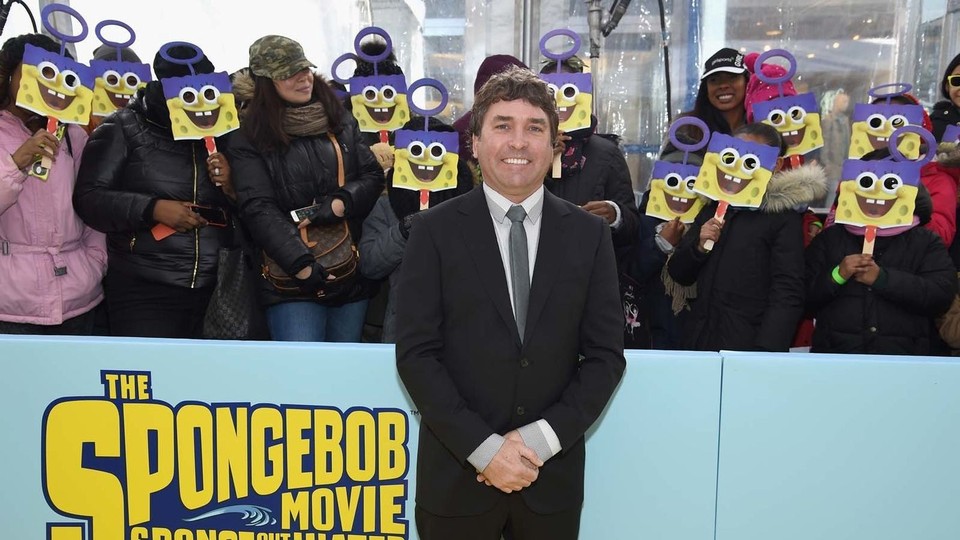 Every generation has its universal cult classic—a TV show beloved by millions that somehow feels unique, a widely watched phenomenon that's so singular and strange that you feel as though only you could've discovered and fallen in love with it. For so many children of the 21st century, that show was SpongeBob SquarePants, a Nickelodeon cartoon about an anthropomorphized yellow sponge who lives in a sunken pineapple, toils away at a minimum-wage fast-food job, and has silly adventures with his undersea pals. SpongeBob was the creation of the marine biologist and animator Stephen Hillenburg, who died Monday of complications due to ALS; today, 19 years after his show debuted, there's still nothing like it.
From a young age, Hillenburg was passionate about not only sea life and documentarians like Jacques Cousteau, but also strange works of animation like the Dutch short The Killing of an Egg. Hillenburg got a job in the mid-'80s at California's Ocean Institute and used his gift of drawing to create educational cartoons for children—a germ of an idea that would years later morph into SpongeBob. In 1989, Hillenburg enrolled at CalArts to become an animator. His first job in the industry was on Rocko's Modern Life, another universal cult classic for a slightly earlier generation. Then in 1997, Hillenburg—clad in a Hawaiian shirt and equipped with a model terrarium—pitched Nickelodeon on a cartoon show about a cheerful sea sponge and his ocean buddies. His obvious enthusiasm was enough to win the execs over.
The world of children's animation is too noisy and clogged with new shows for most critics to keep track of, but SpongeBob SquarePants was an immediate hit that transcended its youthful audience and became a global brand. The show was a rare piece of entertainment that had something to offer every subset of viewers. Each 11-minute mini-episode was loaded with clever zingers, random cutaways, and non sequiturs that could amuse older audiences, but the series was powered by gleeful energy, doughty goodwill, and a kind of unironic innocence. Although I was in high school when the show premiered, I was charmed by its willingness to swerve away from the darker, more acidic humor of the cartoons of my childhood, like Rocko and Ren & Stimpy.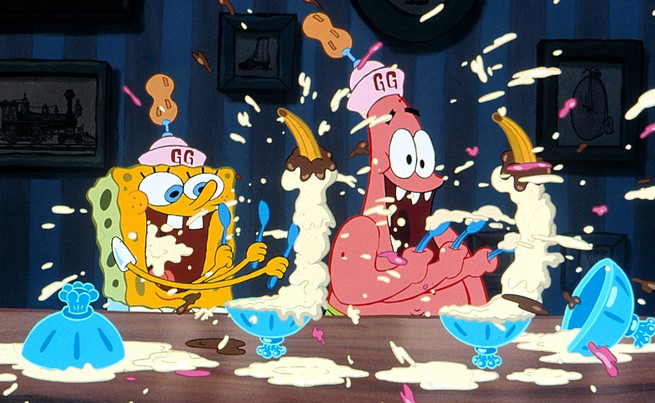 SpongeBob was just as absurd and visually kinetic as those shows, happy to break every rule of reality and knit it back together in some entirely new form. But its DayGlo-colored characters felt less crushed by the daily indignities of life than someone like Rocko did. SpongeBob and his best friend Patrick, a dunderheaded pink starfish, might get into all sorts of ridiculous scrapes, but it was out of a sense of adventure, not a Bart Simpson–esque need to rebel. SpongeBob was a dutiful worker (a fry cook at the Krusty Krab) and a vigilant cheerleader for his friends, even his grumpy, clarinet-playing co-worker Squidward, whose bitter outlook was more often than not refuted by the end of every episode.
SpongeBob was an eternal child who lived the life of a grownup, and Hillenburg found a balance between those two qualities that was endearing rather than off-putting. SpongeBob "doesn't have a driver's license. In one episode, he dreamed he had one, but he doesn't," Hillenburg said in an interview for the show's 15th anniversary. "We have also never stated how old he is. Some sponges are 200 years old. But I can say he's a young man. And he's never gone on a date. He's not ready to do that."
The show's fans included kids, comedians, stoners, and theater geeks (SpongeBob was even turned into a well-reviewed Broadway musical). Episodes could be sweetly guileless and shockingly clever in the same instant.  Season 1's "Rock Bottom," in which SpongeBob gets on the wrong bus and finds himself stranded overnight in a bizarro deep-sea town, is one surreal classic of the series: SpongeBob's increasingly desperate (and hilarious) attempts to get back home are repeatedly foiled by cosmic bad luck, as well as the town's eerie denizens and inscrutable rules—before the story culminates with two perfectly wry twists.
SpongeBob became the crown jewel in Nickelodeon's schedule, meaning that it was too big for Hillenburg to retire. The first three seasons of the show, which aired from 1999 to 2004, are generally considered its strongest, when Hillenburg had total control of the series—a rarity for animation. He halted production after Season 3 to work on a SpongeBob movie, which he co-directed. That film was a hit, grossing $140 million worldwide (more than quadruple its budget), and it's still a wonderful watch, a surprisingly seamless leap to the big screen despite the vast plot requirements of a feature-length film. After that, Hillenburg tried to pull the plug on his show, pointing to series like Ren & Stimpy that had ended their run after a few seasons rather than drive their concept into the ground. But Nickelodeon wouldn't abandon its cash cow, and so Hillenburg resigned, leaving SpongeBob in the hands of his deputy, Paul Tibbitt (the creator stayed on in an advisory capacity as a producer).
Resigning as showrunner was an artistically brave decision in its own right, though Hillenburg did eventually return to work on the 2015 film sequel, The SpongeBob Movie: Sponge Out of Water. While the series continues to bring joy to millions, those early seasons and the films encapsulate what made it peerless. In the final years of his life, Hillenburg returned to the program, but acknowledged how difficult it was to keep coming up with new stories, and how innovative Tibbitt had been in his absence. In 2017, he announced he was suffering from ALS, and that he'd continue to work on the show as long as he could. SpongeBob was Hillenburg's biggest gift to the world, an inimitable creation that children will continue to discover and delight in for years to come.