Ralph Breaks the Internet Offers a Chillingly Accurate Vision of Modern Life
The Wreck-It Ralph sequel is a visually inventive and fittingly sober film about venturing into the World Wide Web.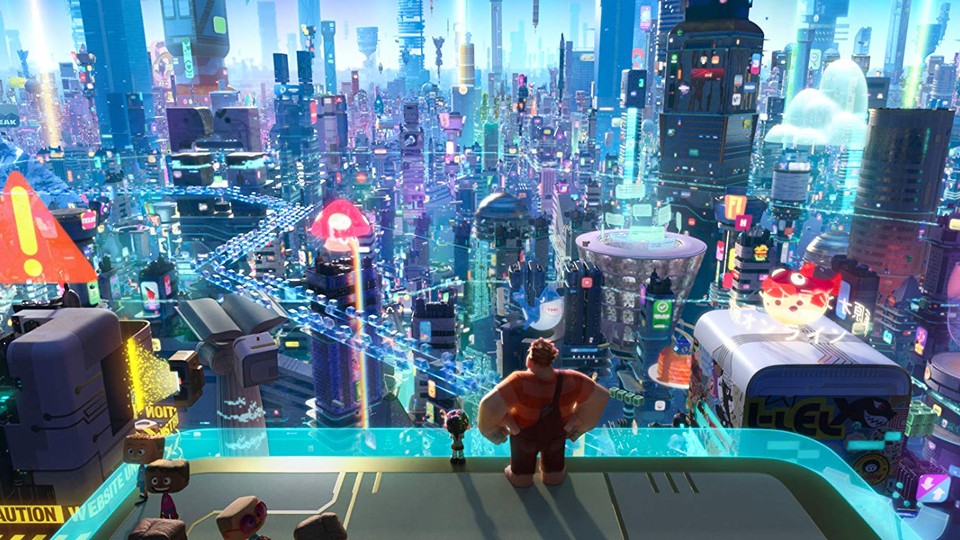 In the past, the magic of a good animated Disney movie lay in how it could spin a simple fable into a rich, textured piece of art. A morality play like Pinocchio or a fairy tale like The Little Mermaid would become a colorful, song-filled hero's journey, one in which lessons are learned, fun is had, and tears are shed. These days, it seems Disney (and its partner Pixar) prefers instead to plumb the depths of worlds and systems that can be challenging or horrifying to comprehend. Zootopia pondered the effectiveness of the police state. Coco quested through the land of the dead. Inside Out explored the inner workings of a preteen girl's brain. And now the sequel to 2012's arcade-cabinet odyssey Wreck-It Ralph brings to life the most terrifying landscape of all: the internet.
That might seem like a tricky idea for a children's film; after all, the internet is a wild place, a rolling boil of discourse, content, and (possibly inaccurate) information. But Rich Moore and Phil Johnston's follow-up movie, Ralph Breaks the Internet, somehow manages to wring a coherent narrative from a sequel premise as flimsy as The local arcade from Wreck-It Ralph gets a wi-fi router. Amazingly enough, the result is a witty, visually inventive, and fittingly sober story about the perils of the internet, told through the eyes of a video-game avatar with unusually large forearms.
Perhaps I shouldn't be too shocked by this project's quality, given that Moore and Johnston also collaborated on Wreck-It Ralph and Zootopia, two similarly impressive feats of world building. While one section of Disney has done a good job updating the princess movie for the 21st century (with entries like Frozen and Moana), Moore and Johnston are deeply invested in interrogating the way the world works today without sacrificing a sense of adventure. Ralph Breaks the Internet is an improbable success, though the same could be said of Wreck-It Ralph and Zootopia.
Wreck-It Ralph followed Ralph (John C. Reilly), the oversize villain of an old-fashioned arcade cabinet, as he rebelled against his programming and moved through the realm of video games in search of new meaning. Ralph Breaks the Internet sees him settled and happy, now accepting of his bad-guy role; he's also best friends with the rude-tude racer Vanellope von Schweetz (Sarah Silverman), who lives in a neighboring game. But when Vanellope's game is imperiled and in need of a vintage part, the pair journey into the internet (literally) to try and buy one.
From there, things spiral out of control for the duo, and it's hard not to relate to their plight. Who hasn't cracked open a laptop to perform one simple task and quickly been sucked in to some black hole of online noise? In Ralph Breaks the Internet, the web is an endless city, dotted with skyscrapers bearing brand names like Google and Amazon. The place is crawling with grinning avatars of real people using their browsers who are constantly harangued by huckster computer programs with pop-up ads and video recommendations. It's a chillingly accurate vision of modern life, like Ready Player One with extra verisimilitude. The film also manages to translate extremely ordinary activities into thrilling action sequences (if you click on a link, you're immediately enveloped in a vehicle that zips you to another part of this virtual world).
Ralph Breaks the Internet offers some frightening insight into how this buzzing universe of choices shapes the film's heroes. Vanellope, always the odd one out in her candy-themed racing game, is immediately bewitched by a Grand Theft Auto–esque multiplayer experience called Slaughter Race, and considers making it her new home. Ralph, used to being the center of attention, develops a very macho attitude problem and sense of entitlement (which might feel familiar to anyone who's spent a lot of time on a social-media network), and starts lashing out in ways even he doesn't fully understand.
Much of the film's action takes place in a YouTube-type program that's governed by an algorithm called Yesss (Taraji P. Henson), where the content is always flowing and users compete for "hearts" from viewers; its true chamber of horrors is, of course, the comments section. Even more amusing is the broken-down "dark web," where computer viruses can be bought and where shady, pea-green creatures try to create new forms of sleazy clickbait. Ralph Breaks the Internet is, without a doubt, the best film made about the lives of computer programs since the Wachowskis' Matrix sequels; I mean this as a glowing compliment.
Some bits of brand synergy, particularly involving Disney, did very little for me, though some viewers will appreciate the meta-critique. In a middle section filled with in-jokes, Vanellope rubs shoulders with famous princess characters like Snow White and Elsa, and sprinkled throughout the movie are knowing nods to other company properties, like Marvel and Star Wars. But the film's two leads are a lovely pair of misfits, each driven by insecurities that feel unique to Disney's sensibilities. Moore and Johnston build on their first entry in interesting ways, using the internet's insidious charms to their advantage.
The film's core message is not about how by being yourself, you can accomplish anything (the classic Disney maxim). Rather, Ralph Breaks the Internet tells viewers to accept some of life's limitations—like having a monotonous job, or seeing friendships and relationships shift over the years. The movie sees the World Wide Web not as a boundless playground, but as another environment where characters can grow, make mistakes, and learn about the power of cruelty and how it can be combatted with empathy. By journeying into such a strange and terrible magic kingdom, Ralph Breaks the Internet has earned its place in the animated canon.