An Unfinished Orson Welles Film Finally Gets a Debut
More than 40 years after the director ended photography on it, The Other Side of the Wind is seeing the light of day.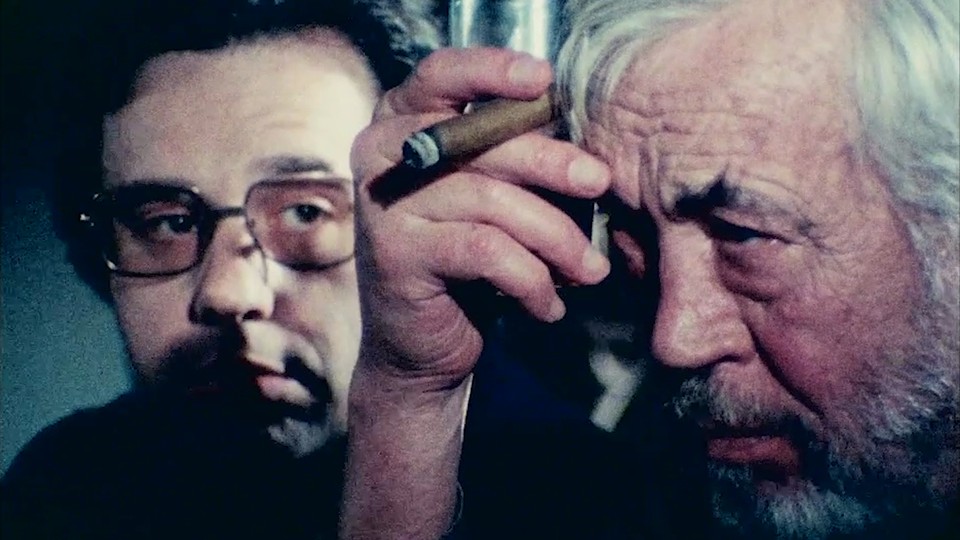 When Orson Welles died at 70, in 1985, he left behind, by one scholar's meticulous count, some 19 projects in various stages of incompletion: scripts, treatments, fragments, tests, trailers, ideas. But the most famous of them, the film that got away, was The Other Side of the Wind, intended as Welles's last meta-statement on film itself, its perennially unfinished status seen ever since as a testament to his studio-stymied genius, his profligacy, his self-sabotage, or some elusive combination of all of the above.
Welles spent six years in the early 1970s shooting the film—in Spain, in the Arizona desert, in the Bel Air home of his directorial acolyte Peter Bogdanovich, and in the crumbling ruins of the old MGM back lot in Culver City, California. He even went so far as to edit a good chunk of it. But he could never raise the money to finish it, and for decades after his death the negative was locked in legal limbo, a casualty of its having been co-financed by the Shah of Iran's brother-in-law, then seized by the Khomeini regime after Iran's 1979 revolution. All but the film's most passionate apostles had given up hope that it would ever see the light of day.
Now, thanks to the loving ministrations of Bogdanovich, the powerhouse Hollywood producer Frank Marshall (who cut his teeth as a 25-year-old production manager on the film), and an international team of cinephiles and expert technicians, and backed by financing from Netflix, the finished film makes its debut on the streaming service and in select theaters. Eighty years to the week after he terrorized radio listeners with his "fake news" Halloween radio broadcast of The War of the Worlds, Welles, that old amateur magician, has delivered one last autumnal "Boo!" from the bushes beyond the grave.
It's a gratifying ending for the Welles loyalists who made it happen, and for the artistic legacy of the director-actor-writer-producer who revolutionized American cinema with Citizen Kane and then went on to make indelible impressions in works as diverse as The Lady From Shanghai, The Third Man, and Touch of Evil, even as he struggled to match, much less top, his smashing early success.
"Everybody has come back to honor Orson," Marshall, the producer of such megahits as Back to the Future and Jurassic World, told me. "Everybody's pitched in. Everybody's just been in love with this project. The minute we announced that we were doing it, I had all these phone calls from people who said, 'I need to work on this.'" During the chaotic shooting, Welles had made Bogdanovich promise that if anything happened to him, Bogdanovich would complete the movie. By telephone, I asked Bogdanovich, in the hospital with a broken femur, if he felt he had repaid that debt. "I sure do!" he replied. "Yeah, it's great. I'm so happy it's out there."
The Other Side of the Wind is, in fact, two films, both with the same title. The first—which frames the action as gilt wood frames a painting—is a cinema-verité-style mockumentary chronicling the 70th-birthday party (and the last day in the life) of a swashbuckling iconoclastic American director, Jake Hannaford. The second movie is the still-unfinished film Hannaford is making—a send-up of the surrealist films of contemporary European directors, such as Michelangelo Antonioni's Zabriskie Point—excerpts of which are being screened for Hannaford's party guests. There's more than a little of Welles's career crisis—when he started Wind, he'd been in exile in Europe for more than a decade, unable to get an American studio to hire him as a director—in Hannaford's, and Welles had long considered playing the part himself before finally casting his old friend John Huston. "It's all right to borrow from each other," Huston's character says at one point, channeling the plaint of Welles, who was already being typecast as a boy-genius has-been in his mid-20s. "What we must never do is borrow from ourselves."
The film's other principal character is Brooks Otterlake, Hannaford's onetime protégé, who has become a hugely successful director and eclipsed his "Skipper," as Otterlake calls Hannaford. (The nickname is a tribute to Welles's high-school mentor, but it has echoes of John Wayne's term of affection for John Ford, the director who made his career, whom he called "Coach.") The Otterlake-Hannaford relationship closely parallels Welles's own sometimes fraught friendship and rivalry with Bogdanovich, whose success with early '70s films such as The Last Picture Show; What's Up, Doc?; and Paper Moon had made him, by the time of Wind, one of the hottest young directors in New Hollywood, as Welles was reduced to cameo acting roles and wine commercials to self-finance his films.
Bogdanovich wound up volunteering to play his own part after Welles's unlikely original choice—the impressionist Rich Little—had to leave the production to keep other commitments. The ensemble is rounded out with longtime Welles colleagues and cronies, including Paul Stewart, who played the malevolent butler Raymond in Citizen Kane. Susan Strasberg makes a lacerating appearance as a film critic—she's a stand-in for The New Yorker's Pauline Kael, a famous Welles antagonist—who has come to interview (and taunt) Hannaford at his party. (Other guests include a then-unknown young actor, Leslie Moonves.)
But the cynosure of Hannaford's film-within-the-film is Oja Kodar, the Croatian-born actress and screenwriter who was Welles's last muse and lover. She wanders sometimes naked in redface through the action, either pursuing or being pursued by a sensual young man, Hannaford's star discovery, John Dale (played by a Jim Morrison look-alike named Robert Random), on whom, it is not so subtly suggested, the director has a latent homosexual fixation. These parts of the film—at one point, the interior movie runs for more than 10 minutes straight—play out as lurid, male-gazey fantasy, with psychedelic colors and a graphic sex scene in a rain-spattered moving car.
Kodar, who shares the screenplay credit with Welles, heavily influenced these scenes, and Welles once told a French interviewer that part of the pleasure of making the send-up was that it was precisely the sort of film he himself would never have made. Still, it's as dead-eyed a parody of its genre—which exploded traditional methods of realistic narrative storytelling in favor of an impressionistic mélange of mood, image, and concept—as the faux "March of Time" newsreel is in Citizen Kane.
Welles shot the party scenes—as if filmed by the guests themselves—in a dizzying mix of formats: Super 8-millimeter, 16-millimeter, 35-millimeter, and in both black-and-white and color. That is part of what made piecing together the finished film—from more than 1,000 reels and 100 hours of surviving footage stored in Paris—such a challenge. Before his death, Welles, who had planned to edit the film himself, had put together a partial 40-minute work print, but he left no detailed notes and his ultimate intentions were not always clear. In the end, much of the quarter-inch tape of soundtrack turned out to be missing altogether.
When the American Film Institute gave Welles its lifetime-achievement award in 1975, he had hoped to use the occasion to help secure financing to finish The Other Side of the Wind. "There was all sorts of manipulation from Orson in Paris through Bogdanovich to include long scenes from the rushes into the tribute on CBS," George Stevens Jr., who produced the ceremony, told me. "We eventually included some. Orson thought this might be the avenue to completion funding." Stevens says Welles was "magnificent, cajoling, outrageous, and charming," and he made a moving acceptance speech that ended with a toast "to the movies, to good movies, to every possible kind." At least one financing offer was forthcoming, but the Iranians rejected it in hopes that a better one might materialize. None ever did. Welles ended photography on the film in 1976, having captured the whole story, as it turned out.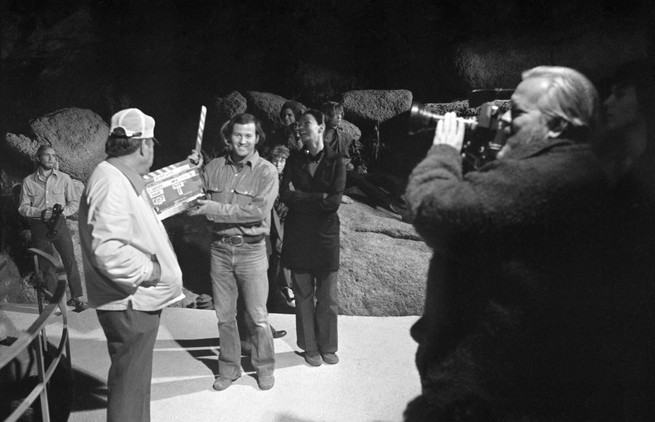 Completing Wind had long been a goal for Bogdanovich and Marshall, who got his start in Hollywood as an assistant on Bogdanovich's first feature, Targets, in 1968, and over the years, Marshall had managed to acquire some of the rights. At various times, investors seemed ready to bite. But the project only finally gathered steam in 2011, when Filip Jan Rymsza, a Polish-born producer and filmmaker who had become fascinated with the film and gotten to know Kodar, approached Marshall at a party at the Telluride Film Festival. "I kind of surprised him at his house," Rymsza recalls. "It was an ambush." Marshall was skeptical, but quickly realized that Rymsza "knew what he was talking about," and the two joined forces.
Ultimately, Marshall and Rymsza obtained rights from the estate of the former Shah's brother-in-law and from Kodar, and then went together to Welles's daughter and executor, Beatrice, to secure the remaining one-third rights. Marshall eventually approached Netflix, whose chief content officer, Ted Sarandos, turned out to be a Welles fan, and work began in earnest last year, taking about six months in all. Netflix also commissioned a compelling companion documentary about the making of the film, They'll Love Me When I'm Dead, directed by the Academy Award–winning Morgan Neville, whose smash documentary about Fred Rogers, Won't You Be My Neighbor?, was released this year.
"Of course, we did a budget, but it was based on nothing," Marshall recalls, "because we hadn't seen the negative or anything. Or didn't know that we didn't have sound." Marshall says that even a few years ago, the technology might not have been available to finish the film. In the end, the producers were able to piece together much of the soundtrack from second-generation sources. Huston's son Danny was called in to loop in some of his father's lines in an eerie echo of John Huston's raspy baritone, and the 86-year-old composer Michel Legrand wrote an elegant, jazz-inflected musical score. To edit the final assemblage, the producers turned to Bob Murawski, the veteran film editor who won an Oscar for his work on The Hurt Locker, and who had been a friend and neighbor of Wind's cinematographer, the late Gary Graver. Murawski had known of the unfinished project for years and quickly raised his hand, and now shares the editing credit with Welles on the end result.
"Really, probably the most difficult part was trying to get inside of Orson Welles's head and figure out what he would have wanted to do as director and editor," Murawski says. "Trying to understand what he would have wanted, because it was such a big, important, historic project by a director who's arguably the greatest director of all time. So it was intimidating in that regard." In the end, Murawski says, Welles's partial work print was a vital resource. "What he had cut was a perfect indication of the style he was trying to achieve."
On the film's original shoestring budget, Murawski says, Welles "could no longer do the elaborate, carefully blocked, crane-and-dolly shots that he had done in the past, where maybe one shot would go on for four or five minutes and there would be lots of very beautiful blocking of the actors working in conjunction with whatever the camera was doing. So because he couldn't shoot that way anymore, he started to develop a style where he was kind of creating the same sense of movement through editing." Murawski also credits Graver's guerrilla cinematography, which he says created remarkable shots with what amounted to student-film levels of lighting and setups.
Bogdanovich, paying ultimate tribute to his old hero, recorded the film's opening narration, which Welles—the spellbinding voice of so many of his own films' most moving moments—had intended to do himself. It's a rueful framing device that foreshadows Hannaford's sad end, and as delivered by Bogdanovich—now nearly a decade older than Welles was at his death, and himself a brilliant mimic—it conveys the passing of a torch that dates back to Hollywood's golden age.
Inevitably, the film is a frozen-in-amber reflection of the time period that produced it. By modern lights, the movie is wildly un-PC, as Hannaford's character drunkenly leers at women, calls Kodar's character "Pocahontas," and self-destructs in a haze of loathing machismo. The film neither defends nor excuses Hannaford, and Rymsza says he is most interested to see how a film that satirizes the very notion of a "male genius" in a specific filmmaking landscape will play and be received in this #MeToo moment in the culture.
"I think it's fascinating that this film is coming out now," Rymsza says. "It's one of those things where, in its sexual politics and in Hannaford's misogyny, to me, it's going to foster a very interesting debate. Because certainly Orson's a nuanced filmmaker. This is something—you know, he doesn't celebrate this, I don't think, that part. I don't think that part of the film would have been acknowledged or discussed back in the late 1970s as much as I think it's a fascinating topic of conversation now." At a minimum, it seems safe to say that contemporary audiences will see the film in a different way than even the most enlightened viewers might have 40 years ago.
Over the years, some Welles scholars have expressed doubt about whether the film could or should be completed at all. "One day, it may be freed," the film historian David Thomson wrote in Rosebud, his 1996 biography of Welles. "I hope not. The Other Side of the Wind should stay beyond reach … There are creations, works, and wonders that are more significant in their non-existence, their disappearance and their shadow than in being there."
Those who labored to complete Wind disagree. "I know he would have finished it if he'd had the opportunity," Marshall says of Welles. "I'm proud of it," Murawski says. "I think we accomplished something pretty amazing. It feels like a movie, which is the most important thing to me. It doesn't feel like it's some sort of historical-restoration project, trying to create some kind of curio. It feels like a movie, with a strong narrative, and is emotional and moving and feels like a complete film."