Netflix Finally Changed Its Biggest Rule
The company will release three upcoming movies in cinemas before they debut online—a major reversal as the studio seeks Oscar glory.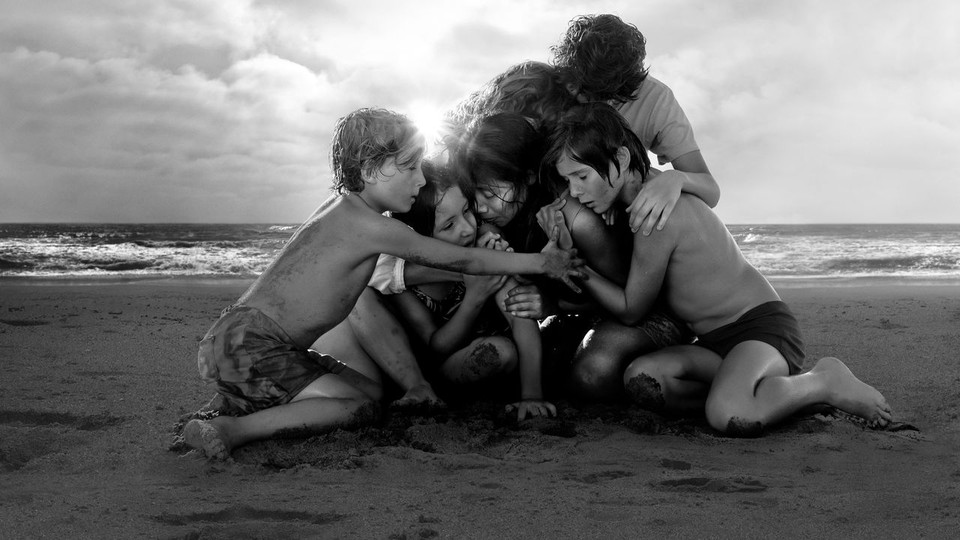 Since launching its original-film division with Beasts of No Nation in 2015, Netflix has had a single hard-and-fast rule about its movies: Subscribers never have to wait an extra second to see them. If a new project received a theatrical release, it would debut on the streaming service at the exact same time. This approach clashed with the fact that most theater chains want to screen their features exclusively. As a result, Netflix films have rarely played in cinemas, and when they do, it's only as a nominal concession to Oscar rules that demand a theatrical release for movies to qualify for trophies.
This year, Netflix has the rights to Roma, Alfonso Cuarón's achingly personal new epic, which is being touted for huge success during awards season. In the coming months, the company will also release the latest film from the Coen brothers (The Ballad of Buster Scruggs) and a sci-fi thriller starring Sandra Bullock (Bird Box). With those debuts, the studio's rules are changing, signaling a potential détente between Netflix and theater exhibitors going forward. Roma will open in two theaters on November 21, gradually expand to more screens over the following few weeks, and finally hit Netflix on December 14.
For years, Netflix's chief content officer, Ted Sarandos, has claimed that his "day and date" strategy, whereby movies get simultaneous digital and theatrical releases, is "going to be more and more accepted as part of the distribution norm." There continues to be little evidence of that, mostly because Netflix doesn't publicize detailed viewership data for its films. Certainly some Netflix projects, such as Dee Rees's Mudbound and this year's romantic-comedy hits Set It Up and To All the Boys I've Loved Before, have made waves with critics.
But the company has some $10 billion in long-term debt and hasn't demonstrated that its model of pumping out content is eventually going to be more stable and profitable than the current theater model. Recent years have also seen a series of public fights over the future of cinema, like Netflix's withdrawal from the Cannes Film Festival in May over rules barring movies without a planned theatrical release in France, or public skepticism about the company from figures like Steven Spielberg and Christopher Nolan. A more sustainable compromise may have finally arrived.
Roma isn't the only Netflix film that's screening around the United States before becoming available online. The Ballad of Buster Scruggs will be in select cinemas for one week before hitting Netflix on November 16, and Bird Box will also have a one-week window of theatrical exclusivity in December. Roma's three-week theatrical run is an acknowledgment of the film's impressive cinematic qualities. Cuarón designed the project to take advantage of state-of-the-art Dolby Atmos sound technology, and now cineasts will have more of a chance to enjoy that presentation in full before streaming becomes the only option.
"Seeing Roma on the big screen is just as important as ensuring people all over the world have the chance to experience it in their homes," Cuarón said in a statement. "Roma was photographed in expansive 65 mm, complemented by a very complex Atmos sound mix. While a movie theater offers the best possible experience for Roma, it was designed to be equally meaningful when experienced in the intimacy of one's home."
Some other Netflix projects vying for awards this year—such as Tamara Jenkins's Private Life, David Mackenzie's Outlaw King, and Paul Greengrass's 22 July—got the nominal theater release required for Oscar consideration. But because the films went online the same day, they never had any chance of making real money at the box office. Netflix has always argued for the virtues of its widespread membership; it reported that 14 million people watched 22 July in the first three weeks after the film's debut, more than would have been possible for a big-screen release. But the company's new strategy is an admission that staggering a movie's theatrical and online runs can offer the best of both worlds.
This revised approach is also a concession to major artists such as Cuarón, the Coens, and Martin Scorsese (who's working on Netflix's The Irishman, slated for a 2019 release). These directors make their movies to be seen in theaters—that is, and always will be, an intrinsic part of the medium, no matter how fancy televisions become. It's not just about the size of the screen or the power of the speakers, but also about being cloistered in a space where you can't look away, pause the action, or easily distract yourself with other devices.
If Roma scoops up some serious Oscar nominations (or even wins one or more statues), Netflix's violation of its ultimate rule will have paid off. Garnering that kind of industry prestige will draw in other desirable filmmakers as the company presses forward in its efforts to become a major movie studio. A cessation of hostilities with theaters was the first step toward that goal, but more adventurous, big-screen storytelling from great directors may come next.