Mariah Carey on the Warpath
Caution, the singer's first album in four years, is both silky and sharp.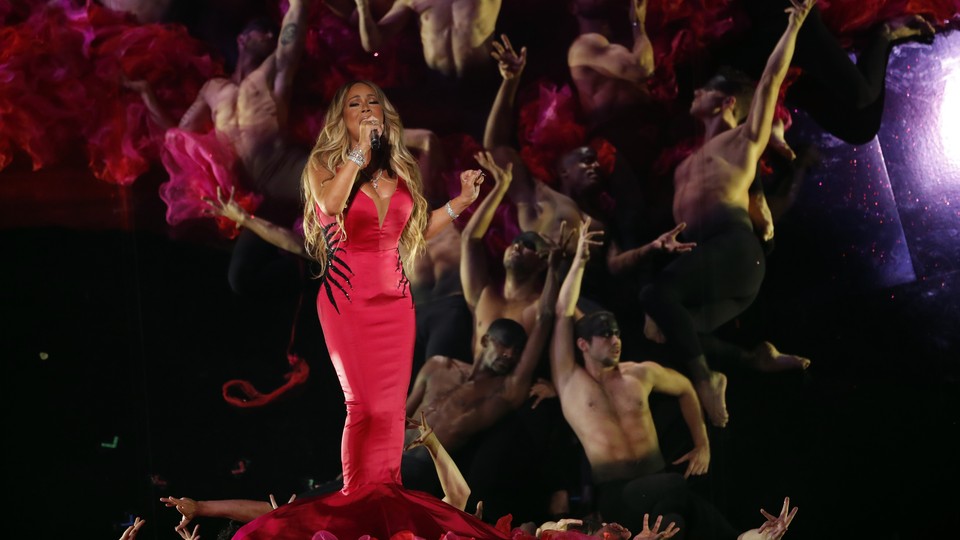 "If you run your mouth and brag about this secret rendezvous / I will hunt you down." So went Mariah Carey's last No. 1 hit, 2008's "Touch My Body," a great example of Carey's secret talent. Her voice constructs skyscrapers in gossamer; her projected self-image evokes a bubble bath of butterflies; her actual public image is a comedy of scandal and shambles. But those who worship her songs know to look for the thumbtack in the feather pillow—the attitude, aggression, and smarts swathed in dream haze. That's no love song; it's a threat.
There might be some sort of reevaluation going on about Carey lately. The soundtrack for her famous flop of a film, 2001's Glitter, just hit the top of the iTunes charts thanks to a fan campaign on social media. Her announcement of bipolar-disorder diagnosis this April added complexity to erratic-diva caricatures drawn of her. And she's been nominated for the Songwriters Hall of Fame in recognition of the under-discussed fact that she's co-written almost her entire discography, including 17 of her 18 top Billboard hits.
Her first album in four years, Caution, shores up the idea of Carey the wit, the craftswoman, and the game player. She establishes that she's in I will hunt you down mode from the start, sighing, "How 'bout you … get the fuck out?" on "GTFO." It's an impressive work of softness as sarcasm: synth washes evoking rainy windshields, a canned "Hotline Bling" metronome, and Carey singing—as she often literally does—as if from a chaise lounge, unbothered as she dispatches the unworthy. Her previous album took a confused, overembellished approach, starting with the title: Me. I Am Mariah … The Elusive Chanteuse. But from "GTFO" on, Caution is spare, misty gray, and lucid, even as it polishes up Carey's many tropes. She's cleaning house.
That impression fits with what's known about her personal life. She's in the midst of a dispute with her longtime manager, Stella Bulochnikov, whom Carey fired in 2017 and who then this year sued Carey for breach of contract and sexual harassment (a bodyguard, Michael Anello, has also accused Carey of harassment and other offenses; Carey denies it all). When Carey went public with her bipolar diagnosis, shortly before Bulochnikov filed her suit, she said, "Until recently, I lived in denial and isolation, and in constant fear someone would expose me," adding, "I sought and received treatment, I put positive people around me, and I got back to doing what I love—writing songs and making music."
It's hard not to think about that drama as Carey creatively tells off interlopers again and again across Caution. On the jagged, jazzy "A No No," she channels the spirit—and cadences—of TLC's "No Scrubs" while she exterminates "snakes in the grass;" in the bridge, she riffs on the fact that no is the same across languages. "Pushing past the parasites, down but not demoralized," she sings with Disney dewiness on the closer, "Portrait," a preposterously grand ballad awaiting third-act placement in the inevitable musical about Carey's life.
Elsewhere on the album, she regards romance with open-eyed caginess. I can't stop playing the single "With You," even if it's the sort of thing designed for Carey to sing from a static standing position as her poor dancers bend their backs. DJ Mustard lays down simple piano chords with the air of a benediction or a graduation song, and Carey croons, oh so slowly, about a very particular meet-cute: "He said 'Yo, I've been loving you so long / Ever since that Bone Thugs song.'" Her own side of the story is, naturally, told in the third person: "She was so full of such trepidation / There in front of the whole damn nation."
Trepidation—so continues Carey's tradition of seeming to sing from eighth-grade vocab flashcards, a tendency she could in fact be winking at on "8th Grade": "Maybe the lyrics are too heavy in my song." That sense of self-referentiality recurs throughout the album, with Carey often seeming to reuse her past affectations and melodies in a newly hardened, but still inventive, context. There's mere referentiality, too: On "Giving Me Life," she seems to interpolate the classic "Killing Me Softly With His Song" so as to vest vapid slang ("Giving me life, and it's everything!") with surprising sincerity. The picture that emerges is of Carey as pop-culture critic, rather than as someone pop culture just criticizes, and if you're not cautious, her next silky-sharp single might just be about you.