LeBron Returns to Cleveland, This Time as a Laker
With a match against the Cavaliers looming, James could be on the brink of taking a big step forward with his new team.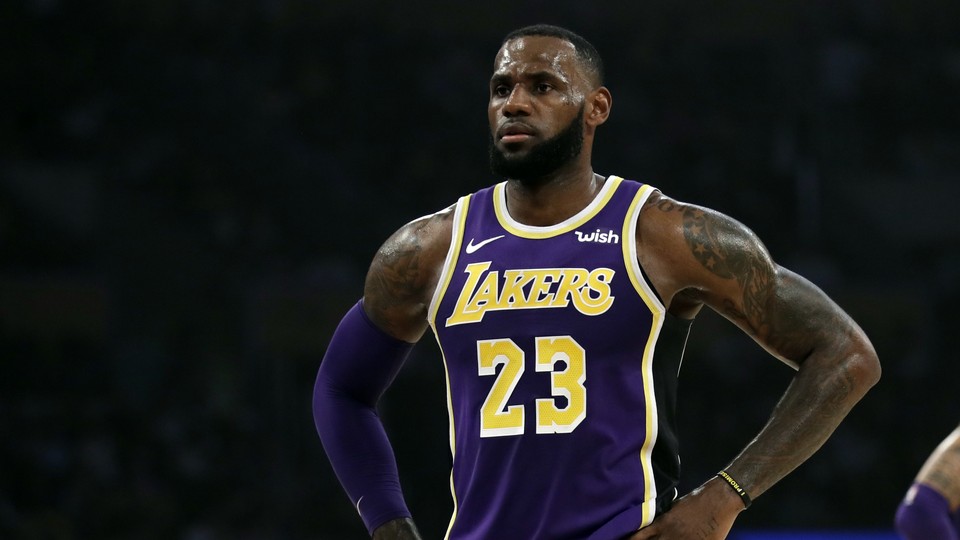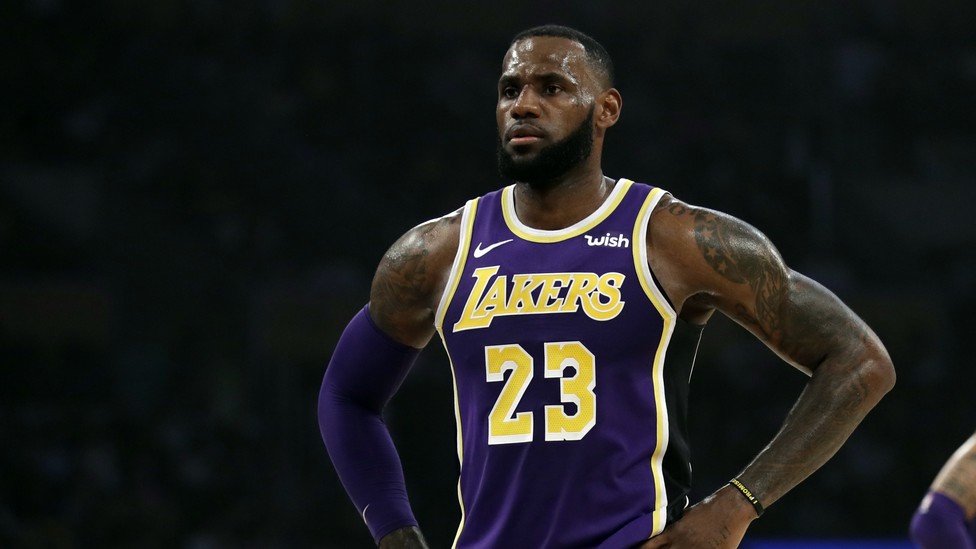 On October 2, just before making his preseason home debut as a Los Angeles Laker, LeBron James sat at his Staples Center locker stall with his arms and legs folded, staring pensively at a big screen at the opposite end of the room. On TV was an NBA preseason tilt between the Boston Celtics and the Cleveland Cavaliers.
You often see players lounging around like this in the restive moments before tip-off. It's a particularly useful posture for tuning out the credentialed Fourth Estate members who regularly intrude upon this sacred space. On that august night, the 33-year-old James could not have seemed less bothered by the eager media horde gathered around him, its cameras trained on his every move. Really, he came off more like someone ending the day than starting it, as he kicked back half-dressed in a white sleeveless T-shirt, purple shorts, and a black wave cap.
And yet: Despite his best attempt to give off a nothing-to-see-here vibe, there was no denying the spectacle unfolding in plain view. This wasn't just some player being antisocial, or even one studiously engaging in a bit of preemptive scouting. This was a man who seemed to be considering the shape of his life on an alternate timeline.
On Wednesday evening, James will reckon with this parallel universe again when the Lakers visit the Cleveland Cavaliers. The matchup reunites James with his former team for the first time since his landmark free-agent signing with Los Angeles in July, and as NBA fall features go, well, this is no clash of the titans. The Lakers haven't yet proved much better than a middling Western Conference team, while the Cavs own the league's worst record. Nevertheless: It's the prospect of seeing The Chosen One prowling Quicken Loans Arena in the wrong team's colors that makes this game appointment viewing. The first time he made a decision like that, the sports world screeched to a halt.
Recall: It was eight years ago, in December 2010, that James made a fraught return to Cleveland in the tangerine-and-white road colors of the Miami Heat, alongside perennial All-Stars Dwyane Wade and Chris Bosh. The meeting occurred five months after James had forsaken the Cavs' cast of misfits to form the first player-made super-team of the modern NBA era. The Decision aired as a live ESPN special that saw a 25-year-old James memorably declare, after teasing out the suspense for close to a half hour, "I'm going to take my talents to South Beach." In a 427-word letter on the Cavs website, published in blue Comic Sans font for some bizarre reason, Dan Gilbert, the team's jilted owner, ripped James for his "cowardly betrayal," his "shameful display of selfishness," and his "heartless and callous action." Locals set their No. 23 jerseys on fire.
They burned to vent their anger at James at close range, and were soon unburdening themselves at the game. The 20,562 Cavs partisans who crammed inside Quicken Loans for James's hostile homecoming welcomed him with hurtful signs (like Quitness, a play off an LBJ Nike campaign) and T-shirts (like The Lyin King, on which James was made to look like the lion on the Playbill cover for the musical). And when James had the audacity to go through with his pregame chalk toss at the scorers' table? That stirred the bad blood to its boiling point.
Cavs faithfuls showered him with boos and jeers whenever he touched the ball (but, weirdly, still cheered on the veteran center Zydrunas Ilgauskas, a Cleveland mainstay who had also defected to Miami that summer); one unhinged spectator was even nastier toward James, hurling a battery at the Heat bench before security tossed him into the gelid winter's night. (All told, the Cavs reported four ejections and one arrest for unsportsmanlike conduct from fans.)
But if these public displays of disaffection had any effect on James, he wouldn't show it that night. Mostly he laughed off his haters and trash-talked Cavs players and coaches while dropping 38 points, eight rebounds, and five assists through three quarters in a 118–90 Miami rout.
Naturally, the wounds healed in time. After getting over the championship hump in Miami—not six … not seven, but two in as many seasons (which still isn't bad)—James came home in the 2014 off-season, breaking the news through a first-person essay in Sports Illustrated this time.
He then went on to lead the Cavaliers to four straight appearances in the NBA Finals, rallying them to a title over the nine-loss Golden State Warriors in 2016. That series, in which the Warriors famously blew a 3–1 series lead, doesn't just rank among the greatest upsets in sports, it broke Cleveland's 52-year championship curse. So when after months of speculation James opted out of his Cavs contract in June and signed with the Lakers in July (news he dramatically understated via a one-sentence press release), there was some jersey burning, sure. But there was also something else—empathy. James had accomplished his mission, after all.
Unsurprisingly, the Cavaliers haven't been the same since he left. After starting 0–6, the team dismissed Tyronn Lue, the shrewd former player turned coach who stepped in midway through the 2016 season and guided the Cavs to their only title. (James was quick to thank him for his service after news of the coach's dismissal broke.) Larry Drew, the longtime assistant who was tapped to replace Lue, held out on assuming the title of interim head coach until he got a pay raise—leverage that underscores the desperate state of the Cavs in the second post-LeBron age. On Tuesday, the team announced plans to part ways with the mercurial small forward J. R. Smith and work with his reps to trade him out of town. All the while, the All-Star forward Kevin Love, once the Robin to James's Batman, has been sidelined with injuries to his hand and toe.
Contrast that with the situation in Los Angeles. After the Lakers lost five of their first seven games by an average of 5.4 points, Angelenos began growing restless, never mind that the team would lose the guards Rajon Rondo and Brandon Ingram to suspensions for their starring roles in an on-court fight during an October 20 home game against the Houston Rockets. Chief among L.A.'s frustrated supporters was the Lakers president, Magic Johnson—who'd haul the second-year head coach, Luke Walton, behind closed doors and dress him down for the team's slow start. But since Magic's pep talk, the Lakers got Rondo and Ingram back and added the veteran center Tyson Chandler, a much-needed defensive presence. They've won seven of their past nine games, earning their last victory by a 16-point margin on the road last Sunday against the Miami Heat—James's other big homecoming this month.
After embracing a multitude of familiar faces inside Miami's AmericanAirlines Arena and taking the court to loud cheers, James showcased the full complement of his game; he thundered down dunks, eluded defenders on turnaround fadeaway shots, and buried a 32-foot long three-pointer—on a dare from his teammate Lance Stephenson, as it happens—to cap a 51-point night. (Only four other players have scored 50 points for three different franchises.) The emphatic victory, which made Miami's Josh Richardson so mad that he threw his shoe into the stands (and was promptly ejected), marked James's first win over the team in five tries since leaving Miami following the 2014 NBA Finals. ("Always good to come back," he said afterward.)
The more the Lakers' fortunes trend upward, the more it feels like 2010 all over again. Remember: Miami also got off to a relatively uneven start that season. But after James scored his grudge-match victory over the Cavaliers, which he called "the most complete game we've had all year from start to finish," the Heat got hotter and blazed their way into the NBA Finals (where they were ultimately turned back by the Dallas Mavericks). With another meaningful date against the Cavs looming, James could well be on the brink of taking another big step forward with a new team. And if Magic should happen to pull off the rumored trade of the disgruntled Cavs sharpshooter and former James teammate Kyle Korver and swing a deal for Smith? The Lakers could be serious contenders in the West.
Even though Wednesday's game may very well bring yet more misfortune to Cavs fans, the mood around the Lakers' impending visit has been much more sentimental. At the end of the day, really, who could be mad at James now? And why would he have reason to believe that he's in for another unhappy reunion? ("Shit, it better not be," he told The Athletic's Joe Vardon when asked about the likelihood of this week's visit to Cleveland being as bitter as that first one in 2010.) He left not only the Cavs better than he had found them, but Cleveland, too. (Certainly, one could argue that the opening of James's I Promise School, a full-service, Akron-based public school that is heavily sponsored by his foundation, was as big a news story as his taking his talents to Tinseltown.) So it fits that the Cavs would be planning a video tribute for James now. It all really opens the mind to a once-unfathomable idea—that LeBron actually can go home again.