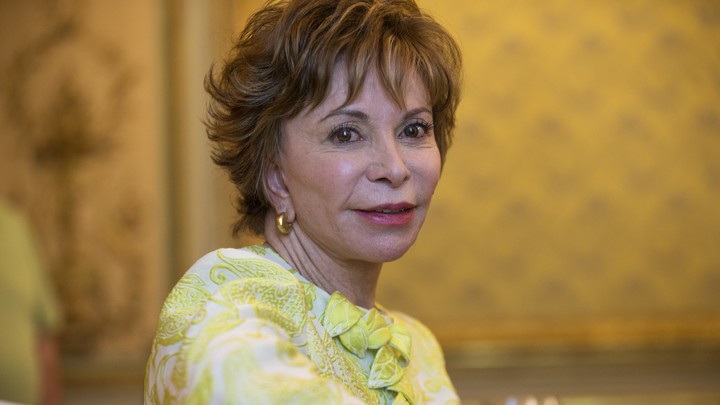 Isabel Allende doesn't take anything for granted. The celebrated author grew up moving from place to place as the child of a diplomat; as an adult, she was forced out of her native Chile by political upheaval. On Wednesday night, Allende was honored by the National Book Foundation for her distinguished contribution to American letters—the first such award given to a Spanish-language writer. In her stirring acceptance speech, she described how the condition of being "chronically uprooted" has fed her creativity—not only in the themes of "nostalgia, loss, and separation" that haunt her books, but also in terms of process:
As a stranger … I observe and listen carefully. I ask questions, and I question everything. For my writing, I don't need to invent much; I look around and take notes. I'm a collector of experiences.
It's a notably scientific approach to a craft that, in the popular imagination, often seems suffused with magic. Where, exactly, does inspiration come from? How can you translate your dreamed-up ideas into actual sentences? The prospect of shaping a jumble of half-imagined scenes into compelling fiction can be paralyzing, and the inevitable, overarching chaos of real life makes it that much harder.
Allende's story is quintessentially American: She came to the U.S. for a new start after living for more than a decade as a political refugee in Venezuela. By that time, Allende had already gained international renown for The House of the Spirits, a novel inspired by her family history and by Chilean life under the Pinochet dictatorship. The impetus for writing Spirits—and other works, such as her memoir Paula—illustrates how personal and political turmoil has figured prominently into her creative method. Most of her writing, Allende explained, stems from the "incurable desire to belong to a place," and her speech, detailing her experience-collecting method, functions almost as a step-by-step guide for responding to such existential uncertainties. Surrounded by people with infinitely varied lives, writers, she advised, need not feel the pressure of making up stories from scratch. Confronted with problems in their plots or psyches, they can use their skills of observation to gain understanding. After all, Allende asks, "What is writing … but an attempt to sort out the confusion of life?"
At a time of deep division and confusion for the nation and the world at large, that message sounds like a lifeline. In her talk, Allende alluded to the ravages of the Syrian civil war, and to racism and violence in the United States. She described a fragile national identity, noting that this is "a time where the values and principles that sustain our civilization are under siege." And she spoke to the looming anxieties of "war in many places, and potential war everywhere."
So how do writers make sense of it all? Observe. Take notes. Question your own assumptions. Recognize the struggles of people around you, acknowledge your struggles, and be generous to both. In Allende's words, "If we listen to another person's story, if we tell our own story ... we realize that the similarities that bring us together are many more than the differences that separate us."
All of this is hardly new advice, but it's advice that bears repeating—and, perhaps, listening to more carefully than ever. Because in this way, Allende suggests, writers (and readers, and everyone else) can make meaning out of uncertainty, and turn tentative, tenuous connections to people and places into strong and secure ones. "This national award … means that maybe I'm not an alien after all," she concluded on Wednesday night. "Maybe I have found a place where I can belong. Maybe I'm not going anywhere anymore."
We want to hear what you think about this article. Submit a letter to the editor or write to letters@theatlantic.com.