Why Eli Manning Is Still a Giant
He's maybe the least respected good quarterback there ever was. But for all his obvious faults, no one can say he fell short of expectations.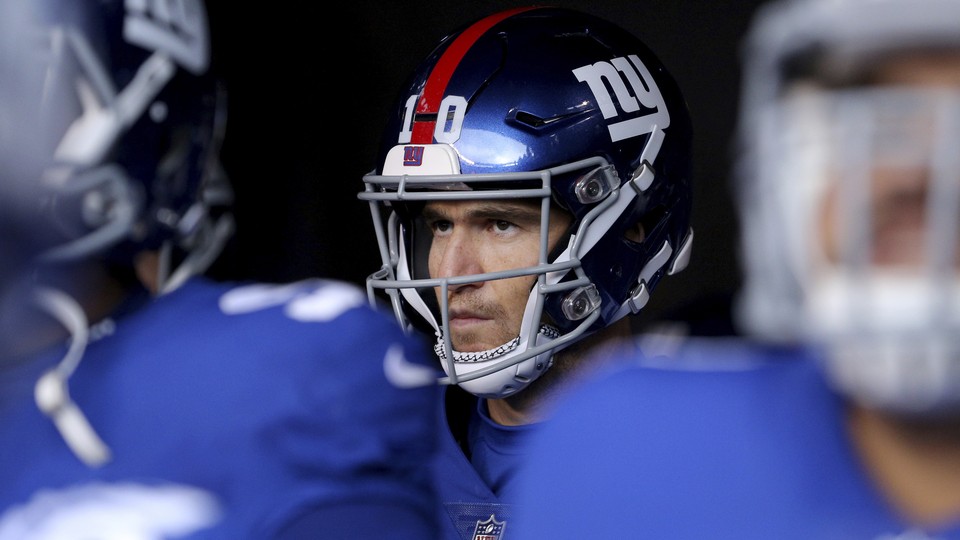 At the end of October, after the New York Giants had stumbled off to their second consecutive 1–6 start, the freshman general manager Dave Gettleman posted a figurative estate-sale sign on the team's locker-room door and challenged his fellow GMs to make him an offer he couldn't refuse. With the deadline looming on the most hectic mid-season trade period in recent memory, on October 25 Gettleman shipped Damon Harrison (an All-Pro defensive tackle playing the third year of a five-year, $46 million free-agent pact) to Detroit in exchange for a fifth-round pick in next spring's NFL draft.*
Twenty-four hours earlier, Gettleman also sent Eli Apple (an underachieving cornerback whom the Giants scooped up with the 10th overall selection in 2016) to New Orleans and yielded fourth- and seventh-round draft choices in that bargain, which pro-football followers greeted with a fair amount of head scratching at first. The longer the news lingered without a correction, the more Giants supporters and skeptics agreed: They traded away the wrong Eli.
Pity Eli Manning, maybe the least respected good quarterback there ever was. Despite his impeccable gridiron pedigree (Archie Manning, the much-beloved former Saints quarterback, is his father; Peyton Manning, the five-time league MVP and two-time Super Bowl champion, is his older brother), the 37-year-old Giants signal caller has never quite fit the role of fair-haired cornerstone to one of the NFL's blue-blooded franchises. Who could forget how he barged into New York after a record-setting tear at Ole Miss, spurned the San Diego Chargers (the team that would pick him first in the '04 draft), and forced one of the most consequential trades in NFL history?
From there followed four uneven seasons of drive-killing sacks and soul-crushing turnovers, each new error in judgment twisting Manning's oft-ruddy game face into eminently meme-worthy expressions of slack-jawed bemusement. Even Tiki Barber, the Giants' all-time rushing leader and a former teammate of Manning's, piled on, describing one of the QB's early attempts to take charge of an offensive meeting as "comical."
Jump-cut to late in the 2007 NFL season: Just when it appeared as if regard for Manning couldn't sink any lower, he led the Giants to four consecutive road playoff victories. They then defeated the unbeaten New England Patriots in Super Bowl XLII in one of the biggest upsets in sports, with Manning making the play of the game on an improvised 32-yard heave, aka "the helmet catch." And when his time-capsule-worthy moment seemed in danger of fading from memory as the Giants missed the playoffs in the next two seasons, and Manning's humble claim to elite quarterback status became fodder for debate, he sparked another late-season win streak and shocked the Patriots—again—in Super Bowl XLVI.
It was in the wake of this heart-stopping performance, after which Manning was voted MVP of the championship game for a second time, that the conversation around Archie's son and Peyton's kid brother started to shift. ESPN's Trent Dilfer hailed the Giants' signal caller as "the poster boy for what a Hall of Fame quarterback should be," while Manning's NFL peers ranked him 31st among the league's top 100 players for 2012, after leaving him off the list entirely in previous years. Even Manning's nagging habit of underthrowing his receivers was reframed as the reboot of a once-trendy football fashion: the back shoulder pass.
The honeymoon lasted until the 2013 season. As if throwing a league-leading 27 interceptions as the Giants missed the playoffs after yet another 1–6 start weren't bad enough, Manning was sued in 2014 by a group of memorabilia collectors who charged him with hawking fake "game-worn" helmets and jerseys. (The case was settled out of court last spring.) That annus horribilis could have been motivation for the Giants to start making serious plans for the future; instead, they doubled down, betting that Manning could enjoy the same late-career resurgence that his brother had in Denver.
And so the Giants paired Manning with a slick new play-caller named Ben McAdoo, and for a while the two worked well together. So well, in fact, that Manning—whose accuracy and touchdown-to-interception ratio improved so dramatically over the next two seasons that the Giants re-signed him to a four-year, $84 million extension in 2015 that also included a no-trade clause—recommended McAdoo for a promotion to head coach for the 2016 season. McAdoo would later repay this loyalty by dealing Manning the most stinging humiliation of his career.
After going from 11 wins his first year as head coach to a 2–9 start in 2017, McAdoo did the inconceivable: Not only did he bench Manning—who at the time boasted more consecutive appearances in the starting lineup than any other active NFL player—but he sat Manning for Geno Smith, a dual-threat quarterback who'd already flamed out spectacularly with the New York Jets. "It's been a hard day to handle this," a near-tears Manning told reporters upon learning of his demotion, "but [I'll] hang in there and figure it out."
And while that decision wound up getting McAdoo fired, along with the general manager Jerry Reese, many now argue they made the right call, citing Manning's halting ability to exploit the rookie running back Saquon Barkley and the veteran wide receiver Odell Beckham Jr. as proof. (The obvious subtext of this argument: Manning can't throw it deep anymore.) Foremost among these second-guessers is Beckham, the three-time Pro Bowler who, in an ESPN interview on October 7 (with the rapper Lil Wayne at his side for some reason), insinuated that Manning was holding the team back. The Giants' coach, Pat Shurmur, was quick to scuttle that theory and fine Beckham for his comments, but two weeks later, Shurmur was caught by ESPN cameras yelling "Throw it to Odell!" after Manning missed a clear chance to throw a touchdown to him in a game in which they were trailing by seven.
All that said, Beckham, and those aforementioned wisenheimers who say the Giants traded the wrong Eli, have it backwards. While it's true that OBJ and Barkley rate among the league's most explosive one-two punches, it's also true that the Giants have played Manning behind some truly appalling offensive lines over the course of his 15 seasons. The team's recent efforts to patch its protection holes—selecting the hulking Ereck Flowers ninth in the 2015 draft, signing Tom Brady protector Nate Solder to a four-year, $62 million contract in March—have thus far resulted in Manning getting sacked a league-high 31 times through eight games. Meanwhile, Barkley has rushed only for more than 100 yards in two games.
What's more, the Giants haven't done Manning any favors by not adding any backup quarterbacks who might actually light a fire under him. Instead, they've signed guys like Smith and David Carr—former starters who have buckled under pressure time and again. The leadership touted fourth-round rookie Kyle Lauletta and then, when he was arrested during the team's bye week for nearly running over a police officer, moved on to hyping seventh-year journeyman Alex Tanney. If anyone's holding the Giants back right now, it's owners John Mara and Steve Tisch, for not trusting the process. (Likely, Manning doesn't get benched and then reinstated without their say-so.) And it's Gettleman, who had a ripe opportunity to find Manning's replacement in this year's draft but instead added Barkley, an incandescent talent who nonetheless plays a position with the league's worst shelf life.
The Giants, despite Gettleman's recent maneuvering, don't figure to land a worthwhile Manning successor (or even a credible challenger) anytime soon. The 2019 draft already has pro quarterback evaluators "terrified." In the past two years, they've seen seven of the best prospects for that draft leave school early. Many of those standouts who would have been in the class of 2019—like Mitchell Trubisky, Deshaun Watson, and Patrick Mahomes—have already gone on to become marquee NFL stars (in Chicago, Houston, and Kansas City, respectively). The three most intriguing prospects that remain—Oregon's Justin Herbert, Missouri's Drew Lock, and Auburn's Jarrett Stidham—are still under-seasoned, scouts say. The best veteran quarterbacks all signed lavish free-agent deals last spring. And any attempt to move on from Manning before next season would cost the Giants at least $6.2 million in "dead" salary-cap commitments. Granted, that's peanuts in the grand scheme of the team's $164 million 2019 spending budget. But it's enough to discourage the Giants from off-loading their most important player without a viable alternative.
New York might be stuck with Manning for at least another season, but is that such a bad thing? He has his coach's support and a fresh vote of confidence from Mara. In other words, this is fine. For all of Manning's obvious faults, no one can say he fell short of expectations. If anything, you can argue he had a better career than his more statistically prolific older brother (who could never quite solve the Patriots and was a loser in two Super Bowls), simply because he made more of his potential. Manning beat Tom Brady in the Super Bowl twice. And he's brought home more Super Bowls than any other New York QB. Anything beyond that should be considered a bonus.
---
*Due to an editing error, this article originally misstated that the NFL trade deadline was on October 25.