Green Book: A Flimsy Tale Elevated by Two Great Performances
The director Peter Farrelly's film about transcending race is saved by bravura turns by Viggo Mortensen and Mahershala Ali.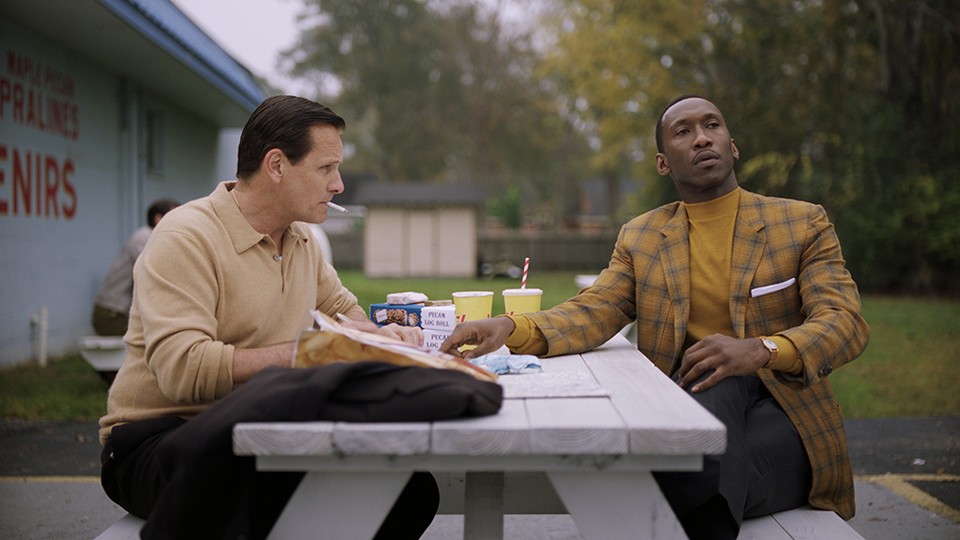 Ebony and ivory live together in perfect harmony / Side by side on my piano keyboard / Oh Lord, why don'
t we?
Cultural veterans of the early 1980s will recall—as much as they might prefer not to—the lyrics of Paul McCartney and Stevie Wonder's chart-topping ode to interracial fellowship, which, it's safe to say, was not a career high point for either artist. That song's facile moral architecture is shared, to a considerable degree, by the director Peter Farrelly's
Green Book
, the story of a white man and a black man—the latter a pianist—bonding on a road trip through the Deep South in the early 1960s. (How much did I want to come up with a way not to cite
Driving Miss Daisy
in the first two sentences of this review? Very, very much.)
The good news is that Farrelly—half of the fraternal duo that brought us intermittently brilliant comedies such as There's Something About Mary and Me, Myself & Irene—has done a nice job with this fairly simplistic message film, most particularly by casting Viggo Mortensen and Mahershala Ali as his two principals. First-rate execution can't solve all of a film's problems, but Mortensen and Ali offer a reminder that it can solve an awful lot of them.
The film is, as they say, based on a true story. It takes its title from a guide, The Negro Motorist Green Book, that explains how to "travel while black" in the South. Mortensen plays Tony Lip—the nickname is a reference to the character's verbosity, not the distinctive scar Mortensen suffered in a teenage encounter with a barbed-wire fence—an Italian American working stiff from the Bronx whose job as a bouncer at the Copacabana has gone on a temporary hiatus due to renovations at the club. When we first meet him, he is depicted as so racist that he throws away two glasses that had been used by the black workers who fixed the floor of his kitchen. (This way, you see, his inevitable "evolution" will be that much more dramatic.)
Ali, meanwhile, stars as the virtuoso jazz pianist Don Shirley, who lives in a palatial studio above Carnegie Hall, festooned with busts, vases, and elephant tusks. He's about to undertake a two-month concert tour that, after a midwestern leg, will head south: Raleigh, Macon, Memphis, Little Rock, Baton Rouge, Birmingham. Given that he is a black man and the year is 1962, he wants to hire a driver who is also capable of handling any unpleasantness that might be encountered along the way. Ergo: Tony.
Once the two men hit the road, the movie proceeds almost precisely as any moviegoer would expect. The earthy Tony introduces the worldly Don to Chubby Checker and fried chicken. The worldly Don teaches the earthy Tony about Orpheus and how to write letters to his wife, Dolores (Linda Cardellini), that are about more than what he ate for lunch. Eventually, Tony will lecture Don that, thanks to his modest roots, he is "way more blacker than you." Though the film doesn't do a lot with this intended cultural inversion—the black man who is wealthy and cosmopolitan, the white man who has scarcely set foot outside the Bronx but who has common sense—it nonetheless provides adequate narrative fodder.
The true gratifications of
Green Book
, however,
fall into two essential categories. There are the easy, crowd-pleasing episodes in which a southern racist is put in his place (an Alabama sheriff gets a call from Don's friend Bobby Kennedy!) or is smacked around by Tony. And there are the delicate moments in which two superb actors elevate the film above its otherwise pedestrian screenplay—when, for instance, the habitual low-grade grifter Tony expresses extreme self-satisfaction at pocketing a pen he's used to fill out an interview form, or when Don leans in tight over a Steinway, every fiber of his being seeming to flow through his fingers outward into the keys.
In an early letter from the road, Tony explains to his wife that Don is a genius, but "
it don
't look fun to be that smart." It's a line that Farrelly's slight but enjoyable film seems to take very much to heart.
Green Book
may supply little in the way of meaningful commentary on racial dynamics either in the 1960s or today. But thanks to Mortensen and Ali, it's a perfectly pleasant way to spend two hours.