Lisbeth Salander, Superhero
The film adaptation of The Girl in the Spider's Web could double as a James Bond movie—which is an odd match for its heroine.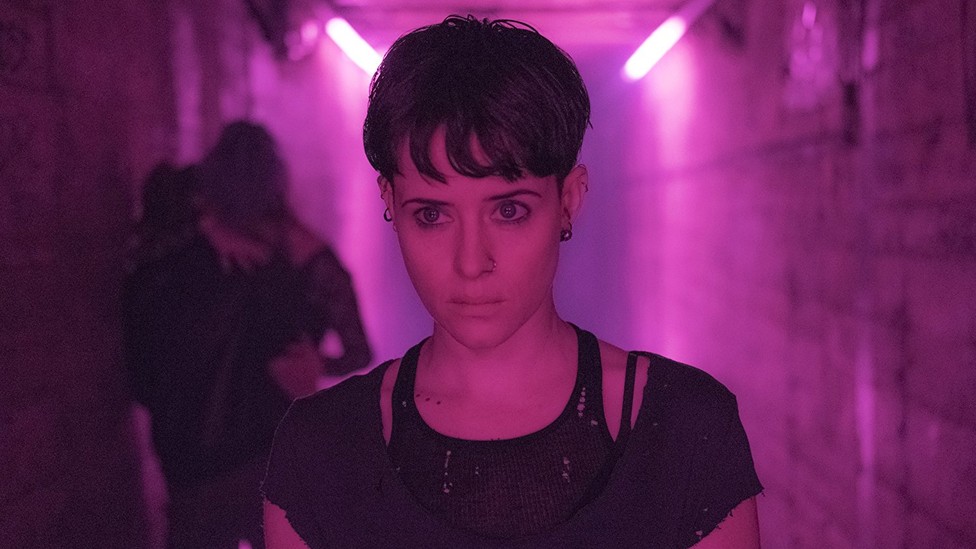 Superheroes are inescapable at the box office these days. But I confess that I never expected Lisbeth Salander, the moody Swedish hacker of Stieg Larsson's Millennium novels, to join their ranks. Yes, Salander is a fearsome opponent of predatory men, and in earlier Larsson works such as The Girl With the Dragon Tattoo, she's a valuable asset in solving a decades-old murder mystery. But she has always been very much a free agent, often focused on personal vendettas. Not anymore.
In The Girl in the Spider's Web, a new film based on the fourth Millennium book (which was written by David Lagercrantz in 2015, 11 years after Larsson's death), Lisbeth has become a vigilante goth version of James Bond, toting guns, allying with an NSA agent, and trying to stop nuclear codes from falling into the wrong hands. It's a jarring left turn, and the confusion is fueled by the film's approach as a quasi-reboot. While it's based on a later novel in the series and features an entirely new cast, the movie still expects viewers to remember some basics from David Fincher's 2011 The Girl With the Dragon Tattoo, and tries to fill in the plot details from the intervening books through hurried flashbacks.
It is, in short, a muddy mess that doesn't really succeed as an action thriller, a franchise-starter that plays like a tired sequel. Though some of the new actors assembled here—Lakeith Stanfield, Sylvia Hoeks, Vicky Krieps—are surprising and interesting talents, they're largely wasted. The Girl in the Spider's Web has too much plot to get through and too many glitzy shoot-outs to arrange. Fincher's film may have been excessively grim and suffered from a bloated runtime. But it was also a bleakly beautiful creation—a singular blockbuster that marinated in all of Larsson's musings on Sweden's history of misogyny and Nazism. The Girl in the Spider's Web, intentionally or not, sands all that nuance away in the name of more thrills.
Fede Alvarez, the film's director and co-writer (the script is also credited to Jay Basu and Steven Knight), is a stylist of some talent. His 2013 reboot of The Evil Dead was impressively gross, and his 2016 follow-up, Don't Breathe (a huge hit), was an equally nasty and creative bit of horror storytelling. The Girl in the Spider's Web doesn't have Fincher's meticulous sense of style, but it's got appropriately washed-out visuals and starkly designed sets (Lisbeth's headquarters looks like an abandoned warehouse constructed from black vinyl). Alvarez's set pieces have a nice feel for geography, and his action, particularly a climactic showdown in a desolate hospital, flows smoothly. But were audiences really demanding a high-octane Lisbeth Salander movie?
Most viewers are arguably more drawn to Salander herself, once played by Noomi Rapace (in a trilogy of Swedish films) and Rooney Mara (who received a Best Actress Oscar nomination for her work in Fincher's movie). In Spider's Web, Mara has been replaced by Claire Foy, who was brilliant as the clipped and imperious Queen Elizabeth in Netflix's The Crown. Foy feels lost here; her accent is sharp and her makeup on point (Salander is fond of piercings and spiky hairdos), but her persona has been reduced from wraithlike to grumpy. She's an awkward fit as superheroic do-gooder, no matter how many cool computer-hacking tricks she can pull off.
The Girl in the Spider's Web finds Salander recovering from multiple unexplained events (the film only briefly touches on the Millennium books that have been skipped over) that estranged her from her partner in crime, the journalist Mikael Blomkvist (played by Sverrir Gudnason, replacing Daniel Craig). Contracted to steal a top-secret government program by a nervous ex-NSA employee (Stephen Merchant), Salander is quickly drawn in to high-level international intrigue involving the theft of nuclear codes, an angry American secret agent (Stanfield), and Lisbeth's evil twin sister, Camilla (Hoeks).
The script leans on multiple painful clichés, such as an autistic child whose brain holds a secret password and a clandestine society of assassins who mark themselves with spiderweb tattoos. Exciting European actors like Claes Bang (the star of 2017's The Square) and Krieps (Phantom Thread) get to do little in their respective roles. As Blomkvist, Gudnason is so uncharismatic that you might forget who he is from scene to scene, while Stanfield, who was magnetic in films such as Sorry to Bother You and Short Term 12, barely registers.
Spider's Web is set in a similar snow-globe version of Sweden as last year's incompetent crime drama The Snowman, a country where everyone speaks accented English and the threat of murder constantly hangs in the air. There's no chance for any energy or fun, which is a problem for a movie that's trying to present itself as a secret-agent thriller. Rest assured, in The Girl in the Spider's Web, Lisbeth Salander saves the day, and she looks cool doing it. But this is a story so slick that she'd be rolling her eyes if she watched it.