The Unsettled Place of the Gay Teen in Film History
Prior to the recent boom in movies about queer kids, their struggles played out in boundary-pushing indie films and entertaining sidekick roles.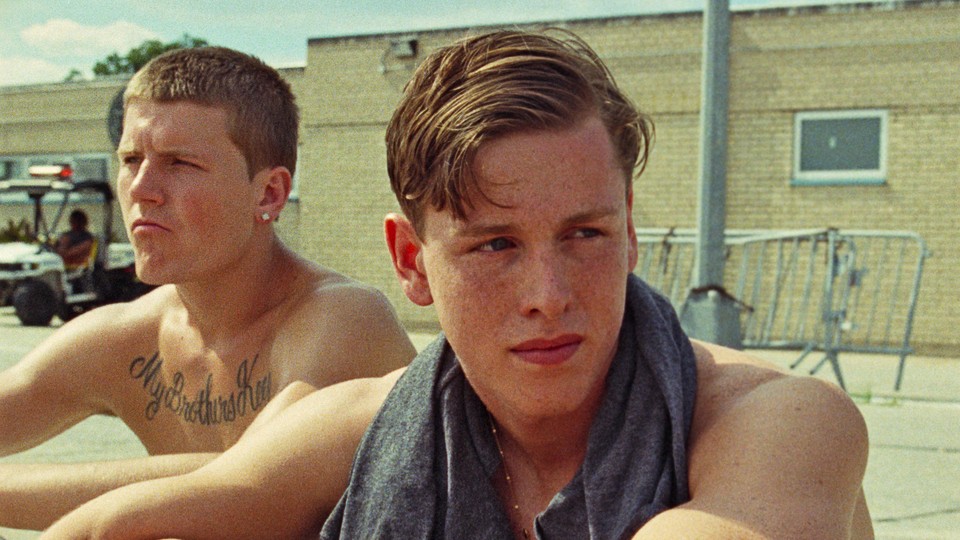 On this past New Year's Day, the musician Hayley Kiyoko christened the year to come as "20gayteen." Her meaning: Queer kids were about to take over pop culture. Rising stars like Kiyoko, Troye Sivan, and Kim Petras have sung of flighty first love through an LGBTQ lens. On TV, shows like Riverdale have been extending the work of Glee to make stories about, say, girls asking girls to homecoming into no big deal.
It's happening in cinema, too—though the films hardly feel like celebrations of liberation. In this month's issue of The Atlantic, I wrote about the proliferation of gay teens in recent, widely seen movies: the hit rom-com Love, Simon, the buzzy conversion-therapy dramas Boy Erased and The Miseducation of Cameron Post, and the Best Picture nominee Call Me by Your Name and winner Moonlight. In content and style, these works vary widely, but they share a somewhat reserved, cautious tone as they portray kids coming to understand their homosexuality. The rambunctious experience of puberty so familiar in film history—from Grease to Sixteen Candles to Lady Bird—has so far not been central to Hollywood's vision of the queer coming of age.
Of course, that vision is wider than just the five recent films I wrote about. Gay kids have long shown up in mainstream high-school comedy, just not as stars. And as supporting players, they're allowed to be rowdy rather than just prettily pensive. Think of Damian in Mean Girls or Blaine in Cruel Intentions: sassy sidekicks so hilarious, and also such clichés, that there was a 2013 comedy called G.B.F. all about the phenomenon of the "gay best friend." Some female protagonists have flirted with queerness, but many of them merely as part of a larger exploration of delinquency; see the deadly troublemakers of Peter Jackson's 1994 feature, Heavenly Creatures, or of the 1998 thriller Wild Things.
The pulp danger in those films could be seen as almost a fever-dream inversion of the real-world peril facing LGBTQ people. The Miseducation of Cameron Post and Boy Erased literalize the way that homophobia can rip people away from the traditional vision of teenagerdom—the backseat make outs, the backwoods keggers—and send them on drab reprogramming missions in which the kids end up policing and punishing themselves. In Moonlight, too, the protagonist, Chiron, shrinks himself because of the ever present threat of violence—a threat he eventually pays forward by brutally beating a classmate. This dynamic, of the bullied becoming the bully, is a common one on-screen. Last year's absorbing indie drama Beach Rats, for example, portrayed a closeted Brooklyn bro who (spoiler alert) helps his friends mug a guy he meets on a hookup site.
The appeal of the lightweight Love, Simon, though, was in imagining that a gay kid might fall comfortably into a familiar coming-of-age groove: occasionally mortifying, but never actually traumatic. The intolerance around Simon is light and incidental; mostly, he gets to look for love at the same house parties and county fairs as all his friends do. Shortly after that film's release came the Netflix original Alex Strangelove, a livelier, raunchier, and more insightful attempt to retrofit the high-school comedy for a coming-out story. In both cases, letting the gay hero thrive relies on an idealized—even parodic—progressive utopia. "Everywhere you look someone's omnisexual or transitioning," says a sassy—straight—sidekick in Alex Strangelove.
Other films focus on the pursuit of happy endings outside of the high-school jungle, in the adult world. A sense of seclusion and early maturity helps enable Elio's explorations in the great Call Me by Your Name. France's intense 2013 epic Blue Is the Warmest Color saw a girl leave behind her gossipy peers as she entered into an affair with a grad student. The 1999 camp comedy But I'm a Cheerleader hit many of the same story beats as Miseducation and Boy Erased as it portrayed a young woman sent to conversion therapy, but this churchgoing hero got to also visit a gay bar and meet a stable same-sex couple. In the charming 1996 U.K. film Beautiful Thing, two bullied, working-class boys furtively explore not only their mutual attraction but also the queer scene of London. When they finally step out of the closet, it's with the support and shielding of one of the boys' mother.
For many kids, though, the hope for such protection is impossible—as is the notion that they might live like a John Hughes character, checking off one rite of passage after another. A rawer sense of possibility and terror thus charges the work of Gregg Araki, the indie director at the forefront of the '90s "New Queer Cinema" wave. His 1993 feature, Totally Fucked Up, was a camcorder-filmed pastiche of interviews and vignettes about a group of queer guys and girls experiencing hate crimes, the threat of AIDS, and suicidal depression—not to mention boredom, sexual frustration, and love. For all their serious problems, Araki's irreverent characters lived lives that felt unscripted—which is, perhaps, one of the truer ways to portray growing up gay.