The Front Runner Fails to Tell a Grand Story of American Politics
Hugh Jackman stars as Senator Gary Hart of Colorado in Jason Reitman's entertaining but glancing biopic.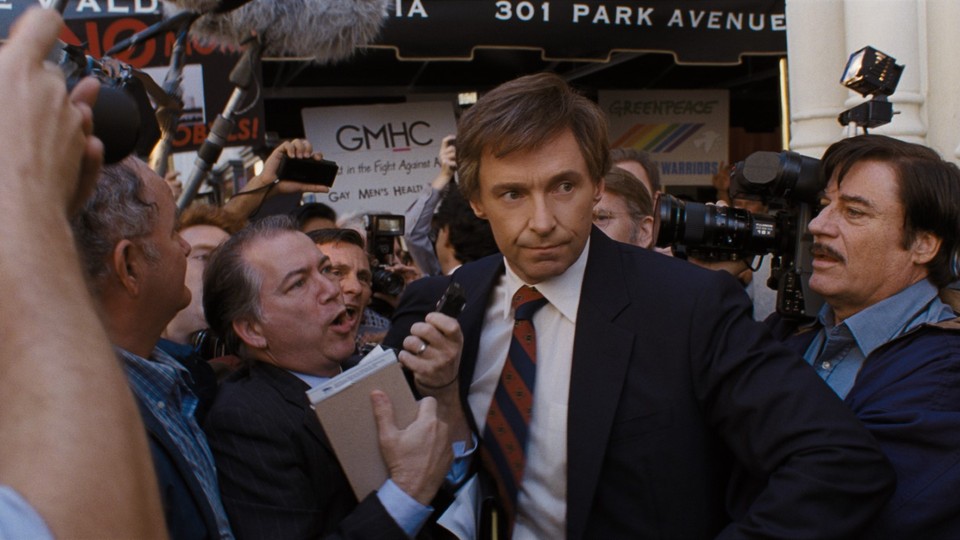 The implosion of Gary Hart's 1988 presidential campaign is, by itself, a fascinating tale worth adapting for the big screen. Retelling bits of political history in movie form, as though they're sensational true-crime yarns, has seemingly only become more popular. In the past two years alone, audiences have gotten potted accounts of Watergate (Mark Felt), Stanley McChrystal's resignation (War Machine), and Ted Kennedy's biggest scandal (Chappaquiddick). Jason Reitman's The Front Runner joins the list by telling the story of Hart (played by Hugh Jackman), a Colorado senator and stump-speech superstar who's brought down by a sex-scandal maelstrom.
The dramatization itself, based on Matt Bai's book All the Truth Is Out: The Week Politics Went Tabloid, is solid (Bai co-wrote the film with Reitman and Jay Carson). The story line is finessed and some characters are fictional composites, but the general idea is there: Hart's status as the front-runner for the Democratic presidential nomination was derailed by reports about his womanizing past and a rumored affair with a woman named Donna Rice (Sara Paxton). But with that premise comes a grander thesis statement—that the end of Hart's career helped bring about a general end to civility in politics, and to the norm of serious journalists overlooking tabloid-friendly stories about their subjects. But The Front Runner doesn't seem confident enough in that theory.
Ironically, what gets in the way of Reitman's central argument is one of the movie's biggest strengths: Jackman's performance. Playing Hart requires serious star power without the bombast. The candidate was telegenic and good pals with Hollywood celebrities like Warren Beatty, but he was also regarded as a bit of a wonk. Jackman plays Hart with a cagey sort of gracefulness. The senator is happy to take part in an axe-throwing competition at the county fair, but any time someone references his reputation as a ladies' man, he tries to divert the discussion to tax brackets or geopolitics.
Hart feels like an intentionally obscure figure, always at arm's length from the audience and even from his own devoted staff members (played by a talented ensemble, including J. K. Simmons, Molly Ephraim, Alex Karpovsky, and Tommy Dewey). As Hart's refusal to address questions about his relationship with Rice and other women begins to consume his campaign, The Front Runner's plot becomes more about the candidate's inability to be honest and less about the salaciousness of the rumors themselves. In fact, this is a decidedly unsexy movie, one that's more interested in process than scandal. Probably the film's most flirtatious moment involves Hart calmly talking the reporter A. J. Parker (a fictional character played by Mamoudou Athie) through his fear of flying during a bad bit of turbulence.
The Front Runner is so process-oriented that the scandal in question never feels lewd, but instead rooted in Hart's remoteness. As a result, it's hard to buy Reitman's argument that Hart's downfall marked the exact moment American politics hit the gutter. The revelation of Hart's possible affair with Rice came as two Miami Herald journalists (played by Bill Burr and Steve Zissis) staked out the politician's home in Capitol Hill and saw Hart leaving with Rice. Hart railed against the reporters' invasive tactic as unprecedented, but they also caught him in an unmistakable lie. Somewhat confusingly, Reitman can't seem to decide between portraying the Herald journalists as tenacious and gutsy or as irritating pests.
More often than not, the director leaves it to the viewers to decide. The entire film is presented à la Robert Altman, told with overlapping dialogue by an ensemble of characters who often go unnamed. Whether the audience is in the thicket of Hart's staff or amid a swarm of reporters, the movie's emphasis is on exposition rather than character. The first half of The Front Runner sets out the stakes of Hart's campaign, and the second half questions the significance of its destruction. Was the media coverage inappropriate? Should Hart's private life have been off-limits? Was Donna Rice mistreated? Reitman's answer too often comes off as a shrug.
Scenes at the Washington Post office (which feel largely pointless) function as little bits of Socratic debate, with Ben Bradlee (Alfred Molina), Ann Devroy (Ari Graynor), and others pondering the necessity of exposing a senator's sexual exploits. The effect of the reporting on the Hart family is depicted with a little more juice, and Vera Farmiga does great work playing Hart's furious but pragmatic wife, Lee. But so much of The Front Runner feels like stenography, giving audiences the basics and then letting Hart or Bradlee monologue to the camera about how the norms of yesteryear are slipping away, perhaps forever.
Reitman's career started strong with the punchy satire Thank You for Smoking, the acidic family comedies Juno and Young Adult, and Up in the Air, a melancholy ballad about the Great Recession. But the director's work nose-dived with flops like Men, Women & Children and Labor Day; I thought Tully, released in May, was a sensitively done comeback that worked because it was told on such a human scale. I would've said the same of The Front Runner had it taken a similar approach, but Reitman is tripped up in his attempts to spin Hart's story into something more symbolic. There's a compelling personal portrait at the heart of this movie, but the film isn't bold enough to coax it out.