A Brilliant Travelogue That Presents Africa Through a New Lens
A recent book by Emmanuel Iduma expands what writing about the continent can be by paying extraordinary attention to the ebbs and flows of human connection.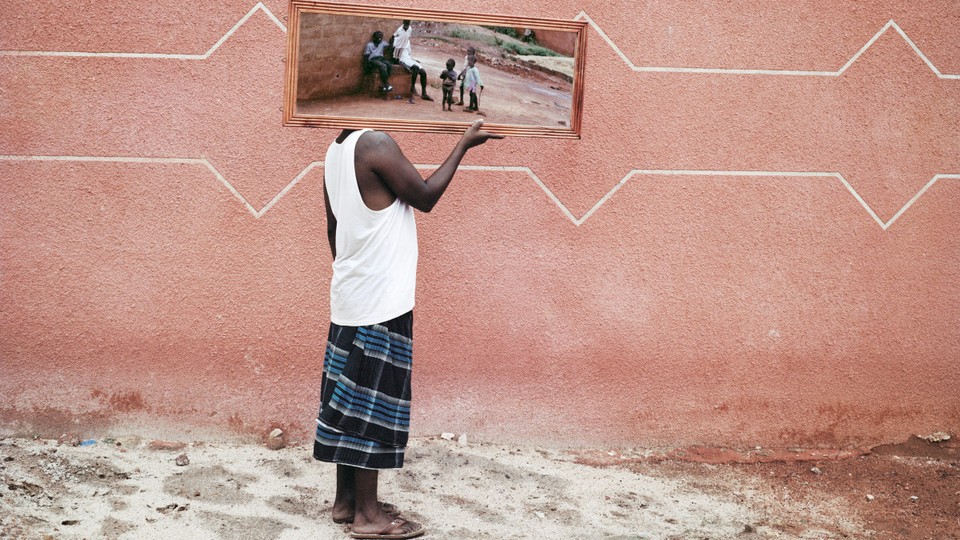 A Stranger's Pose, a new book by the Nigerian author and photographer Emmanuel Iduma, presents photography as an art concerned with both confrontation and comfort. It is, to him, a limber, choral form. "Photography is a charismatic medium," he writes. "Sometimes it takes five decades for a photograph to unravel itself."
Iduma's book, like the subjects within, resists simple categorization. A Stranger's Pose is part travelogue, part memoir, part poetry collection, part photo essay culled from Iduma's own work and that of other visual artists. In sum, it is a portal. The book traces Iduma's travels around Africa through a series of snapshots and short written vignettes. The accounts jump from Accra to Casablanca to Addis Ababa and back again. In most locales, Iduma encounters strangers; in some, he reconnects with family. Iduma's travels follow no easily mapped route. The organizing logic of the book is not guidance so much as it is evocation. It asks readers to submit to the pleasures of wandering without the guarantee of a fixed destination.
With reverence and sincerity, Iduma relays the words of the celebrated Malian photographer Malick Sidibé: "Photography is like hunting." Iduma sits at Sidibé's feet; he offers the reader a glimpse into the late visionary's life and philosophies. In A Stranger's Pose, as in life, the only constant is death. The book hums with a kind of gorgeous melancholy. Iduma recounts the deaths of many people he encounters, often writing letters to the deceased or their relatives after encountering a photograph of the departed.
In this artful rendering of grief, the book is reminiscent of an essay in which the Nigerian American writer and photographer Teju Cole eulogized his grandmother. In the 2017 dedication, Cole ponders photography's role as an accelerant to mourning: After the loss of his "Mama," Cole fixated on photos of her, most urgently the image of her shroud. "They were a shock … I burst into sudden hot tears," Cole wrote of the pictures a cousin forwarded to his wife via WhatsApp, the verdant lifeline of the African diaspora. "Imagination can be delicate, imposing a protective decorum. A photograph insists on raw fact and confronts us with what we were perhaps avoiding."
Cole similarly considers the revelatory power of photography in the foreword to Iduma's book. "Imagine a ballad with travelling companions who flit in and out like instrumental voices, so that you don't know if you are hearing something improvised or through-composed, so that the distinction between the two becomes irrelevant, a song that doubles as a melancholy history of West African photography, but without the starchiness of undigested scholarship," Cole writes. "Softness, sensibility, gentle surprises."
The book's serene compositions—both written and photographic—transport the reader with a warmth that feels rare for a travel title. In its attention to visual detail and to the ebbs and flows of human connection, A Stranger's Pose shifts conventions in travel writing about Africa. Iduma does not cast himself as a guide explicating the untold wonders of the Dark Continent. He offers no recommendations for what to eat, see, touch, or experience while one visits the continent. He tenders no warnings about animals or Africans. He writes of "long, loose-fitting garments, mostly white, sometimes light blue" and how the men wearing them move him, how he envies "the ardour in their gait, a lack of hurry, as if by walking they possess a piece of the earth." On pages where glossaries and detailed maps might normally stake a claim, Iduma instead places portraits.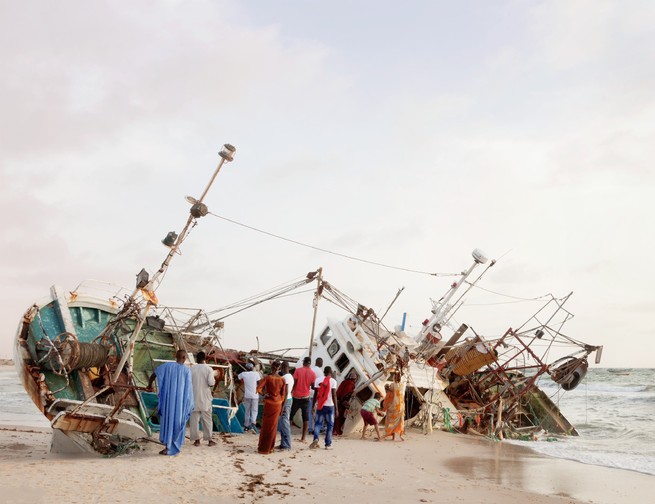 Through his choices in both photography and his language, Iduma offers an image of Africa that is prismatic. His vision is fragmented but not disjointed. A Stranger's Pose doesn't seek to reflect the whole continent so much as it refracts the most common gaze, that of the white outsider.
Iduma observes; he does not gawk. His eye is familiar, his lens most often trained on subjects with whom he shares both instinctive kinship and punishing loneliness. In one reflection, he shares a tentative note to a lost lover: "I've made my days into dispatches and unsent letters. I sleep little," Iduma writes across two doodle-covered postcards. "I switch beds, and night after night hope is gathered in sacks of the unknown." There are no grand pronouncements about the state of Africa, no attempts to debunk well-trodden stereotypes by curating images of prosperity and innovation. A Stranger's Pose maps only the complex terrain of human emotion.
Because Western renderings of the continent (even contemporary ones) have been mired in condescension, benevolent or otherwise, the African artist enters a distorted frame. The psychic toll of challenging historically racist depictions—those that originated during colonial eras but still proliferate now—disturbs the work of many photographers from the continent. "I want to reach the point where we are not burdened with this thing called African photography and the unfair expectations of it," the South African photographer Gulshan Khan recently told The Washington Post. "I say this not because I am not proud to be African but because there is a freedom, I think, that comes with being able to photograph anything without having to correct or respond to the wrongs of the past."
Iduma's work constitutes an unburdening in this sense. The book can be read as a corrective of sorts, but not because it posits this auxiliary function as the most important pursuit of African art. Like the contemporaneous work of the Nigerian Malaysian siblings Akwaeke and Yagazie Emezi, A Stranger's Pose presents an alternate viewpoint of the continent quietly. Where Akwaeke Emezi harnesses the potency of indigenous spiritual practices through fiction set in various corners of the diaspora and Yagazie Emezi disarms with regal portraiture, Iduma upends monolithic views of Africa through the arresting specificity with which he describes his travel experiences. The book is immersive; it looks inward. It revels in the small moments that constitute a journey, in the many chance meetings that slowly add up to something resembling a family.
In one such instance, Iduma reunites with Egwu, an acquaintance from his teenage years, in Umuahia, the capital city of Abia state in southeastern Nigeria. Their first meeting in 11 years, the encounter is fraught with the nervous energy of mutual appraisal. The men marvel at each other and exchange pleasantries, but Iduma's true reconnaissance begins out of the other man's sight. It starts with photographs:
Later, alone, I browse his photos on Facebook. He works with a government paramilitary organisation. In many of the photos he poses with a gun, and underneath the photos he has written "Black Boy." I am amused by his outrageous showmanship. But I am, in fact, envious. Of how divergent our lives remain, for while I amble along, moving from place to place, he holds himself with steadiness, as self assured as the boy who helped negotiate for my shoes and wristwatch.
Here, Iduma troubles the very idea of stillness, of staticity—on the continent and within people themselves. The two men have drifted away from each other, and Iduma has drifted away from the place that first brought them together. Boys who once shared the same stomping grounds have become men whose lives seldom intersect. Iduma's boyhood friend may very well remain as confident as he was during their youth—but the writer slyly notes the imperfection of this assessment. The gun-toting photos function as evidence of either Egwu's confidence or its facsimile. By posing for a photograph, Iduma suggests, the subject participates in—or challenges—his own projection.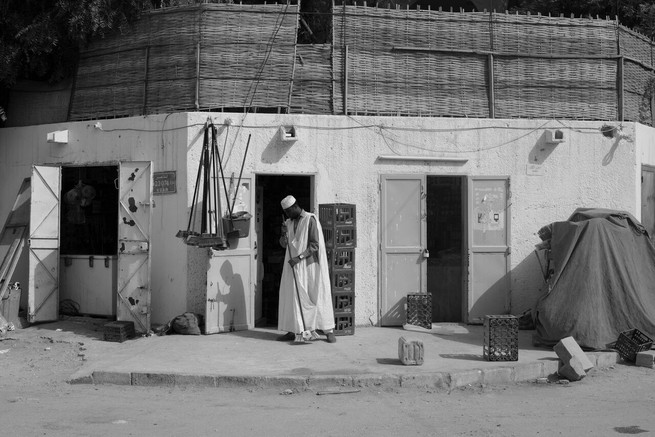 Weaving his book together with this batik fabric of human interactions, Iduma reaches toward freedom—for himself, for the genre, and for depictions of the continent writ large. "I hoped … that the cities appeared untethered to their countries—an atlas of a borderless world," he writes in one email to an unnamed relative. The effect is liberating. A Stranger's Pose resists the rigid structure of travelogues. It refuses to organize its insights by region, activity, or season. It dispenses with these discrete categories in favor of a lofty premise:
I can recite distances
by heart feet memory

I can tell wanderlust
rounded as the eyes

A walking eye sees itself blind
A roving leg crumbles into a pause

The only thing a man needs
is a suitcase and a soul.
It is a somber relief that the book goes on to challenge this assertion, too. A Stranger's Pose doesn't fall into the glitzy category of African writing sometimes labeled "Afropolitan." No jets zoom between Lagos and London to usher Iduma into the upper echelons of African diasporic society. Iduma takes care to complicate the pull of migration both throughout the continent and beyond. In Rabat, the Moroccan capital, Iduma contrasts the discomfort he feels when failing to communicate adequately in Arabic with the acute danger he knows this deficiency would entail for black Africans traveling through the North African country:
I wore my language deficiency like a veneer, like gauze, like stratum. Underneath was tangible communication, out of reach. Yet I did not bemoan this. My deficiency was benign in comparison. For migrants arriving in Morocco from countries south of the Sahara who have to make a living or wait almost interminably for a better for life, to acculturate is to survive.
This moment of intra-continental reckoning is a sobering contextualization. There can be no "African travel writing," of course, without an acknowledgment of how unevenly the continent's internal borders are policed. What can "Africa" mean to the African who cannot traverse it freely? A Stranger's Pose doesn't offer a clear answer, but Iduma's words and photos alike underscore the futility of attempting to capture a continent's depth in one flourish. Operating in concert, the different mediums urge the reader to find satisfaction in the boundlessness of individuals.

A Stranger's Pose complicates assumptions of kinship—between people of African descent, between photographer and subject, and between an artist and his audience. The only salve, Iduma suggests, is to keep moving.