Creed II Crowns Hollywood's Next Big Franchise
The sequel to Ryan Coogler's Rocky spin-off had a spectacular opening weekend at the box office, which suggests a bright future for the series.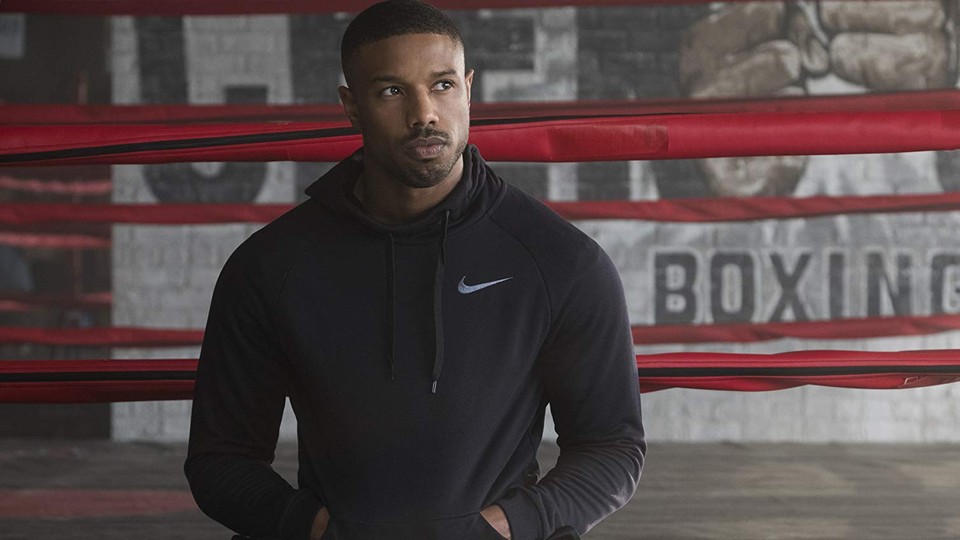 This story contains spoilers for Creed II.
There was once a time, as hard as it may be to recall, when a Rocky spin-off starring Michael B. Jordan was not a guaranteed blockbuster. When Creed came out in 2015, the director, Ryan Coogler, only had one feature to his name: the 2013 Sundance award winner Fruitvale Station. And Jordan (who starred in Fruitvale Station) was best known as a TV actor whose other 2015 film, Fantastic Four, had flopped. What a difference three years make. Following Creed's success and the massive cultural phenomenon that was Coogler's follow-up, Black Panther, Creed II opened to an impressive $55 million at the Thanksgiving box office, confirming the dawn of yet another franchise.
Creed II was directed by Steven Caple Jr., who, like Coogler, is a young African American director whose first feature movie was a low-budget indie (The Land). But it's hard to watch the sequel without noticing the absence of Coogler, a filmmaker with a particular gift for taking the familiar strokes of the Hollywood hero's journey and making them feel fresh and thematically relevant. Creed was a quasi-remake of Rocky that also functioned as a spin-off: It moved Rocky Balboa (Sylvester Stallone) into a supporting role and focused on the emergence of Adonis Creed (Jordan), the son of Rocky's deceased rival and friend, Apollo. Just as Creed was a new Rocky, Creed II fits the mold of every Rocky sequel—competent, entertaining, and a little passionless.
Caple's movie, written by Stallone and Juel Taylor, was initially going to be directed by Stallone, who helmed all but one of the Rocky sequels. He eventually stood aside, saying, "Youth must be served … Making this kind of film is incredibly taxing," and praising Caple's creative energy. Creed II borrows from Stallone's two best Rocky sequels—the serviceable Rocky II and the patently absurd Rocky IV—to create a follow-up that pays homage to the past while nudging Adonis's story forward (and spending plenty of time on Rocky himself).
The most frustrating thing about the film stems from the classic sequel problem: Creed II doesn't have much of a reason to exist except to sell tickets. The original movie told such a complete story of Adonis confronting his father's legacy, coming to terms with it, and emerging as his own person, encouraged by Rocky's fatherly guidance. Creed II begins with Adonis finally claiming the heavyweight title (mimicking the central arc of Rocky II)—an outcome that was all but guaranteed given his ascension in the last film. As a result, the drama that follows feels more than a little forced. Adonis, who's on top of the world and happily living with musician girlfriend Bianca (Tessa Thompson), is felled by his own pride when he accepts a fight with the brutish Viktor Drago (Florian Munteanu).
Viktor is the son of Ivan Drago (Dolph Lundgren), the hulking Soviet superman who was the villain of Rocky IV, which began with him killing Apollo Creed in the ring. Creed II's angle is that Adonis is motivated by vengeance, and a further desire to prove himself as a boxer. But there's a recklessness present in his character that doesn't jibe with his loving relationship with Rocky (which briefly fractures) and with his closeness to Bianca (the two eventually have a daughter). Like many a sequel, Creed II has to undo a lot of the closure achieved in the original film, then knit it back together again. Because of the somewhat hackneyed plot, Jordan plays Adonis as more petulant than in the first movie, though his character's emotional growth feels more satisfying in the end.
Viktor, who's a much larger and more reckless fighter, badly batters Adonis in their first bout but loses because of a technical disqualification (he lands a punch after the final bell). For their second go-around, Adonis rebuilds his fighting style with the help of Rocky and secures a moral victory, while Viktor's father realizes the limits of his tough-love parenting. Whereas Rocky IV was a piece of pure 1980s Cold War propaganda, ending with Rocky's defeat of the Soviet Union's champion, Creed II largely ignores the geopolitics, and instead just has fun harkening back to the personal rivalries of the older films. (Stallone and Lundgren have one particularly memorable confrontation that's comprised almost entirely of growls.)
Creed II is an extremely watchable film; it'll also make a ton of money as the winter-movie season wears on and eventually spawn another sequel (it earned back its entire $50 million budget in its opening weekend). On Bill Simmons's podcast last week, Jordan confirmed that he'd love to shoot another Creed and keep the Rocky world going; Creed II's strong ticket sales indicate Jordan will likely get his wish. The actor is also interested in collaborating with Coogler again, possibly on the true-story drama Wrong Answer. Whatever Jordan's next project, his superstar clout is now beyond question, much like the continued adventures of Adonis Creed.