Boy Erased Is a Cold, Brittle Conversion-Therapy Tale
Joel Edgerton's new film adapts a coming-of-age memoir and stars Lucas Hedges, Nicole Kidman, and Russell Crowe.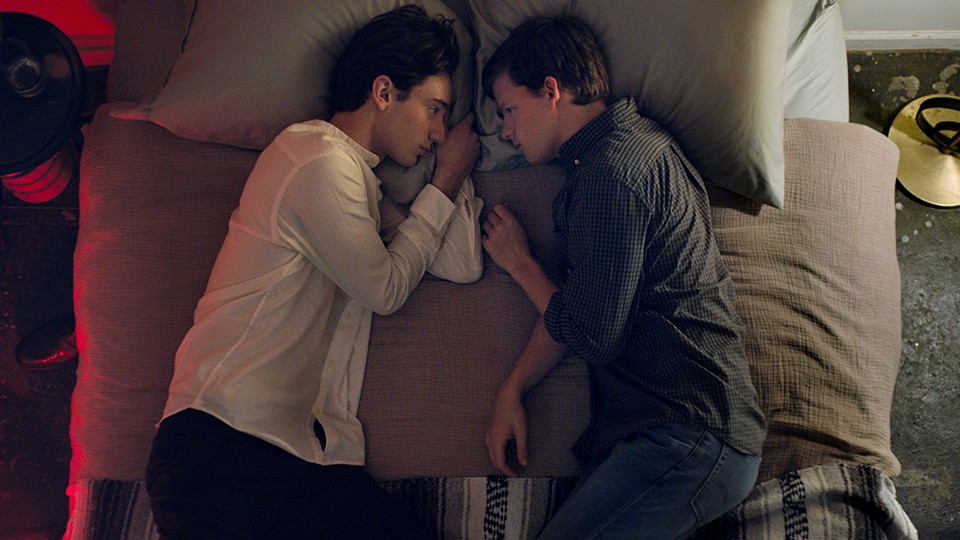 The aesthetic of Boy Erased is aggressively drab, and deliberately so. Joel Edgerton's new film takes place in a world drained of passion and life: a gay "conversion therapy" program that emphasizes negativity and forced reserve. But that intentionality doesn't make the movie any less exhausting a viewing experience. Based on Garrard Conley's 2016 memoir, Boy Erased is a methodical work that tries to account for the horrors of religious conversion camps as soberly as possible—but unfortunately to the point where soberness edges into blandness.
The names in Conley's memoir have been changed, though this is an otherwise straightforward adaptation by Edgerton, who wrote and directed, and who plays the supporting role of Victor Sykes, the program's head therapist. Set in the early 2000s, the movie follows Jared Eamons (Lucas Hedges), the son of Baptist pastor Marshall (Russell Crowe) and Nancy (Nicole Kidman), as he enrolls in a two-week intensive program designed to purge him of homosexual impulses. At age 19, he's been cruelly outed to his parents while still reckoning with his sexuality; his father sends him to Sykes's camp partly to preserve the family's reputation at church.
Edgerton's directorial debut, 2015's The Gift, was a welcome surprise from the Australian actor, a nasty little thriller that boasted searing performances from stars Jason Bateman and Rebecca Hall (and an unfortunately gross ending). Boy Erased is a more mature work, but as a result, it's restrained almost to a fault. Edgerton never lets the film burrow into Jared's personhood. Hedges plays the teen as a quiet and confused boy, still roiled by his conservative upbringing and only somewhat willing to admit his own burgeoning desires.
The incident that lands him in the camp is not a romantic one—indeed, the only thing close to same-sex romance shown on-screen is a mild flirtation with a boy named Xavier (Théodore Pellerin). But Jared also forms an intense friendship with a college athlete, Henry (Joe Alwyn). Their relationship, told in flashbacks, ends in a chilling scene, where Henry rapes Jared and then outs him to Jared's parents rather than tell the truth about what happened. As Edgerton delves into the camp's workings, he's also unpacking Jared's relationship with his sexuality, which has been damaged by his parents' closed-mindedness and by his traumatic experience in college.
The camp itself is tedious, an overlit series of offices and a sparsely decorated auditorium. The participants dress in khakis and white button-downs, and every conversation is had in clipped, neutral tones. Sykes presents his program as joyous and freeing, but it's in fact driven by pessimism—the camp's goal is to get Jared, and others, to shift the blame for their sexuality onto their parents, their upbringing, or some long-lasting problem in their families. Channeling the culpability elsewhere is a facile solution for a nonproblem, and even the deeply conflicted Jared quickly realizes it, but his immediate assuredness of that fact largely strips the film of pathos.
Boy Erased has to confront the same dramatic inertness that plagued The Miseducation of Cameron Post, another (better) movie about conversion therapy. Both stories are fully aware of the pointlessness of the task at hand but are still focused on nonrebellious characters coming to slow, calm revelations about their own sexuality. Like Cameron Post, Boy Erased populates its supporting cast with characters going through more intense or hostile struggles. But where Desiree Akhavan's film was lush and sensuous, Boy Erased is cold and brittle, a circular story of repression that drags along until Jared is bold enough to finally break free.
Hedges gives such a locked-away performance that it's hard to evaluate his work, but the adults around him are portrayed masterfully. Kidman is the heart of the film, mirroring her role in 2016's Lion as a mother who can barely find the language to comfort her son. Crowe plays Jared's father as a puffed-up, ineffectual man who views himself as a fountain of moral certitude. His is a piece of acting that feels impressively honest—not lacking in sensitivity but unsparing when it comes to Marshall's flaws. In fact, all the movie's villains, Sykes included, are given a frightening kind of humanity; it's the heroes who are more thinly drawn.
Perhaps Edgerton was more drawn to the darkness of Conley's tale. Though this is a true story, it's mostly lacking in inspirational notes, refusing to give in to a simplistic narrative of good triumphing over evil. But that makes for a punishing watch as one waits for Jared to accept who he is. The end of Boy Erased is never really in doubt, and when it arrives, it's handled with the same dreariness as everything else. As much as this film strives to avoid soaring clichés, it also fails to leave a lasting impression.