Bohemian Rhapsody Is a Personality-Free Queen Biopic
Rami Malek stars as Freddie Mercury in a film that falls into every cliché of the "great musician" genre.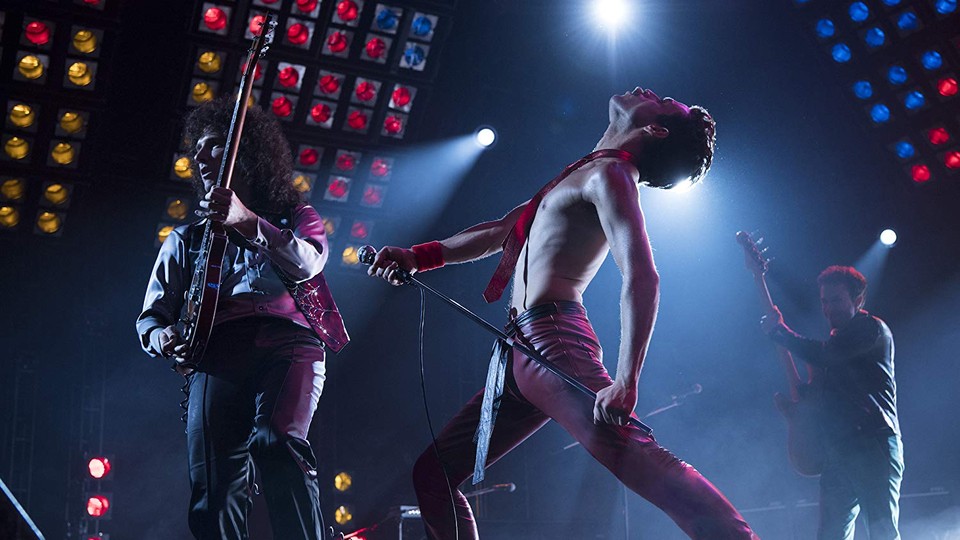 Bohemian Rhapsody starts in medias res, on the eve of one of Queen's biggest concerts: the band's legendary 1985 set at Live Aid. The film then cuts back in time and progresses through an abbreviated history of the group. There's a young Freddie Mercury (Rami Malek) being tutted at by his disapproving parents for making music rather than pursuing a sensible career. There's the ornery record-label exec (Mike Myers) yelling that their new single will never be a hit. At one point, the band starts fighting in the studio and it seems like everything is about to unravel—until John Deacon (Joseph Mazzello) stuns the room into silence by spontaneously writing the bass line to "Another One Bites the Dust."
In short, Bohemian Rhapsody isn't just prone to music-biopic clichés—it's practically a monument to them, a greatest-hits collection of every narrative shortcut one can possibly take in summarizing a legendary act's rise to fame. The biopic views creative inspiration as little more than a neat plot twist, and believes personal adversity can be shuffled around within the timeline to best suit a three-act structure. Mercury was diagnosed as HIV-positive in 1987, and Live Aid took place two years earlier, but in Bohemian Rhapsody the former happens before the latter, just because it's more dramatic that way.
Other music biographies have compressed and fiddled with history to create a more triumphant narrative, of course. But there's something about the finessed storytelling of Bohemian Rhapsody that feels particularly craven—perhaps because Mercury died in 1991 at the age of 45 due to AIDS-related bronchopneumonia. According to industry reporting, the surviving members of the band signed off on the movie as a PG-13–rated "celebration" of the band that wouldn't dwell on drug use or Mercury's death. Accordingly, the director Bryan Singer's film was designed to be varnished and uncontroversial, lauding Mercury's status as a boundary-pusher without pushing any boundaries itself.
Queen's extensive catalog of songs is impressive enough to rescue the movie from total failure. Any time the band is onstage—whether during re-creations of its early days as a student band or in a 20-minute sequence at Live Aid—Bohemian Rhapsody hums with a little energy. It's always obvious that Malek and his co-stars are lip-synching along to a highly produced track (the vocals are a bizarre mix of Mercury himself, an imitator, and Malek), but there's at least some effort to reproduce Queen's appeal as a band that could fill an entire stadium with its music. At the theater where I saw the film, the seats rumbled appreciatively to every iconic bass riff.
That arena-rock power informs one of the few scenes in the film that stuck with me, in which the guitarist Brian May (Gwilym Lee) lines his bandmates up and has them clap along to "We Will Rock You," pitching it as a song that lets the audience become members of the band. It's one of the only times that Bohemian Rhapsody, which was written by the biopic veterans Anthony McCarten (Darkest Hour) and Peter Morgan (The Queen), dramatizes the songwriting process in an interesting way, trying to unpack what made Queen such an enduring act for its generation.
Most of the time, Mercury's songwriting jaunts are just flashes of magic, ideas that strike like thunderbolts from origins unknown. When the fictional EMI executive Ray Foster (played by Myers in an ironic nod to his Queen-loving role in Wayne's World) asks the singer, in frustration, just what's with all the "Galileo"s in the song "Bohemian Rhapsody," Mercury offers a proud shrug. He knows the song will be a hit, because the movie's audience knows it. In every scene of the movie, history is being made, though there's rarely any explanation of how.
Physically, Malek does a tremendous job trying to capture what was special about Mercury as a performer. He oozes charisma onstage, perfectly matching Mercury's particular habit for strutting joyfully while wielding half of his microphone stand. When Malek isn't singing, though, his work feels too caught up in imitation; for one, he's saddled with a truly unfortunate pair of fake front teeth the size of dinner plates. The rest of the cast (also including Lucy Boynton as Mercury's longtime friend Mary Austin and Ben Hardy as the drummer Roger Taylor) have nothing to do beyond occasionally saluting the protagonist's genius. A period of friction for the band is largely blamed on Mercury's one-time manager Paul Prenter (Allen Leech), and is resolved with the same tiresome simplicity that powers the whole plot.
Bohemian Rhapsody is credited to Singer, though he was fired by Fox during production and replaced by Dexter Fletcher (who is given an executive-producer credit). There was a time when Singer was one of the most exciting talents in Hollywood—he made the innovative thriller The Usual Suspects and practically invented the modern superhero film with X-Men and Superman Returns. But whatever distinguished him then is entirely missing now. There's just no life here, in a film that should be overflowing with it, and no character, even though it's a tribute to one of the greatest personalities in musical history.