Ariana Grande Conquers the Breakup Song
With "Thank U, Next," the pop star responds to gossip by naming her exes—and asserting her own power.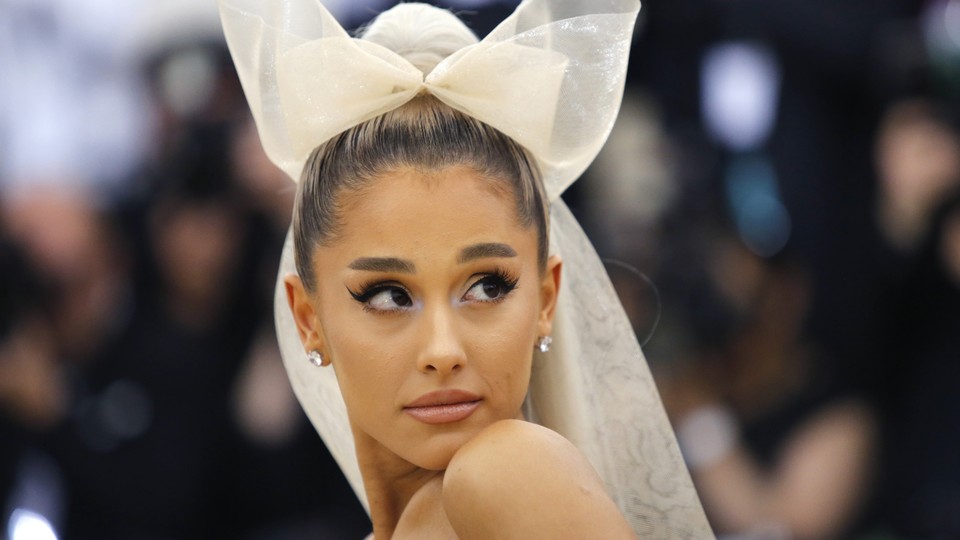 Carly Simon summed up the musical subgenre of tunes about famous lovers with her 1972 riddle of a chorus: "You're so vain, you probably think this song is about you." When singers of breakup songs drop hints but don't drop names, what is the listener to do but speculate? As tabloid media and the internet have intensified such guessing games, the art of the subtweet has only become more important, as seen in the career of Taylor Swift.
But Ariana Grande—perhaps taking inspiration from her far franker friends in hip-hop, like the frequent namer-and-shamer Nicki Minaj—is done being coy. Already, on her latest album, Sweetener, she broke with pop's imperatives toward vagueness by titling one song "Pete Davidson," after the SNL comedian she was then engaged to. Their relationship at that point was as intense as it was new, and perhaps accordingly, the song lasted only a little more than a minute. Grande rapped about him being her soulmate, and then violins joined in as she faded out, singing, "Gonna be happy, happy / I'ma be happy, happy."
Alas, that relationship disintegrated in October. The breakup added to the list of meta-musical reasons to talk about (and maybe even pity) Grande following the terrorist attack at a 2017 concert of hers and the sudden death of the rapper Mac Miller, her most recent ex. Amid such setbacks, Grande has all along made a show of public resolve rooted in joie de vivre: Her bottom line is that love heals all. With one new single, she's added a tough edge to that message—highlighting her ownership of not only the gossip, but also her romantic life, her growth as a person, and her career as a maker of catchily inspirational bops.
That song, "Thank U, Next," appeared online Saturday night, and it's got a doozy of a first verse. As reverberating chimes conjure a fairy-tale atmosphere, Grande sings:
Thought I'd end up with Sean
But he wasn't a match
Wrote some songs about Ricky
Now I listen and laugh
Even almost got married
And for Pete, I'm so thankful
Wish I could say, "Thank you" to Malcolm
'Cause he was an angel
It's a list of former lovers: the rapper Big Sean, the backup dancer Ricky Alvarez, Davidson, and Miller. One taught her "love," one taught her "patience," one taught her "pain," she sings as she locks into a suspenseful melody. Then comes the fluttery, immediately catchy chorus. "Thank you, next," Grande repeats, eventually arriving at a descending, carefree trill: "I'm so fucking grateful for my ex."
This all might read as sarcasm, setting up a diss-y or dishy elaboration on the names mentioned in the first verse. But instead, Grande begins to sing about meeting someone new: "Her name is Ari." With that, the point of the song is revealed to be the opposite of what it initially appeared to be. It's about Ariana Grande, not Ariana Grande's guys. Love, patience, and pain—all self-taught lessons, too.
This is a feminist rewriting of the public narrative—about a woman defined by, and perhaps even brought down by, men—pulled off with lightness. The vibe is sly and swinging; a high hat in the chorus makes like a drum crash during a stand-up roast. In the bridge, she envisions her wedding, at which she wants to have her mom by her side ("I'll be thanking my dad / 'Cause she grew from the drama," she sings, presumably referring to her parents' divorce during her childhood). She only wants to get married once, but if "God forbid something happens," she shrugs, at "least this song is a smash." Very deft: classic pop romanticism, cut with shit happens realism, spiked with trendy swagger-as-empowerment.
The timing was deft, too. Last week, Grande criticized Davidson for joking about their breakup publicly, but this song—released minutes before SNL aired on Saturday—takes the lyrical high road. On "Weekend Update," the perhaps chastened Davidson made a bland statement about him and Grande's situation being "nobody's business." But Grande's song acknowledges that it has become, for better or worse, everybody's business—and insists that it's going to be so on her own terms. Breezy and bold, "Thank U, Next" puts the gossip in perspective: However long her relationships have lasted, her life is a lot bigger than them.