In the New College Football, Alabama Is Still Out Front
As the sport gets faster and scores climb higher, a formerly traditionalist program and its star quarterback embrace the future.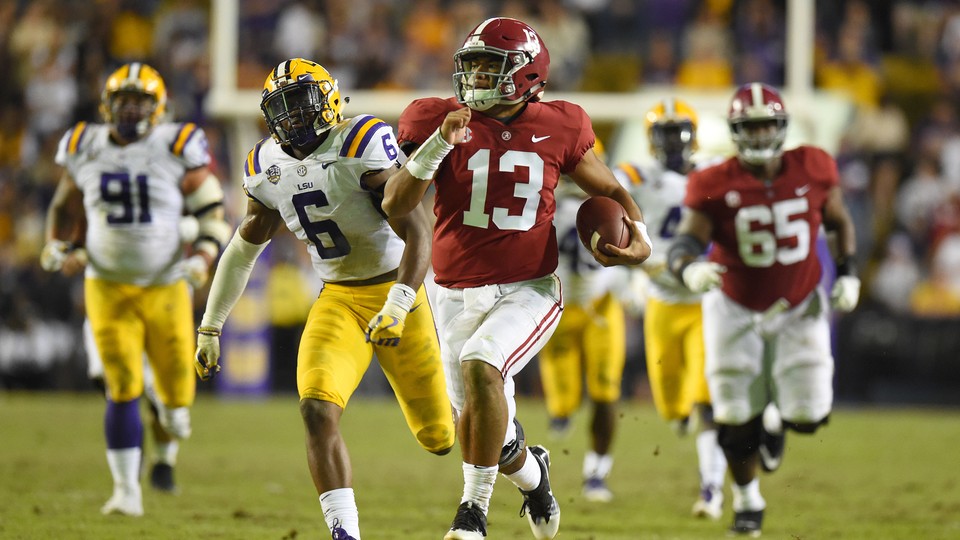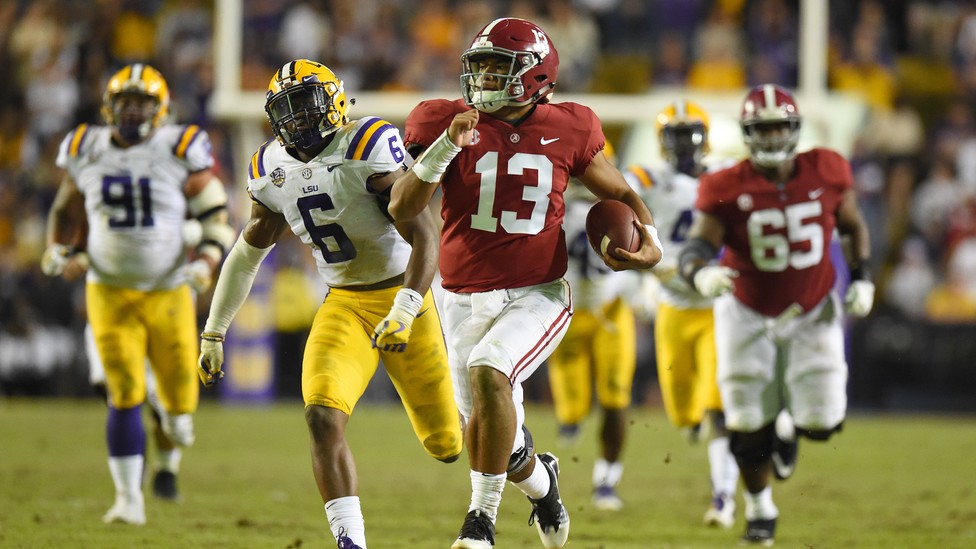 Back in January, in the championship game of the College Football Playoff, Tua Tagovailoa had an introduction that seemed hard to top. With the Alabama Crimson Tide trailing the Georgia Bulldogs 13-0 at the half, Tagovailoa—then a little-known freshman from Hawaii—came on in relief of the Tide starter Jalen Hurts. Alabama had won four national titles since the arrival of the head coach Nick Saban in 2007, establishing itself as the decade's superpower; pinning its hopes to a player who had never started looked like a desperate move. But where Hurts had been cautious, Tagovailoa was daring, zipping the ball from sideline to sideline and directing his team to 20 second-half points. In overtime, needing a field goal to keep the game alive and a touchdown to win, he arced a 41-yard pass over the Georgia safeties to DeVonta Smith in the end zone. Alabama won the game, and Tagovailoa went from second-stringer to legend in the space of a couple of hours.
Eleven games into this season, Tagovailoa and the Tide have yet to produce a moment as iconic as that one—if only because they haven't needed to. Tagovailoa is widely seen as the best quarterback in college football and is the favorite to win the Heisman Trophy, throwing for more than 2,800 yards and 31 touchdowns against just two interceptions. Following his lead, Alabama has dominated to a degree that's rare even in its own gilded history. The team has won each of its games by at least 22 points, and on five separate occasions it has scored at least three touchdowns in the first quarter alone.
Alabama has reduced the vaunted Southeastern Conference to glorified scrimmage fodder; only once has Tagovailoa needed to play in a game's final period. If the Tide can make it unscathed through the final stretch of its schedule—Saturday's Iron Bowl against its archrival, Auburn; the conference championship against Georgia; and a possible two-game playoff slate—cases for "the best of all time" await. But in the meantime, with a prodigious quarterback and a coach who's altered his style to accommodate him, the country's preeminent program has already redefined the top level of the sport.
For the majority of his tenure in Tuscaloosa, Saban has been synonymous with an old-school approach reminiscent of the legendary Alabama coach Bear Bryant, stressing a strong ground game and forbidding defense. Saban's first championship game with the Tide, in 2010, featured the starting quarterback Greg McElroy (playing through a pair of broken ribs) throwing for only 58 yards on six completions; the team's 37 points stemmed mostly from its 205 rushing yards and five forced turnovers. Variations on the theme followed. Two Alabama running backs, Mark Ingram and Derrick Henry, have won the Heisman Trophy under Saban, and dozens of defensive standouts have been selected in the early rounds of the NFL draft. The defensive lineman Courtney Upshaw's boast after the Tide's 21–0 victory over Louisiana State in the 2012 championship—that "the whole defense is the MVP"—would make a fitting tagline for the era.
But recent years have seen college football as a whole become a more acrobatic and high-scoring game, centered on liberated quarterbacks and emboldened play-calling. This trend reached something of a zenith when Clemson University's Deshaun Watson threw for 420 yards and three touchdowns (and ran for another) to beat Alabama 35–31 in the 2017 title game. "College football is moving in a way where you can't just win exclusively on defense anymore," McElroy, now an ESPN analyst, told me. "Some teams still do it, but it's not really a scheme that's conducive to winning national championships."
If Tagovailoa's heroics in this past championship were just a stopgap solution to the team's sputtering offense, then his central place this season represents something of an acknowledgement that times have changed. To watch him play—the staccato quickness of his southpaw release, the way a pass leaves his hand like a missile and lands in his receiver's like a pillow—is to see the near inverse of the Tide's formerly straightforward attack. Part of the distinction is pure talent. "I remember going and watching his first practice at the college level and him anticipating throws that you don't see juniors making," McElroy said. "He has a great feel for the position, a great feel for space and spatial awareness." But another part is a philosophical shift. Whereas Tagovailoa's predecessors were encouraged to protect the ball and let Saban's preferred portions of the roster do their work, he has license to launch it whenever he spots a weakness.
To the consternation of fellow championship hopefuls, Alabama hasn't lost its established strengths. The roster is loaded with top-level talent: Quinnen Williams may be the top defensive tackle in the country, and running backs Damien Harris and Najee Harris average six and seven yards a carry, respectively. After some early hand-wringing—"We scored a lot of points, but we really didn't control the game," Saban complained after a three-touchdown win over Texas A&M in September—the defense has found its familiar form, posting two shutouts of ranked teams in its past three games. "It's just worked in all the right ways, I'd say, for everyone in this organization," Tagovailoa said last month of the dreamy season. "I don't know how else to explain it."
The toughest portion of the schedule—including a potential fourth playoff meeting in four years with the second-ranked Clemson team—remains ahead of the Tide. College-football lore is made in no small part by teams that only seemed unbeatable. "What they've done so far this season is extremely remarkable, but it isn't unprecedented," Kent Stephens, the College Football Hall of Fame curator and historian, told me. "In 1983, at this point in the season, Nebraska was beating teams at a 52–13 clip, and they didn't win [the national championship] … Ohio State, in '69, going into the Michigan game, they were outscoring teams at a 46–9 clip, and people were saying that the only team Ohio State could lose to would be the Minnesota Vikings. And [Ohio State] went and played Michigan and they lost."
Regardless of what transpires between now and January 7, when the title game is held in Santa Clara, Alabama's dominance has already communicated a message: Competing for college-football championships means competing with the Tide, and that suddenly entails quite a bit more than it used to. "We weren't even close to them tonight," Ed Orgeron, the head coach of the then-fourth-ranked Louisiana State University Tigers, said earlier this month after Tagovailoa posted two passing touchdowns and a rushing score in a 29–0 win in Baton Rouge.
This year's team has also revised the reputation of its architect. Saban was once the sport's daunting constant, testing and dismissing whatever newfangled strategies were employed against his prized defense, but the still-nascent Tagovailoa era has revealed in the 67-year-old a willingness to adapt. "He's perfectly content with winning," McElroy said of his former coach, "however winning looks that particular week."