Migos' Crossover Win at the AMAs Signals an Imminent Industry Shift
In a music business once defined by stark genre separations, consumer culture is shifting the way songs are (or aren't) categorized.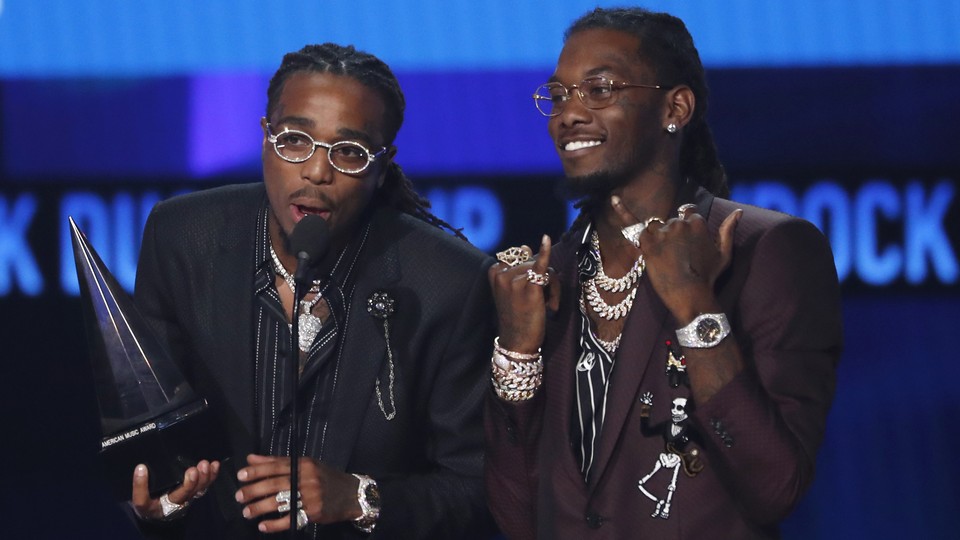 One thing guaranteed to get people's attention around awards shows is when a film, song, or artist is nominated in an unexpected category. Get Out, Jordan Peele's surrealist horror thriller, was nominated for the 2018 Golden Globe for Best Musical or Comedy (despite the director's wry suggestion that it was, in fact, a "documentary" on systemic racism), which infuriated many. Beyoncé's submission of Lemonade's "Daddy Lessons" for consideration for Best Country Song at the 2017 Grammys incited spirited debate and was ultimately rejected, despite support from many in the country-music community. And after the British folk/prog-rock group Jethro Tull won the 1989 Grammy Award for Best Hard Rock/Metal Performance Vocal, beating out Metallica, which seemed destined to receive the award, the announcement was booed loudly by the Shrine Auditorium audience (including artists themselves). The upset spawned major criticism and the development of special screening committees to ensure songs stayed in their proverbial lane for years to come.
So when Migos, the Atlanta-based rap trio whose influence on the culture has ranged from helping to popularize the dab to introducing the triplet flow to mainstream audiences, won its first American Music Award on Tuesday in the category of Favorite Pop/Rock Duo or Group, one could have expected cries of "foul" from the corners of the internet and from the commentariat where these things tend to originate. There were a few tweets criticizing the decision, but generally the announcement was met with bemusement akin to Lil Uzi Vert's shoulder shrug in his guest appearance in the video for "Bad and Boujee," the group's breakthrough single. "We did not know we was winning this at all," admitted the Migos lead, Quavo, who accepted the award with his groupmate Offset. No one else did either, but the award certainly didn't generate the usual amount of outrage in the wee hours of the evening.
This might be due to awards-show fatigue, caused by the fact that every decision is covered with the breathlessness of a papal conclave, in which we're waiting for the fumata bianca to emit from Kanye West's ears. It may be due to the AMAs' model, where fan voting via Facebook and Twitter delegitimizes the idea that the show is anything more than a popularity contest. But it could be due to something else: a shift in music-consumption mechanisms that is blurring the once-sacred lines of genre division in favor of a more fluid ecosystem. Migos is a pop/rock group now. So what?
As a means of connecting discrete cultural texts and finding their sameness, genre is a sacred cow of sorting mechanisms. It traces its roots as far back as classical Greece, where Plato's Republic contains an argument from Socrates that it might not be possible for the same person to write or act in both comedy and tragedy, the twin genres of the day. Genre also served as a means of codifying high/low binaries, where symphonic and classical music were "art" made for the bourgeois (or "boujee") while popular music was a lower, more debased form fit for mass consumption. The Grammys, for instance, started as a way of asserting the musical significance and excellence of acts like Frank Sinatra and Henry Mancini above the menace of pop and rock music like Elvis Presley.
But it's always been slippery: Is Adele pop, soul, R&B, or some combination thereof? Why was Beyoncé's 2017 country Grammy submission denied and her rock nomination for the Jack White collaboration "Don't Hurt Yourself" affirmed? How is it that the Carpenters, Bon Jovi, Ace of Base, Hootie & the Blowfish, Spice Girls, 'NSync, Outkast, One Direction, and now Migos could all win the same pop/rock award? Maybe the AMAs really are just a popularity contest. Or maybe instead they're an index of the shifting signifier of pop/rock and Migos really does have its finger on the Culture after all.
In terms of consumption, genre long functioned in a quotidian sense as a cataloging structure for retail stores of yore: If you liked Migos, you were likely to find the group's jewel cases sorted neatly between Method Man and Mos Def. Genre effectively functioned as free advertising; it assumed that if fans liked one musical group, they'd be likely to want to hear more things similar to it. But with the decline of the record store and the rise of streaming and digital platforms (which were responsible for 75 percent of total U.S. music-sales revenue in 2017), these rigid boundaries are falling away.
Apple Music, one of the industry's three major streaming services alongside Spotify and Jay-Z's Tidal, boasts the availability of more than 40 million songs at any given time, many of which are thoughtfully sorted for listeners into curated playlists based around moods or spaces rather than strict genre convention. "Songs to Sing in the Car" on Spotify, for instance, has previously filed Lauryn Hill's hip-hop standard "Doo Wop (That Thing)" between the classic rocker Tom Petty's "American Girl" and Ryan Adams's meditative "Come Pick Me Up." Other playlists on the service capture the soundscape of "Your Favorite Coffeehouse" or curate a hodgepodge of "Today's Top Hits." Genre still exists, but it no longer divides culture, cleaves fandoms, or crystallizes identity in ways it once did. The listening public now consumes music omnivorously and ravenously at the digital buffet.
There's reason to be concerned about this, for sure—trading the grungy hand of the record-store employee for the invisible hand of the algorithm or the curator runs the risk of exacerbating systemic industry issues, such as the extreme biases revealed in Liz Pelly's recent reporting on Spotify playlists' gender imbalances. But genre itself has always been an imperfect means of categorization: organized by a variety of shared conventions, including lyrical themes, geography, song structure, and cultural context. And a stubborn insistence—on the part of awards shows and music fans alike—to use genres has created questionable and inorganic distinctions (particularly with categories like the Grammys' Urban Contemporary, which is an obvious stand-in for "music composed by black artists"). These walls are incompatible with the current culture, and breaking them down—with their racist, sexist, and ageist legacies—is the right thing to do.
Migos' victory is thus illustrative of both contemporary fan tastes and an industry structure that's changing, in which acknowledging a group that just tied the Beatles' record with 14 simultaneously charting Billboard songs feels more important and necessary than debating into what box it fits. Pop is contextual, and in 2018, Migos is a pop group. That might be a good thing after all.