The Complexity of Black Girlhood Is at the Heart of The Hate U Give
The film adaptation of Angie Thomas's YA novel offers a startlingly honest portrait of its heroine confronting buried trauma to find her political voice.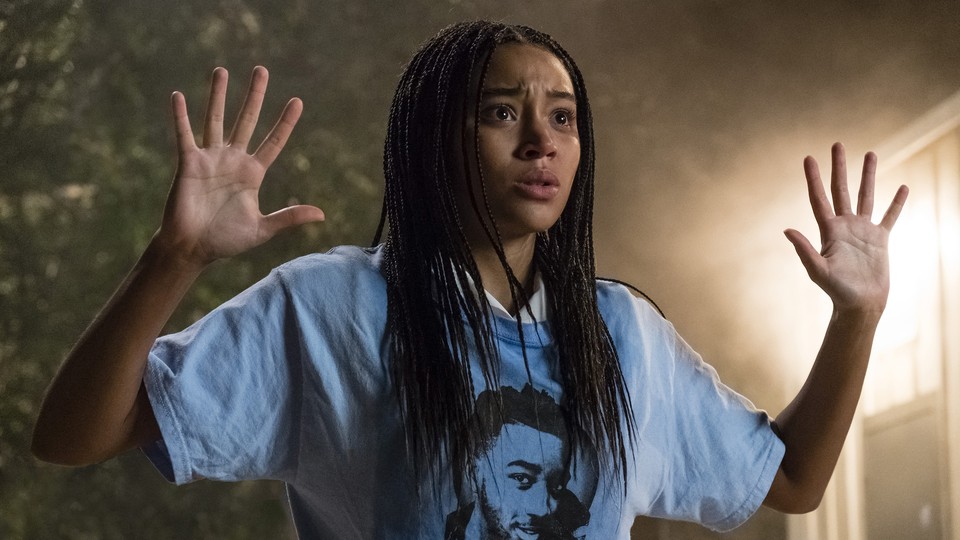 This story contains spoilers for The Hate U Give.
Starr Carter slides her feet into her favorite pair of Air Jordans—black retro Space Jam XIs— before hopping into her mother's car and making the long trek to school. They pass the black-owned grocery stores, restaurants, barber shops, and "project" apartment buildings that line the weathered streets of Garden Heights. As they travel to the suburbs, the scenery transforms into mansions, luxury cars, and white people walking their dogs. The car stops in front of Starr's ritzy private high school, Williamson Prep. She says goodbye to her mother and morphs into who she calls "Starr version two." This Starr doesn't speak with hood slang; she's mild-mannered and non-confrontational, and always has a warm smile, even for the rich white students who make fried-chicken jokes around her. The only other things that survive the transition from "Garden Heights Starr" to "Williamson Starr" are her Jordans, the shoes that earn her style points in both places. Otherwise, "I gotta keep it separate," Starr the narrator informs viewers. "That means flipping the switch in my brain."
Adapted from Angie Thomas's critically acclaimed YA novel by the same name, The Hate U Give is a film about Starr (played by Amandla Stenberg), a black teenager who sees her childhood best friend, Khalil (Algee Smith), get shot and killed by a police officer after a routine traffic stop goes horribly wrong. Starr is then forced to decide whether she'll adhere to the code of the street and keep silent about what she saw, or testify in front of a grand jury and join a burgeoning movement to end antiblack violence and police misconduct in communities like hers. Poignantly and judiciously rendered, The Hate U Give has received praise from critics and moviegoers during its limited run, and opens in theaters across the United States on Friday.
At its core, The Hate U Give is a meditation on the toll of "code switching"—or moving between multiple social identities, depending on the context—for black girls in particular. By the time viewers encounter Starr, she has mastered the practice. For years, she has been showing up to school as a fraction of herself while also giving more than 100 percent to make up for the fact that she's black, female, and from a working-class neighborhood. Typically, cinematic representations of code switching deal with external changes: one's use of language, hairstyling and dress, comportment, and so forth. But The Hate U Give's treatment of identity politics goes beyond the outward social performance to depict both the weight of bearing witness and the emotional toll of burying trauma. Crucially, the adaptation also argues for the importance of supporting girls who want to play an active role in the movement for black lives.
---
Code switching can sometimes be an act of survival. In Starr's case, the first-ever emergence of her "version two" occurred after a devastating incident, a few years before the start of the film: She saw her other best friend, Natasha (Starr, Natasha, and Khalil called themselves the Hood Trio), get gunned down in front of her after a gang member opened fire on the block. The girls were only 10 years old. Viewers later learn that Starr not only witnessed the murder, but could also identify the tattooed shooter; yet she remained silent to protect herself. "I didn't snitch," Starr says with hints of both pride and shame in her voice when, years later, she finally tells her parents her secret. Immediately after Natasha's murder, Starr's parents send her to a private school in the white suburbs. Thus, for Starr, the horror of seeing her friend killed, the silence demanded by the law of the street, and her earliest acts of code switching in elementary school are intertwined.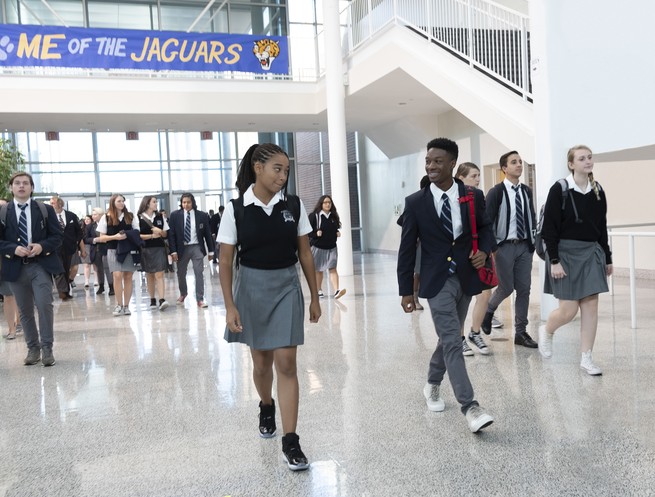 Like many other black girls, Starr learns to suppress her pain while still being present for everyone else she cares about. In The Hate U Give, Starr carried both the secret of knowing who killed Natasha and the shame of not being brave enough to tell someone. Oftentimes, even when girls do attempt to unburden themselves—whether telling their stories of witnessing murders or sexual assault, or even of everyday racist encounters—they quickly learn that the adults around them don't always have the skills or resources to help. Research has shown that school-age black girls experience high rates of interpersonal assault, yet they receive insufficient support from institutions such as schools and the juvenile-justice system.
For her part, Starr attempts to repress the memories that torment her and instead invests in becoming the kind of person her friends and family need her to be. She's the dutiful daughter for her parents, never letting her grades sag. For her white friends, she's the nonthreatening girl who allows them to fantasize about being black—spitting slang and rapping the lyrics to the latest trap song—while carrying none of its burden. And she's the "down," loyal hood chick for her friend Kenya (played by Dominique Fishback) and the other kids she grew up with in Garden Heights.
Despite her performance of wholeness, the reality is that Starr never allows herself to build a cohesive sense of self. This is why her fleeting moments at a house party with Khalil, in an early scene just before his death, become a source of joy. It's a time when they can both return to a more innocent past—when she was simply a kid who loved Harry Potter, and he wasn't forced to sell drugs to provide for his grandmother and younger siblings—while reminiscing over old stories and debating about music and sneakers.
Starr can no longer keep up the ruse of Starr 2.0, or that of the silent witness, after she sees an unarmed Khalil be killed. Her constructed identity begins to unravel. Starr's emotions come to a boil in a critical scene where she confronts her best white girlfriend, Hailey (Sabrina Carpenter), who insists that Khalil was a thug who would've been killed anyway because he (and the hairbrush he was carrying, which the officer mistook for a gun) was a public threat. Starr snatches Hailey's own brush and threatens her with it to demonstrate just how nonlethal a brush is compared with a firearm. It's in part a reenactment of the night Khalil was killed, and in part a public purging of emotions: "Don't move! Don't move! Put your hands up!" Starr yells through her tears as Hailey also cries, crumpled on the ground.
Starr recognizes Hailey's ignorance of the fact that being black means always being perceived as a criminal. Stenberg delivers this scene with a vulnerability and honesty that viscerally conveys how Starr's encounter with the officer has become ingrained in her body's memory. Here, the fictional Starr stands in for so many nameless or faceless black girls who've survived similar encounters, those who died young, and those of us who have made it into adulthood and still wrestle with childhood traumas.
The Hate U Give also makes visible the ways in which the rage of black girls can be politically potent. In the film's opening scene, Starr's father gives his 9-year-old daughter and her brothers a copy of the Black Panther Party's Ten-Point Program. He tells them to study and memorize it, explaining that it is akin to a black Bill of Rights. At the peak of the rising action, Starr returns to these early Panther teachings, as well as to the late rapper Tupac Shakur's theory of THUGLIFE (which is said to stand for "the hate you give little infants fucks everybody"), an idea that Khalil introduces her to the night he's killed. It's the notion that everyone suffers when the children who've been imbued with hate and anger become menaces to society. Yet as Starr filters these different ideologies through her own experiences, she—and therefore the viewer—sees that rage not only destroys, but, when driven by purpose, can also empower. Starr becomes politically mobilized, in service to both Khalil and the larger Garden Heights community. She agrees to do a television interview and to testify before the grand jury.
Starr's most important transformation, however, occurs later, when she speaks at a town-hall protest, led by the activist-attorney April Ofrah (played by Issa Rae) and her #BlackLivesMatter–style organization. The grand jury has decided not to indict the officer who shot Khalil, and Garden Heights residents have organized outside to demand justice. Amid shouts of "Hands up, don't shoot!" Ofrah asks Starr, "Are you ready to use your weapon?" before handing her a megaphone.
As Starr positions herself on a perch to address the crowd, she puts on a Rest in Peace Khalil T-shirt, layering it over her Williamson school uniform. This act, which may seem inconsequential compared with the speech she goes on to give, is significant. The layering represents the integration of the two versions of Starr. It serves as a declaration of her refusal to live as a fractured being: a "hood" girl in one instance and a "whitewashed" preppy black girl in another. The path to her emotional reconciliation comes through her ability to break her silence and having someone to listen, to hear her, to believe her.
Though The Hate U Give is one of a series of films released this year that tackle salient social-justice issues, it's one of few that spotlight black girls. Other 2018 movies, such as Sorry to Bother You, BlacKkKlansman, Blindspotting, and Monsters and Men, offer incisive examinations of race relations, both historically and contemporarily. Yet they all focus on adults. In mainstream films, black girls typically serve as the comic relief—as the sassy-best-friend supporting character. In most hood films, which tend to be about black men and boys, teenage black girls are merely the loyal sidekicks who hold all the secrets and are willing to do anything to help the men in their lives. This archetype is so common that she's been given a name: the "ride-or-die chick."
The Hate U Give joins an even smaller, but nonetheless powerful, body of work that takes black girlhood seriously and portrays it with emotional complexity—think Beasts of the Southern Wild (2012), Girlhood (2014), Queen of Katwe (2016), and Deidra & Laney Rob a Train (2017). The best of these fictional narratives help audiences better understand issues such as police brutality and poverty, but also subjects like desire and Afro-futurism. Hollywood would do well to make more films exploring such realities. By seeking to paint complete portraits of their young protagonists—by fleshing out their many motivations, regrets, fears, and hopes—films like The Hate U Give force viewers to recognize the characters as fully human, to reckon with them on their terms. With heroines like Starr at the fore, audiences can imagine not only new possibilities for black girls, but also new visions of our collective humanity.