Taylor Swift's Savvy, Smiley Instagram Voter Drive
On the social-media site, the once-apolitical musician has been rewarding new voters with attention.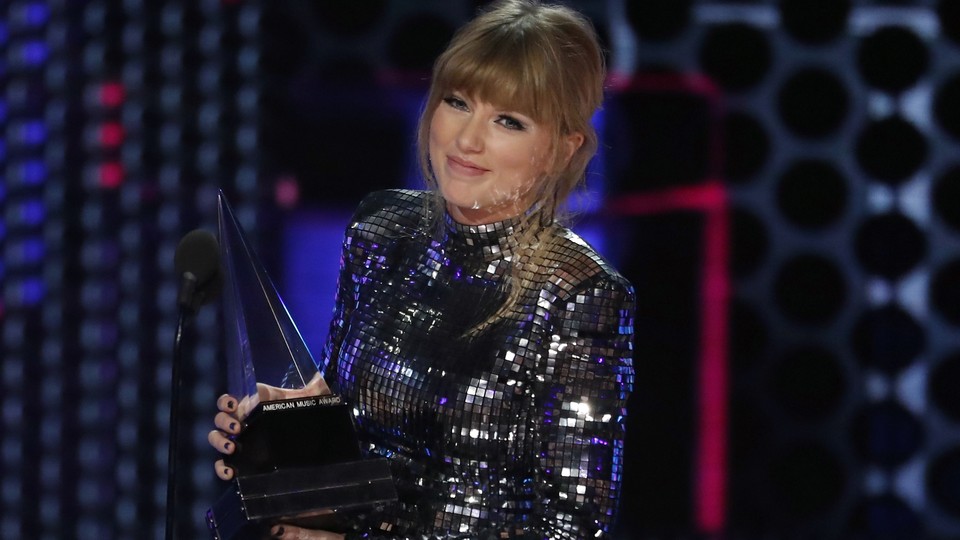 It's the final days before a national election, which means that the celebrities are getting out the vote. Will Ferrell is knocking on doors in Georgia. Travis Scott is rallying with Beto O'Rourke in Texas.
Taylor Swift? She's at a hideaway in Australia, talking to her cat.
Which is not to say she's uninvolved. Her Instagram story has recently morphed into a continuously updated gallery of people who have newly registered to vote or voted early. Tag #justvoted and mention Swift in your Instagram caption, and you too could get beamed to Swift's 112 million followers—with custom, cutesy annotations. "Not all heroes wear capes … Some wear voting stickers on their fingers," Swift (or an assistant) wrote under one fan's pic, which she also festooned with hearts, stars, a smiley emoji, and a "QUEEN" banner.
Rock-the-vote efforts by celebs aren't new, but Swift's might represent a particularly savvy, well-timed evolution. Certainly it's a fresh phase for her. In early October, the superstar infamous for issuing no opinions about the 2016 election forcefully endorsed two Democrats running for Congress in her home state of Tennessee. "Please, please educate yourself on the candidates … and vote based on who most closely represents your values," she wrote in an Instagram post that likely contributed to a surge of more than 100,000 young adults registering at vote.org. Some might have guessed that this awokening would be a one-and-done affair before she returned to mere tour promotion. But instead, Swift has doubled down on her campaigning—though within clear and careful parameters.
At the American Music Awards on October 9, she used an acceptance speech to highlight the upcoming midterm elections. Then her Instagram story began cheering new voters with copious screenshots, personal notes, and doodles coming at a lively pace (there have been 18 posts in the past 24 hours as of this writing). It's a strategy that sees her leveraging her lovable dork shtick and her knack for creating intimacy via social media. Even as she's frozen out traditional news organizations when promoting her latest album and tour, she's stayed in touch with her diehards by commenting on their Tumblr posts and even sending gifts to their homes. A ballot-box regram is, in a way, just another incentive for fans to do her bidding.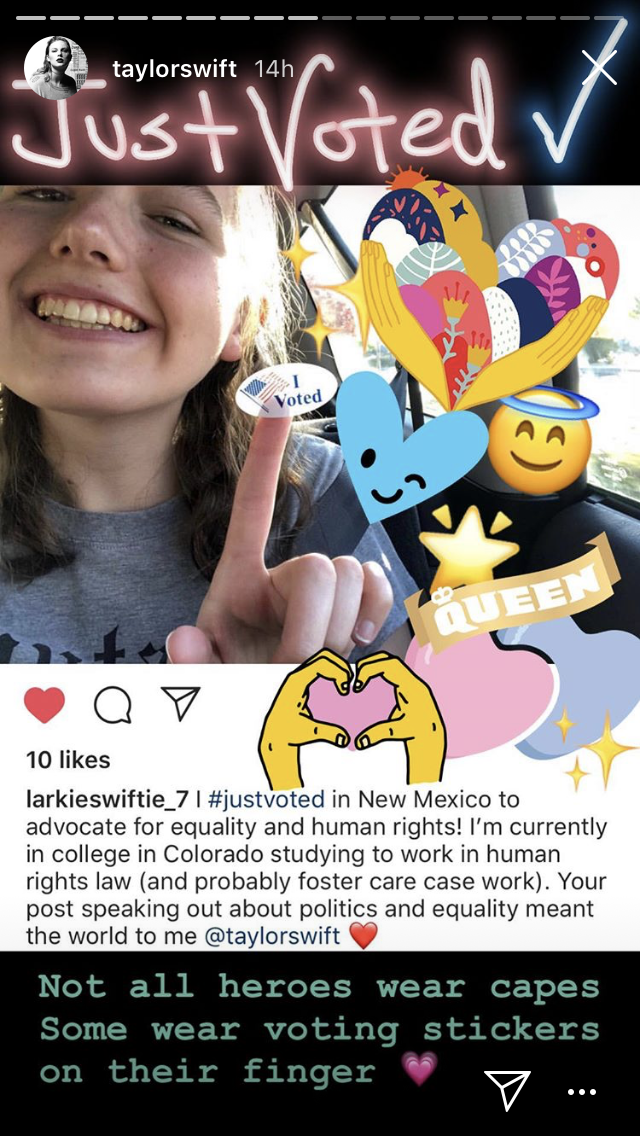 Strikingly, though, the newly political Swift isn't too political. Breaking her silence on elections carried the obvious risk of alienating conservative fans, and her endorsement of Phil Bredesen for Senate and Jim Cooper for House of Representatives came with mentions of LGBTQ rights, systemic racism, and women's equality. But the rest of her campaign-season rhetoric hasn't been about controversial issues. Nor has it been overtly partisan, even if Bredesen and Cooper are both Democrats. Outwardly, she's focused on the simple goal of getting people to vote, by providing both encouragement and information (about deadlines, early voting, and absentee ballots).
Keeping things upbeat and fight-free might not just be a defensive strategy for her brand. It could also be a recognition of how celebrities have historically fared when they've waded into politics. Research suggests that when famous people speak out, a candidate can actually suffer because political polarization is so linked to cultural polarization: Beyoncé, for example, has haters on the right who are as engaged as her stans to the left. But stars can indeed help motivate people who already like them, as well as those who already like their candidate. Perhaps understanding this, Swift doesn't seem to be trying very hard to sway people one way or another. She's just trying to make them vote.
But given whom she's talking to, there are partisan implications. Bredesen's race against Marsha Blackburn is a tight one in a state with the second-lowest voter-turnout rate in the country. Swift's Instagram also, though, delivers shout-outs to fans from Florida to California. The common thread is new participation: "So many intelligent, thoughtful, self-possessed people have turned 18 in the past two years and now have the right and privilege to make their vote count," she wrote in her early-October Instagram post. The statement nods at the demographics of her fans, but also at the growing likelihood that the election will be decided by the young—who are as reachable by Instagram as by door knocking, or more so.