Suspiria Is a Bewitching, Bloody, and Admirably Daring Remake
In adapting Dario Argento's 1977 classic, Luca Guadagnino has created something entirely different and undeniably challenging.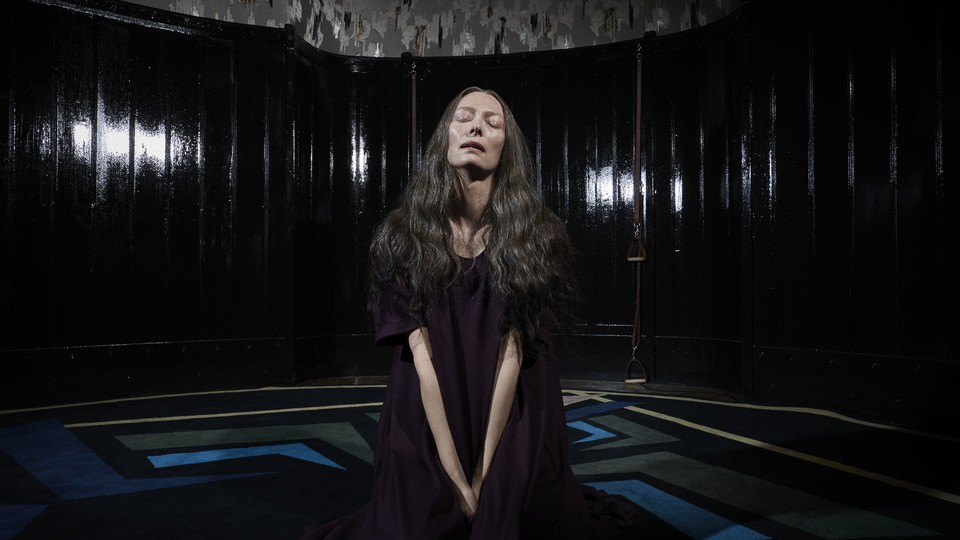 Dario Argento's 1977 horror classic Suspiria is a feast of color, a bloody thrill ride set in a ballet school where rooms glow red with demonic vibrancy. A breakout film for the master of the Italian giallo genre, it has the capacity to thrill and bewitch despite a barely functioning plot, serving as the ultimate example of a horror movie where atmosphere matters more than plausibility. Luca Guadagnino's remake, in theaters Friday, has functionally the same story as the original: A doe-eyed American named Susie Bannion (Dakota Johnson) enrolls with a celebrated dance company in late-'70s Germany that, unbeknownst to her, is run by a coven of witches.
Guadagnino's interpretation, written by David Kajganich, retains the characters' names (and the coven) from Argento's film but grimly dispenses with every other detail. This is no 98-minute gore-fest, though plenty of gnarly violence is on display. Suspiria is a two-and-a-half-hour epic about postwar guilt and the brutality of womanhood; the film can be playful and strange, but it's also a grueling watch that confounds as much as it delights. Above all else, it lodges itself into one's brain and seems primed to reward repeat viewings. The biggest compliment I can give Guadagnino is that he's made a Suspiria that appears destined for the long-lasting cult status already enjoyed by the original.
The new Suspiria is a period piece, set in 1977, the year Argento's movie was released. It was a time of political upheaval and rebellion in Germany known as the "German Autumn," punctuated by bombings from guerrilla groups like the Red Army Faction and the hijacking of Lufthansa Flight 181. All of this plays out in the background of Suspiria, which is now set in Berlin rather than in the smaller town of Freiburg, and where the sense of threat extends far beyond the cloistered world of the Markos Dance Academy.
Susie, a Mennonite from Ohio with a preternatural gift for dance, is accepted at the school and immediately draws the eye of the imposing Madame Blanc (Tilda Swinton). Things are, of course, not as they seem. Blanc's last star student, Patricia Hingle (Chloë Grace Moretz), fled the academy without warning and told her psychiatrist Jozef Klemperer (also Swinton, in extremely convincing old-man makeup) she was being hunted by witches. Another student, Olga (Elena Fokina), gets in an argument with Blanc and soon finds herself in a mirrored, locked studio, where her body is crunched and twisted like a pretzel by invisible forces.
All together, the mood is pretty forbidding at Markos, and Guadagnino emphasizes that with a concrete-gray color palette that matches the Brutalist buildings crowding the streets of '70s Berlin. Outside of the dance academy, Germans like Klemperer are still haunted by the past (his wife disappeared during the war) and unable to reckon with the violent reverberations of the present. Klemperer dismisses Patricia's fears as fantasies conjured by an overworked mind, but to Guadagnino, the doctor's rational outlook is a blinkered one, ignoring the dark truth of what his patient is trying to tell him.
One could easily draw parallels between Klemperer's benevolent narrow-mindedness and the ways in which genteel intellectuals ignored the rise of Nazism in Germany. Guadagnino does plenty of work underlining these echoes, making multiple references to concentration camps and the country's horrific legacy. Still, that's just one angle to take on Suspiria: Though the film isn't subtle, it is open-ended, throwing out staggeringly big ideas over its long running time (billed as "six acts and an epilogue") and leaving them to percolate with the viewer.
Though Klemperer is a huge part of the movie's action, most of the plot takes place at Markos, where the more nurturing Madame Blanc appears stuck in a power struggle with the unseen Madame Markos (again played by Swinton), a seemingly malevolent figure. The witches of Argento's Suspiria were comically evil; here, they're frightening, but also remote, pathetic, and even tragic at moments, part of an old order trying to survive in a bleak and vicious new world.
At Markos, art requires literal sacrifice, and passion is inextricable from pain. Olga's visceral early death is crosscut with Susie's first display of talent on the dance floor; as one student rises, the other is mercilessly disposed of. Later sequences see a ballerina possessed and animated during a performance, like a blank puppet, dancing through an obvious (and unsettling) injury. The imagery in Suspiria can be a real test of the audience's spirit, but it all builds to an indescribably insane denouement that challenges, and vociferously rejects, much of what has come before.
Johnson (who previously collaborated with Guadagnino on A Bigger Splash) is winningly inscrutable as Susie, adding new layers to her character late in the film with ease. Mia Goth, a bright-eyed avatar of misery in the similarly intense A Cure for Wellness last year, is magnificent as a friend and foil to Susie; Goth's character, Sara, takes a quick shine to Susie before growing wary of her power. But Swinton is the star of the show, playing her three roles with wry humor, imperious grace, and a deep well of melancholy, depending on who she's inhabiting. In adapting Argento's movie, Guadagnino took on a difficult task and succeeded by running away from clichés. From the first moans of Thom Yorke's score to the last drip of gore (there's even a post-credits scene), Suspiria offers plenty of sights and sounds to linger in the memory, allowing viewers to knit them together however they see fit.