Seth Meyers Revives Saturday Night Live (For a Week)
The show's former head writer returned for an episode with some excellent sketches—but also a dire parody of Kanye West's meeting with Donald Trump.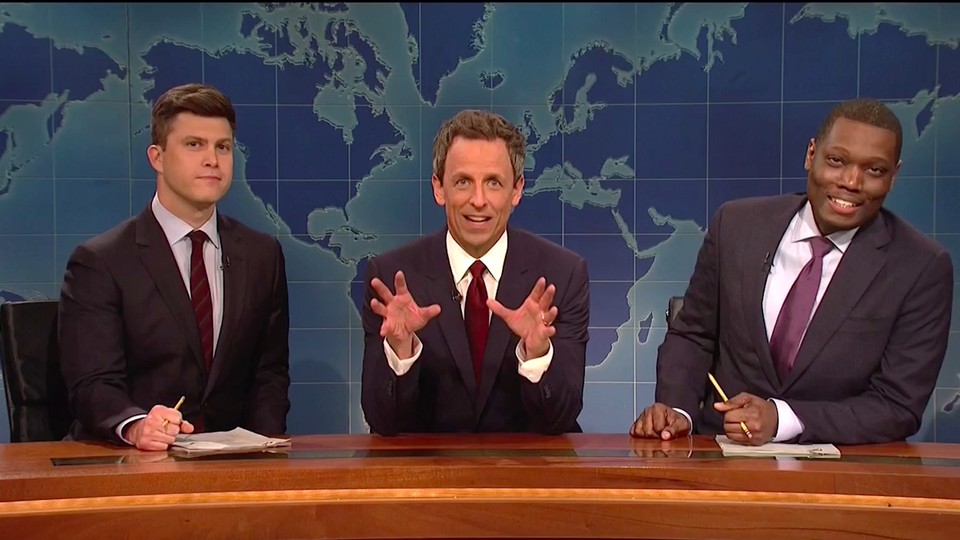 The return of a beloved alumnus to Saturday Night Live can sometimes make for a nostalgia-filled episode, stuffed with cameos by former castmates and revived sketches. So when Seth Meyers came back to host the show for the first time since departing in 2014, he could've trotted out guest appearances from famed collaborators like Bill Hader or Amy Poehler, and it wouldn't have felt out of the ordinary. But Meyers's episode ended up avoiding those sentimental pitfalls, and instead featured goofy, original sketch writing that highlighted the current cast's strengths—with one notable exception.
Even though the state of political news in America seems to be permanently stuck at DEFCON 1, SNL this season has so far failed to land a meaningful satirical punch in its topical cold-open sketches. Matt Damon's phlegmatic portrayal of Brett Kavanaugh was amusing but one-note; last week's recap of Republican celebrations after Kavanaugh's confirmation to the U.S. Supreme Court didn't even manage to be funny. This week, Alec Baldwin made his first appearance of the season as Donald Trump in a scene parodying his meeting with Kanye West and Jim Brown. The single joke was that West behaved so erratically that even Trump thinks he's weird.
That's a sketch that SNL has essentially done before, back when the veteran impersonator Darrell Hammond occupied the Trump role in early 2016. There, Tina Fey returned as Sarah Palin to mock the former Alaska governor's endorsement of then-candidate Trump. As she free-associated on the podium, Trump turned to the camera to deliver an inner monologue, with gags like, "I hope nobody's allergic to nuts, 'cause we got a big one here." This time, as West (played by the cast member Chris Redd) talked about trapdoors in the Constitution and the magical properties of his MAGA hat, Trump mused in voice-over, "Oh, this guy might be cuckoo."
Though the sketch drew some facile comparisons between West's and Trump's ways of thinking, it ended up making Trump seem extremely self-aware, a tough satirical point to land. The jokes also leaned on lazy, stigmatizing punch lines about mental illness. Combined with last week's portrayal of the Senate as pumped up and triumphant, so far SNL hasn't done much to actually skewer the people in charge of the country. Indeed, the program could learn a few lessons from Meyers, whose talk show, Late Night, delivers incisive, witty commentary on the administration almost every night with its "Closer Look" segment.
Meyers's one major throwback was the return of his "Really!?!" segment on "Weekend Update," which he performed with gusto alongside the current hosts, Michael Che and Colin Jost. But aside from that, Meyers gamely immersed himself in segments that felt inventive and bizarre, including excellent video shorts, a silly parody of a movie talk-back, and a showcase for Kenan Thompson's deflated, quietly stinging caricature of a delusional Bill Cosby in jail.
My personal favorite of the night, though, was "Bayou Benny's Liberal Lagniappe," a fun-house-mirror version of cable news as an exaggerated parody of Cajun culture (the segment also felt like a cousin of the "Maine Justice" sketches from 2013). Presented as the "No. 1 most progressive panel show south of the Atchafalaya Basin," the TV show was hosted by the stammering, mustachioed Bayou Benny (Beck Bennett). On his panel: Meyers; Taylor Swift (Heidi Gardner), a recent endorser of Democratic congressional candidates in Tennessee; an "awnry gator dat done been sleepin' under my house"; and a "chili pepper with da sunglasses" (Kate McKinnon). "What is this?" a bemused Meyers asked, spending the next few minutes trying to penetrate Bayou Benny's accent while discussing the news.
The sketch relied on the cast members Bennett and Gardner, and had the surrealistic touch that makes many an SNL segment great. It also somehow managed to critique the increasing irrelevance of news-panel shows, which are often populated with self-professed "experts" who can be as cartoonish as a person in an alligator suit. Meyers himself admitted in his opening monologue that he was never the most outstanding sketch actor. Still, he played off his deadpan-host persona perfectly, growing increasingly befuddled as Bayou Benny brought out a human-sized biscuit wearing a Trump hat for Meyers to fight. After Kanye West, it was the second sketch of the night that included a dig at that particular piece of "Make America Great Again" apparel—but it was the only one to make a bigger point about what the hat represents.