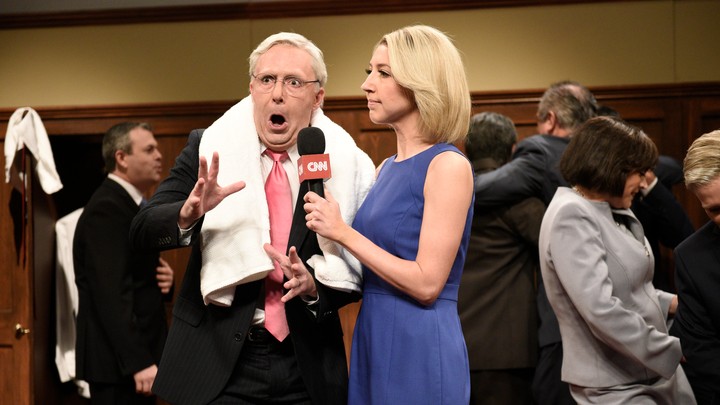 After one of the most bruising, divisive, emotional weeks in American political history, the most subversive thing on Saturday Night Live this weekend was Mitch McConnell's chin. Attached to the neck of the cast member Beck Bennett, the chin sidled into shot with an apparent life of its own, replete with folds and dimples and what looked like messages in ancient Sumerian. As Bennett emulated McConnell's defiant, befuddled liplessness, the chin was so dazzlingly lifelike that you barely noticed what the character was saying.
Which was kind of the point? To be fair to SNL, it had a matter of hours after Brett Kavanaugh was confirmed by the Senate as an associate justice on the Supreme Court to respond to the news (even if the confirmation seemed inevitable by Friday). And allegations of sexual assault, even in 2018, aren't exactly a subject any mainstream comedy series wants to dive too deeply into. So SNL opted for the safest sketch imaginable: a cold open imagining feverish Republican festivities happening in a post-game locker room, complete with brewskies (Miller High Life, to celebrate "the Natty Light of judges"), Montell Jordan, and a parade of SNL players providing pitch-perfect, uncannily costumed, totally anodyne imitations of people in power.
"Ugh, winning," Senator John Kennedy (Kyle Mooney) said.
"That was awesome, wooooooo," McConnell told Dana Bash (Heidi Gardner).
"How amazing is this?" Senator Lindsey Graham (Kate McKinnon) said. "We made a lot of women real worried today, but I'm not getting pregnant so I don't care."
Saturday Night Live, Mark Harris wrote in an insightful analysis for Vulture last week, has a politics problem. As in, it doesn't have any, if you interpret politics to mean "a particular perspective, or advancing a particular position, or, basically, doing anything to risk a reaction more polarizing than 'Hey, they're doing that thing that I saw on the news two days ago.'" Harris was writing in the wake of SNL's starry restaging of Kavanaugh's hearing with the Senate Judiciary Committee, in which Matt Damon played a manic, deranged Kavanaugh shotgunning cans of water and screaming about his virginity. The sketch, Harris argued, was defined more by the jokes it declined to make than by the ones it actually did (it notably opted not to portray Christine Blasey Ford, who had testified that Kavanaugh sexually assaulted her when they were in high school). "When SNL's political comedy is at its most toothless," Harris wrote, "it dodges the depths of who someone is in order to stay in the kiddie pool of how they look and sound."
Hence a cold open that analyzes Mitch McConnell's wattle more thoughtfully than it does his motivations. And Cecily Strong's Susan Collins showing up with a pronounced overbite and a nasal lilt and a punch line that literally amounted to "Psych!" And Aidy Bryant's Arizona prosecutor Rachel Mitchell, with no writing whatsoever to illuminate her contentious role as a token woman in this defining moment in history, but a pin saying I'M WITH HIM in large letters.
That the unanimous response to the cold open, at least on social media, was "too soon" was telling. There wasn't much distinction between watching this grotesque and supposedly satirical celebration of male supremacy and watching people in crimson MAGA hats shout down rape survivors outside the Supreme Court on CNN. SNL offered no real satire, no punchy critiques of political hypocrisy or forcing-through of judicial appointments. This was fruit hanging so low it was already trodden into mulch. Susan Collins likes attention. Chuck Schumer is ineffectual. Lindsey Graham doesn't much care for women (there's some subtext within McKinnon's restrained portrayal of Graham that's just begging to be let out).
'Saturday Night Live' mocks Brett Kavanaugh the frat bro.
What was more frustrating still was that the sketch felt like it kept edging closer to charged satire, only to back away. The details of the cold open suggest that somebody, somewhere was trying to make a point but kept getting shot down. There was the nervous energy of Gardner's Bash, who kept getting manhandled and grabbed and having Kavanaugh caps thrust onto her head. There was the fact that this was all taking place in a locker room, as defining a location for the dynamics of the Trump presidency as any other. There was the fact that when the CNN cameras returned to Republicans, "This Is How We Do It" had made way for "Blurred Lines," an unofficial anthem of rape culture. And there was Strong's Collins having her mouth fleetingly covered by McKinnon's Graham—a visual callback to the same act of assault Kavanaugh had been accused of.
The writing in the sketch, though, was obstinately bland, just as the rest of the show largely wasted the talents of its host, Awkwafina, only the second Asian American woman to fulfill that role. If Rachel Mitchell bragging "I'm flying Southwest Airlines back to Arizona like a fricking champ!" is the best SNL can do in this moment, then the time might finally have come to give up on hopes it can hold truth to the Trump presidency's power. Earlier this year, my colleague David Sims analyzed the difficulties the 43rd season was having with crafting muscular political comedy after losing its head writers, Sarah Schneider and Chris Kelly, at the end of Season 42. Trump himself is hard to caricature, Sims noted, but as sketches like Saturday's can attest, the problem isn't him alone. And it isn't timing: Seth Meyers and his writers have demonstrated over and over how to respond to a news cycle that's so fast it's off the rails.
The issue instead seems to be safety. Saturday Night Live doesn't want to alienate red-state viewers, it doesn't want to be seen as picking a side, it doesn't much care for hyperbolic and didactic pronouncements like this one that comedy has a more important role right now than ever. So it's going through the motions, offering up ever more lifelike Halloween renditions of Washington's most powerful rather than charged caricatures. It's the same bet Trump himself espouses: If something appears loud and stupid and eye-catching enough, you might not notice its underlying impotence.
We want to hear what you think about this article. Submit a letter to the editor or write to letters@theatlantic.com.
Sophie Gilbert
is a staff writer at
The Atlantic,
where she covers culture.