The 2018 World Series Was Good for the Red Sox—And Bad for Baseball
With lengthy games and a lack of star power, this October fell flat in many ways.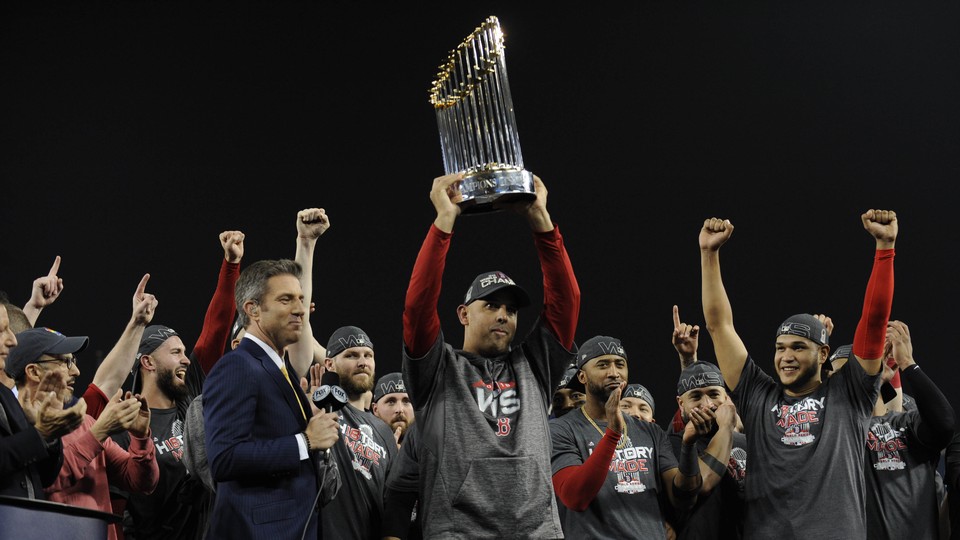 Playoff baseball turns bloody socks into priceless memorabilia, and 12-year-old suburbanites into folk heroes. It is maddening, unpredictable, and altogether emotionally draining. It is also, as the World Series–winning Red Sox illustrate, a dreadful chore.
The Red Sox defeated the Dodgers in five games to secure the franchise's fourth World Series title since it ended its 86-year championship drought in 2004. With help from the pitcher David Price, who finally seemed to overcome his postseason demons, and the journeyman first-baseman Steve Pearce, whose three home runs in Games Four and Five earned him the MVP award, Boston managed to sustain its stellar regular-season play into October. But though the World Series provided its share of wonder, it is far from an instant classic. From games that stretched way past most people's bedtimes to the obsessive nature of modern managing, staying engaged throughout the Red Sox's run felt more like a duty than an escape. Major League Baseball has long been losing its grip on the title of America's pastime, and the 2018 championship series is emblematic of why.
A Dodgers–Red Sox World Series should have been a cash cow. The bicoastal matchup pitted two of baseball's most storied franchises, in two of America's largest media markets, against each other. But the series' audience size didn't reflect its supposed import or historical bona fides. Ratings lagged for this year's face-off, with Game One drawing in the fourth-fewest viewers of any World Series opener on record. Of course, Major League Baseball cannot expect to replicate the sky-high viewership of, for example, the 2016 World Series, when the Chicago Cubs captured their first title in more than a century and more than 40 million people tuned in to watch them do it. Still, the lackluster numbers have left MLB officials flummoxed, including Commissioner Rob Manfred, who told SportsBusiness Journal that league leaders "haven't isolated a cause" for the dip. It's not just the World Series that fell flat this year: Regular-season fan attendance cratered to a 14-year low in 2018, down by nearly 10 million people since its 2007 peak.
One reason, perhaps, for this declining interest is that keeping up with a baseball team is practically a full-time job. As fans have been pointing out for years, playing nine innings simply takes too long. The average baseball game stretched for three hours and four minutes this season, 10 minutes longer than it did at the beginning of the wild-card era. The Red Sox and Dodgers are particularly guilty of a slow pace of play. Not only did the teams reign supreme on the field, but they also led the league in average game length this season, with both teams clocking in at a ridiculous pace of three hours and 13 minutes.
The slow speed only worsened during the World Series, with Game Three lasting—this is not a typo—seven hours and 20 minutes. It was the longest game in postseason history, stretching across 18 innings, 561 pitches, and likely several cups of coffee for anyone interested in catching the entire thing. There's nothing joyful about staying up all night and spending the length of a flight from New York to Paris watching a game for most committed fans, to say nothing of viewers who don't regularly keep up with the sport.
Major League Baseball has taken steps to speed up games in recent seasons, including limiting mound visits and reducing the length of commercial breaks, but none has made much of a meaningful difference. Baseball is not without peers in its desire to stem the length of its matchups, and it could look to the recent changes at Wimbledon for ideas on where to start. Earlier this month, the All England Lawn Tennis Club announced a rule change designed to avoid final sets that stretch on for hours. Rather than allowing players to continue on ad infinitum in the final set, a tiebreaker will take place when the score reaches 12–12. Baseball, too, could put a limit on extra innings, for the sake of both the fans and the players.
But it's not just that these games lasted far too long. Baseball has been cannibalized by its crushing quest for metrics, as attempts to optimize even the minutiae of the game have stripped it of its most magical elements. Starting pitchers are cycled in and out and never given the chance to prove their durability, and statistical doctrine encourages hitters to stop at second instead of attempting to leg out a triple. Clayton Kershaw and Chris Sale each pitched only four innings in Game One of the World Series, for example, when a total of 12 hurlers took the mound and viewers were forced to keep track of each reliever who took his short turn.
There was breathless coverage of the decisions made by the managers Dave Roberts and Alex Cora during their championship runs. Pitching choices—including whether Roberts dropped the ball in Game One by replacing the right-hander Pedro Baez with the southpaw Alex Wood (maybe), and whether Cora would regret starting Price instead of the ace Chris Sale in Game Five (probably not)—were subjected to particular scrutiny. With infield-fly rules and balks, baseball has always been a difficult game for newcomers to embrace, and the burdensome quality of modern managing only exacerbates its impenetrability. Despite what Major League Baseball's marketing department might want fans to believe, the game today is less a reflection of playful exuberance than of overwrought analytics.
The Red Sox roster, too, exemplifies baseball's struggle to compete with other forms of entertainment in 2018. Pearce, the series MVP, is hardly a household name. And while Mookie Betts is a strong contender for the season's American League MVP award, the Red Sox, and the league writ large, are without a figurehead. Players such as Betts and Andrew Benintendi, whose jerseys were among baseball's most popular this season, undoubtedly inspire legions of fans to visit Fenway Park. But since David Ortiz and Alex Rodriguez hung up their cleats in 2016, no player has emerged as the game's new standard-bearer. There is no LeBron James in left field or Tom Brady lurking in the bull pen, and while no player can become a global phenomenon overnight, the Red Sox's lack of a transcendent star makes it difficult for them to bring casual fans into the fold.
Despite being a cerebral, meandering game by nature, baseball has proved itself capable of engineering moments of thrill in recent years. When the league shifted to a timed, bracket format for the Home Run Derby, it showed the game could provide the heart-pounding buzzer-beaters fans crave. Similarly, expanding the playoff field to four wild-card teams ratcheted up the late-season drama. Though the 2018 World Series seems destined to be remembered for its marathon Game Three, and though the sport will never be as flashy as basketball or as frenetic as hockey, the success of the new wild-card and Home Run Derby formats indicates a livelier version is possible.