Netflix's Private Life Is Brutal, Honest, and Brilliant
Tamara Jenkins's new film stars Kathryn Hahn and Paul Giamatti as a 40-something New York couple trying to conceive.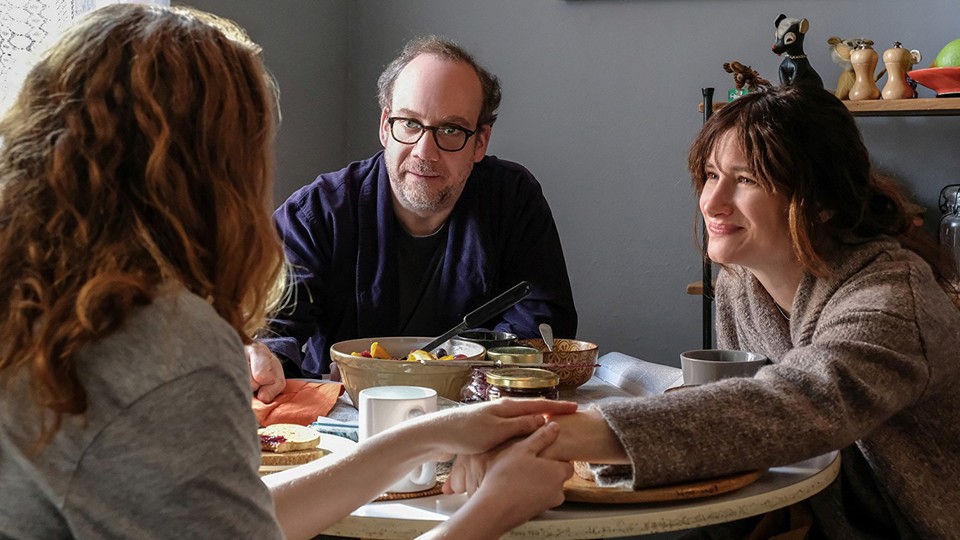 Comedies about Manhattan intellectuals are often of a type: breezy, short, full of clever repartee and fraught romantic pairings. Private Life, Tamara Jenkins's first movie in 11 years, certainly presents as such. Debuting Friday on Netflix, the film follows Rachel (Kathryn Hahn) and Richard (Paul Giamatti); both are writers, although Rachel is getting ready to publish a new book and Richard is now largely devoting his energies to an artisanal pickle company. The couple lives in Chinatown, where they drop pithy references to Wendy Wasserstein and eat around a cramped kitchen table.
But Jenkins has never been interested in breeziness. Her other two films, Slums of Beverly Hills (1998) and The Savages (2008), were acutely observed portraits of family that thrived in uneasy moments. Even by that measure, Private Life is impressively squirmy, delving into every nook and cranny of Richard and Rachel's experience as a 40-something couple trying to conceive a child. Rather than delight in their cosmopolitan lifestyle, Jenkins uses her gift for capturing intimacy as a weapon, telling a story that's sometimes brutal, other times acidly funny, but always honest.
"We're not insane, we're normal," Richard assures his wife as they embark on a $10,000 surgery to retrieve his sperm for potential insemination, but his words seem equally intended for himself. He's 47, she's 41, and they're looking to have a baby by any means necessary. They're even pursuing adoption and medical intervention at the same time, hoping that a wide-net approach will improve their odds. This means, however, enduring a barrage of emotional and physical trials, such as the many shots Richard has to inject into his wife's body, the roulette-like nature of IVF, and the intense and unreliable relationships formed online with potential birth mothers.
Jenkins can find a joke in even the most awkward of situations. Early on, as Rachel places her feet into stirrups ahead of an embryo implantation, her gynecologist (Denis O'Hare) asks a truly frightening question as he reaches for his remote: "Do you like prog rock?" But the director also isn't afraid of highlighting how alienating and cold that doctor's office can be, and how every bit of phrasing can land oddly or be quickly misunderstood. Private Life is a snapshot of a sensitive time in its central couple's life; every fight they have is touched off by someone saying something innocuous that nonetheless hits deep.
In the film, Richard's masculinity isn't so much being challenged as it is being temporarily ignored or discarded. He's both an at-home nurse and an emotional sponge for his wife, unable to do much more than offer words of support and shot after shot. Rachel, meanwhile, has to throw herself into everything just to have a chance of conceiving; her efforts give the impression of total commitment to a process she's never entirely comfortable with. Her sister Cynthia (Molly Shannon) criticizes the whole project as quixotic, suggesting it's a way for the couple to distract from other problems in their marriage. Cynthia might be right, but it's hard for viewers to know. The film starts in the middle of Richard and Rachel's journey, and whatever free-spirited life they might've had before is only hinted at.
Some narrative digressions are both fascinating and punishing: One focusing on an online service connecting adoptive parents with pregnant mothers is particularly transfixing. Private Life isn't just about the medical hells that Rachel has to suffer, though. Eventually, the story coalesces around Cynthia's daughter, Sadie (Kayli Carter), a girl in her early 20s who's creatively inspired but adrift. Sadie drops out of grad school and starts crashing with Richard and Rachel; she's enchanted by their image as Manhattan writers who met in the world of underground theater, but she slowly gets to know them better as people, too. Sadie, predictably, gets drawn into the fertility maelstrom. But Private Life doesn't submit to easy plot twists; there are no transgressive affairs or medical miracles on the horizon.
It would be a hard movie to watch if not for Jenkins's adeptness for making the most mundane conversations enthralling, and for Giamatti's and (especially) Hahn's performance. Giamatti has a skill for belligerence, but Richard is softer-spoken and kinder, capable of conveying great humor and sadness without raising his voice. Hahn suggests all of Rachel's wit and energy with just a look; her character spends so much of the film sublimating her emotions, forced into politeness, frequent apologies, and crushing resignation by a demanding process. In other words, Giamatti and Hahn are in perfect concert with their director. Private Life is Tamara Jenkins, defined: funny, mournful, and human, all at once.