The Powerful, Pained Raps of Sacramento's Mozzy
The prolific California street rapper talks about his new album Gangland Landlord, being a part of Black Panther, and the losses that inspire his poignant music.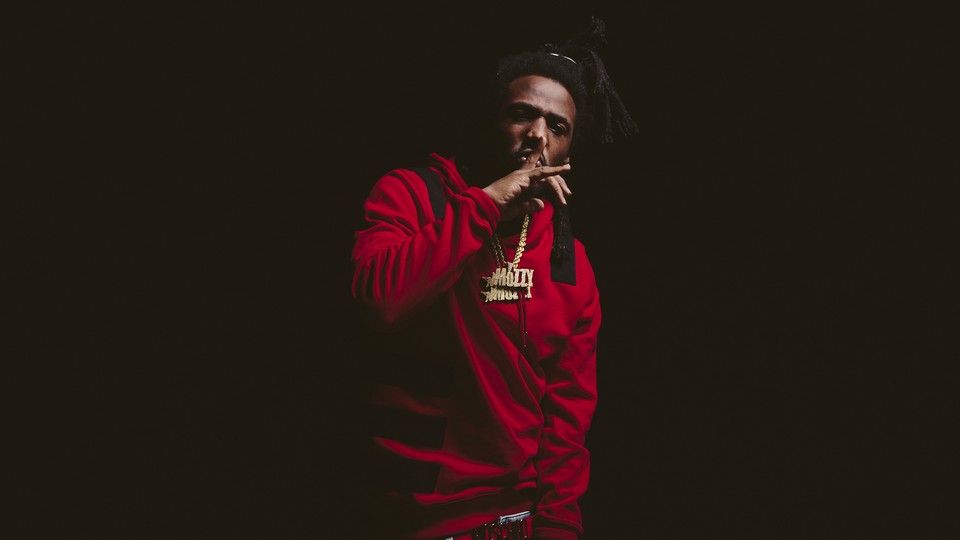 Mozzy isn't afraid to cry in his music.
The Sacramento-bred street rapper, who's gained acclaim over the last several years for his colorful, melodic depictions of gang life and gun violence in the northern California city, doesn't shun emotions. Mozzy's music slaps, but the gruff lyricist is a bard.

His latest release, Gangland Landlord, finds Mozzy once again wrestling with indelible pain. It is a haunting, elegiac record that plumbs familiar territory: the urgency of success, the omnipresence of violence, and the agonizingly quotidian tragedy of losing loved ones.
"I ain't gon' lie, that's the best way to deal with it. 'Cause it's like, I wanna have a conversation. I wanna cry, I wanna talk to somebody, but we macho," he told me recently over lunch near Times Square. "You can't cry to nobody."
Mozzy is slight in frame but commanding in presence. A mass of freeform dreadlocks sit atop his head; he shakes his head—and the locs—reflexively as he speaks. The 31-year-old rapper is unmistakably Northern California in his mannerisms. He peppers his sentences with obligatory yay yays and haaaas, his cadence both slow and bouncy. But Mozzy's attention to the constraints of black masculinity, and his concerns about the dangers of vulnerability, extend far beyond his home region.

"They'll use it against you, you feel me? Same person you cry to will use it against you," he continued. "You'll be in a argument 30 minutes later, and they'll be talkin' 'bout shut yo bitch ass up, nigga, you was just cryin' and shit. So I put it in my music."
Gangland Landlord, like the rapper's prior work, vibrates with keen emotional instincts. The album's intro, "No Way," begins with a soulful wail, almost like a gospelized primal scream. Tracks like "Dead Homies," featuring the rapper's brother E Mozzy, and "Keep Me Hustlin," featuring the Berkeley rapper Rexx Life Raj, are introspective meditations on the artists' motivations and fears. "Popped 100 pills, the pain is still there / Shed 100 tears, the pain is still there," Mozzy raps on the track with his brother, a eulogy for friends who have passed in recent months. On "Keep Me Hustlin," Mozzy looks forward, too: "Keep a distance from leeches, that oughta teach you somethin' / Two little girls, that's what keep me hustlin'."
With 18 tracks and a 55-minute runtime, Gangland Landlord is a fully realized narrative undertaking that manages to avoid the trap of sounding bloated. In its attention to storytelling, the highly collaborative record is also a much-needed corrective to the glut of over-produced, under-considered rap currently populating the genre.
The album is impressive in both lyricism and musicality. Mozzy's rapping is earnest and impeccably timed; production from mainstays like JuneOnnaBeat and Mozzy's manager, Dave-O, lends the tracks a wide sonic range. Gangland Landlord flows effortlessly between sinister gravitas and smooth driving bops. Even when rapping about the heaviest of subjects, as he does on the album's lead single, "Not Impressive," Mozzy floats.
Street rappers are often overlooked in the canon of music deemed emotional, a descriptive more commonly reserved for romantic ballads or introspective musings that skew blues-y. Gangsta rap, which details harsh realities of life in neighborhoods where criminal activity is often the most viable option for economic advancement, too often registers as braggadocious to listeners—critics included—who don't implicitly understand the permanent sense of vulnerability that these circumstances engender. Put differently, if you don't comprehend poverty as a human concern, it's much harder to hear expressions of economic need as examples of musical emotionality.

The prevailing narrative of rap as a genre that only became sensitive with the rise of sing-songy artists like Drake obscures the many interpersonal insights of street artists. Mozzy's music pushes back against this erasure implicitly. Gangland Landlord, like the artist's prior work, insists on its own relevance; it refuses to be ignored.