Live TV Is All But Dead
Scripted television "really has moved into the consumer actually controlling their experience," says Hulu CEO Randy Freer.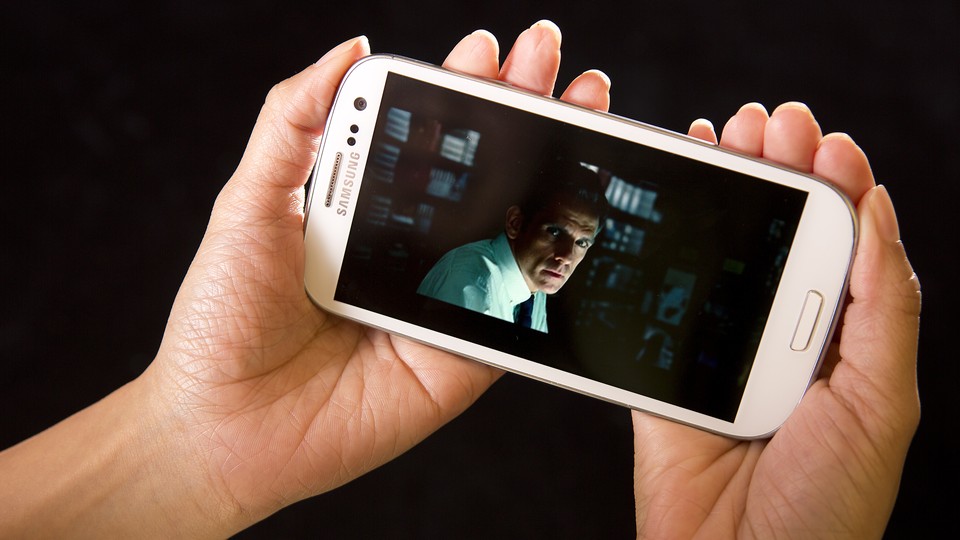 Live television, as we know it, is becoming more and more of a boutique experience. It's essential for sports, of course, and breaking news, but apart from that, fewer viewers than ever tuned in to the major broadcast networks to check out the new fall TV offerings. That doesn't mean the slew of debuting shows such as God Friended Me and New Amsterdam will go ignored. Plenty of viewers will instead sample them à la carte on a streaming TV package such as Sling or YouTube TV, or later when they reach services such as Netflix and Amazon. There's also Hulu, which started out as a repository for current TV, expanded to include original programming, and now has its own live-streaming feature.
Hulu is trying to straddle every kind of viewing experience as it prepares for television's murky and tumultuous future. Speaking to Derek Thompson at The Atlantic Festival, Hulu CEO Randy Freer laid out how his company's viewership data suggest that appointment television is largely over for scripted TV. People simply don't watch programs the moment they air anymore. Still, the format as a whole isn't dying—if anything, it's thriving, with the likes of Netflix, Amazon, HBO, FX, Apple, and Facebook all trying to gain a foothold in the content game.
But the ways that consumers take things in are changing rapidly. "If you think about television, it's always been defined by its distribution mechanism," Freer said. "There was broadcast, then there was cable, then there was satellite … This is the first time that the delivery mechanism allows you to change the experience."
The broadcast model, developed in the '50s as televisions became a household item, saw the big networks try to program entertainment for viewers at home. Similar shows would air together, certain time slots were more important than others, and a phrase like "Sunday at 9 on NBC" would be as crucial to a show's branding as its title. That formula persists today, but the binge-watching approach exemplified by services like Netflix has made it less pertinent. "I do believe that traditional pay TV, bundled cable networks, scheduling things for you, will become increasingly unnecessary in a world where you get to curate and choose what you want," Freer said.
His company's foray into live-streamed television, which you can bundle into your subscription for about $39.99 a month (similar to the costs of YouTube TV and Sling), has borne that out. "With our live product, what we see very clearly is news and sports dominant in viewing," Freer said. "Entertainment, even in the live product—the majority of it is watched on demand."
Viewers now create playlists of sorts, consciously or not, to watch television online. Some companies emphasize adding shows to a queue, while others have sophisticated algorithms that suggest new shows and movies based on subscribers' watch history. "The economics of the business over the last 20 years have grown up around live feeds. What we have to do is get out of that. The technology of live is hard—it makes everything more complicated," Freer said. "This Is Us is not live on Tuesday night at 8; it's scheduled." The model of dropping a new episode at an appointed time will likely continue, he said, but not everyone will tune in right away.
Some companies are more focused on their own content—think of networks like FX, AMC, Showtime, and even HBO, which depend on their reputations as purveyors of quality, award-winning TV. Meanwhile, Netflix, Hulu, and Amazon all have acclaimed original series but mix those in with other licensed programs and films. These online services feel like networks of the future, given that the broadcast-TV model always depended on a combination of originally produced shows and third-party content. And then there are the tech giants, such as Facebook and Apple, muscling their way into a market they don't yet fully understand, but with the kind of capital that will allow them to make some mistakes as they experiment.
Freer's argument is that companies such as Netflix and Hulu, their libraries filled with Emmy-winning shows, have a "competitive advantage" because of their years in the business. But Netflix's House of Cards debuted in 2013; Hulu's The Handmaid's Tale is just a couple of seasons old. As broadcast TV has begun to fall off and streaming TV has become the norm, it's been surprising to watch how quickly some companies have stepped into the fray and built up a powerful brand.
"I believe storytellers want to be treated in ways where their content is appreciated, their talent is appreciated," Freer said. He's right—but just a few years ago, those storytellers might not have even heard of Hulu. The most important thing in the coming years for TV writers and producers will be getting to the top of viewers' playlists, and it's still impossible to know which company will offer the easiest way up.