The Messy Soul of Lil Wayne's Tha Carter V
The rapper's long-awaited album captures a sense of hard-earned triumph—and dread.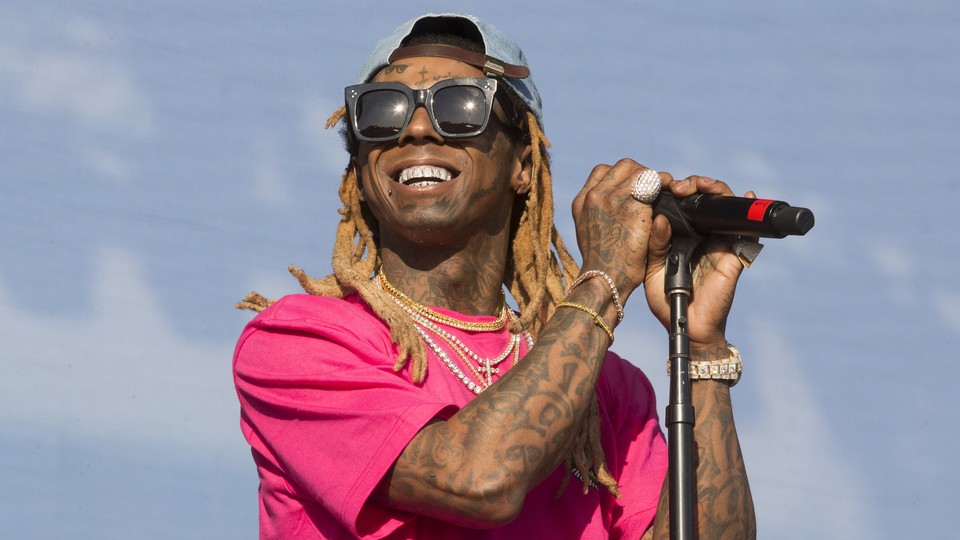 The fact that Lil Wayne survived a self-inflicted gunshot wound at age 12 is the kind of biographical tidbit that gets subsumed by stardom: It's often discussed as just another reason why The Best Rapper Alive™ is Not a Human Being™. But at age 36, Wayne now wants his listeners to really envision what his childhood suicide attempt—which he only recently said was not an accident—felt like. On the closing song of Tha Carter V, he describes finding his mom's gun, calling his aunt and then hanging up, putting the barrel to his chest, and waking up "with blood all around me." Then comes the mythologizing, with a nice punch line: God "sold me another life and he made a prophet."
That this chosen-one origin story includes a bloody baptism makes a lot of sense. Wayne is an artist of the grotesque who molds words like loose putty, boasts a voice that evokes the tubercular, and obsesses over that which splatters and drips. "I'm a venereal disease like a menstrual bleed through the pencil and leak on the sheet of the tablet in my mind," went the signature line from his signature hit, 2008's delirious "A Milli." A drama-packed, years-long hiatus from releasing proper albums has now ended with the release of the legendarily delayed Tha Carter V, an event record with an event sound, as stately and fussed over as the improvisational Wayne ever gets. His glorious grossness remains, though. The album depicts his icon status as something fetid, and maybe toxic.
Certainly Wayne's view of love, that thing he's held up as the ultimate goal of his career, is not pretty. Discomfortingly weepy testimony from Wayne's mother about the skill and largesse of her son recurs. His daughter Reginae Carter provides pillowy vocals for "Famous," an anthem on which Wayne describes superstar vertigo: "the fan mail and subpoenas, jail cells to arenas." But he's most gimlet-eyed about romance. Over the lighters-up pop rock of "Mess," he sings of his life as "a mess of happiness / Lust, sex, obsession, desire with no love" and then, somewhat sweetly, describes the compromises his wife, his side girls, and his exes all must make to get along. "Fast forward till the morning time," he raps in a typically vivid bit of memoir. "Broken glasses with a bunch of ashes, makeup, and lashes / Out-of-place mattress, shit happens."
The notion of sex as wreckage makes for the chilling centerpiece of the album, "Mona Lisa," which depicts Wayne as a burglar slash pimp who uses women as honeypots: They seduce men and tell Wayne their secrets so that he can rob them. It's a shockingly cynical elaboration on all sorts of gender tropes, and Wayne commits to it entirely for a five-and-a-half-minute opus. Handling the climax is Kendrick Lamar in a horror-flick performance, playing a man wronged by one of Wayne's women. When Lamar spits and gasps, it's somewhat in imitation of past Wayne performances, somewhat an extension of Lamar's most unhinged songs, and entirely in service of Wayne's larger theme: that loyalty is often a lie.
Anyone familiar with the swerves of Wayne's career might understand why that notion is on his mind. After rising to ubiquity in the mid-2000s, he experienced an allegedly violent falling-out between him and his mentor/label boss Birdman, who reportedly prevented the release of Tha Carter V for years. "I AM NOW DEFENSELESS AND mentally DEFEATED," Wayne tweeted in 2016 after a series of medical, legal, and business setbacks. This album's emergence thus makes for a phoenix-from-the-ashes story, announced in the resurrection imagery of the de facto opener, "Don't Cry." But that song's employment of moans by the late, morally compromised rapper XXXTentacion hints at Tha Carter V's overall vibe of weariness, anxiety, and a very lived-in sense of mortality.
The funny thing is that Wayne isn't typically thought of as an artist of grand emotion, even though his catalog does include moments of stark vulnerability and pain. Rather, his claim to fame is as a virtuoso. Accordingly, he sets out to reassert his verbal skill in bursts across Tha Carter V, and somewhat succeeds. For "Dedicate," a punchy reminder of Wayne's influence on today's face-tattooed rockstar rappers, he picks up and discards various vowel sounds—oo in verse one, i in verse two—to use as fulcrums for seesawing wordplay. A similar trick is used to more impressive and irritating effect for portions of the drowsy Travis Scott showcase "Let It Fly": Nearly every word seems to rhyme with line. On the sunny, early-2000s throwback of "Start This Shit Off Right," his annals of sly-corny jokes for copy editors continues with "She said 'I will,' like ill with an apostrophe."
But to Wayne's credit, the most memorable material across the uneven slog of 23 tracks sees his talent used for the greater purpose of explaining his state of mind. "Sometimes feel like my head a screw, twisted like tornados, too," he raps on "Can't Be Broken," whose nimble verses almost feel smuggled-in given the wistful, sad tone of the song. Whether he's as instantly quotable or dazzling as he once was is beside the point. The achievement of Tha Carter V is in building understanding for someone who's accomplished a lot, struggled a lot, and soldiered on. He is, it turns out, a human being.