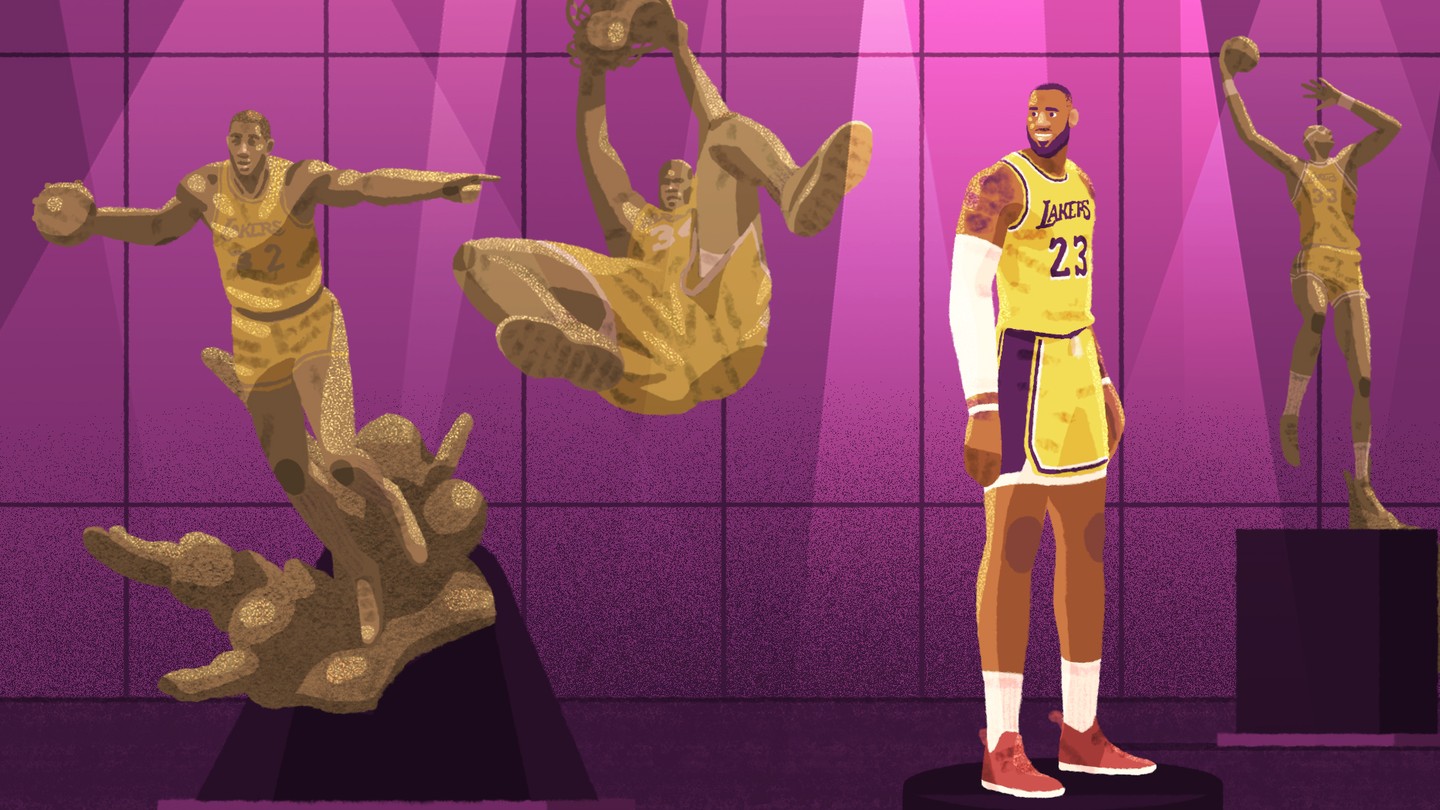 Fight Night With LeBron
Laker fans get their first glimpse of L.A.'s newest megastar, in one of the most chaotic home openers in memory.
T
he Lakers have played home games at the Staples Center in downtown Los Angeles for nearly two decades, and in that time, bronze statues have popped up, like mushrooms, on the pavement surrounding the arena. The first and best depicts Magic Johnson on the first dribble of a fast break. His eyes are fixed downcourt, looking for openings in a shifting geometry of backpedaling defenders. His left hand points, sending an imaginary wing on a fly route to the basket to receive an impossible bounce pass.
This superpower of Magic's, his ability to see the future, brought "Showtime"—and five NBA titles—to this city, the global capital of the performing arts, where basketball arenas are routinely compared to stages. And in the 27 years since his last full season, Magic has become the unelected mayor of L.A. sports. He convened the ownership group that bought the Dodgers and took them to the World Series in 2017, and again on Saturday night. Eighteen months ago, at the Lakers' lowest ebb, he took over the franchise's basketball operations.
On the first evening of this year's free-agency period, Magic drove to the Brentwood mansion of one LeBron James. The two men talked deep into the night. A few tantalizing fragments of their conversation have leaked, but we don't know all they said to each other. All we know is that less than 24 hours later, James was a Laker.

Saturday night, just after sunset, I joined thousands of Laker fans in a shuffling procession past the Magic Johnson statue, past a bronze Shaq hanging from a basket, past a sky-hooking Kareem, and into the arena proper to see James's first regular-season home game. The Staples Center was lit like a boxing ring, an apt touch given that a fight would later break out on the court. The arena's purple cushioned seats were set back in the shadows, and shining down from the ceiling and onto the maple-wood floor was a cone of golden light, like those that poke through L.A.'s coastal fog, making a mirror of the Pacific.
James will have nowhere to hide under that blinding spotlight. Not from the press and not from the Lakers' spoiled fans, who know the difference between a good player and a great one, having eyeballed a silly number of basketball's all-timers up close for long stretches of their primes.
Coming off the worst four years in franchise history, Laker fans are feeling superstar withdrawals. They spent all summer stalking James on social media. When he tweeted about maybe making an appearance at his local pizza place, the LAPD had to run crowd control. When he showed up to a summer-league game in custom Laker shorts, they sold out in an hour. A week before the home opener, at a concert in L.A., Drake brought James out for a song, surprising the Staples Center crowd, which responded with wall-to-wall screams. The night before the game itself, nosebleed tickets were going for $400.
When James took the floor wearing purple warm-ups, Laker fans leaned forward, camera phones out, ready to watch James play a game that mattered, ready to see what kind of Laker he would be. James should soak up this honeymoon period. It won't always be like this.
It took only one NBA title for James to rewrite basketball history in Cleveland, but immortality will be harder to come by in L.A. No NBA player, current or former, not even LeBron James, could ever equal Magic in the hearts of Laker fans. Nor could James hope to catch Kobe Bryant, who, like Magic, started and finished his career in Los Angeles, and who, like Magic, won five titles here. James will need to do something special to secure a place in this team's mythology. A week before the home opener, my colleague Jemele Hill put this point to me a different way. "What would it take for the Lakers to give LeBron a statue?" she asked. What indeed.
Give the mischief-makers in the NBA front office credit for bringing the Houston Rockets to town for the home opener. It would have been tempting to book the Warriors, but that game can wait for Christmas, by which time the Lakers will be a more cohesive team. And anyway, the Rockets have James Harden, the league's reigning MVP. They took three games from the champs in the Western Conference Finals, more than Golden State's other three playoff opponents—including James's Cavs—combined. And that was before Carmelo Anthony joined the team.

A home opener against the Rockets, sandwiched between games against the Blazers and Spurs, serves notice to LeBron. He may have made eight straight NBA finals playing in the weak East, but out West every path to June will be an odyssey. LeBron knows this in the abstract, but it is something different to know it in the flesh.
During warm-ups, James cut a solitary figure, shooting free throws and threes by himself, never really whispering in his teammates' ears, never laughing. All business. The Lakers used a baroque laser show to announce starting lineups, and when James's name was called, the crowd delivered a deafening roar, as they did when his face flashed briefly on the jumbotron during the national anthem. In a postgame interview, James would describe the arena's atmosphere as electric.
Even after preseason, James is still a surreal sight in Laker golds, which he wears slightly more snugly than the shorts and jersey he wore in Cleveland. When the opening jump ball went up, JaVale McGee, the Lakers' lanky new center, leapt high in the air and tipped the ball straight back to James, who flicked it to Rajon Rondo, casually beginning a new era of Laker basketball in this building.
I'd seen James play in L.A. once before at UCLA's Pauley Pavilion, back when he was still in high school. I still remember a pass he threw in the first quarter of that game, backwards and through his legs to a streaking teammate for a dunk. The whole building seemed to levitate, everyone grateful to have caught an early glimpse at precocious greatness. But as the night wore on, James's jump shot began to look rickety. He took nine three-pointers and missed them all. I left the game thinking that James might be a "man among boys," a player who would regress to the mean when his peers caught up to his physique.
No one ever did. And anyway, James was always more than his once-in-a-lifetime basketball body. He made me a believer four years later, in Game 5 of the 2007 Eastern Conference Finals, a contest that has assumed where were you when status for a generation of NBA fans. During the fourth quarter and two overtime periods, a 23-year-old James muscled a series of dunks and contested layups through a bruising Pistons front line, scoring 29 of the Cavs' final 30 points to claim victory in overtime, swinging the series.
James didn't make it to the mountaintop that year. In the finals, the Spurs left him all alone on the perimeter, daring him to shoot, which he did, poorly. A year later, after the Cavs were swept in that series, James turned in another miserable shooting performance in an Eastern Conference Semifinals loss to the Celtics. He began to hear whispers like those that haunted Michael Jordan early in his career. Great player, but will he ever win a ring?
The Cavs made it to the conference finals the following year and James found his shot, but they still lost to an Orlando team led by Dwight Howard, one of the worst franchise players to ever play in the NBA finals. Things got worse before they got better. In the seventh and final season of James's first Cleveland stint, the Cavs were again eliminated in the Conference Semifinals after blowing a 2–1 series lead to the Celtics. James scored a mere 22 points per game in the three consecutive losses that closed out the series. The whispers got louder.
James didn't really look for his shot to start the game. This summer, when the new NBA2K19 came out, James began playing with the Lakers, posting videos of the games to his Instagram story, tagging his new teammates, complimenting them on their virtual plays. "Nice screen, @1ngram4," he'd say. Now, during a real game, he was feeding the real Brandon Ingram, who is widely regarded as the best of the Lakers' young players, despite possessing a body that looks to have the structural integrity of a scarecrow.
The knock on these younger Lakers, and the vets Magic brought in on one-year contracts over the summer, is that there isn't a pure three-point specialist among them, not a single safe bet who can camp out on the perimeter awaiting one of James's laser-like no-look passes out of a double team. Two minutes into the game, the Lakers were still scoreless, and so James took matters into his own hands. He dribbled to the top of the key, dipped his shoulder as if to drive, and rose up for a jumper that swished, igniting the crowd, which had started to grow shifty.
Nearly 22 years ago to the day, Shaquille O'Neal took the floor for his first home game as a Laker to Tupac's "California Love" and received a standing ovation, a kindness he repaid with his first basket, a dunk, one of thousands he thundered down on Laker opponents during a triumphant eight-year run with the team. As with James, O'Neal's arrival in L.A. signaled the end of a too-long string of disappointing Laker seasons, a period when the team was fronted by mediocre players like Cedric Ceballos and Elden "Seldom" Campbell. And as with James, O'Neal was signed by a former Laker great, in his case Jerry West, who compared the moment to the birth of his children. But unlike James, O'Neal was still in his early prime when he came to L.A. He had yet to win a championship. His move to the Lakers more closely resembles James's 2010 flight from Cleveland to Miami.
James's standalone television special, The Decision, during which he announced his intention to "take his talents to South Beach," has aged well, or at least better than many expected. At the time, the press ripped James for contriving a mass-media moment out of a move that was sure to devastate his hometown fans. But some of that criticism, especially the description of James as "preening," now reads racially coded, or at least disproportionate. The Boston Globe described the special as "an act of rather astounding egomania." The New York Times columnist Maureen Dowd scolded James for not showing "more class." Dan Gilbert, the Cavs owner, wrote an open letter to his departing superstar, calling him a heartless, narcissistic coward.
Looking back from the vantage point of the Trump era, the reaction to The Decision feels like a baser backlash to the sheer fact of James's agency, his desire to control his own destiny. James was 26. He'd lived his whole life in Ohio. Why wouldn't he listen when Pat Riley came calling, asking him what he thought about teaming up with D-Wade in Miami for "Showtime Part II," a possibility he'd mulled since the Beijing Olympics? And why shouldn't he rig up a special to raise millions for the Boys and Girls Club of America? The "take my talents" phrase was clunky, sure, but that's a matter of aesthetics, not ethics. James seems to have taken the whole thing in stride. For his entire career, he has leveraged his market power without apology, mainly by refusing to sign long-term deals, until his most recent contract with the Lakers.
Watching the first and second quarters, it was clear that the Lakers are like all other basketball teams on planet Earth, insofar as they have no one who can guard James Harden. Late in the second quarter, Harden, whose beard and cool-eyed stare make him look like a Jedi, caught James alone on the wing. He dribbled back and forth between his legs—wap, wap—his shoulders stilled with feline poise. He feinted right, and then rocked his weight backwards, just perceptibly, as though making space to rise up for a clean jumper. James bit, leaning forward onto the balls of his feet for just a microsecond, in anticipation of a shot. By the time he realized his mistake, it was too late. Harden did the fast forward moonwalk thing he does, right by him, at a perfect, momentum-conserving angle. All James could do was watch and try not to foul.
Sometimes, when Harden makes a move like this, defenders swarm to the basket, quickly, making him choose from his Swiss Army knife collection of finishing moves, including a number of pretty, high-arcing floaters and bank shots. This time, the defenders were late, and so he simply dunked the ball hard with his left hand.
James quickly repaid Harden for this humiliation, stripping him of the ball and bulling his way into the lane on the other side of the court for a layup. A few plays later, he threw a Magic-style no-look pass, across his body, to a baseline-cutting Josh Hart, a favored Laker youth, who laid the ball in the hoop. For a moment, the Lakers looked to be gathering momentum, until Harden answered on the other hand with a quick three-pointer.
James and Harden have history going back to James's second season in Miami, when the Heat faced off against Harden's Oklahoma City Thunder in the NBA finals. James's first season in South Beach had ended in heartbreak. The Heat avenged his previous losses to the Celtics, but in the pivotal fourth game of the finals against the Mavericks, something happened to James. He locked up, scoring only 8 points on 3-for-11 shooting. Years later, he told a reporter that he spent the game trapped in his own psyche, replaying his previous playoff failures on loop, a special torture for someone with a photographic memory.
A few nights after the disastrous fourth game, the Mavericks closed out the Heat for good, and James walked back to the locker room alone, his shoulders slumped, while Dan Gilbert, the Cavs owner, reveled in schadenfreude, tweeting, "Old lesson for all: There are NO SHORTCUTS." At the post-elimination press conference—a brutal NBA media tradition—a reporter asked a despondent James if it bothered him that so many people seemed so happy to see him fail.
"Absolutely not," he said, but it was hard to believe him. For a long time, James seemed to have carried something, an extra burden, one that finally lifted the next year, when the Heat dispatched Harden's Thunder in the finals. As the confetti and streamers rained down on him, at last, James, who has operated in the adult world since he was 10, looked almost childlike in his happiness. The whispers had gone quiet, at least for a time.
The following year, the Heat again reached the finals, where they met the Spurs, who redeployed their previous strategy of letting James shoot, this time to their peril. In the last four games of what turned into a historic, seven-game thriller, James tapped into his animal spirits, summoning something unseen since that early-career game against the Pistons.
After it was all over, Magic Johnson sat beside a basking James during his postgame interview on ESPN. "I've seen everybody," Magic said, his voice cracking as he put his hand on James's forearm, "but you're the only guy I've seen who can become the greatest that's ever played."
Winning back-to-back championships gave James a new prominence in American culture. Having grown up fatherless, moving 12 times between ages 5 and 8, James was alive to America's social inequities. He developed a political voice, like Kareem Abdul-Jabbar, another player who came to the Lakers later in his career. Only James was more charismatic.
Jabbar was politicized much earlier than James. In 1964, while still a high-schooler, he wrote an article in the Harlem Youth Action Project newspaper, protesting the case of James Powell, a local ninth-grader who was shot and killed by an off-duty police officer. (Jabbar has since written more than 10 books, including a mystery novel and a historical work about the combat experience of an all-black tank battalion in World War II.) After achieving national fame as perhaps the most dominant college basketball player ever, Jabbar boycotted the 1968 Olympics, in part for political reasons, a move that infuriated many white Americans.
When James signed with the Lakers, Jabbar, who has often criticized Michael Jordan for prioritizing "commerce over conscience," wrote that James was the "right hero at the right time" for L.A., on account of his being "an outspoken champion of the marginalized." Jabbar even showed up for the home opener, as did Magic, who received a huge ovation after the Dodgers' NLCS win was announced over the loudspeaker.
Like Jabbar before him, James, too, was politicized by the killing of a black youth. In his case, it was Trayvon Martin, fatally shot only a few miles from where the Heat practiced. At the height of the national controversy surrounding the shooting, James posted a photo of himself and his teammates in hoodies like Martin's, their heads cast down. He scrawled Martin's name on his game sneakers. A few years later, he wore an "I can't breathe" shirt to pregame warm-ups, in memory of Eric Garner, who died after being put in a chokehold by an NYPD officer.
James's status as the NBA's senior political statesman crystallized in 2014, during a tense moment in the already tense relationship between the NBA's players, most of whom are black, and the league's owners, all but two of whom are white. The NBA playoffs were just beginning that year when TMZ released a recording of the Clippers owner Donald Sterling berating his then-girlfriend for associating with black athletes, taking pictures with them, and bringing them to his Staples Center suite. Among the black athletes who provoked Sterling's racist ire was Magic Johnson.
James led the response, channeling the players' rage into a sophisticated, consistent messaging campaign centered on a single inflexible demand: Sterling had to go. In interview after interview, James repeated a simple mantra, saying that there was "no room" for Sterling in "our game." In a sly hint that things could quickly go downhill for the league, James questioned whether Clippers players should continue to suit up for playoff games as long as Sterling remained the team's owner. He name-checked Adam Silver, the NBA's commissioner, saying, with a smile, that "the commish will take care of it, we're sure of that." Silver seemed to have heard him, loud and clear. Within days, Sterling was banned from the NBA for life.
The Rockets ended the first half with a small lead, just four points, but they opened the second with back-to-back three-pointers, achieving the first double-digit lead in a nervy game that would feature more than twenty lead changes. James answered with a three-pointer of his own, but then, inexplicably, the Lakers stopped feeding him the ball. The young guards dumped the ball down to JaVale McGee on consecutive possessions. The crowd began to murmur nervously. After taking control of the ball back, James made two quick assists and, with four minutes remaining in the quarter, drove past Harden for another layup. The basket gave James 18 points for the game, but it was a quiet 18. He didn't yet look like the player who, just this past spring, singlehandedly willed the Cavs to the finals.
As thrilling as James's run in Miami was, it was this second Cleveland stint that made him a legend, on and off the court. "That would be a great story," he had said, the week he left for Miami, about the possibility that he would one day return. But even he could not have known how great it would be to come back home, and to pull off another kind of comeback, rallying the Cavs from a 3–1 deficit in the finals to defeat a Golden State team that won a record 73 regular-season games, blessing Cleveland with its first pro sports title in five decades.
James did all this while becoming a genuine political figure, especially as a foil for Donald Trump. In the final week of the 2016 election, James had campaigned against Trump in the battleground state of Ohio, introducing Hillary Clinton at a rally and joining a handful of athletes who officially endorsed her, Magic Johnson and Kareem Abdul-Jabbar among them. Eight months into Trump's presidency, James went after Trump in sharper terms after the president lashed out at Steph Curry of the Golden State Warriors on Twitter, one of several times he'd criticized black athletes since taking office.
James called Trump a "bum" in a tweet that quickly went viral, racking up more than 1 million likes. His choice of the word "bum" resonated. It compressed, into three letters, Trump's lack of character in a way that 1 million op-eds by Never Trumpers couldn't. "Put that lebron tweet in the blacksonian," the writer Rembert Browne tweeted at the time, referring to the National Museum of African American History and Culture on the National Mall.
When asked, weeks later, if he had any regrets about getting into a "name-calling situation" with Trump, James doubled down. "He's a bum," James said. "He doesn't understand the power he has for being the leader of this beautiful country. He doesn't understand how many kids … look up to the president of the United States for guidance, for leadership, for words of encouragement." The next winter, James resumed his critique of Trump, calling the president's conduct "laughable" and "scary." Laura Ingraham, the Fox News personality, fired back on Trump's behalf with the usual coded tropes, describing James's comments as "barely intelligible" and "ungrammatical." "He should just shut up and dribble," she said.
No such luck for Ingraham. This past summer, after signing with the Lakers, James sat for a CNN interview with Don Lemon to promote a new public school he'd helped fund in Akron, his hometown. Lemon asked James, who wore Malcolm X–style glasses for the occasion, about Trump's consistent criticism of black athletes, including Colin Kaepernick. "The president," James replied, was using sports "to divide" people. Like Ingraham, Trump responded by questioning James's intelligence. As James becomes a fixture of the L.A. scene, it will be fascinating to see whether the megacity and the Lakers' glamour will serve as multipliers for his political activism.
Midway through the fourth quarter of Saturday night's game, it looked to be headed for a tight finish. With six minutes to go, James assisted Lonzo Ball on his third three-pointer of the game. During pregame warm-ups, I'd watched Ball, who is in his second year, shoot a string of threes, curious to see if his form had improved. Ball had shot atrociously as a rookie, but there were rumors he'd worked on his jumper in the off-season. His release still looked as though he'd never healed from a freak wrist-tendon injury, and he missed most of his shots in warm-ups and put up two air balls earlier in the game. Laker fans were encouraged, if not overjoyed, to see him catching fire late in the game.
When James is clicking like this with the younger players, it's easy to imagine him making a run like Wilt Chamberlain. Like James, Chamberlain came to the Lakers, with one eye on Hollywood, after winning a title for his hometown team. His first Laker team got off to a tough start, losing three of their first four games, but they still made it to the NBA finals, where they fell to the Celtics in seven games. The loss was painful for Chamberlain, who, like the larger Laker organization, spent much of the 1960s losing to Bill Russell's Celtics in the playoffs. Three years passed before Chamberlain's Lakers experienced redemption, winning it all in the finals after reeling off 33 straight wins during the regular season, a streak that remains a record, despite a scare from the Warriors a few years back.
Chamberlain played his final five years in the league as a Laker, but the 1972 title was the only one he won in L.A. Perhaps fortune will be kinder to James. This is, after all, only a pilot year, and Magic has stocked up some serious cap room for next year's free agency. Suppose he and James take this season to evaluate the Lakers' young talent, sifting out the best two or three players and trading the rest. Suppose they scoop up one of the three Ks—Kevin Durant, Klay Thompson, Kawhi Leonard—who will soon be free agents, plus a few journeyman shooters.
James once noted, with wisdom beyond his years, that it takes a lot of luck to win a championship—any championship. Maybe a team like that could get lucky two or three times before James's prime runs down. Maybe they'd win four titles, putting James just shy of Magic and Kobe. He'd get his statue then. He might get two.
The Lakers trailed the Rockets for most of the early fourth quarter, but they kept stringing together mini-runs, hanging within a basket or two. The Rockets started going to Harden more often. With four minutes to go, Harden took the ball downcourt on a fast break, bumping Ingram, who stumbled into the basket support.
Ingram lost his cool and shoved Harden with two hands. The two were quickly separated. Harden seemed untroubled, accustomed as he is to working defenders into raw states of frustration. The incident looked to be over, until Chris Paul and Rajon Rondo, who have bad blood, took the opportunity to pick up their feud. Rondo said something to Paul, who squared up, as if mocking Rondo. The Rockets maintain that Rondo spit in Paul's face, to which Paul responded by poking Rondo's eyes, pushing his head backwards.
Rondo recovered his center of gravity and lunged forward with a straight left-hand punch that landed cleanly on Paul's eye, followed by two more quick, glancing blows. Ingram, who was walked downcourt after he shoved Harden, rushed back to throw a punch of his own. An incensed Paul threw a flurry of punches, none of which seemed to land clean. James, playing peacemaker, bear-hugged Paul, his longtime friend, around the waist from behind, pulled him from the scrum, and walked him away, his arm around his neck, effectively ending the fight.
The game was stopped for 10 full minutes while the referees reviewed footage, distributed technical fouls, and ejected Rondo, Paul, and Ingram. I wondered what James was thinking as the minutes ticked by. Earlier in the night, the Laker fans had chanted "MVP! MVP!" as James shot his first free throws. When play resumed, the crowd seemed to have found a new hero. "Rondo! Rondo!" they boomed, from the lower bowl and the high rafters.
With a minute and a half left to go in the game, the Rockets were only up four, and the Lakers had the momentum, following another mini-run. The game seemed, again, to be within reach, until Harden nailed yet another step-back three-pointer on James, pushing the lead to seven. On the following possession, Harden scored his 35th and 36th points on an easy layup, all but ending the game.
James caught some postgame flak on social media for appearing to protect his friend over his teammates during the fight. I expect he'll brush it off. James takes his cultural role, and his responsibility to lead by example, seriously. Whirling Chris Paul around like his grown child was the quickest way to end that fight, and ending fights is the right thing to do.
I do, however, wonder how it will play in a Laker locker room that may soon be permeated with other, more serious tensions. James has a long history of coming back from early-season losses—oddly, he has never won a debut game with a new team—but he does not have a distinguished record of indulging lesser teammates. James hasn't been as cruel as Michael Jordan or Kobe Bryant on this score. But in Cleveland, he was happy to subtweet other Cavs players, passive-aggressively, as when he told Kyrie Irving not to "ride his wave," or when he instructed Kevin Love, who was experiencing mental-health problems at the time, to just "fit in" during his first year with the team, a task made more difficult by James's reported tendency to leave Love out of team pictures.
During the 2017 finals, when J.R. Smith mismanaged the clock at the end of Game 1, costing the Cavs a chance at an improbable road upset against the Warriors to start the series, James reacted demonstratively on the floor, yelling at Smith, his arms outstretched in exasperation. The moment, already humiliating for Smith, was watched live by millions, and still more after it was memed to death. In the locker room after the game, James punched a whiteboard so hard that he injured his hand.
James might get antsy playing with this bunch, as the last sand grains of his prime fall faster and faster through the hourglass. One can only be basketball's best player for a time, and others—Kevin Durant, Giannis Antetokounmpo, Steph Curry, even Harden—are catching up to James, if they haven't caught up to him already. In interviews, James is careful to make all the right noises about "patience," but he hasn't played on a non-contender in nearly a decade. If the losses start piling up, and the team struggles to stay above .500, you could imagine him forcing Magic to make panic trades, dealing away L.A.'s young talent at too steep a discount.
Even if this team's core stays intact, or is improved by trades and free agency, the Lakers might still lose to Golden State, year after year, just as James's Cavs did during three of the past four seasons. James's Laker years may be remembered as his decline and fall, a time when he could still fill up stat sheets and chase records, but couldn't contend for rings, the coin of the realm among NBA all-timers. In L.A., his focus might drift from basketball to his second career, already under way, as a Hollywood producer. Nothing is guaranteed, not even for the Lakers.
L.A. fans are hoping James will give the city, and the game he loves, one last epic, and not on the studio lot. Saturday night's defeat didn't break their spirits. They didn't even seem disappointed, at least not yet. Apart from the fight's cheap thrills, Staples Center was, as James said, electric, in a way that it hadn't been for some time. Turning to leave my seat, I overheard a father-son duo in purple and gold, talking. "Tough loss," the father said, "but we sure did get our money's worth."