The Chicago Cubs' Best Player Can Do It All
Javier Báez stands out for his incredible versatility—a trait not common to, or usually required of, MLB superstars.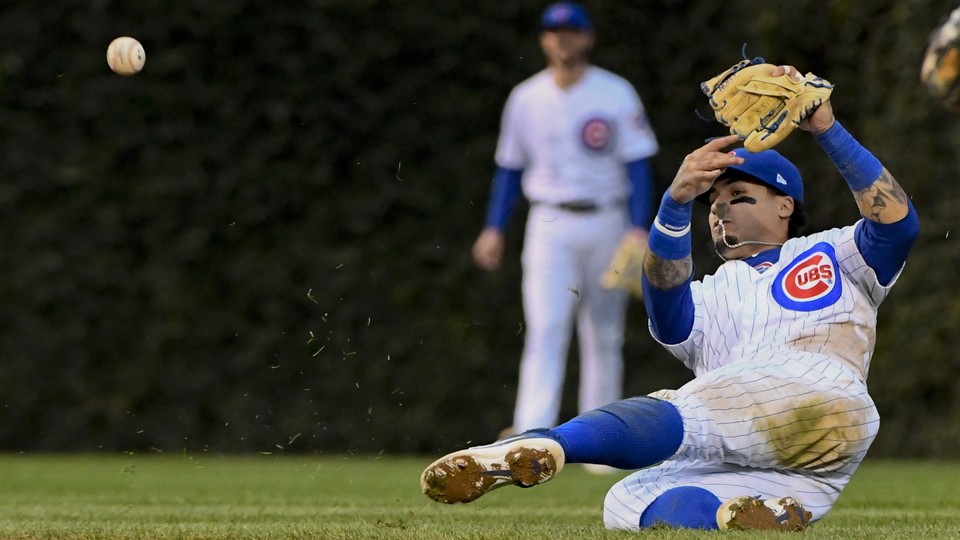 At its highest levels, baseball is a game of repetition. What separates a promising prospect from an everyday major-leaguer, and an everyday major-leaguer from an All Star, is often not so much the sheer grade of talent as the ability to access that particular talent, on demand, inning after inning and game after game. Many players can hit the ball as far as Mike Trout, on their best day, but nobody squares it up as often. Bull pens are full of arms capable of throwing 97-mile-an-hour fastballs, but Jacob deGrom can dependably deliver such a pitch across the strike zone's outer edge. Baseball's drive for consistency breeds specialization; it's impossible to picture the third-base maestro Nolan Arenado or the center fielder Lorenzo Cain anywhere but at their usual position, so attuned are they to the specific demands of their trade.
The case of Javier Báez, then, is a rare one. The 25-year-old has been the best player on the star-laden Chicago Cubs this year, and one of the best in the National League. But a good deal of his value comes from his versatility, a trait not common to—or, usually, required of—MLB superstars. He plays second base, third, and shortstop, all expertly, moving from spot to spot as injuries or off days roil the roster. He influences games in nearly every manner allowed under the rules, stinging line drives and stealing bases and prowling the infield. If Báez has a chance to become one of the central figures of the 2018 postseason, which begins Tuesday evening with the Cubs facing the Colorado Rockies in the wild-card game, he could also emerge as one of the more curious, because nobody knows quite how his importance might manifest on a given night.
Báez, who had the MLB logo tattooed on the back of his neck when he was 16, entered the league stuffed with confidence and potential. But he only intermittently made good on that promise. Though he had a torqued, dangerous swing, a quick glove, and an arm that seemed somehow hydraulic, he suffered from the prodigy's overabundance of opportunity and struggled, at first, to put it all together. He'd hit a towering home run (such as the 12th-inning game winner in his MLB debut) and then strike out in droves (he whiffed 95 times in 52 games his first year). His spectacular defensive plays were sometimes offset by his fumbling of standard ones. During his rookie season, he batted just .169. The next year, bothered by a finger injury and further strikeout issues, and heartbroken by the death of his sister, he spent most of his time back in the minors, playing only 28 big-league games.
Prior to the 2016 season, Joe Maddon, the Cubs' outside-the-box manager, hatched a plan: Báez would stay with the Cubs full-time, applying his already evident adaptability as a backup all around the infield and working to improve his discipline at the plate. "I don't think it's going to be overwhelming at all to him," Maddon said of a role that could be construed as too daunting for such a green player. "I think he actually kind of likes it." The hunch proved accurate; Báez took it as his credo to "play the best defense I can."
He quickly emerged as a favorite of Cubs fans and baseball aficionados alike for his surreal glove work—whirling one-man double plays, hyper-reflexive ground-ball picks—and turned into a steadier, if still not wholly consistent, hitter. During the Cubs' curse-breaking 2016 championship run, he was named co-MVP of the National League Championship Series. A few months later, when he played on Puerto Rico's World Baseball Classic team and earned all-tournament honors, his tagging ability became a minor phenomenon. A particularly GIF-able moment came when he pointed to the catcher Yadier Molina in celebration before Molina's throw had even reached his glove, and then, an instant later, swiped the base runner blind. He earned the nickname El Mago, Spanish for "the magician."
The 2018 season has marked another major shift for Báez, from cult hero to full-fledged franchise player. Part of it is the simple individual progress that tends to come with maturation; his batting average, on-base percentage, and slugging percentage are all the highest of his career. But the more interesting part is that his skill set has been exactly what the Cubs have needed in a year rife with complication. When the former MVP Kris Bryant went on the disabled list with a shoulder injury in midsummer, Báez stepped in to assume some of his third-base duties. After the second baseman Daniel Murphy arrived to the Cubs in a mid-August trade, Báez forsook his most common position to make room for him. Most recently, when the shortstop Addison Russell was accused of domestic violence and placed on administrative leave, Báez took over, providing much more than a stopgap at the crucial infield position.
The Cubs, whose loss to the Milwaukee Brewers in a tie-breaking 163rd game cost them the NL Central title and forced them into the pressure cooker of the wild-card round, may well have missed the playoffs altogether without Báez's across-the-board contributions. "He's involved in everything," Maddon said. "He's involved in every pitch." But to the unaffiliated viewer, Báez's effect is broader and even more fundamental. He injects baseball with imagination; at his best, he seems to break the sport free of habit and routine. He drives in runs by hitting orbit-eligible homers or by dropping bunts into no-man's-land. He steals home with swim-move slides. At whichever station on the diamond, he smothers ground balls like a fire blanket, hops to his feet, and throws to first on a wire. He's a caricature of possibility, the positional flexibility just one part of the show.
There's no telling what that show will entail over the coming years. Roster considerations or the calming effects of age could yet send Báez down the path of conventional stardom, clocking in every day at second or short (the Cleveland Indians' José Ramírez, who in years past switched from spot to spot before settling mostly at third base this season, is a precedent). The recent success of his swing, still overeager at times, might slide back in coming seasons. It's hard, though, not to wonder what Báez might accomplish in the shorter term. On Tuesday evening—and in the coming days and weeks, if the Cubs advance—the full spectrum will be in play. Báez might appear at three positions in three innings, or hit a walk-off grand slam, or hold a one-man track meet on the basepaths. He'll make it into a different kind of game.