Horror Cinema Has a Gatekeeping Problem
The mega-producer Jason Blum's comments about female directors being uninterested in the genre point to a bigger issue facing Hollywood.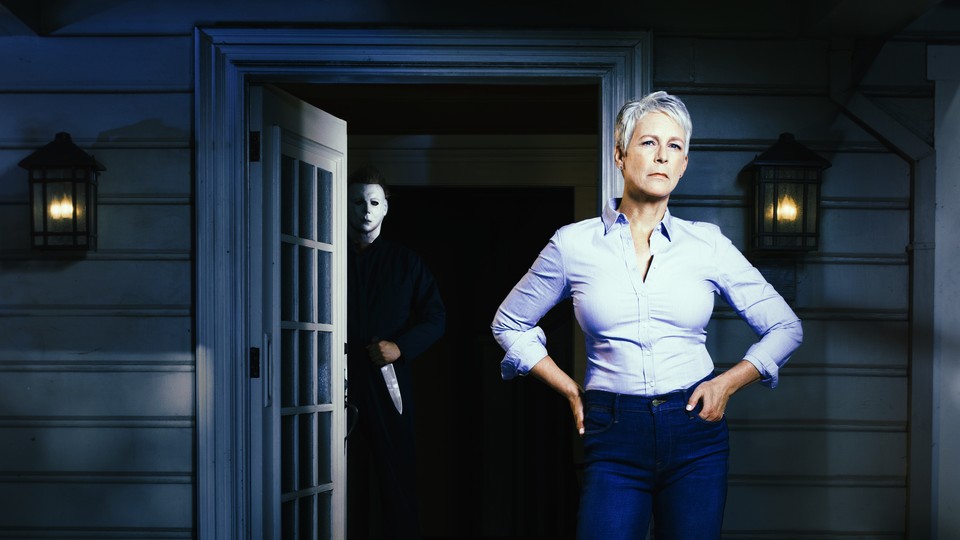 The biggest name in horror filmmaking is indisputably the producer Jason Blum. That's a fact only reinforced by the staggering opening weekend of his newest movie, Halloween, which made $77.5 million in its first three days—a record for the 40-year-old franchise. Blum's company, Blumhouse Productions, finances small-budget genre films and gives directors full creative control; it has been behind Oscar winners like Get Out and Whiplash, as well as extremely profitable franchises like The Conjuring, Insidious, and Paranormal Activity. Working with Blum can provide a solid path to mainstream success, which makes it particularly dispiriting that a female director has never made a theatrical horror film for Blumhouse.
In an interview with Polygon published last week, Blum gave an unoriginal and facile explanation for that gender disparity. "We've always been trying [to hire female directors]," he said. "There are not a lot of female directors period, and even less who are inclined to do horror." It's a common Hollywood lament—that women just aren't interested in making a certain kind of movie. It's what the Jurassic World director Colin Trevorrow said in 2015 about women getting chances to make blockbusters. In 2016, the Lucasfilm chief Kathleen Kennedy suggested that female directors largely lacked the experience necessary to make a Star Wars movie.
In virtually every case, these sorts of statements quickly get walked back. Blum apologized for his "dumb comments" to Polygon, saying in a statement, "I spoke too quickly about a serious issue … We have not done a good enough job working with female directors and it is not because they don't exist." But such comments belie institutional laziness in an industry where women directed only 11 percent of the top 250 movies in 2017.
Blumhouse has worked with female filmmakers on a few non-horror projects, including Veena Sud's upcoming thriller, The Lie. Blum noted in the interview that he had reached out to Jennifer Kent (The Babadook) multiple times for projects and that she had turned him down; he also said that Leigh Janiak (Honeymoon) was a woman he had tried to hire but that their plans had been stymied by scheduling concerns (something Janiak confirmed). Still, Blumhouse has produced dozens of horror movies in the past 10 years, spurred by the massive success of Paranormal Activity in 2009, and all of them were directed by men.
The new Halloween, directed by David Gordon Green, is a perfect example of the kind of high-profile opportunity Blum can offer a filmmaker. The movie was produced for not much money (its $10 million budget is on the high end for Blumhouse), and made a colossal profit on opening weekend. It's a sequel in a long-running franchise, but comes from an art-house director who has mostly been given free rein. And the movie puts its star, Jamie Lee Curtis, front and center (she is credited as an executive producer), a fact that Blum stressed was important to him.
"I really believe in the way our company makes movies," Blum told Polygon, and he's right to, considering Blumhouse's financial track record, coupled with critical hits like Get Out and this year's BlacKkKlansman. "I believe in our low budgets. I believe in using directors who aren't necessarily from horror, like Jordan Peele or David Gordon Green." But in saying that, Blum is demonstrating exactly how he can take chances on promising new talent, as he did with the actor Joel Edgerton (who made his feature directorial debut with 2015's The Gift) or the Georgian filmmaker Levan Gabriadze (who made the huge hit Unfriended having directed only a Russian-language comedy).
For many directors, simply getting the opportunity to make one major feature can act as a crucial springboard to even bigger projects. Henry Joost and Ariel Schulman, who directed Paranormal Activity 3 after their documentary Catfish was an indie hit, were just hired by Fox to helm a Mega Man movie. Scott Derrickson went from 2012's Sinister to Marvel's Doctor Strange. Mike Flanagan, who made Oculus, Hush, and Ouija: Origin of Evil for Blumhouse, created The Haunting of Hill House for Netflix and is now adapting Stephen King's Doctor Sleep for Warner Bros. Damien Chazelle's follow-up to Whiplash was La La Land, for which he won a Best Director Oscar. And M. Night Shyamalan, a major figure coming off a string of failures, revitalized his career at Blumhouse with The Visit and Split.
Blum and other mega-producers can help open these sorts of transformative career paths to new filmmakers—and to female storytellers in horror, of which there are many beyond Kent. Julia Ducournau, of France, shocked audiences in 2017 with the brilliantly visceral coming-of-age cannibalism movie Raw. Coralie Fargeat, another French director, released the intense and subversive film Revenge this year. Karyn Kusama's Jennifer's Body and The Invitation are two of the most exciting twists on the genre in the past decade. And there are plenty more artists still waiting to make their first theatrical feature whom producers should be actively scouting and looking to cultivate.
Blum himself didn't have an easy road to success, struggling to produce his own movies for years before breaking out with Paranormal Activity. But he's well acquainted with the perils of industry gatekeeping: As he was coming up in Hollywood, Blum worked at Harvey Weinstein's company, Miramax, from 1996 to 2000, an experience he has reflected on ruefully after public accusations of rape and assault against Weinstein broke last year.
Blum said Weinstein relied on "the stick, not the carrot," and was verbally abusive to all his employees, though Blum said he knew nothing of Weinstein's predatory behavior. Weinstein, who is being sued by Ashley Judd for intentionally damaging her career, allegedly used his influence like a cudgel, closing doors to those who didn't play by his rules. As the industry, however unevenly, seeks to push out notorious bullies like Weinstein, Hollywood's most powerful members—including Blum and other major producers—should try to do the opposite, opening doors wherever they can.